Abstract
Aortic arch interruption or atresia consists in a complete loss of anatomical and luminal continuity between the ascending and descending thoracic aorta. It is usually diagnosed in newborn babies but may also be present in young children, adolescents, adults and elderly patients. In these cases, it can be congenital or more frequently acquired. This latter type of aortic arch atresia is a challenge, and surgery is usually the treatment of choice. Percutaneous approaches are also possible today. We describe a case of percutaneous aortic arch reconstruction in a 9-year-old boy.
This is a preview of subscription content, log in to check access.
Access options
Buy single article
Instant unlimited access to the full article PDF.
US$ 39.95
Price includes VAT for USA
Subscribe to journal
Immediate online access to all issues from 2019. Subscription will auto renew annually.
US$ 99
This is the net price. Taxes to be calculated in checkout.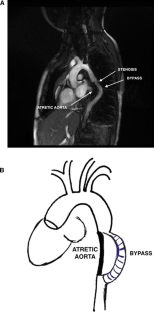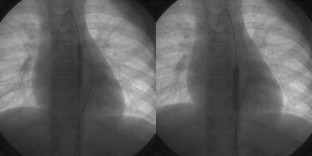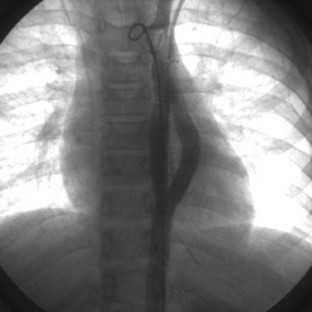 References
1.

Momenah TS, Khan MA, Qureshi S, Hijazi ZM. Acquired aortic atresia: catheter therapy using covered stents. Catheter Cardiovasc Interv. 2015;86:1063–7.

2.

Cheatham JP. Stenting of coarctation of the aorta. Catheter Cardiovasc Interv. 2001;54:112–25.

3.

Yang DH, Goo HW, Seo DM, Yun TJ, Park JJ, Park IS, Ko JK, Kim YH. Multislice CT angiography of interrupted aortic arch. Pediatr Radiol. 2008;38:89–100.

4.

Teskin O, Gullu AU, Senay S, et al. Interrupted aortic arch or extreme coarctation? A case report and review of the literature. Heart Surg Forum. 2011;14:E188.

5.

Joseph G, Mandalay A, Rajendiran G. Percutaneous recanalization and balloon angioplasty of congenital isolated local atresia of the aortic isthmus in adults. Catheter Cardiovasc Interv. 2001;53:535–41.

6.

Kusa J, Bialkowski J, Szkutnik M. Percutaneous implantation of stent in 52-year old man with severe coarctation of the aorta and congestive heart failure. Folia Cardiol. 2003;10:225–9.

7.

Oliver JM, Gallego P, Arorca A, Bret M, Mesa JM. Risk factors for aortic complications in adults with coarctation of the aorta. J Am Coll Cardiol. 2004;44:1641–7.

8.

Kosucu P, Kosucu M, Dinc H, Korkmaz L. Interrupted aortic arch in an adult: diagnosis with MSCT. Int J Cardiovasc Imaging. 2006;22:735–9.

9.

Ovaert C, McCrindle BW, Nykanen D, McDonald C, Freedom RM, Benson LN. Balloon angioplasty of native coarctation: clinical outcome and predictors of success. J Am Coll Cardiol. 2000;35:988–96.

10.

Fawzy ME, Awad M, Hassan W, Al Kadhi Y, Shouki M, Fadley F. Long-term outcome (up to 15 years) of balloon angioplasty of discrete native coarctation of the aorta in adolescent and adults. J Am Coll Cardiol. 2004;43:1062–7.

11.

Suàrez de Lezo J, Romero M, Pan M, Segura J, Ojeda S, Pavlovic D, Mazuelos F, Aguilera JL, Perez SE. Stent repair for complex coarctation of aorta. JACC Cardiovasc Interv. 2015;8:1368–79.

12.

Lafci G, Yalcinkaya A, Ecevit AN, et al. Single stage aortic valve-sparing root replacement and extra-anatomic bypass for aortic arch interruption in an adult. Tex Heart Inst J. 2012;39:398–400.

13.

Gonzalez LF, San Roman KG, Mata RB, Meabe JA, Astorga Burgo JC, Villa JA. Percutaneous stent placement to treat coarctation of aorta due to atresia in adult patients. Rev Esp Cardiol. 2016;69:1103–15.

14.

Butera G, Heles M, Carminati M. Percutaneous treatment of aortic isthmus atresia: use of radiofrequency perforation and covered stents. Catheter Cardiovasc Interv. 2011;78:933–9.

15.

Almashham Y, Dahdah N, Miro J. Use of radiofrequency then stent implantation for recanalization of complete aorta coarctation. Pediatr Cardiol. 2008;29:207–9.
Ethics declarations
Conflicts of interest
Author states that there is no conflict of interest.
Electronic supplementary material
Below is the link to the electronic supplementary material.
Supplementary material 1 (MP4 7348 kb)
Supplementary material 2 (MP4 1996 kb)
Supplementary material 3 (MP4 5408 kb)
Supplementary material 4 (MP4 9143 kb)
Supplementary material 5 (MP4 6672 kb)
Supplementary material 6 (MP4 8616 kb)
About this article
Cite this article
Mazza, G.A., Ferraro, G. & Agnoletti, G. A Double Lane for a Better Circulation: Percutaneous Duplication of the Thoracic Aorta in a Child. Cardiovasc Intervent Radiol 41, 968–971 (2018) doi:10.1007/s00270-018-1913-4
Received:

Accepted:

Published:

Issue Date:
Keywords
Aortic arch atresia

Percutaneous reperfusion

Children