Abstract
Purpose
To report technical success and clinical outcomes of transfemoral venous access for upper extremity dialysis interventions.
Materials and Methods
A total of 15 patients underwent a transfemoral venous approach for fistulography (n = 4; 27%) or thrombectomy (n = 11; 73%) over a 14-month period. Access characteristics, sheath size, thrombectomy method, angioplasty site, fluoroscopy time, radiation dose, technical and clinical success, complications, and post-intervention primary and secondary patency rates were recorded.
Results
Access type included arteriovenous fistulas (n = 10; 67%) and grafts (n = 5; 33%). The most common configuration was brachio-brachial (n = 6; 38%). Mean age of access was 37 months. Mean prior interventions were 4. Right CFV access was used in all patients using 6–8-French (most common: 7-French [n = 10; 67%]) sheaths. Most thrombectomies (n = 11; 73%) required both pharmacologic and mechanical maceration (n = 9; 82%). All accesses required angioplasty to treat underlying stenosis at the outflow vein (n = 12; 80%) or arteriovenous anastomosis (n = 9; 90%). Mean fluoroscopy time was 26.43 min. Air kerma and dose area product were 178.06 ± 225.77 mGy and 57,768.83 ± 87,553.29 μGym2, respectively. Procedural and clinical success rates were 93% and 80%, respectively. Technical failure was due to persistent stenosis in one patient. Clinical failure was due to unsuccessful dialysis immediately following intervention in three patients. Mean post-intervention primary patency and secondary patency durations were 2.8 and 4.8 months, respectively. Primary patency rates at 1 and 3 months were 50% and 35%, respectively. Secondary patency rates at 1 and 3 months were 58% and 30%, respectively.
Conclusion
A transfemoral venous approach for intervention of upper extremity dialysis accesses may be a valuable adjunct to traditional approaches.
This is a preview of subscription content, log in to check access.
Access options
Buy single article
Instant access to the full article PDF.
US$ 39.95
Price includes VAT for USA
Subscribe to journal
Immediate online access to all issues from 2019. Subscription will auto renew annually.
US$ 99
This is the net price. Taxes to be calculated in checkout.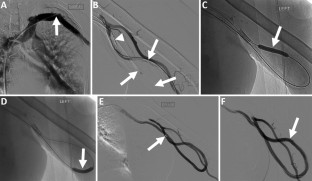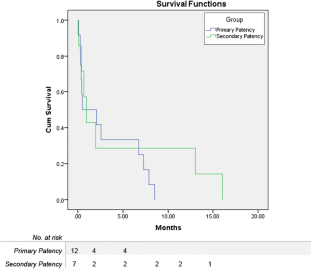 Abbreviations
AVF:

Arteriovenous fistula

AVG:

Arteriovenous graft

AV:

Arteriovenous

TDC:

Tunneled dialysis catheter
References
1.

Clark T, Hirsch D, Jindal K, Veugelers P, LeBlanc J. Outcome and prognostic factors of restenosis after percutaneous treatment of native hemodialysis fistulas. J Vasc Interv Radiol. 2002;13:51–9.

2.

Han M, Kim JD, Bae JI, Lee JH, Oh CK, Ahn C, Won JH. Endovascular treatment for immature autogenous arteriovenous fistula. Clin Radiol. 2013;68(6):e309–15.

3.

Liang HL, Fu JK, Wang PC, Chen MC, Wang CC, Lin YH, Pan HB. Endovascular salvage of immature autogenous hemodialysis fistulas. Cardiovasc Intervent Radiol. 2014;37(3):671–8.

4.

Miller GA, Hwang W, Preddie D, Khariton A, Savransky Y. Percutaneous salvage of thrombosed immature arteriovenous fistulas. Semin Dial. 2011;24:107–14.

5.

Shin SW, Do YS, Choo SW, Lieu WC, Choo IW. Salvage of immature arteriovenous fistulas with percutaneous transluminal angioplasty. Cardiovasc Intervent Radiol. 2005;28:434–8.

6.

Zaetta JM, Baum RA, Haskal ZJ, Shlansky-Goldberg RD, Soulen MC. Thrombosed dialysis grafts: percutaneous mechanical declotting using a central venous approach. JVIR. 1998;9:833–6.

7.

Basile A, Medina JG, Lupattelli T, Medina VG, Leal R. Internal jugular vein access for the interventional management of nonfunctioning artero-venous haemodialysis fistulas. Eur J Radiol. 2004;52:288–92.

8.

Ferral H, Alonzo M. Transjugular venous approach for endovascular intervention in upper-extremity dialysis access fistulae and grafts. Semin Vasc Surg. 2016;29(4):206–11.

9.

Ferral H, Alonzo MJ. Transjugular venous approach for endovascular interventions in hemodialysis grafts and fistulas of the upper extremities. AJR. 2018;210(2):W86–91.

10.

You S, Won JH, Oh CK, Lee SH, Shim JJ, Kim J. Transjugular access for endovascular treatment of immature autogenous arteriovenous fistulae. J Vasc Interv Radiol. 2016;27(12):1878–84.

11.

Trerotola SO, Lund GB, Scheel PJ Jr, Savader SJ, Venbrux AC, Osterman FA. Thrombosed dialysis access grafts: percutaneous mechanical declotting without urokinase. Radiology. 1994;191:721–6.

12.

Middlebrook MR, Amygdalos MA, Soulen MC, et al. Thrombosed hemodialysis grafts: percutaneous mechanical balloon declotting versus thrombolysis. Radiology. 1995;196:73–7.

13.

Dariushnia SR, Walker TG, Silberzweig JE, Annamalai G, Krishnamurthy V, Mitchell JW, Swan TL, Wojak JC, Nikolic B, Midia M. Quality improvement guidelines for percutaneous image-guided management of the thrombosed or dysfunctional dialysis circuit. J Vasc Interv Radiol. 2016;27(10):1518–30.
Ethics declarations
Conflict of interest
The authors declare that they have no conflict of interest.
Ethical Approval
All procedures performed in studies involving human participants were in accordance with the ethical standards of the institutional and/or national research committee and with the 1964 Declaration of Helsinki and its later amendments or comparable ethical standards. This study was conducted with institutional review board approval and complied with the Health Insurance Portability and Accountability Act.
About this article
Cite this article
Wang, J.W., Padia, S.A., Lee, E.W. et al. Transfemoral Venous Access Facilitates Upper Extremity Dialysis Interventions: Procedural Success and Clinical Outcomes. Cardiovasc Intervent Radiol 42, 460–465 (2019). https://doi.org/10.1007/s00270-018-02154-w
Received:

Accepted:

Published:

Issue Date:
Keywords
Transfemoral

Dialysis intervention

Declot

Thrombectomy

Fistulogram

Fistulography