Transvenous Salvage of Migrated Large Volume Detachable Coil
To the Editor,
Recently, large volume detachable coils such as Ruby coils (Penumbra, Alameda, California) have become available for use in peripheral intervention and presents as an alternative to conventional embolization techniques. We describe a case of coil migration during embolization of an aneurysmatic renal arterio-venous malformation (AVM) and describe our salvage technique.
A 60-year-old woman was presented with right flank pain for 5–7 months duration, and a 33 × 32 × 29 mm hypervascular lesion was found in the right renal hilum on CT (Fig.
1
). Time-resolved MR angiography showed the lesion to be the aneurysm sac related to a renal AVM (Movie 1), and she was referred for embolization.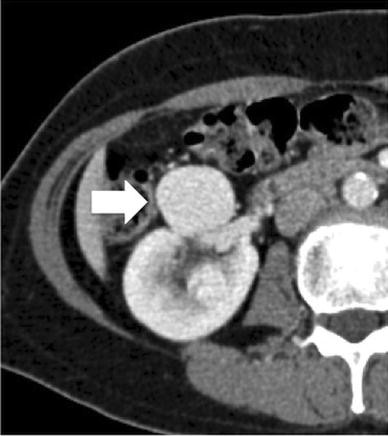 Keywords
Renal Vein 
Onyx 
Main Renal Artery 
Liquid Embolic Agent 
Visceral Aneurysm 
These keywords were added by machine and not by the authors. This process is experimental and the keywords may be updated as the learning algorithm improves.
Notes
Compliance with Ethical Standards
Conflict of interest
The authors declare no conflict of interest pertaining to the contents of this manuscript.
Human and Animal Rights
This article does not contain any studies with human participants or animals performed by any of the authors.
Informed Consent
For this type of study formal consent is not required.
Supplementary material
MOVIE 1: Time resolved contrast enhanced MR angiography showed the lesion to be a saccular aneurysm with arterial supply and early venous drainage (note the early enhancement of the right renal vein), consistent with an arterio-venous malformation. (AVI 520 kb)
MOVIE 2: Right renal angiography showing prompt opacification of the aneurysm sac with early venous drainage, consistent with an arterio-venous malformation. (AVI 196 kb)
MOVIE 3: Captured coil being pushed into the center core of the coil complex. (AVI 2561 kb)
MOVIE 4: Captured coil being pushed and repositioned around the periphery of the coil complex and successfully released. (AVI 2717 kb)
MOVIE 5: Completion renal arteriography. (AVI 311 kb)
MOVIE 6: Follow-up angiography at 6 months. (AVI 300 kb)
References
1.

Buck DB, Curran T, McCallum JC, Darling J, Mamtani R, van Herwaarden JA, et al. Management and outcomes of isolated renal artery aneurysms in the endovascular era. J Vasc Surg. 2016;63(1):77–81.

CrossRef

PubMed

Google Scholar

2.

Yasumoto T, Osuga K, Yamamoto H, Ono Y, Masada M, Mikami K, et al. Long-term outcomes of coil packing for visceral aneurysms: correlation between packing density and incidence of coil compaction or recanalization. J Vasc Interv Radiol. 2013;24(12):1798–807.

CrossRef

PubMed

Google Scholar

3.

Teigen C, Moyle H, Patel RS, Fischman AM, Kim E, Baxter B, Quarfordt S, Heck D, Klucznik R, et al. Experience using the penumbra ruby coil in the peripheral vasculature: ace multicenter study preliminary results. J Vasc Interv Radiol. 2015;26(1):s148.

CrossRef

Google Scholar
Copyright information
© Springer Science+Business Media New York and the Cardiovascular and Interventional Radiological Society of Europe (CIRSE) 2016