Abstract
Primary aortic neoplasms are rare. Aortic sarcoma arising after endovascular aneurysm repair (EVAR) is a scarce subset of primary aortic malignancies, reports of which are infrequent in the published literature. The diagnosis of aortic sarcoma is challenging due to its non-specific clinical presentation, and the prognosis is poor due to delayed diagnosis, rapid proliferation, and propensity for metastasis. Post-EVAR, aortic sarcomas may mimic other more common aortic processes on surveillance imaging. Radiologists are rarely knowledgeable about this rare entity for which multimodality imaging and awareness are invaluable in early diagnosis. A series of three pathologically confirmed cases are presented to display the multimodality imaging features and clinical presentations of aortic sarcoma arising after EVAR.
This is a preview of subscription content, log in to check access.
Access options
Buy single article
Instant access to the full article PDF.
US$ 39.95
Price includes VAT for USA
Subscribe to journal
Immediate online access to all issues from 2019. Subscription will auto renew annually.
US$ 99
This is the net price. Taxes to be calculated in checkout.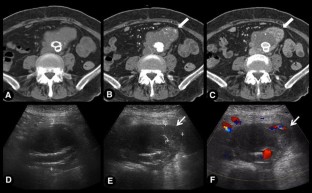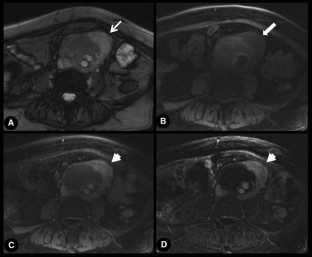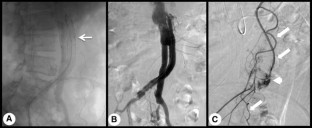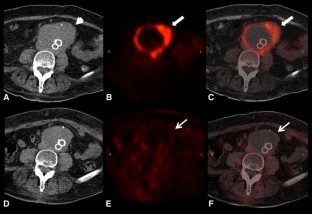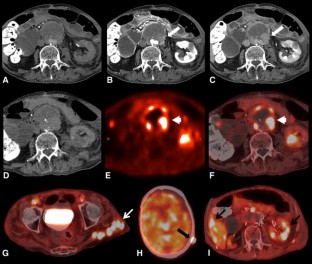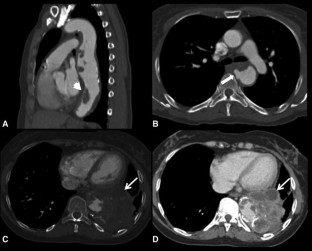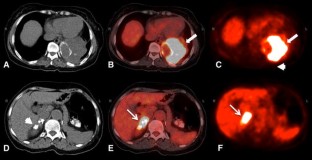 References
1.

Seelig MH, Klingler PJ, Oldenburg WA, Blackshear JL. Angiosarcoma of the aorta: report of a case and review of the literature. J Vasc Surg. 1998;28:732–7.

2.

Schmehl J, Scharpf M, Brechtel K, Kalender G, Heller S, Claussen CD, Lescan M. Epithelioid angiosarcoma with metastatic disease after endovascular therapy of abdominal aortic aneurysm. Cardiovasc Interv Radiol. 2012;35:190–3.

3.

Fenton J, Veenstra M, Bove P. Angiosarcoma involving native abdominal aortic aneurysm sac after endograft repair. Ann Vasc Surg. 2014;28(490):e1–4.

4.

Malone MD, Kerr K, Kavanah M, Menzoian JO. Primary leiomyosarcoma of the abdominal aorta. J Vasc Surg. 1996;24:487–93.

5.

Wright EP, Glick AD, Virmani R, Page DL. Aortic intimal sarcoma with embolic metastases. Am J Surg Pathol. 1985;9:890–7.

6.

Alexander JJ, Moawad J, Cai D. Primary intimal sarcoma of the aorta associated with a dacron graft and resulting in arterial rupture. Vasc Endovasc Surg. 2006;40:509–15.

7.

Ben-Izhak O, Vlodavsky E, Ofer A, Engel A, Nitecky S, Hoffman A. Epithelioid angiosarcoma associated with a Dacron vascular graft. Am J Surg Pathol. 1999;23:1418–22.

8.

Fatima J, Duncan AA, Maleszewski JJ, Kalra M, Oderich GS, Gloviczki P, Suri RM, Bower TC. Primary angiosarcoma of the aorta, great vessels, and the heart. J Vasc Surg. 2013;57:756–64.

9.

Nakajima H, Kobayashi J, Matsuda H, Ishibashi-Ueda H. A primary angiosarcoma in the aorta. Interact Cardiovasc Thorac Surg. 2007;6:832–3.

10.

Brand KG. Diversity and complexity of carcinogenic processes: conceptual inferences from foreign-body tumorigenesis. J Natl Cancer Inst. 1976;57:973–6.

11.

Oppenheimer BS, Oppenheimer ET, Stout AP, Willhite M, Danishefsky I. The latent period in carcinogenesis by plastics in rats and its relation to the presarcomatous stage. Cancer. 1958;11:204–13.

12.

Onuma K, Sato Y, Ogawara S, Shirasawa N, Kobayashi M, Yoshitake J, Yoshimura T, Iigo M, Fujii J, Okada F. Nano-scaled particles of titanium dioxide convert benign mouse fibrosarcoma cells into aggressive tumor cells. Am J Pathol. 2009;175:2171–83.

13.

Hansen T, Clermont G, Alves A, Eloy R, Brochhausen C, Boutrand JP, Gatti AM, Kirkpatrick CJ. Biological tolerance of different materials in bulk and nanoparticulate form in a rat model: sarcoma development by nanoparticles. J R Soc Interface. 2006;3:767–75.

14.

Garg N, Lewis MA, Maleszewski JJ, Kalra M. Intimal sarcoma in an inflammatory aneurysm after endovascular aneurysm repair. J Vasc Surg. 2012;55:1134–7.

15.

Umscheid TW, Rouhani G, Morlang T, Lorey T, Klein P-J, Ziegler P, Stelter WJ. Hemangiosarcoma after endovascular aortic aneurysm repair. J Endovasc Ther. 2007;14:101–5.
Ethics declarations
Conflict of Interest
The authors declare no conflict of interest.
Ethical Approval
For this type of study formal consent is not required.
Informed Consent
Does not apply.
About this article
Cite this article
Kamran, M., Fowler, K.J., Mellnick, V.M. et al. Multimodality Imaging Approach towards Primary Aortic Sarcomas Arising after Endovascular Abdominal Aortic Aneurysm Repair: Case Series Report. Cardiovasc Intervent Radiol 39, 940–947 (2016). https://doi.org/10.1007/s00270-015-1280-3
Received:

Accepted:

Published:

Issue Date:
Keywords
Aortic aneurysm

Endovascular aneurysm repair

Aortic sarcoma

Imaging