Abstract
Purpose
To evaluate the effectiveness of a mechanical thrombolysis for thrombosed central venous port (CVP).
Methods
A total of 38 patients (22 women and 16 men, median age of 55 years) were referred to our interventional unit for thrombosed implanted CVPs. The period between CVP implantation and the initial suspicion of mechanical complication varied from 2 to 35 months (mean 11.5 months) and the interval since last use of the CVP averaged 47 days (range 28–324 days). Our mechanical thrombolysis technique was performed to fragment thrombus in the port chamber by whirling the floppy tip of 0.018-inch hair-wire. Only 19-gauge noncoring needle and 0.018-inch hire-wire were used without cut-down. After removing the hair-wire and placing a second needle, the fragmented thrombi was slowly aspirated with a negative pressure and the remnant thrombus was flushed out by pushing a saline fluid. The degree of fragmentation of thrombus was evaluated with posttreatment angiography; incomplete lysis was defined as more than 50 % of thrombus remaining, significant lysis was 10–50 % of initial thrombosis remaining, and near-complete lysis was less than 10 % thrombus remaining.
Results
We observed near-complete lysis in 22 patients (58 %), significant lysis in 14 patients (37 %), and incomplete lysis in two patients (5 %). The technical success rate was 82 % (31 of 38 patients). There were no major or minor complications in the recovery room during a 30-min observation period or late complications at outpatient follow-up.
Conclusion
A mechanical thrombolysis technique can be used to dissolve thrombus effectively from thrombosed implanted CVP on an outpatient basis.
This is a preview of subscription content, log in to check access.
Access options
Buy single article
Instant unlimited access to the full article PDF.
US$ 39.95
Price includes VAT for USA
Subscribe to journal
Immediate online access to all issues from 2019. Subscription will auto renew annually.
US$ 99
This is the net price. Taxes to be calculated in checkout.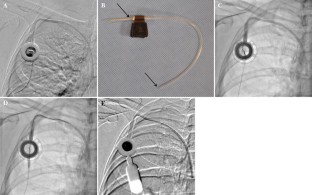 References
1.

Bessoud B, de Baere T, Kuoch V, Desruennes E, Cosset MF, Lassau N et al (2003) Experience at a single institution with endovascular treatment of mechanical complications caused by implanted central venous access devices in pediatric and adult patients. AJR Am J Roentgenol 180:527–532

2.

Inaba Y, Yamaura H, Sato Y, Najima M, Shimamoto H, Nishiofuku H et al (2007) Central venous access port-related complications in outpatient chemotherapy for colorectal cancer. Jpn J Clin Oncol 37:951–954

3.

Marcy PY (2008) Central venous access: techniques and indications in oncology. Eur Radiol 18:2333–2344

4.

Teichgraber UK, Kausche S, Nagel SN, Gebauer B (2011) Outcome analysis in 3,160 implantations of radiologically guided placements of totally implantable central venous port systems. Eur Radiol 21:1224–1232

5.

Vardy J, Engelhardt K, Cox K, Jacquet J, McDade A, Boyer M et al (2004) Long-term outcome of radiological-guided insertion of implanted central venous access port devices (CVAPD) for the delivery of chemotherapy in cancer patients: institutional experience and review of the literature. Br J Cancer 91:1045–1049

6.

Biffi R, Orsi F, Pozzi S, Pace U, Bonomo G, Monfardini L et al (2009) Best choice of central venous insertion site for the prevention of catheter-related complications in adult patients who need cancer therapy: a randomized trial. Ann Oncol 20:935–940

7.

Kovacevich DS, Papke LF (2003) Guidelines for the prevention of intravascular catheter-related infections: Centers for Disease Control and Prevention. Nutr Clin Pract 18:95–96

8.

Sofue K, Arai Y, Takeuchi Y, Sugimura K (2013) Flow confirmation study for central venous port in oncologic outpatient undergoing chemotherapy: evaluation of suspected system-related mechanical complications. Eur J Radiol 82:e691–e696

9.

Crain MR, Mewissen MW, Ostrowski GJ, Paz-Fumagalli R, Beres RA, Wertz RA (1996) Fibrin sleeve stripping for salvage of failing hemodialysis catheters: technique and initial results. Radiology 198:41–44

10.

Gray RJ, Levitin A, Buck D, Brown LC, Sparling YH, Jablonski KA et al (2000) Percutaneous fibrin sheath stripping versus transcatheter urokinase infusion for malfunctioning well-positioned tunneled central venous dialysis catheters: a prospective, randomized trial. J Vasc Interv Radiol 11:1121–1129

11.

Rockall AG, Harris A, Wetton CW, Taube D, Gedroyc W, Al-Kutoubi MA (1997) Stripping of failing haemodialysis catheters using the Ampltaz gooseneck snare. Clin Radiol 52:616–620

12.

Suhocki PV, Conlon PJ Jr, Knelson MH, Harland R, Schwab SJ (1996) Silastic cuffed catheters for hemodialysis vascular access: thrombolytic and mechanical correction of malfunction. Am J Kidney Dis 28:379–386

13.

Trerotola SO, Johnson MS, Harris VJ, Shah H, Ambrosius WT, McKusky MA et al (1997) Outcome of tunneled hemodialysis catheters placed via the right internal jugular vein by interventional radiologists. Radiology 203:489–495

14.

Vedantham S, Thorpe PE, Cardella JF, Grassi CJ, Patel NH, Ferral H et al (2006) Quality improvement guidelines for the treatment of lower extremity deep vein thrombosis with use of endovascular thrombus removal. J Vasc Interv Radiol 17:435–447

15.

Lee KH, Han H, Lee KJ, Yoon CS, Kim SH, Won JY et al (2006) Mechanical thrombectomy of acute iliofemoral deep vein thrombosis with use of an Arrow-Trerotola percutaneous thrombectomy device. J Vasc Interv Radiol 17:487–495
Conflict of interest
Jung Suk Oh, Byung Gil Choi, Hae Giu Lee, and Ho Jong Chun declare that they have no conflict of interest.
Electronic supplementary material
Below is the link to the electronic supplementary material.
Supplementary material 1 (MP4 479 kb)
About this article
Cite this article
Oh, J.S., Choi, B.G., Chun, H.J. et al. Mechanical Thrombolysis of Thrombosed Central Venous Port. Cardiovasc Intervent Radiol 37, 1358–1362 (2014). https://doi.org/10.1007/s00270-014-0956-4
Received:

Accepted:

Published:

Issue Date:
Keywords
Catheters

Indwelling

Catheter obstruction

Thrombosis

Mechanical thrombolysis