Abstract
Purpose
Endovascular aneurysm repair is becoming increasingly popular. This technical note describes the usefulness of the upside-down technique of Gore Excluder or Cook Zenith legs.
Methods
Four patients with iliac or abdominal aortic aneurysms were treated. Three patients with isolated iliac artery aneurysms and one patient with an abdominal aortic aneurysm, in which the neck diameters were unfit for commercially available stent-grafts, were treated using an Excluder or a Zenith leg in an upside-down technique.
Results
The aneurysms were completely excluded and no endoleak occurred. There were no serious adverse events.
Conclusions
The upside-down technique using an Excluder leg or a Zenith leg is both feasible and effective.
This is a preview of subscription content, log in to check access.
Access options
Buy single article
Instant access to the full article PDF.
US$ 39.95
Price includes VAT for USA
Subscribe to journal
Immediate online access to all issues from 2019. Subscription will auto renew annually.
US$ 99
This is the net price. Taxes to be calculated in checkout.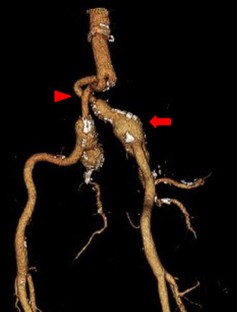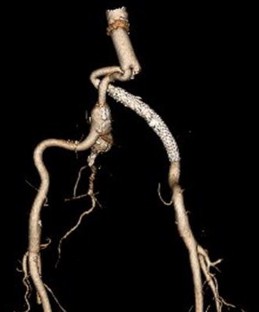 References
1.

Arko FR 3rd, Murphy EH, Boyes C, Nussbaum T, Lalka SG, Holleman J, Roush TS (2012) Current status of endovascular aneurysm repair: 20 years of learning. Semin Vasc Surg 25(3):131–135

2.

van der Steenhoven TJ, Heyligers JM, Tielliu IF, Zeebregts CJ (2011) The upside down Gore Excluder contralateral leg without extracorporeal predeployment for aortic or iliac aneurysm exclusion. J Vasc Surg 53(6):1738–1741

3.

Leon LR Jr, Mills JL Sr (2009) Successful endovascular exclusion of a common iliac artery aneurysm: off-label use of a reversed Cook Zenith extension limb stent-graft. Vasc Endovascular Surg 43(1):76–82

4.

Kasirajan K, Dake MD, Lumsden A, Bavaria J, Makaroun MS (2012) Incidence and outcomes after infolding or collapse of thoracic stent grafts. J Vasc Surg 55(3):652–658

5.

Sze DY, Mitchell RS, Miller DC, Fleischmann D, Frisoli JK, Kee ST, Verma A, Sheehan MP, Dake MD (2009) Infolding and collapse of thoracic endoprostheses: manifestation and treatment options. J Thorac Cardiovasc Surg 138(2):324–333

6.

Rayt HS, Bown MJ, Lambert KV, Fishwick NG, McCarthy MJ, London NJ, Sayers RD (2008) Buttock claudication and erectile dysfunction after internal iliac artery embolization in patients prior to endovascular aortic aneurysm repair. Cardiovasc Intervent Radiol 31(4):728–734
Conflict of interest
Takatoshi Higashigawa, Noriyuki Kato, Takashi Hashimoto, Mikito Inouchi, Shuji Chino, Naoki Yamamoto, Uhito Yuasa, Toshiya Tokui, Yoshihiro Noda, Kensuke Oue, and Manabu Okabe have no conflict of interest.
About this article
Cite this article
Higashigawa, T., Kato, N., Hashimoto, T. et al. Upside down use of Gore Excluder or Cook Zenith Legs. Cardiovasc Intervent Radiol 37, 1068–1072 (2014). https://doi.org/10.1007/s00270-013-0802-0
Received:

Accepted:

Published:

Issue Date:
Keywords
Upside-down technique

Endovascular aneurysm repair

Zenith

Excluder