Abstract
Despite technological advances in computed tomography (CT) and magnetic resonance imaging, the involvement of the celiac or mesenteric artery in pancreatic cancer remains uncertain in many cases. Infiltration of these vessels is important in making decisions about therapy choices but often can only be definitively determined through laparotomy. Local (intraarterial) ultrasound may increase diagnostic accuracy. Using the Volcano intravascular ultrasound (IVUS) system, we applied a transfemoral method to scan the celiac and mesenteric arteries directly intraarterial. This technique was used in five patients with suspected pancreatic cancer. Technical success was achieved in all cases. In one case, a short dissection of the mesenteric artery occurred but could be managed interventionally. In tumors that did not contact with the vessels, IVUS was unable to display the tissue pathology. Our main interest was the infiltration of the arteries. In one case, infiltration was certain in the CT scan but uncertain in two patients. In the latter two cases, IVUS correctly predicted infiltration in one and freedom from tumor in the other case. In our preliminary study, IVUS correctly predicted arterial infiltration in all cases. IVUS did not provide new information when the tumor was far away from the vessel. Compared with IVUS in the portal vein, the information about the artery is more detailed, and the vessel approach is easier. These results encouraged us to design a prospective study to evaluate the sensitivity and specificity of this method.
This is a preview of subscription content, log in to check access.
Access options
Buy single article
Instant unlimited access to the full article PDF.
US$ 39.95
Price includes VAT for USA
Subscribe to journal
Immediate online access to all issues from 2019. Subscription will auto renew annually.
US$ 99
This is the net price. Taxes to be calculated in checkout.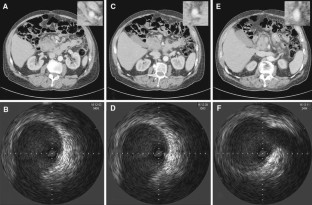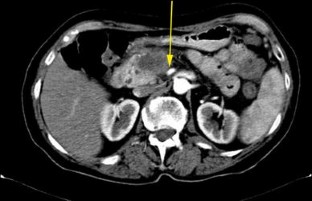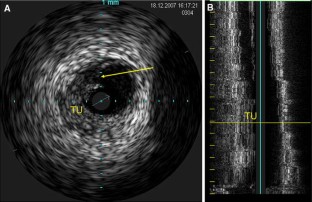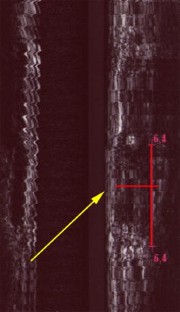 References
1.

Reddy SK, Tyler DS, Pappas TN et al (2007) Extended resection for pancreatic adenocarcinoma. Oncologist 12:654–663

2.

Tseng JF, Raut CP, Lee JE et al (2004) Pancreaticoduodenectomy with vascular resection: margin status and survival duration. J Gastrointest Surg 8:935–949 (discussion 949–950)

3.

Bahra M, Neumann U (2008) Surgical techniques for resectable pancreatic cancer. Recent Results Cancer Res 177:29–38

4.

Yekebas EF, Bogoevski D, Cataldegirmen G et al (2008) En bloc vascular resection for locally advanced pancreatic malignancies infiltrating major blood vessels: perioperative outcome and long-term survival in 136 patients. Ann Surg 247:300–309

5.

Kaneko T, Nakao A, Takagi H (1998) Intraportal endovascular ultrasonography for pancreatic cancer. Semin Surg Oncol 15:47–51

6.

Hannesson PH, Stridbeck H, Lundstedt C, Dawiskiba S, Andren-Sandberg A, Ihse I (1997) Intravascular ultrasound for evaluation of portal venous involvement in pancreatic cancer. Eur Radiol 7:21–25

7.

Tezel E, Kaneko T, Sugimoto H et al (2004) Clinical significance of intraportal endovascular ultrasonography for the diagnosis of extrapancreatic nerve plexus invasion by pancreatic carcinoma. Pancreatology 4:76–81

8.

Kastelein JJ, de Groot E (2008) Ultrasound imaging techniques for the evaluation of cardiovascular therapies. Eur Heart J 29:849–858

9.

Wellons ED, Matsuura JH, Shuler FW et al (2003) Bedside intravascular ultrasound-guided vena cava filter placement. J Vasc Surg 38:455–457 (discussion 457–458)

10.

Song TK, Donayre CE, Kopchok GE et al (2006) Intravascular ultrasound use in the treatment of thoracoabdominal dissections, aneurysms, and transections. Semin Vasc Surg 19:145–149

11.

Diethrich EB, Pauliina Margolis M, Reid DB et al (2007) Virtual histology intravascular ultrasound assessment of carotid artery disease: the Carotid Artery Plaque Virtual Histology Evaluation (CAPITAL) study. J Endovasc Ther 14:676–686

12.

Nakao A, Takeda S, Inoue S et al (2006) Indications and techniques of extended resection for pancreatic cancer. World J Surg 30:976–982 (discussion 983–944)

13.

Hoppe H, Wang SL, Petersen BD (2008) Intravascular US-guided direct intrahepatic portocaval shunt with an expanded polytetrafluoroethylene-covered stent-graft. Radiology 246:306–314

14.

Hunerbein M, Hohenberger P, Stroszczynski C et al (2007) Resection of soft tissue sarcoma of the lower limb after evaluation of vascular invasion with intraoperative intravascular ultrasonography. Br J Surg 94:168–173
Conflict of Interest
The authors declare that they have no conflict of interest to disclose.
Electronic Supplementary Material
Below is the link to the electronic supplementary material.
Movie 1 (avi): Transverse IVUS pictures of the pullback procedure in patient 2. The tumor can be seen from 0:02 in the left lower quadrant, intimal disruption begins at 0:06 on the left (MPG 2986 kb)
About this article
Cite this article
Larena-Avellaneda, A., Timm, S., Kickuth, R. et al. Intraarterial Ultrasound in Pancreatic Cancer: Feasibility Study and Preliminary Results. Cardiovasc Intervent Radiol 33, 726–731 (2010). https://doi.org/10.1007/s00270-010-9871-5
Received:

Accepted:

Published:

Issue Date:
Keywords
Intravascular ultrasonography

IVUS

Pancreatic cancer

Invasiveness

Neoplasm

Mesenteric artery