Abstract
Background
Management errors during pre-hospital care, triage process and resuscitation have been widely reported as the major source of preventable and potentially preventable deaths in multiple trauma patients. Common tools for defining whether it is a preventable, potentially preventable or non-preventable death include the Advanced Trauma Life Support (ATLS®) clinical guideline, the Injury Severity Score (ISS) and the Trauma and Injury Severity Score (TRISS). Therefore, these surrogated scores were utilized in reviewing the study's trauma services.
Methods
Trauma data were prospectively collected and retrospectively reviewed from January 1, 2018, to December 31, 2018. All cases of trauma death were discussed and audited by the Hospital Trauma Committee on a regular basis. Standardized form was used to document the patient's management flow and details in every case during the meeting, and the final verdict (whether death was preventable or not) was agreed and signed by every member of the team. The reasons for the death of the patients were further classified into severe injuries, inappropriate/delayed examination, inappropriate/delayed treatment, wrong decision, insufficient supervision/guidance or lack of appropriate guidance.
Results
A total of 1913 trauma patients were admitted during the study period, 82 of whom were identified as major trauma (either ISS > 15 or trauma team was activated). Among the 82 patients with major trauma, eight were trauma-related deaths, one of which was considered a preventable death and the other 7 were considered unpreventable. The decision from the hospital's performance improvement and patient safety program indicates that for every trauma patient, basic life support principles must be followed in the course of primary investigations for bedside trauma series X-ray (chest and pelvis) and FAST scan in the resuscitation room by a person who meets the criteria for trauma team activation recommended by ATLS®.
Conclusion
Mechanisms to rectify errors in the management of multiple trauma patients are essential for improving the quality of trauma care. Regular auditing in the trauma service is one of the most important parts of performance improvement and patient safety program, and it should be well established by every major trauma center in Mainland China. It can enhance the trauma management processes, decision-making skills and practical skills, thereby continuously improving quality and reducing mortality of this group of patients.
This is a preview of subscription content, log in to check access.
Access options
Buy single article
Instant access to the full article PDF.
US$ 39.95
Price includes VAT for USA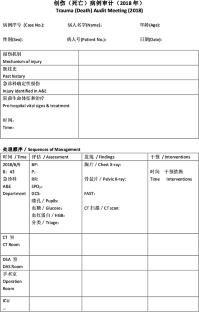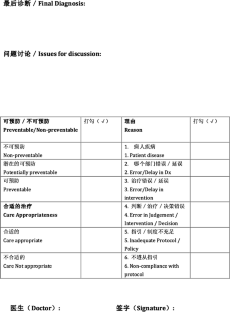 References
1.

Vioque SM, Kim PK, McMaster J et al (2014) Classifying errors in preventable and potentially preventable trauma deaths: a 9-year review using the Joint Commission's standardized methodology. Am J Surg 208:187–194

2.

Mathers CD, Loncar D (2006) Projections of global mortality and burden of disease from 2002 to 2030. PLoS Med 3(11):e442

3.

Montmany S, Pallisera A, Rebase P et al (2016) Preventable deaths and potentially preventable deaths. What are our errors? Inj Int J Care Inj 47:669–673

4.

Oliver GJ, Walter DP (2016) A call for consensus on methodology and terminology to improve comparability in the study of preventable pre-hospital trauma deaths: a systematic literature review. Acad Emerg Med 23:4

5.

Navarro S, Montmany S, Rebasa P et al (2014) Impact of ATLS® training on preventable and potentially preventable deaths. World J Surg 38:2273–2278

6.

Ali J, Adam R, Butlter AK et al (1993) Trauma outcome improves following the advanced trauma life support program in a developing country. J Trauma 34:890–899

7.

Van Olden GD, Meeuwis JD, Bolhuis HW et al (2004) Clinical impact of advanced trauma life support. Am J Emerg 22:522–525

8.

Van Olden GD, Meeuwis JD, Bolhuis HW et al (2004) Advanced trauma life support study: quality of diagnostic and therapeutic procedures. J Trauma 57:381–384

9.

Ariyanayagam DC, Naraynsingh V, Maraj I et al (1992) The impact of the ATLS® course on traffic accident mortality in Trinidad and Tobago. West Indian Med J 41:72–74

10.

Montmany S, Pascual JL, Kim PK et al (2017) American vs European trauma centers: a comparison of preventable deaths. CIR ESP (English Edition) 95(8):457–464

11.

Kohn LT, Corrigan J, Donaldson MS (2000) To Err is Human: building a safer health system. National Academy Press, Washington

12.

Chang A, Schyve PM, Croteau RJ et al (2005) The JCAHO patient safety event taxonomy: a standardized terminology and classification schema for near misses and adverse events. Int J Qual Health Care 17:95–105

13.

Brandon CK, James MC, Kathy NS (2018) Quality improvement and safety in pediatric emergency medicine. Pediatr Clin N Am 65:1269–1281

14.

Acosta JA, Yang JC, Winchell RJ et al (1998) Lethal injuries and time to death in a Level I Trauma Center. J Am Coll Surg 186(5):528–533

15.

Zafarghandi MR, Modaghegh MH, Roudsari BS (2003) Preventable trauma death in Tehran: an estimate of trauma care quality in teaching hospitals. J Trauma 55:459–465

16.

Teixeira PG, Inaba K, Hadjizacharia P et al (2007) Preventable or potentially preventable mortality at a mature trauma center. J Trauma 63:1338–1346 discussion 1346–7

17.

Clarke DL, Gouveia J, Thomson SR et al (2008) Applying modern error theory to the problem of missed injuries in trauma. World J Surg 32:1176–1182

18.

Sugrue M, Caldwell E, D'Amours S et al (2008) Time for a change in injury and trauma care delivery: a trauma death review analysis. ANZ J Surg 78:949–954

19.

Girard E, Jegousso Q, Boussat B et al (2019) Preventable deaths in a French regional trauma system: a six-year analysis of severe trauma mortality. J Visc Surg 156:10–16

20.

St-Louis E, Petroze BT, Poenaru D et al (2018) Causes and effects of delays to definitive care in Rwandese pediatric trauma patients. J Am Coll Surg 227:s128

21.

Steinwall D, Befrits F, Naidoo SR et al (2012) Deaths at a level I Trauma Unit: a clinical finding and post-mortem correlation study. Inj Int J Care Inj 43:91–95

22.

Gruen RL, Jurkovich GJ, McIntyre LK et al (2006) Patterns of errors contributing to trauma mortality lessons learned from 2594 Deaths. Ann Surg 244(3):371

23.

Rotondo MF, Brasel K, Kortbeek JB, et al (2012) Advanced trauma life support, student course manual, 9th edn. American College of Surgeons, Chicago, pp 34–47

24.

Bernard SA, Nguyen V, Cameron P et al (2010) Pre-hospital rapid sequence intubation improves functional outcome for patients with severe traumatic brain injury: a randomized controlled trial. Ann Surg. 252(6):959–965

25.

Nathan B, Fitzgerald M, Cameron P et al (2005) Prehospital intubation and chest decompression is associated with unexpected survival in major thoracic blunt trauma. Emerg Med Australas. 17(5–6):443–449

26.

Mock C, Lormand JD, Goosen J et al (2004) Guidelines for trauma quality improvement programmes. World Health Organization, Geneva, pp 64–68

27.

Liu JY, Hu QL, Ko CY (2018) Databases for surgical health services research: National Trauma Data Bank and Trauma Quality Improvement Program. Surgery 164:919–920

28.

https://www.facs.org/quality-programs/trauma/tqp/center-programs/tqip. Accessed 16 June 2019
Additional information
Publisher's Note
Springer Nature remains neutral with regard to jurisdictional claims in published maps and institutional affiliations.
About this article
Cite this article
Zhang, G., Chen, K., Zhu, H. et al. Preventable Deaths in Multiple Trauma Patients: The Importance of Auditing and Continuous Quality Improvement. World J Surg (2020). https://doi.org/10.1007/s00268-020-05423-3