Abstract
Background
Most elective anorectal procedures are performed in an outpatient setting, and the supposed recovery time is short. The aim of the present study was to assess return to usual physical activity (UPA), return to work and quality of life (QOL).
Methods
This prospective single-center cohort study included consecutive patients undergoing outpatient anorectal procedures. Physical and work activities were assessed using the validated International Physical Activity Questionnaire 7 days before surgery and 7, 14 and 30 days thereafter. In addition, patients were inquired daily on their postoperative QOL until postoperative day (POD)10 on a visual analogue scale (0–10). Patients were stratified by their preoperative physical activity score (POPAS; low, moderate and high).
Results
Out of 379 patients, 100 (63 men) were included with a median age of 40 years [interquartile range (IQR) 27]. General QOL was rated at a median of 8/10 (IQR 3.5) at POD10. On POD30, only 69% and 71% of patients had returned to UPA and work, respectively. Patients who returned to UPA at POD30 had a better median QOL at POD10 than those who did not (9 vs. 7/10, p = 0.015). Patients with low POPAS and moderate POPAS returned to UPA earlier than patients with high POPAS (83%, 86% and 44% on POD30, respectively, p = 0.005).
Conclusions
Return to UPA and work after outpatient anorectal surgery took longer than expected despite a good QOL 10 days after surgery. High physical activity was associated with longer recovery time. These elements should be emphasized during preoperative counseling.
This is a preview of subscription content, log in to check access.
Access options
Buy single article
Instant access to the full article PDF.
US$ 39.95
Price includes VAT for USA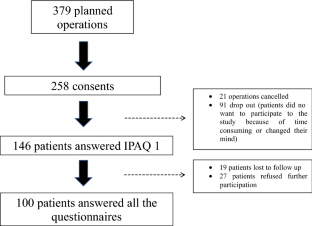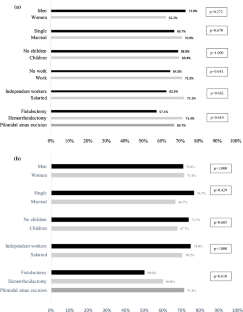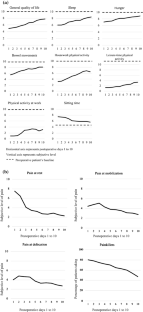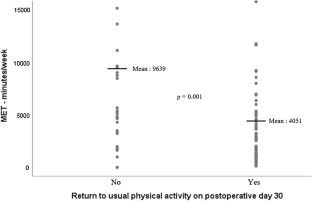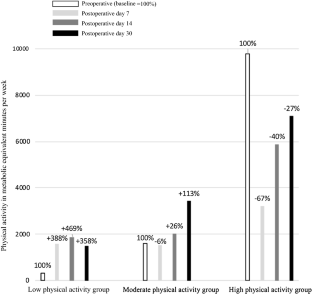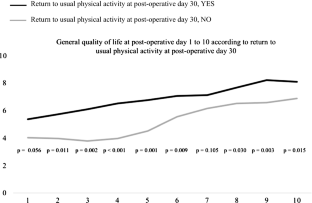 References
1.

Fournet S, Dhumeaux D (2001) Le Livre blanc de l'hépato-gastroentérologie. Masson, Paris

2.

Place R, Hyman N, Simmang C et al (2003) Practice parameters for ambulatory anorectal surgery. Dis Colon Rectum 46:573–576

3.

Smith LE (1986) Ambulatory surgery for anorectal diseases: an update. South Med J 79:163–166

4.

Ternent CA, Fleming F, Welton ML et al (2015) Clinical practice guideline for ambulatory anorectal surgery. Dis Colon Rectum 58:915–922

5.

Vinson-Bonnet B, Coltat JC, Fingerhut A et al (2002) Local infiltration with ropivacaine improves immediate postoperative pain control after hemorrhoidal surgery. Dis Colon Rectum 45:104–108

6.

Parrish AB, O'Neill SM, Crain SR et al (2018) An Enhanced Recovery After Surgery (ERAS) protocol for ambulatory anorectal surgery reduced postoperative pain and unplanned returns to care after discharge. World J Surg 42:1929–1938. https://doi.org/10.1007/s00268-017-4414-8

7.

Grucela A, Gurland B, Kiran RP (2012) Functional outcomes and quality of life after anorectal surgery. Am Surg 78:952–956

8.

von Elm E, Altman DG, Egger M et al (2007) The Strengthening the Reporting of Observational Studies in Epidemiology (STROBE) statement: guidelines for reporting observational studies. Ann Intern Med 147:573–577

9.

Vanhelst J, Mikulovic J, Fardy PS et al (2013) Concurrent validity of the modified International Physical Activity Questionnaire for French obese adolescents. Percept Mot Skills 116:123–131

10.

Hermoso J, Duran E, Sanchez-Pradell C et al (2015) Return to work after general surgery: a comparative study. Revista de calidad asistencial: organo de la Sociedad Espanola de Calidad Asistencial 30:251–255

11.

Ortiz H, Marzo J, Armendariz P et al (2005) Quality of life assessment in patients with chronic anal fissure after lateral internal sphincterotomy. Br J Surg 92:881–885

12.

Lohsiriwat V, Lohsiriwat D (2007) Ambulatory anorectal surgery under perianal anesthetics infiltration: analysis of 222 cases. J Med Assoc Thail Chotmaihet thangphaet 90:278–281

13.

Soll C, Dindo D, Steinemann D et al (2011) Sinusectomy for primary pilonidal sinus: less is more. Surgery 150:996–1001

14.

Soares MB, Pitombo MB, Paulo FL et al (2017) Partial stapled hemorrhoidopexy: clinical aspects and impact on anorectal physiology. Revista do Colegio Brasileiro de Cirurgioes 44:278–283

15.

Hyman N (2004) Incontinence after lateral internal sphincterotomy: a prospective study and quality of life assessment. Dis Colon Rectum 47:35–38

16.

Crain N, Aboulian A (2019) Unplanned returns to care within seven days after anorectal surgery: Can they be avoided? Am Surg 85:92–97

17.

Craig CL, Marshall AL, Sjostrom M et al (2003) International physical activity questionnaire: 12-country reliability and validity. Med Sci Sports Exerc 35:1381–1395

18.

Monyeki MA, Moss SJ, Kemper HCG et al (2018) Self-reported physical activity is not a valid method for measuring physical activity in 15-year-old South African boys and girls. Children 5:71
Ethics declarations
Conflict of interest
The authors declare that they have no conflict of interest.
Informed consent
Informed consent was obtained from all individual participants included in the study.
Additional information
Publisher's Note
Springer Nature remains neutral with regard to jurisdictional claims in published maps and institutional affiliations.
Electronic supplementary material
Below is the link to the electronic supplementary material.
About this article
Cite this article
Djafarrian, R., Hübner, M., Vuagniaux, A. et al. Recovery to Usual Activity After Outpatient Anorectal Surgery. World J Surg (2020). https://doi.org/10.1007/s00268-020-05419-z