Abstract
Background
The CT scan has supplanted the abdominal ultrasound for emergency examinations. A comparison of CT scan and ultrasound performance for the diagnosis and management of acute cholecystitis in acute care was proposed. The hypothesis is that the CT scan may be sufficient for the diagnosis of acute cholecystitis, which would allow faster progress to surgery.
Methods
The retrospective study of consecutive patients operated for acute cholecystitis or gallbladder distension with pre-operative imaging within 48 h in one centre.
Results
Between 2015 and 2017, a total of 341 cholecystectomies were performed in our centre. The analysis involved 120 patients. Ultrasound had better sensitivity than the CT scan, respectively, 79.4% [70.5–86.6] and 52.3% [42.5–62.1], but less specificity, with 61.5% [31.6–86.1] and 92.3% [64.0–99.8], respectively. However, there was a significant difference in favour of the CT scan for the diagnosis of complicated cholecystitis (p 0.004). The positive likelihood ratio of complicated cholecystitis is better at CT scan (7.8) [2.7–23.1] than in ultrasound (1.0) [0.1–9.7]. CT scan and ultrasound are equivalent for the diagnosis of acute cholecystitis, but CT scan is more efficient for the diagnosis of complicated cases (Youden index J 0.3 vs 0.001).
Conclusion
It is possible to place the surgical indication of cholecystectomy on the only data of the CT scan. We propose a decision-making algorithm that uses the CT scan to make the diagnosis and decide on emergency treatment for complicated cases or that allows us to propose a delayed surgery for simple cholecystitis.
This is a preview of subscription content, log in to check access.
Access options
Buy single article
Instant access to the full article PDF.
US$ 39.95
Price includes VAT for USA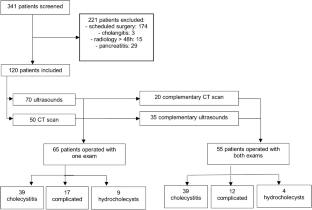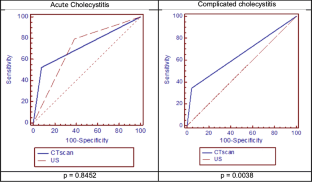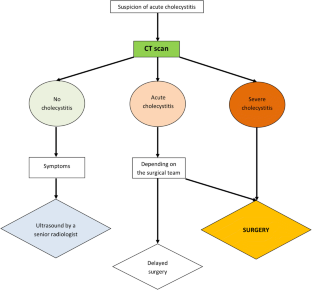 References
1.

Hastings RS, Powers RD (2011) Abdominal pain in the ED: a 35 year retrospective. Am J Emerg Med 29(7):711–716

2.

Dubuisson V, Voïglio EJ, Grenier N et al (2015) Imaging of non-traumatic abdominal emergencies in adults. J Visc Surg 152(6):S3–S11

3.

Gomes CA, Junior CS, Di Saveiro S et al (2017) Acute calculous cholecystitis: review of current best practices. World J Gastrointest Surg 9(5):118

4.

Sala E, Watson CJE, Beadsmoore C et al (2007) A randomized, controlled trial of routine early abdominal computed tomography in patients presenting with non-specific acute abdominal pain. Clin Radiol 62(10):961–969

5.

Paolantonio P, Rengo M, Ferrari R et al (2016) Multidetector CT in emergency radiology: acute and generalized non-traumatic abdominal pain. Br J Radiol 89(1061):20150859

6.

Yokoe M, Hata J, Takada T et al (2018) Tokyo Guidelines 2018 diagnostic criteria and severity grading of acute cholecystitis (with videos). J Hepatobiliary Pancreat Sci 25(1):41–54

7.

Harvey RT, Miller WT (1999) Acute biliary disease: initial CT and follow-up US versus initial US and follow-up CT. Radiology 213(3):831–836

8.

Soyer P, Hoeffel C, Dohan A et al (2013) Acute cholecystitis: quantitative and qualitative evaluation with 64-section helical CT. Acta Radiol 54(5):477–486

9.

Gurusamy KS, Davidson C, Gluud C et al (2013) Early versus delayed laparoscopic cholecystectomy for people with acute cholecystitis. Cochrane Database Syst Rev 30(6):CD005440

10.

Sánchez-Carrasco M, Rodríguez-Sanjuán JC, Martín-Acebes F et al (2016) Evaluation of early cholecystectomy versus delayed cholecystectomy in the treatment of acute cholecystitis. HPB Surg 4614096:1–8

11.

Mayumi T, Okamoto K, Takada T et al (2018) Tokyo Guidelines 2018: management bundles for acute cholangitis and cholecystitis. J Hepatobiliary Pancreat Sci 25(1):96–100

12.

Yokoe M, Takada T, Strasberg SM et al (2013) TG13 diagnostic criteria and severity grading of acute cholecystitis (with videos). J Hepatobiliary Pancreat Sci 20(1):35–46

13.

DeLong ER, DeLong DM, Clarke-Pearson DL (1988) Comparing the areas under two or more correlated receiver operating characteristic curves: a nonparametric approach. Biometrics 44(3):837–845

14.

Bossuyt PM, Reitsma JB, Bruns DE et al (2015) STARD 2015—an updated list of essential items for reporting diagnostic accuracy studies. BMJ 351:h5527

15.

Benarroch-Gampel J, Boyd CA, Sheffield KM et al (2011) Overuse of CT in patients with complicated gallstone disease. J Am Coll Surg 213(4):524–530

16.

Zafar SN, Obirieze A, Adesibikan B et al (2015) Optimal time for early laparoscopic cholecystectomy for acute cholecystitis. JAMA Surg 150(2):129

17.

Portincasa P, Moschetta A, Petruzzelli M et al (2006) Symptoms and diagnosis of gallbladder stones. Best Pract Res Clin Gastroenterol 20(6):1017–1029

18.

Kiewiet JJ, Leeuwenburgh MM, Bipat S et al (2012) A systematic review and meta-analysis of diagnostic performance of imaging in acute cholecystitis. Radiology 264(3):708–720

19.

Habenicht KI, Wright CJ, Hunter CT et al (2016) Do radiographic findings of gangrenous cholecystitis in the preoperative setting influence patient outcome? Am Surg 82(1):E28–E30

20.

Yeh DD, Cropano C, Fagenholz P et al (2015) Gangrenous cholecystitis: deceiving ultrasounds, significant delay in surgical consult, and increased postoperative morbidity! J Trauma Acute Care Surg 79(5):812–816

21.

Ratanaprasatporn L, Uyeda JW, Wortman JR et al (2018) Multimodality imaging, including dual-energy CT, in the evaluation of gallbladder disease. RadioGraphics 38(1):75–89

22.

Li D, Patlas M, Mclean K, Duszak R et al (2018) Relative diagnostic utility of radiologist-recommended abdominal ultrasound following emergency department abdominal and pelvic computed tomography. Abdom Radiol 43(11):3176–3183
Ethics declarations
Conflict of interest
The authors state that they have no interest.
Additional information
Publisher's Note
Springer Nature remains neutral with regard to jurisdictional claims in published maps and institutional affiliations.
Appendices
Appendix 1
Ckecklist STARD
| Section and topic | No | Item | Reported on page # |
| --- | --- | --- | --- |
| Title or abstract |   |   |   |
|   | 1 | Identification as a study of diagnostic accuracy using at least one measure of accuracy (such as sensitivity, specificity, predictive values, or AUC) | 3 |
| Abstract |   |   |   |
|   | 2 | Structured summary of study design, methods, results, and conclusions (for specific guidance, see STARD for abstracts) | 3 |
| Introduction |   |   |   |
|   | 3 | Scientific and clinical background, including the intended use and clinical role of the index test | 4 |
|   | 4 | Study objectives and hypotheses |   |
| Methods |   |   |   |
| Study design | 5 | Whether data collection was planned before the index test and reference standard were performed (prospective study) or after (retrospective study) | 5 |
| Participants | 6 | Eligibility criteria | 5 |
|   | 7 | On what basis potentially eligible participants were identified (such as symptoms, results from previous tests, inclusion in registry) | 5 |
|   | 8 | Where and when potentially eligible participants were identified (setting, location and dates) | 5 |
|   | 9 | Whether participants formed a consecutive, random or convenience series | 5 |
| Test methods | 10a | Index test, in sufficient detail to allow replication | 5 |
|   | 10b | Reference standard, in sufficient detail to allow replication | 5 |
|   | 11 | Rationale for choosing the reference standard (if alternatives exist) | 5 |
|   | 12a | Definition of and rationale for test positivity cut-offs or result categories of the index test, distinguishing pre-specified from exploratory | 5 |
|   | 12b | Definition of and rationale for test positivity cut-offs or result categories of the reference standard, distinguishing pre-specified from exploratory | 5 |
|   | 13a | Whether clinical information and reference standard results were available to the performers/readers of the index test | 5 |
|   | 13b | Whether clinical information and index test results were available to the assessors of the reference standard | 5 |
| Analysis | 14 | Methods for estimating or comparing measures of diagnostic accuracy | 5 |
|   | 15 | How indeterminate index test or reference standard results were handled | 5 |
|   | 16 | How missing data on the index test and reference standard were handled | 5 |
|   | 17 | Any analyses of variability in diagnostic accuracy, distinguishing pre-specified from exploratory | 5 |
|   | 18 | Intended sample size and how it was determined | 5 |
| Results |   |   |   |
| Participants | 19 | Flow of participants, using a diagram | 14 |
|   | 20 | Baseline demographic and clinical characteristics of participants | 15 |
|   | 21a | Distribution of severity of disease in those with the target condition | 14 |
|   | 21b | Distribution of alternative diagnoses in those without the target condition | 14 |
|   | 22 | Time interval and any clinical interventions between index test and reference standard | 15 |
| Test results | 23 | Cross tabulation of the index test results (or their distribution) by the results of the reference standard | 16 |
|   | 24 | Estimates of diagnostic accuracy and their precision (such as 95% confidence intervals) | 16 |
|   | 25 | Any adverse events from performing the index test or the reference standard |   |
| Discussion |   |   |   |
|   | 26 | Study limitations, including sources of potential bias, statistical uncertainty, and generalisability | 8 |
|   | 27 | Implications for practice, including the intended use and clinical role of the index test | 10, 18 |
| Other information |   |   |   |
|   | 28 | Registration number and name of registry |   |
|   | 29 | Where the full study protocol can be accessed |   |
|   | 30 | Sources of funding and other support; role of funders | 1 |
Appendix 2: Detailed results of each review strategy
Uncomplicated cholecystitis diagnosis—ultrasound alone
 
Illness
+
−
Total
Examination
+
40
3
43
−
3
4
7
Total
43
7
50
Uncomplicated cholecystitis diagnosis—CT scan alone
 
Illness
+
−
Total
Examination
+
13
1
14
−
0
1
1
Total
13
2
15
Uncomplicated cholecystitis diagnosis—ultrasound and then CT scan
 
Illness
+
−
Total
Examination
+
18
0
18
−
1
1
2
Total
19
1
20
Uncomplicated cholecystitis diagnosis—CT scan and ultrasound
 
Illness
+
−
Total
Examination
+
30
2
32
−
2
1
3
Total
32
3
35
Complicated cholecystitis diagnosis—ultrasound alone
 
Illness
+
−
Total
Examination
+
1
2
3
−
8
39
47
Total
9
41
50
Complicated cholecystitis diagnosis—CT scan alone
 
Illness
+
−
Total
Examination
+
2
1
3
−
6
6
12
Total
8
7
15
Complicated cholecystitis diagnosis—ultrasound then CT scan
 
Illness
+
−
Total
Examination
+
4
1
5
−
1
14
15
Total
5
15
20
Complicated cholecystitis diagnosis—CT scan and ultrasound
 
Illness
+
−
Total
Examination
+
3
2
5
−
4
26
30
Total
7
28
35
Appendix 3: Correction and diagnosis match, contribution of the second examination
Ultrasound and then scan

Scanner and ultrasound

Blue: good diagnosis, agreement between the 2 examinations
Yellow: bad correction of the second exam
Orange: misdiagnosis, both examinations are wrong
Green: the diagnosis was corrected in a good way with the second examination
About this article
Cite this article
Martellotto, S., Dohan, A. & Pocard, M. Evaluation of the CT Scan as the First Examination for the Diagnosis and Therapeutic Strategy for Acute Cholecystitis. World J Surg (2020). https://doi.org/10.1007/s00268-020-05404-6