Abstract
Background
Adult midgut malrotation is a rare cause of an acute abdomen requiring urgent intervention. It may also present in the non-acute setting with chronic, non-specific symptoms. The objective of this study is to identify the clinical features, appropriate investigations and current surgical management associated with adult malrotation.
Methods
A systematic review was conducted according to PRISMA guidelines, identifying confirmed cases of adult malrotation. Patient demographics, clinical features, investigation findings and operative details were analysed.
Results
Forty-five reports met the inclusion criteria, totalling 194 cases. Mean age was 38.9 years (n = 92), and 52.3% were male (n = 130). The commonest presenting complaints were abdominal pain (76.8%), vomiting (35.1%) and food intolerance (21.6%). At least one chronic symptom was reported in 87.6% and included intermittent abdominal pain (41.2%), vomiting (12.4%) and obstipation (11.9%). Computerised tomography scanning was the most frequent imaging modality (81.4%), with a sensitivity of 97.5%. The whirlpool sign was observed in 30.9%; abnormalities of the superior mesenteric axis were the commonest finding (58.0%). Ladd's procedure was the most common surgical intervention (74.5%). There was no significant difference in resolution rates between emergency and elective procedures (p = 0.46), but length of stay was significantly shorter for elective cases. (p = 0.009). There was no significant difference in risk of mortality, or symptom resolution, between operative and conservative management (p = 0.14 and p = 0.44, respectively).
Conclusion
Malrotation in the adult manifests with chronic symptoms and should be considered as a differential diagnosis in patients with abdominal pain, vomiting and food intolerance.
This is a preview of subscription content, log in to check access.
Access options
Buy single article
Instant access to the full article PDF.
US$ 39.95
Price includes VAT for USA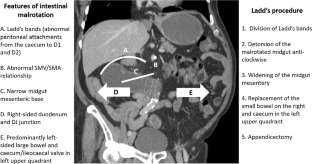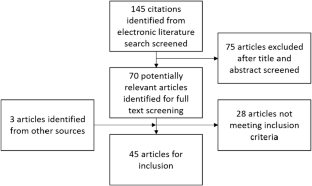 Abbreviations
CT:

Computerised tomography

MRI:

Magnetic resonance imaging

SMA:

Superior mesenteric axis
References
1.

Soffers JHM, Hikspoors JPJM, Mekonen HK, Koehler SE, Lamers WH (2015) The growth pattern of the human intestine and its mesentery. BMC Dev Biol 15:31

2.

Haak BW, Bodewitz ST, Kuijper CF, de Widt-Levert LM (2014) Intestinal malrotation and volvulus in adult life. Int J Surg Case Rep 5:259–261

3.

Low SF, Ngiu CS, Sridharan R, Lee YL (2014) Midgut malrotation with congenital peritoneal band: a rare cause of small bowel obstruction in adulthood. BMJ Case Rep. https://doi.org/10.1136/bcr-2013-202690

4.

Gamblin TC, Stephens REJ, Johnson RK, Rothwell M (2003) Adult malrotation: a case report and review of the literature. Curr Surg 60:517–520

5.

Tack GJ, van Kelckhoven B-J, Kuyvenhoven JP (2015) An unusual cause of duodenal obstruction in adults. Arab J Gastroenterol 16:63–65

6.

McVay MR, Kokoska ER, Jackson RJ, Smith SD (2007) Jack Barney Award. The changing spectrum of intestinal malrotation: diagnosis and management. Am J Surg 194:712–719

7.

Emanuwa OF, Ayantunde AA, Davies TW (2011) Midgut malrotation first presenting as acute bowel obstruction in adulthood: a case report and literature review. World J Emerg Surg 6:22

8.

Coe TM, Chang DC, Sicklick JK (2015) Small bowel volvulus in the adult populace of the United States: results from a population-based study. Am J Surg 210:201–210.e2

9.

Anand U, Kumar R, Priyadarshi RN, Kumar B, Kumar S, Singh VP (2018) Comparative study of intestinal malrotation in infant, children, and adult in a tertiary care center in India. Indian J Gastroenterol 37:545–549

10.

Nehra D, Goldstein AM (2011) Intestinal malrotation: varied clinical presentation from infancy through adulthood. Surgery 149:386–393

11.

Durkin ET, Lund DP, Shaaban AF, Schurr MJ, Weber SM (2008) Age-related differences in diagnosis and morbidity of intestinal malrotation. J Am Coll Surg 206:658–663

12.

Kumar B, Kumar M, Kumar P, Sinha AK, Anand U, Kumar A (2017) Color doppler—an effective tool for diagnosing midgut volvulus with malrotation. Indian J Gastroenterol 36:27–31

13.

Orzech N, Navarro OM, Langer JC (2006) Is ultrasonography a good screening test for intestinal malrotation? J Pediatr Surg 41:1005–1009

14.

Zhang W, Sun H, Luo F (2017) The efficiency of sonography in diagnosing volvulus in neonates with suspected intestinal malrotation. Medicine (Baltimore) 96:e8287

15.

Patino MO, Munden MM (2004) Utility of the sonographic whirlpool sign in diagnosing midgut volvulus in patients with atypical clinical presentations. J Ultrasound Med 23:397–401

16.

Bozlar U, Ugurel MS, Ustunsoz B, Coskun U (2008) CT angiographic demonstration of a mesenteric vessel 'whirlpool' in intestinal malrotation and midgut volvulus: a case report. Korean J Radiol 9:466–469

17.

Nath J, Corder AP (2012) Delayed presentation of familial intestinal malrotation with volvulus in two adult siblings. Ann R Coll Surg Engl 94:e191–e192

18.

Alessandri G, Amodio A, Landoni L, De' Liguori Carino N, Bassi C (2016) Recurrent acute pancreatitis in bowel malrotation. Eur Rev Med Pharmacol Sci 20:4719–4724

19.

Sasaki T, Soh H, Kimura T, Hasegawa T, Okada A, Fukuzawa M (2005) Recurrent acute pancreatitis caused by malrotation of the intestine and effective treatment with laparoscopic Ladd's procedure. Pediatr Surg Int 21:994–996

20.

Larsen PO, Ellebaek MB, Pless T, Qvist N (2015) Acute pancreatitis secondary to duodeno-duodenal intussusception caused by a duodenal membrane, in a patient with intestinal malrotation. Int J Surg Case Rep 13:58–60

21.

Matzke GM, Dozois EJ, Larson DW, Moir CR (2005) Surgical management of intestinal malrotation in adults: comparative results for open and laparoscopic Ladd procedures. Surg Endosc 19:1416–1419

22.

Kafadar MT, Cengiz AY, Cavis T, Bilgic I, Nadir I (2018) Incidental intestinal malrotation in an adult: Midgut volvulus. Turk J Surg 34:337–339

23.

Hmadeh H, Saliba C, Raka M, Farhat HA, Dabbous A, Diab S et al (2018) An unusual case of intestinal malrotation causing duodenal obstruction by a looped appendix. Am J Case Rep 19:1362–1365

24.

Deniffel D, Goerke SM, Rummeny EJ, Laubenberger J (2018) Novel variant of reversed midgut rotation—retro-arterial proximal jejunum and transverse colon: a case report and review of the literature. J Med Case Rep 12:261

25.

Butterworth WA, Butterworth JW (2018) An adult presentation of midgut volvulus secondary to intestinal malrotation: a case report and literature review. Int J Surg Case Rep 50:46–49

26.

Ayane GN, Kadimo K (2018) Diagnosis and surgical management of congenital intestinal malrotation presenting with midgut volvulus in an adult: high index of suspicion (case report). Pan Afr Med J 29:154

27.

Mehrkhu M, Shirvani Dehkordi I, Shirvani Dehkordi P, Shirvani Dehkordi A (2018) Pneumatosis intestinalis in an adult patient with antral stenosis and midgut malrotation. BMJ Case Rep. https://doi.org/10.1136/bcr-2017-223238

28.

Ong M, Roberts M, Perera M, Pretorius C (2017) Case of a strangulated right paraduodenal fossa hernia in a malrotated gut. BMJ Case Rep

29.

Fung AT, Konkin DE, Kanji ZS (2017) Malrotation with midgut volvulus in an adult: a case report and review of the literature. J Surg Case Rep 5:rjx081

30.

Shahverdi E, Morshedi M, Allahverdi Khani M, Baradaran Jamili M, Shafizadeh Barmi F (2017) Utility of the CT scan in diagnosing midgut volvulus in patients with chronic abdominal pain. Case Rep Surg 2017:1079192

31.

Esterson YB, Villani R, Dela Cruz RA, Friedman B, Grimaldi GM (2017) Small bowel volvulus in pregnancy with associated superior mesenteric artery occlusion. Clin Imaging 42:228–231

32.

Kotobi H, Tan V, Lefevre J, Durame F, Audry G, Parc Y (2017) Total midgut volvulus in adults with intestinal malrotation. Report of eleven patients. J Visc Surg 154:175–183

33.

Ordonez A, Nguyen D, Mlacker S, Ordonez A, Lo Menzo E, Szomstein S et al (2016) Wandering liver and intestinal malrotation: first report. Surg Case Rep 2:80

34.

Hsu CG, Berger A, Shulman A, Heller M, Steinberg E (2016) Intestinal necrosis with midgut malrotation and intermittent volvulus: presentation as acute abdominal pain in an adult. J Emerg Med 51:326–328

35.

Husberg B, Salehi K, Peters T, Gunnarsson U, Michanek M, Nordenskjold A et al (2016) Congenital intestinal malrotation in adolescent and adult patients: a 12-year clinical and radiological survey. Springerplus 5:245

36.

Zengin A, Ucar BI, Duzgun SA, Bayhan Z, Zeren S, Yaylak F et al (2016) Adult midgut malrotation presented with acute bowel obstruction and ischemia. Int J Surg Case Rep Netherlands 22:5–7

37.

Grock A, Chan W, deSouza IS (2016) A curious case of right upper quadrant abdominal pain. West J Emerg Med 17:630–633

38.

Garcelan-Trigo JA, Tello-Moreno M, Rabaza-Espigares MJ, Talavera-Martinez I (2015) Barber pole sign in CT angiography, adult presentation of midgut malrotation: a case report. Iran J Radiol 12:e17853

39.

Prasad GR, Rao JVS, Fatima H, Shareef HM, Shah A, Satyanarayana G (2015) Malrotation of midgut in adults, an unsuspected and neglected condition—an analysis of 64 consensus confirmed cases. Indian J Gastroenterol 34:426–430

40.

Chumber S, Pol MM, Akhtar J, Uniyal M (2015) Malrotation of the gut harbouring midgut volvulus in an adult with situs inversus totalis: a clinical delay and treatment dilemma. BMJ Case Rep. https://doi.org/10.1136/bcr-2015-211205

41.

Gemmell A (2015) Partial malrotation of the bowel in an adult patient presenting with abdominal pain. BMJ Case Rep. https://doi.org/10.1136/bcr-2015-211591

42.

Saxena D, Pandey A, Singh RA, Garg P, Roy R, Bugalia RP et al (2015) Malroatation of gut with superior mesenteric artery syndrome and multiple jejunal diverticula presenting as acute intestinal obstruction in 6th decade: a rare case report. Int J Surg Case Rep 6C:1–4

43.

Zheng Z-H, Huang J-L, Wei H-B, Liu J-P, Huang Y (2014) Adult congenital intestinal malrotation accompanied by midgut volvulus: report of eight cases. Int J Clin Exp Med 7:1614–1618

44.

Bektasoglu HK, Idiz UO, Hasbahceci M, Yardimci E, Firat YD, Karatepe O et al (2014) Midgut malrotation causing intermittent intestinal obstruction in a young adult. Case Rep Surg 2014:758032

45.

Soker G, Yilmaz C, Karateke F, Gulek B (2014) An unexpected cause of small bowel obstruction in an adult patient: midgut volvulus. BMJ Case Rep

46.

Vassaur J, Vassaur H, Buckley FP (2014) Single-incision laparoscopic Ladd's procedure for intestinal malrotation. JSLS J Soc Laparoendosc Surg 18:132–135

47.

Karim MA, Mansour M, Ali A (2013) Re-do Roux-en-Y gastric bypass in a patient with known midgut malrotation. JSLS J Soc Laparoendosc Surg 17:463–467

48.

Singh S, Das A, Chawla AS, Arya SV, Chaggar J (2013) A rare presentation of midgut malrotation as an acute intestinal obstruction in an adult: two case reports and literature review. Int J Surg Case Rep 4:72–75

49.

HitenKumar PN, Shah D, Priyanka CB (2012) Unusual presentation of midgut malrotation with incidental nutcracker syndrome in adulthood: case report and literature review. BMJ Case Rep. https://doi.org/10.1136/bcr-03-2012-6010

50.

Nakajima T, Matsuhashi N, Nara S, Nakajima A, Imura J, Kihara A et al (2012) An adult case of midgut volvulus in familial visceral myopathy. Pathol Int 62:554–558

51.

Brauner E, Mahajna A, Assalia A (2012) Intestinal malrotation presenting as midgut volvulus after massive weight loss following laparoscopic sleeve gastrectomy: case report and review of the literature. Surg Obes Relat Dis 8:e52–e55

52.

Hanna T, Akoh JA (2010) Acute presentation of intestinal malrotation in adults: a report of two cases. Ann R Coll Surg Engl 92:W15–W18

53.

Hsieh T-M, Sheen-Chen S-M, Lin C-C (2008) Combination of adult intussusception and intestinal malrotation: an unusual presentation. Dig Dis Sci 53:3037–3039

54.

Hsu S-D, Yu J-C, Chou S-J, Hsieh H-F, Chang T-H, Liu Y-C (2008) Midgut volvulus in an adult with congenital malrotation. Am J Surg 195:705–707

55.

Bray M, Bertino R, Fischer J, Kerolus G (2007) Midgut volvulus in an adult patient with malrotation and abdominal heterotaxia: a case report. Emerg Radiol 14:131–134

56.

Wai C-T, Cheah W-K (2006) Gastrointestinal: midgut malrotation in an adult. J Gastroenterol Hepatol 21:917

57.

Seymour NE, Andersen DK (2005) Laparoscopic treatment of intestinal malrotation in adults. JSLS J Soc Laparoendosc Surg 9:298–301

58.

Puvaneswary M, Rajaratnam S (2003) Midgut volvulus in an adult. Australas Radiol 47:83–84

59.

Ly JQ (2002) Malrotation rapidly progressing to midgut volvulus following recent laparoscopic surgery. J Emerg Med 23:295–296
Ethics declarations
Conflict of interest
The authors declare they have no conflict of interest.
Informed consent
Informed consent was obtained from all participants in the study.
Additional information
Publisher's Note
Springer Nature remains neutral with regard to jurisdictional claims in published maps and institutional affiliations.
About this article
Cite this article
Neville, J.J., Gallagher, J., Mitra, A. et al. Adult Presentations of Congenital Midgut Malrotation: A Systematic Review. World J Surg (2020). https://doi.org/10.1007/s00268-020-05403-7