Abstract
Background
To compare the effectiveness of a custom-made skills simulator (CMSS) with the commercially available da Vinci® skills simulator (DVSS) that help improving surgical skills for effective and safe robotic surgical interventions.
Methods
A randomized control study was conducted to determine the performance of participants after undergoing robotic surgical training. Total 64 students who had no previous experience with robotic surgery enrolled this study. After 5 min—introduction of robotic surgical system, the participants got random-assignment into two groups to perform either CMSS-or DVSS-exercises. After 15 min-practicing the corresponding simulator, task-execution performance and individual questionnaires were compared between participants trained with the CMSS and those trained with the DVSS.
Results
Regardless of simulator the participants used, the system understanding and manipulation ability of the participants was found to be higher than after completing the simulation-based robotic surgical training (p < 0.05). However, there were no significant differences in terms of the required time to complete the tasks, and improvement of understanding the concept of robotic surgery, or surgical skill capacity between two groups (p > 0.05).
Conclusions
The training effectiveness of CMSS was not significantly different to DVSS. It can be synergetic tool to DVSS for novice trainees of robotic surgery to get accustomed to the robotic surgical system and to improve their basic robotic surgical skills.
This is a preview of subscription content, log in to check access.
Access options
Buy single article
Instant unlimited access to the full article PDF.
US$ 39.95
Price includes VAT for USA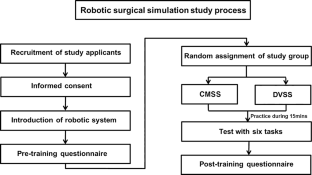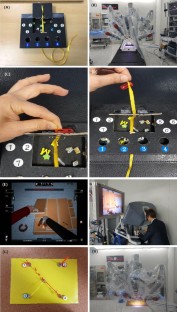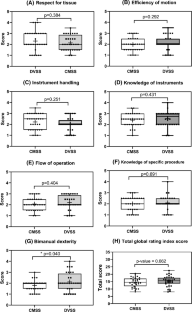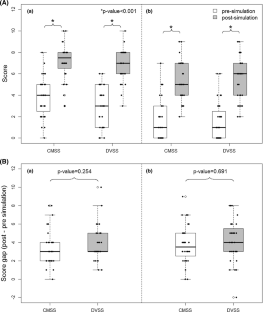 References
1.

Kang CM, Lee SH, Lee WJ (2014) Minimally invasive radical pancreatectomy for left-sided pancreatic cancer: current status and future perspectives. World J Gastroenterol 20(9):2343–2351

2.

Watkins AA, Kent TS, Gooding WE et al (2017) Multicenter outcomes of robotic reconstruction during the early learning curve for minimally-invasive pancreaticoduodenectomy. HPB (Oxford) 20:155–165

3.

Mazzon G, Sridhar A, Busuttil G et al (2017) Learning curves for robotic surgery: a review of the recent literature. Curr Urol Rep 18(11):89

4.

Dunn DH, Johnson EM, Anderson CA et al (2017) Operative and survival outcomes in a series of 100 consecutive cases of robot-assisted transhiatal esophagectomies. Dis Esophagus 30(10):1–7

5.

Son T, Hyung WJ (2015) Robotic gastrectomy for gastric cancer. J Surg Oncol 112(3):271–278

6.

Liu R, Zhang T, Zhao ZM et al (2017) The surgical outcomes of robot-assisted laparoscopic pancreaticoduodenectomy versus laparoscopic pancreaticoduodenectomy for periampullary neoplasms: a comparative study of a single center. Surg Endosc 31(6):2380–2386

7.

Breda A, Territo A, Gausa L et al (2017) Robot-assisted kidney transplantation: the European experience. Eur Urol 73:273–281

8.

Abdel Raheem A, Alatawi A, Kim DK et al (2016) Outcomes of high-complexity renal tumours with a preoperative aspects and dimensions used for an anatomical (PADUA) score of ≥10 after robot-assisted partial nephrectomy with a median 46.5-month follow-up: a tertiary centre experience. BJU Int 118(5):770–778

9.

Zubair MH, Smith JM (2017) Updates in minimally invasive cardiac surgery for general surgeons. Surg Clin North Am 97(4):889–898

10.

Moglia A, Ferrari V, Morelli L, Ferrari M, Mosca F, Cuschieri A (2016) A systematic review of virtual reality simulators for robot-assisted surgery. Eur Urol 69(6):1065–1080

11.

Phe V, Cattarino S, Parra J et al (2017) Outcomes of a virtual-reality simulator-training programme on basic surgical skills in robot-assisted laparoscopic surgery. Int J Med Robot 13(2):e1740

12.

Abboudi H, Khan MS, Aboumarzouk O et al (2013) Current status of validation for robotic surgery simulators—a systematic review. BJU Int 111(2):194–205

13.

Perrenot C, Perez M, Tran N et al (2012) The virtual reality simulator dV-Trainer((R)) is a valid assessment tool for robotic surgical skills. Surg Endosc 26(9):2587–2593

14.

Julian D, Tanaka A, Mattingly P, Truong M, Perez M, Smith R (2017) A comparative analysis and guide to virtual reality robotic surgical simulators. Int J Med Robot. 14:e1874

15.

Chang KD, Abdel Raheem A, Choi YD, Chung BH, Rha KH (2018) Retzius-sparing robot-assisted radical prostatectomy using the Revo-i robotic surgical system: surgical technique and results of the first human trial. BJU Int 122:441–448

16.

Kang CM, Chong JU, Lim JH et al (2017) Robotic cholecystectomy using the newly developed Korean robotic surgical system, Revo-i: a preclinical experiment in a porcine model. Yonsei Med J 58(5):1075–1077

17.

Zhao W (2014) A better alternative to stratified permuted block design for subject randomization in clinical trials. Stat Med 33(30):5239–5248

18.

Doyle JD, Webber EM, Sidhu RS (2007) A universal global rating scale for the evaluation of technical skills in the operating room. Am J Surg 193(5):551–555 (discussion 555)

19.

Lee JH, Tanaka E, Woo Y et al (2017) Advanced real-time multi-display educational system (ARMES): an innovative real-time audiovisual mentoring tool for complex robotic surgery. J Surg Oncol 116:894–897

20.

Satava RM (1993) Virtual reality surgical simulator. The first steps. Surg Endosc 7(3):203–205

21.

Raison N, Ahmed K, Fossati N et al (2017) Competency based training in robotic surgery: benchmark scores for virtual reality robotic simulation. BJU International 119(5):804–811

22.

Dubin AK, Smith R, Julian D, Tanaka A, Mattingly P (2017) A comparison of robotic simulation performance on basic virtual reality skills: simulator subjective versus objective assessment tools. J Minim Invasive Gynecol 24(7):1184–1189

23.

Vogell A, Gujral H, Wright KN, Wright VW, Ruthazer R (2015) Impact of a robotic simulation program on resident surgical performance. Am J Obstet Gynecol 213(6):874–875

24.

van der Meijden OA, Schijven MP (2009) The value of haptic feedback in conventional and robot-assisted minimal invasive surgery and virtual reality training: a current review. Surg Endosc 23(6):1180–1190

25.

Smith R, Patel V, Satava R (2014) Fundamentals of robotic surgery: a course of basic robotic surgery skills based upon a 14-society consensus template of outcomes measures and curriculum development. Int J Med Robot 10(3):379–384
Acknowledgements
This study was supported by the InSuk (Chi Hoon Sang) Best Teacher Award (2015) of Severance Surgeon's Alumni, Department of Surgery, Yonsei University College of Medicine, Seoul, Korea.
Ethics declarations
Conflict of interest
All of the authors (Cho Rok Lee, Seoung Yoon Rho, Sang Hyup Han, Young Moon, Sun Young Hwang, Young Joo Kim, and Chang Moo Kang) have nothing to disclose.
Additional information
Publisher's Note
Springer Nature remains neutral with regard to jurisdictional claims in published maps and institutional affiliations.
Electronic supplementary material
Below is the link to the electronic supplementary material.
Custom-made skills simulator(CMSS) function (a brief explanation) (MP4 12089 kb)
Custom-made skills simulator(CMSS) exercise by a participant (MP4 3690 kb)
Da Vinci® skills simulator (DVSS) exercise by a participant (MP4 3222 kb)
Evaluation task working by a participant (MP4 7404 kb)
About this article
Cite this article
Lee, C.R., Rho, S.Y., Han, S.H. et al. Comparison of Training Efficacy Between Custom-Made Skills Simulator (CMSS) and da Vinci Skills Simulators: A Randomized Control Study. World J Surg 43, 2699–2709 (2019) doi:10.1007/s00268-019-05108-6