Abstract
Background
As the most appropriate laparoscopic approach for adrenalectomy is still a matter of debate, we present a modified technique of laparoscopic transmesocolic approach for left adrenalectomy.
Methods
All demographics, intraoperative and postoperative data of patients who underwent laparoscopic transmesocolic left adrenalectomy from 2009 to 2015 in Avicenne Hospital were recorded.
Results
Thirty-three consecutive patients underwent laparoscopic transmesocolic left adrenalectomy. We observed no conversion, negligible blood loss, no red cell transfusion or intraoperative complication. Mean operative time reached 96 min (range: 40–200 min). Postoperatively, the median length of hospital stay was 5 days (range: 3–8 days), mortality was nil, and six (19%) patients suffered from complication, including one major complication (Clavien–Dindo III–IV, an abdominal collection treated with radiologic drainage). R0 resection was achieved in all patients.
Conclusion
Laparoscopic left adrenalectomy using semi-lateral transperitoneal transmesocolic approach is feasible and safe with acceptable intraoperative and perioperative outcomes. This technique could be considered as a routine approach and should be compared in further studies.
This is a preview of subscription content, log in to check access.
Access options
Buy single article
Instant unlimited access to the full article PDF.
US$ 39.95
Price includes VAT for USA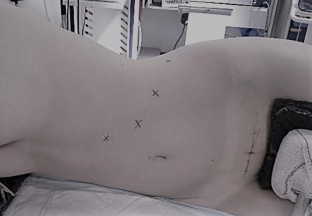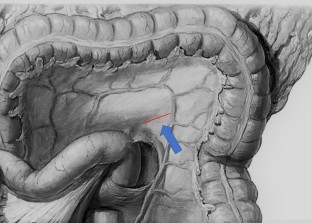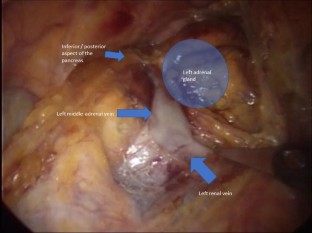 References
1.

Gagner M, Pomp A, Heniford BT, Pharand D, Lacroix A (1997) Laparoscopic adrenalectomy: lessons learned from 100 consecutive procedures. Ann Surg 226:238–246 (discussion 246-7)

2.

Heger P, Probst P, Hüttner FJ, Gooßen K, Proctor T, Müller-Stich BP, Strobel O, Büchler MW, Diener MK (2017) Evaluation of open and minimally invasive adrenalectomy: a systematic review and network meta-analysis. World J Surg 41:2746–2757. https://doi.org/10.1007/s00268-017-4095-3

3.

Constantinides VA, Christakis I, Touska P, Palazzo FF (2012) Systematic review and meta-analysis of retroperitoneoscopic versus laparoscopic adrenalectomy. Br J Surg 99:1639–1648. https://doi.org/10.1002/bjs.8921

4.

Perretta S, Campagnacci R, Guerrieri M, Paganini AM, De Sanctis A, Sarnari J, Rimini M, Lezoche E (2005) Sub-mesocolic access in laparoscopic left adrenalectomy. Surg Endosc 19:977–980

5.

Lezoche E, Guerrieri M, Crosta F, Lezoche G, Baldarelli M, Campagnacci R (2008) Flank approach versus anterior sub-mesocolic access in left laparoscopic adrenalectomy: a prospective randomized study. Surg Endosc 22:2373–2378. https://doi.org/10.1007/s00464-008-9783-5
Ethics declarations
Conflict of interest
PW, LG and AZLB have no conflict of interest regarding this manuscript.
Additional information
Publisher's Note
Springer Nature remains neutral with regard to jurisdictional claims in published maps and institutional affiliations.
Electronic supplementary material
Below is the link to the electronic supplementary material.
Supplementary material 1 (MP4 134919 kb)
About this article
Cite this article
Wind, P., Genser, L. & Zarzavadjian Le Bian, A. The Modified Semi-lateral Transmesocolic Approach for Laparoscopic Left Adrenalectomy. World J Surg 43, 1708–1711 (2019) doi:10.1007/s00268-019-04954-8