Abstract
Background
Magnetic compression anastomosis (magnamosis, MCA) has been verified safe and effective by us and others in animal bilioenteric anastomosis (BEA). The objective of the present study was to introduce clinical application of magnetic compression bilioenteric anastomosis (MC-BEA) with a unique device in series of patients.
Methods
Patients with obstructive jaundice with an indication of BEA were prospectively enrolled from 2012 to 2015. After dissection of bile ducts, the mother ring and drainage tube were placed in the proximal bile duct and the purse-string suture was tightened over the drainage tube. The drainage tube was introduced into the jejunal lumen at the anastomotic site and used to guide the daughter ring to assemble with the mother ring. All the patients were routinely followed up for magnets discharge or any complications associated.
Results
Forty-one patients were included. Thirty-four (82.9%) patients had a malignant primary disease, while seven (17.1%) had benign disease. The median time for MC-BEA was 10.5 min (interquartile range [IQR] 8.3–13.0 min). No perioperative morbidity or mortality associated with MC-BEA was observed. The median time for a patent bilioenteric anastomosis formation was 19.0 days (IQR 14.5–23.0 days), and the magnets were discharged with a median postoperative duration of 35.0 days (IQR 28.0–43.0 days). With a median follow-up of 547.5 days (range 223–1042 days), no patients had biliary fistula, while two (4.9%) developed anastomotic stricture at 4 months and 14 months after surgery, and underwent reoperation for reconstruction of BEA.
Conclusions
MCA is a safe, effective, and time-saving modality for biliojejunostomy.
This is a preview of subscription content, log in to check access.
Access options
Buy single article
Instant unlimited access to the full article PDF.
US$ 39.95
Price includes VAT for USA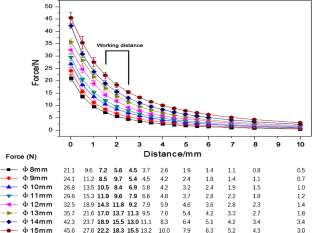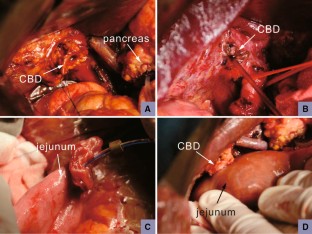 References
1.

Avaliani M, Chigogidze N, Nechipai A et al (2009) Magnetic compression biliary-enteric anastomosis for palliation of obstructive jaundice: initial clinical results. J Vasc Interv Radiol 20:614–623

2.

Reid-Lombardo KM, Ramos-De la Medina A, Thomsen K et al (2007) Long-term anastomotic complications after pancreaticoduodenectomy for benign diseases. J Gastrointest Surg 11:1704–1711

3.

Zhu JQ, Li XL, Kou JT et al (2017) Bilioenteric anastomotic stricture in patients with benign and malignant tumors: prevalence, risk factors and treatment. Hepatobiliary Pancreat Dis Int 16:412–417

4.

Koch M, Garden OJ, Padbury R et al (2011) Bile leakage after hepatobiliary and pancreatic surgery: a definition and grading of severity by the International Study Group of Liver Surgery. Surgery 149:680–688

5.

Cantillon-Murphy P, Cundy TP, Patel NK et al (2015) Magnets for therapy in the GI tract: a systematic review. Gastrointest Endosc 82:237–245

6.

Obora Y, Tamaki N (1978) Matsumoto S Nonsuture microvascular anastomosis using magnet rings: preliminary report. Surg Neurol 9:117–120

7.

Zaritzky M, Ben R, Zylberg GI et al (2009) Magnetic compression anastomosis as a nonsurgical treatment for esophageal atresia. Pediatr Radiol 39:945–949

8.

Bouchard S, Huberty V, Blero D et al (2015) Magnetic compression for treatment of large oesophageal diverticula: a new endoscopic approach for a risky surgical disease? Gut 64:1678–1679

9.

van Hooft JE, Vleggaar FP, Le Moine O et al (2010) Endoscopic magnetic gastroenteric anastomosis for palliation of malignant gastric outlet obstruction: a prospective multicenter study. Gastrointest Endosc 72:530–535

10.

Graves CE, Co C, Hsi RS et al (2017) Magnetic compression anastomosis (magnamosis): first-in-human trial. J Am Coll Surg 225:676–681

11.

Takao S, Matsuo Y, Shinchi H et al (2001) Magnetic compression anastomosis for benign obstruction of the common bile duct. Endoscopy 33:988–990

12.

Muraoka N, Uematsu H, Yamanouchi E et al (2005) Yamanouchi magnetic compression anastomosis for bilioenteric anastomotic stricture after living-donor liver transplantation. J Vasc Interv Radiol 16:1263–1267

13.

Jang SI, Rhee K, Kim H et al (2014) Recanalization of refractory benign biliary stricture using magnetic compression anastomosis. Endoscopy 46:70–74

14.

Jang SI, Choi J, Lee DK (2015) Magnetic compression anastomosis for treatment of benign biliary stricture. Dig Endosc 27:239–249

15.

Matsuno N, Uchiyama M, Nakamura Y et al (2009) A nonsuture anastomosis using magnetic compression for biliary stricture after living donor liver transplantation. Hepatogastroenterology 56:47–49

16.

Parlak E, Koksal AS, Kucukay F et al (2017) A novel technique for the endoscopic treatment of complete biliary anastomosis obstructions after liver transplantation: through-the-scope magnetic compression anastomosis. Gastrointest Endosc 85:841–847

17.

Cope C (1995) Evaluation of compression cholecystogastric and cholecystojejunal anastomoses in swine after peroral and surgical introduction of magnets. J Vasc Interv Radiol 6:546–552

18.

Saito R, Tahara H, Shimizu S et al (2017) Biliary-duodenal anastomosis using magnetic compression following massive resection of small intestine due to strangulated ileus after living donor liver transplantation: a case report. Surg Case Rep 3:73

19.

Fan C, Ma J, Zhang HK et al (2011) Sutureless intestinal anastomosis with a novel device of magnetic compression anastomosis. Chin Med Sci J 26:182–189

20.

Fan C, Yan XP, Liu SQ et al (2012) Roux-en-Y choledochojejunostomy using novel magnetic compressive anastomats in canine model of obstructive jaundice. Hepatobiliary Pancreat Dis Int 11:81–88

21.

Fan C, Zhang H, Yan X et al (2017) Advanced Roux-en-Y hepaticojejunostomy with magnetic compressive anastomats in obstructive jaundice dog models. Surg Endosc 32:779–789

22.

Li JH, Guo L, Yao WJ et al (2014) Healing of stoma after magnetic biliary-enteric anastomosis in canine peritonitis models. Chin Med Sci J 29:91–97

23.

Liu SQ, Lei P, Cao ZP et al (2012) Nonsuture anastomosis of arteries and veins using the magnetic pinned-ring device: a histologic and scanning electron microscopic study. Ann Vasc Surg 26:985–995

24.

Liu SQ, Lei P, Cui XH et al (2013) Sutureless anastomoses using magnetic rings in canine liver transplantation model. J Surg Res 185:923–933

25.

Wang SP, Yan XP, Xue F et al (2015) Fast magnetic reconstruction of the portal vein with allogeneic blood vessels in canines. Hepatobiliary Pancreat Dis Int 14:293–299

26.

Xue F, Guo HC, Li JP et al (2016) Choledochojejunostomy with an innovative magnetic compressive anastomosis: how to determine optimal pressure? World J Gastroenterol 22:2326–2335

27.

Xue F, Li J, Lu J et al (2016) Splenorenal shunt via magnetic compression technique: a feasibility study in canine and cadaver. Minim Invasive Ther Allied Technol 25:329–336

28.

Yan X, Fan C, Ma J et al (2013) Portacaval shunt established in six dogs using magnetic compression technique. PLoS ONE 8:e76873

29.

Yan XP, Liu WY, Ma J et al (2015) Extrahepatic portacaval shunt via a magnetic compression technique: a cadaveric feasibility study. World J Gastroenterol 21:8073–8080

30.

Zhang H, Tan K, Fan C et al (2017) Magnetic compression anastomosis for enteroenterostomy under peritonitis conditions in dogs. J Surg Res 208:60–67
Acknowledgements
The authors thank Dr. Zhi-Min Geng, Dr. Xue Yang and other collaborators in Department of Hepatobiliary Surgery for the technical support in surgery; Dr. Rui-Xue Luo in Northwest Institute for Non-ferrous Metal Research, and Dr. Di-Chen Li in the Mechanical Engineering Department of Xi'an Jiaotong University for their support in machining and mechanical property test of the magnets.
Funding
National Natural Science Foundation of China (30830099, 81470896, 81127005).
Ethics declarations
Conflict of interest
All authors declare that they have no disclosures to report.
Electronic supplementary material
Below is the link to the electronic supplementary material.
Supplementary material 1 (WMV 8247 kb)
About this article
Cite this article
Liu, X., Yan, X., Zhang, H. et al. Magnetic Anastomosis for Biliojejunostomy: First Prospective Clinical Trial. World J Surg 42, 4039–4045 (2018) doi:10.1007/s00268-018-4710-y