Abstract
Objective
First rib resection is a well-recognized treatment option for thoracic outlet syndrome (TOS). In case of a vascular insufficiency that can be provoked and/or progressive neurologic symptoms without response to conservative treatment, surgical decompression of the space between the clavicle and the first rib is indicated. The aim of this paper is to present our experience with a new minimally invasive robotic approach using the da Vinci Surgical System®.
Methods
Between January 2015 and October 2017, eight consecutive first rib resections in seven patients were performed at our institution. Four patients presented with neurologic (one bilateral), and three patients with vascular (venous) impairment. In all cases, a transthoracic robotic-assisted approach was used. The first rib was removed using a 3-port robotic approach with an additional 2-cm axillary incision in the first six patients. The latest resection was performed through only three thoracic ports.
Results
Median operative time was 108 min, and the median hospital stay was 2 days. Postoperative courses were uneventful in all patients. Clinical follow-up examinations showed relief of symptoms in all nonspecific TOS patients, and duplex ultrasonography confirmed complete vein patency in the remaining patients 3 months after surgery.
Conclusions
While there are limitations in conventional transaxillary, subclavicular and supraclavicular approaches in the first rib resection, the robotic method is not only less invasive but also allows better exposure and visualization of the first rib. Furthermore, the technique takes advantage of the benefits of the da Vinci Surgical System® in terms of 3D visualization and improved instrument maneuverability. Our early experience clearly demonstrates these advantages, which are also supported by the very good outcomes.
This is a preview of subscription content, log in to check access.
Access options
Buy single article
Instant unlimited access to the full article PDF.
US$ 39.95
Price includes VAT for USA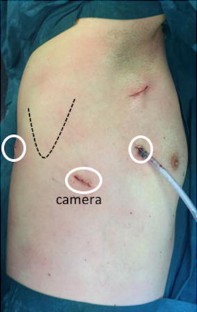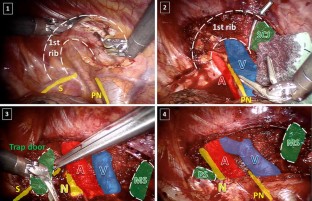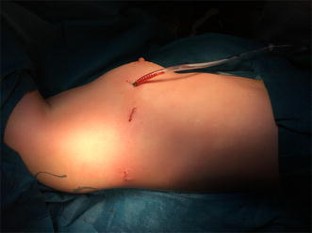 References
1.

Peek J, Vos CG, Ünlü C, Van De Pavoordt HDWM, Van Den Akker PJ, De Vries J-PPM (2017) Outcome of surgical treatment for thoracic outlet syndrome: systematic review and meta-analysis. Ann Vasc Surg 40:303–326

2.

Goss SG, Alcantara SD, Todd GJ, Lantis JC (2015) Non-operative management of paget-schroetter syndrome: a single-center experience. J Invasive Cardiol 27(9):423–428

3.

Edwards DP, Mulkern E, Raja AN, Barker P (1999) Trans-axillary first rib excision for thoracic outlet syndrome. J R Coll Surg Edinb 44:362–365

4.

Eckstein HH (2013) Compression syndrome of the superior thoracic aperture. Gefässchirurgie 18:175–176

5.

Huang JH, Zager EL (2004) Thoracic outlet syndrome. Neurosurgery 55:897–902

6.

Sadeghi-Azandaryani M, Bürklein D, Ozimek A, Geiger C, Mendl N, Steckmeier B et al (2009) Thoracic outlet syndrome: do we have clinical tests as predictors for the outcome after surgery? Eur J Med Res 14:443–446

7.

Degeorges R, Reynaud C, Becquemin JP (2004) Thoracic outlet syndrome surgery: long-term functional results. Ann Vasc Surg 18:558–565

8.

Cornelis F, Zuazo I, Bonnefoy O, Abric B, Borocco A, Strainchamps A et al (2008) Diagnosis of thoracic outlet syndrome. Value of angiography in the sitting position. J Radiol 89:47–52

9.

Luoma A, Nelems B (1991) Thoracic outlet syndrome. Thoracic surgery perspective. Neurosurg Clin N Am 2:187–226

10.

Glynn RW, Tawfick W, Elsafty Z, Hynes N, Sultan S (2012) Supraclavicular scalenectomy for thoracic outlet syndrome-functional outcomes using the DASH scoring system. Vasc Endovascular Surg 46:157–162

11.

Mingoli A, Feldhaus RJ, Farina C, Cavallari N, Sapienza P, di Marzo L et al (1995) Long-term outcome after transaxillary approach for thoracic outlet syndrome. Surgery 118:840–844

12.

Chan YC, Gelabert HA (2013) High-definition video-assisted transaxillary first rib resection for thoracic outlet syndrome. J Vasc Surg 57(4):1155–1158

13.

Martinez BD, Wiegand CS, Evans P, Gerhardinger A, Mendez J (2005) Computer-assisted instrumentation during endoscopic transaxillary first rib resection for thoracic outlet syndrome: a safe alternate approach. Vascular 13(6):327–335

14.

Ohtsuka T, Wolf RK, Dunsker SB (1999) Port access first rib resection. Surg Endosc 13:940–942

15.

Loscertales J, Congregado M, Jiménez Merchán R (2011) First rib resection using videothorascopy for the treatment of thoracic outlet syndrome. Arch Bronconeumol 47(4):204–207

16.

George RS, Milton R, Chaudhuri N, Kefaloyannis E, Papagiannopoulos K (2017) Totally endoscopic (VATS) first rib resection for thoracic outlet syndrome. Ann Thorac Surg 103(1):241–245

17.

Gharagozloo F, Meyer M, Tempesta BJ, Margolis M, Strother ET, Tummala S (2012) Robotic en bloc first-rib resection for Paget–Schroetter disease, a form of thoracic outlet syndrome: technique and initial results. Innovations (Philadelphia, Pa.) 7(1):39–44

18.

Desai SS, Toliyat M, Dua A, Charlton-Ouw KM, Hossain M, Estrera AL et al (2014) Outcomes of surgical paraclavicular thoracic outlet decompression. Ann Vasc Surg 28(2):457–464
Ethics declarations
Conflict of interest
The authors declare that they have no conflict of interest.
Electronic supplementary material
Below is the link to the electronic supplementary material.
Supplementary material 1 (MP4 158063 kb)
About this article
Cite this article
Kocher, G.J., Zehnder, A., Lutz, J.A. et al. First Rib Resection for Thoracic Outlet Syndrome: The Robotic Approach. World J Surg 42, 3250–3255 (2018). https://doi.org/10.1007/s00268-018-4636-4