Abstract
Introduction
A prospective interventional study has been carried out on the teaching effect and sustainability of low-cost trauma training program in open tibia fracture management for health workers.
Materials and methods
In 2007, an external fixator and a patella-bearing orthosis were developed at a rural workshop in Cambodia. From 2010 to 2016, a core group of nine Cambodian health workers was trained in open fracture management by Norwegian senior surgeons, using the locally made fixator and brace. The training outcome was also assessed by a questionnaire comprising of assertions regarding theoretical understanding, technical skills and self-confidence in understanding the biomechanical properties of locally made external fixator and its application; the use of handmade orthosis and principle in covering of soft-tissue defects.
Results
The students managed 23 cases with the new technique with a primary healing rate of 70% (95% CI 48.1–85.5). A significant increase in self-reported technical skills, understanding, and self-confidence was reported.
Conclusion
This study demonstrates that the capacity building of reconstructive surgery in low-resource settings by local doctors and paramedics is clearly a reasonable option that may substantially reduce amputation of the limbs.
This is a preview of subscription content, log in to check access.
Access options
Buy single article
Instant unlimited access to the full article PDF.
US$ 39.95
Price includes VAT for USA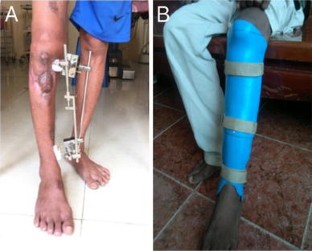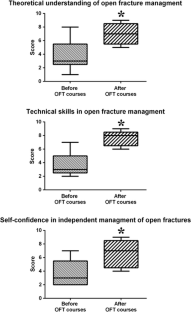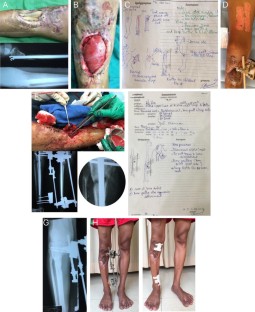 References
1.

WHO (2013 [updated 2014]) Road traffic injuries. Accessed 10 Dec 2013. http://www.who.int/violence_injury_prevention/road_traffic/countrywork/khm/en/

2.

WHO (2014) Implementation of the 5-year WHO strategy in Cambodia. Accessed 10 Feb 2014. http://www.who.int/violence_injury_prevention/road_traffic/5year_strategy/khm/en/index1.html

3.

Chariya E, Safety DO (2016, July 4) Traffic accidents are leading cause of death in Cambodia. (K. Dy, Interview). https://www.voanews.com/a/traffic-accidents-are-leading-cause-of-death-in-cambodia/3403777.html

4.

Rajasekaran S, Sabapathy SR (2007) A philosophy of care of open injuries based on the Ganga hospital score. Injury 38:137–146

5.

Rajasekaran S (2007) Early versus delayed closure of open fractures. Injury 38:890–895

6.

Gustilo RB, Mendoza RM, Williams DN (1984) Problems in the management of type III (severe) open fractures: a new classification of type III open fractures. J Trauma 24(8):742–746

7.

Godina M (1986) Early microsurgical reconstruction of complex trauma of the extremities. Plast Reconstr Surg 78:285–292

8.

Tornetta P, Bergman M, Watnik N, Berkowitz G, Steuer J (1994) Treatment of grade-IIIb open tibial fractures. A prospective randomized comparison of external fixation and non-reamed locked nailing. J Bone Joint Surg 76:13–19

9.

Levin LS (1993) The reconstructive ladder. An orthoplastic approach. Orthop Clin North Am 24(3):393–409

10.

Court-Brown CM, Wheelwright EF, Christie J (1990) External fixation for type III open tibial fractures. J Bone Joint Surg 72:801–804

11.

Beardi J, Hessmann M, Hansen M, Rommens PM (2008) Operative treatment of tibial shaft fractures: a comparison of different methods of primary stabilisation. Arch Orthop Trauma Surg 128:709–715

12.

Sarmiento A, Latta L (1995) Fractures of the Tibia: functional fracture bracing, vol 2. Springer, Berlin, pp 21–140

13.

Cierny G, Mader JT, Pennick H (1985) A clinical staging system of adult osteomyelitis. Contemp Orthop 10:17–37

14.

Papineau LJ (1973) L'excision-greffe avec fermeture retardee deliberee dans l'osteomyelite chronique [Excision-graft with deliberately delayed closing in chronic osteomyelitis]. Nouv Presse Med 2:2753–2755

15.

Tajsic N, Winkel R, Hoffmann R, Husum H (2009) Sural perforator flap for reconstructive surgery in the lower leg and foot: a clinical study of the 86 patients with post traumatic osteomyelitis. J Plast Reconstr Aesthet Surg 62:1701–1708

16.

Tajsic N, Winkel R, Husum H (2014) Distally based perforator flaps for reconstruction of post traumatic defects of the lower leg and foot. A review of the anatomy and clinical outcomes. Injury 45:469–477

17.

Gustilo RB (1995) Interobserver agreement in the classification of open fractures of the tibia: the results of a survey of two hundred and forty-five orthopaedic surgeons. J Bone Joint Surg 77-A:1291–1292

18.

DeLong WG, Jr Born CT, Wei SY (1999) Aggressive treatment of 119 open fracture wounds. J Trauma 46:1049–1054

19.

Sanders R, Swiontkowski M, Nunley J, Spiegel P (1993) The management of fractures with soft tissue disruptions. J Bone Joint Surg 75-A:778–789

20.

Helfet DL, Howey T, Sanders R, Johansen K (1990) Limb salvage versus amputation: preliminary results of the Mangled Extremity Severity score. Clin Orthop Relat R 256:80–86

21.

Van Roy A (1998) Civil society and the aid industry. Earthscan, London, pp 204–207

22.

Andersson M (1999) Do no harm. How aid can support peace-or war. Lynne Reinner, London, pp 145–148

23.

Husum H, Gilbert M, Wisborg T (2003) Training pre-hospital trauma care in low-income countries: the "Village University" experience. Med Teach 25:142–148
Acknowledgements
We express our thanks for the support given by the Norwegian Ministry of Foreign Affairs, the Trauma Care Foundation in Cambodia, Director Tor Ingebrigtsen University Hospital of Northern Norway and Stefan Tajsic for technical assistance in preparation of figures and tables. The study has been carried out in cooperation with the District Office of Health, and Military Hospital, Region 5, Battambang, Cambodia.
Ethics declarations
Conflict of interest
There are no prior publications, conflicts of interest, copyright constraints or industry funding to report for any of the authors. The views expressed in this article are those of the authors and do not reflect the policy or position of any institution.
Electronic supplementary material
Below is the link to the electronic supplementary material.
Supplementary material 2 (AVI 94786 kb)
About this article
Cite this article
Tajsic, N.B., Sambath, P., Nguon, S. et al. Open Fracture Management in Low-Resource Settings: A Medical Training Experience in Cambodian Hospitals. World J Surg 41, 2981–2989 (2017) doi:10.1007/s00268-017-4245-7