Abstract
Background
Thoracoscopic diaphragmatic plication for diaphragmatic paralysis with consecutive eventration and respiratory compromise is a desirable alternative to standard thoracotomy. Since minimally invasive techniques usually involve suturing of the diaphragm, most surgeons use a video-assisted approach with a minithoracotomy. Herein we describe our completely thoracoscopic technique for diaphragmatic plication including outcome.
Methods
We present our technique and experience for completely thoracoscopic diaphragmatic plication for the treatment of symptomatic diaphragmatic paralysis in six consecutive patients. The surgical technique basically consisted of stapling of the abundant diaphragm and reinforcement of the staple line using a self-locking thread. Primary outcome measure was the postoperative result (flattened diaphragm) and resolution of symptoms. Secondary outcome was improvement of lung function values 3 months after surgery.
Results
Between June 2015 and March 2016, six patients have been operated for symptomatic diaphragmatic paralysis, with one of them suffering from additional transdiaphragmatic hernia. Flattening of the diaphragm was achieved in all 6 patients with resolution of their pre-existing symptoms within days after surgery and without any surgical complications. Lung function volumes measured 3 months postoperative improved markedly with an increase in FEV1 as well as FVC of 540 ml (SD ± 193 ml) and 776 ml (SD ± 121 ml), respectively.
Conclusions
In our experience, the presented technique is a safe and simple minimally invasive way to perform a completely thoracoscopic diaphragmatic plication with excellent results so far.
This is a preview of subscription content, log in to check access.
Access options
Buy single article
Instant unlimited access to the full article PDF.
US$ 39.95
Price includes VAT for USA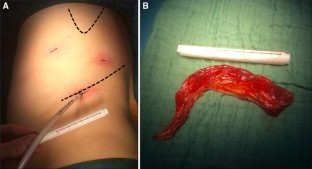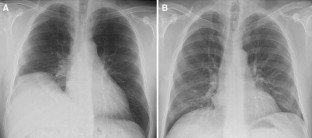 References
1.

Qureshi A (2009) Diaphragm paralysis. Semin Respir Crit Care Med 30(3):315–320

2.

Gharagozloo F, McReynolds SD, Snyder L (1995) Thoracoscopic plication of the diaphragm. Surg Endosc 9:1204–1206

3.

Mouroux J, Padovani B, Poirier NC et al (1996) Technique for the repair of diaphragmatic eventration. Ann Thorac Surg 62:905–907

4.

Moon SW, Wang YP, Kim YW et al (2000) Thoracoscopic plication of diaphragmatic eventration using endostaplers. Ann Thorac Surg 70(1):299–300

5.

Kim Do H, Joo Hwang J, Kim KD (2007) Thoracoscopic diaphragmatic plication using three 5 mm ports. Interact CardioVasc Thorac Surg 6(3):280–281

6.

Dunning J (2015) Thoracoscopic diaphragm plication. Interact CardioVasc Thorac Surg 20(5):689–690

7.

Kara HV, Roach MJ, Balderson SS, D'Amico TA (2015) Thoracoscopic diaphragm plication. Ann Cardiothorac Surg 4(6):573–575

8.

Minegishi K, Nakano T, Shibano T et al (2014) Diaphragmatic hernia complicated with diaphragmatic resection by automatic stapling device. Kyobu Geka 67(11):959–962
Ethics declarations
Conflict of interest
All authors declare that they have no conflict of interest.
Electronic supplementary material
Below is the link to the electronic supplementary material.
Supplementary material 1 (MPG 8132 kb)
Supplementary material 2 (MPG 7850 kb)
About this article
Cite this article
Kocher, G.J., Zehnder, A. & Schmid, R.A. Completely Thoracoscopic Diaphragmatic Plication. World J Surg 41, 1019–1022 (2017). https://doi.org/10.1007/s00268-016-3789-2
Keywords
Staple Line

Thoracoscopic Approach

Phrenic Nerve Paralysis

Diaphragmatic Paralysis

Intraabdominal Organ