Abstract
Objective
Video-assisted thoracic surgery (VATS) is widely used in thoracic surgery. This study investigated the usefulness of the subxiphoid approach in thymectomy using VATS techniques.
Methods
Sixty operations were performed using the lateral approach (n = 46) and subxiphoid approach (n = 14). Using the lateral approach, 39 partial thymectomies (PT), 5 total or subtotal thymectomies (TT), and 2 total or subtotal thymectomies with combined resection of the surrounding organs (or tissues) (CR) were performed. Using the subxiphoid approach, 11 TT and 3 CR were performed.
Results
There were 33 females and 27 males, with a mean age of 55 years. The mean maximum tumor diameter was 4.0 cm. The operation time was prolonged according to the volume of thymectomy (PT: 119, TT: 234, CR: 347 min). Additionally, the intraoperative blood loss increased according to the volume of thymectomy (PT: 29, TT: 47, CR: 345 g). To compare the invasiveness of both approaches, we compared 16 TT operations. In the group using the subxiphoid approach, the operation time became shorter (158 vs. 392 min), and the blood loss decreased (5 vs. 135 g) compared with the lateral approach. Regarding laboratory data, white blood cell counts on postoperative day 1 (1POD) (8200 vs. 10,300/μl) and CRP on 1POD and 3POD (2.8 and 2.8 vs. 7.9 and 10.2 mg/dl, respectively) decreased in the subxiphoid approach compared with the lateral approach.
Conclusions
The subxiphoid approach leads to a less invasive operation for anterior mediastinal tumors and extends the indications for VATS for invasive anterior mediastinal tumors.
This is a preview of subscription content, log in to check access.
Access options
Buy single article
Instant unlimited access to the full article PDF.
US$ 39.95
Price includes VAT for USA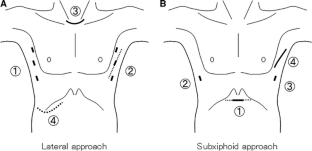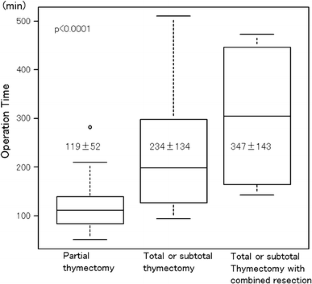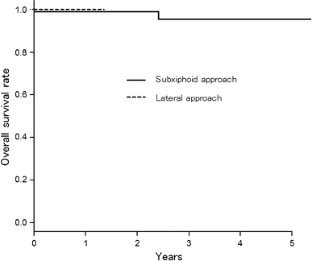 References
1.

Masaoka A, Monden Y, Nakahara K, Tanioka T (1981) Follow-up study of thymomas with special reference to their clinical stages. Cancer 48:2485–2492

2.

Blumberg D, Port JL, Weksler B, Delgado R, Rosai J, Bains MS et al (1995) Thymoma: a multivariate analysis of factors predicting survival. Ann Thorac Surg 60:908–913

3.

Kondo K, Monden Y (2003) Therapy for thymic epithelial tumors: a clinical study of 1,320 patients from Japan. Ann Thorac Surg 76:878–884

4.

Yano M, Sasaki H, Moriyama S, Hikosaka Y, Okuda K, Shitara M et al (2014) Clinicopathological analysis of small-sized anterior mediastinal tumors. Surg Today 44:1817–1822

5.

Yim AP, Kay RL, Ho JK (1995) Video-assisted thoracoscopic thymectomy for myasthenia gravis. Chest 108:1440–1443

6.

Yim AP (1995) Video-assisted thoracoscopic management of anterior mediastinal masses. Preliminary experience and results. Surg Endosc. 9:1184–1188

7.

Landreneau RJ, Dowling RD, Castillo WM, Ferson PF (1992) Thoracoscopic resection of an anterior mediastinal tumor. Ann Thorac Surg 54:142–144

8.

Mack MJ, Landreneau RJ, Yim AP, Hazelrigg SR, Scruggs GR (1996) Results of video-assisted thymectomy in patients with myasthenia gravis. J Thorac Cardiovasc Surg 112:1352–1359

9.

Nakagiri T, Inoue M, Shintani Y, Funaki S, Kawamura T, Minami M et al (2015) Improved procedures and comparative results for video-assisted thoracoscopic extended thymectomy for myasthenia gravis. Surg Endosc 29:2859–2865

10.

Yano M, Moriyama S, Haneda H, Nakanishi R (2016) Thymectomy using the subxiphoid approach. J Thorac Cardiovasc Surg 152:278–279

11.

Shiono H, Shigemura N, Okumura M (2008) Inclusion of the transcervical approach in video-assisted thoracoscopic total thymectomy (VATET) for myasthenia gravis: a prospective trial. Surg Endosc 22:1135–1136

12.

Breyer RH, Mills SA, Hudspeth AS, Johnston FR, Cordell AR (1984) A prospective study of sternal wound complications. Ann Thorac Surg 37:412–416

13.

Ottino G, De Paulis R, Pansini S, Rocca G, Tallone MV, Comoglio C et al (1987) Major sternal wound infection after open-heart surgery: a multivariate analysis of risk factors in 2,579 consecutive operative procedures. Ann Thorac Surg 44:173–179

14.

Takeo S, Sakada T, Yano T (2001) Video-assisted extended thymectomy in patients with thymoma by lifting the sternum. Ann Thorac Surg 71(5):1721–1723

15.

Suda T, Sugimura H, Tochii D, Kihara M, Hattori Y (2012) Single-port thymectomy through an infrasternal approach. Ann Thorac Surg 93:334–336

16.

Savitt MA, Gao G, Furnary AP, Swanson J, Gately HL, Handy JR (2005) Application of robotic-assisted techniques to the surgical evaluation and treatment of the anterior mediastinum. Ann Thorac Surg 79:450–455

17.

Rea F, Marulli G, Bortolotti L, Feltracco P, Zuin A, Sartori F (2006) Experience with the "da Vinci" robotic system for thymectomy in patients with myasthenia gravis: report of 33 cases. Ann Thorac Surg 81:455–459
Ethics declarations
Conflict of interest
All authors declare no conflicts of interest in the present study. None of the contributors had interests to disclose with regard to commercial support.
Electronic supplementary material
Below is the link to the electronic supplementary material.
Supplementary material 1 (M4V 56283 kb)
About this article
Cite this article
Yano, M., Moriyama, S., Haneda, H. et al. The Subxiphoid Approach Leads to Less Invasive Thoracoscopic Thymectomy Than the Lateral Approach. World J Surg 41, 763–770 (2017) doi:10.1007/s00268-016-3783-8
Keywords
Lateral Approach

Thymoma

Median Sternotomy

Thymic Carcinoma

Chest Tube Drainage