Abstract
Background
Enucleation is increasingly performed for benign or borderline tumours of the pancreas because it is a parenchyma-sparing and less invasive procedure compared to conventional pancreatectomy, which reduces the risk of exocrine and endocrine insufficiency. This study retrospectively evaluated and compared the pre-, intra-, and post-operative clinical characteristics after open and robotic approaches for pancreatic enucleation.
Methods
Fifty-six cases of enucleation for benign or borderline tumours of the pancreas treated from March 2010 to July 2015 were identified by a retrospective search. These included 25 patients who underwent an open approach and 31 patients who underwent a robotic approach. The clinical characteristics were extracted and compared.
Results
The two groups had a similar location and pathology of the tumour. The robotic group had a significantly shorter operation time and significantly less blood loss than the open group. The rates of clinical pancreatic fistula (PF) formation and major complications were similar. The robotic approach could be applied for a tumour on the right side of the pancreas without increasing the incidence of clinical PF or other major complications. The patients with clinical PF had a significantly shorter distance between the lesion and the main pancreatic duct (MPD).
Conclusion
Robotic enucleation appears to be a feasible and safe approach for benign or borderline tumours of the pancreas and was associated with similarly favourable surgical outcomes as the open approach. Identifying and avoiding the MPD is an important step during enucleation.
This is a preview of subscription content, log in to check access.
Access options
Buy single article
Instant unlimited access to the full article PDF.
US$ 39.95
Price includes VAT for USA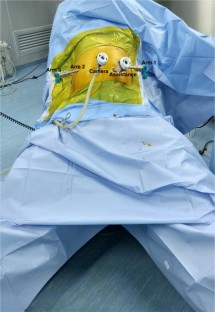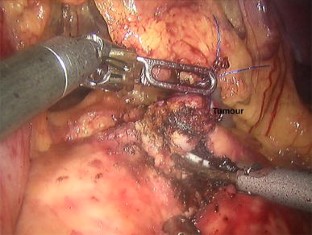 References
1.

Hüttner FJ, Koessler-Ebs J, Hackert T, Ulrich A, Büchler MW, Diener MK (2015) Meta-analysis of surgical outcome after enucleation versus standard resection for pancreatic neoplasms. Br J Surg 102(9):1026–1036

2.

Cauley CE, Pitt HA, Ziegler KM, Nakeeb A, Schmidt CM, Zyromski NJ, House MG, Lillemoe KD (2012) Pancreatic enucleation: improved outcomes compared to resection. J Gastrointest Surg 16(7):1347–1353

3.

Hackert T, Hinz U, Fritz S, Strobel O, Schneider L, Hartwig W, Buchler MW, Werner J (2011) Enucleation in pancreatic surgery: indications, technique, and outcome compared to standard pancreatic resections. Langenbecks Arch Surg 396(8):1197–1203

4.

Zhang T, Xu J, Wang T, Liao Q, Dai M, Zhao Y (2013) Enucleation of pancreatic lesions: indications, outcomes, and risk factors for clinical pancreatic fistula. J Gastrointest Surg 17(12):2099–2104

5.

Heeger K, Falconi M, Partelli S, Waldmann J, Crippa S, Fendrich V, Bartsch DK (2014) Increased rate of clinically relevant pancreatic fistula after deep enucleation of small pancreatic tumors. Langenbecks Arch Surg 399(3):315–321

6.

Song KB, Kim SC, Hwang DW, Lee JH, Lee DJ, Lee JW, Jun ES, Sin SH, Kim HE, Park KM, Lee YJ (2015) Enucleation for benign or low-grade malignant lesions of the pancreas: single-center experience with 65 consecutive patients. Surgery 158(5):1203–1210

7.

Strobel O, Cherrez A, Hinz U, Mayer P, Kaiser J, Fritz S, Schneider L, Klauss M, Buchler MW, Hackert T (2015) Risk of pancreatic fistula after enucleation of pancreatic tumours. Br J Surg 102(10):1258–1266

8.

Costi R, Randone B, Mal F, Basato S, Levard H, Gayet B (2013) A critical appraisal of laparoscopic pancreatic enucleations: right-sided procedures (Pancreatic Head, Uncus) are not mini-invasive surgery. Surg Laparosc Endosc Percutan Tech 23(6):524–531

9.

Wang K, Wu W, Cong L, Xing X, Zhao Y (2014) Laparoscopic enucleation of insulinoma in a patient with annular pancreas: a rare case. J Gastrointest Surg 18(4):878–879

10.

Zureikat AH, Moser AJ, Boone BA, Bartlett DL, Zenati M, Zeh HJ 3rd (2013) 250 robotic pancreatic resections: safety and feasibility. Ann Surg 258(4):554–559 discussion 559–562

11.

Bassi C, Dervenis C, Butturini G, Fingerhut A, Yeo C, Izbicki J, Neoptolemos J, Sarr M, Traverso W, Buchler M (2005) Postoperative pancreatic fistula: an international study group (ISGPF) definition. Surgery 138(1):8–13

12.

Dindo D, Demartines N, Clavien PA (2004) Classification of surgical complications: a new proposal with evaluation in a cohort of 6336 patients and results of a survey. Ann Surg 240(2):205–213

13.

Cherif R, Gaujoux S, Sauvanet A (2012) Enucleation of pancreatic lesions through laparotomy. J Visc Surg 149(6):395–399

14.

Compton CC, Byrd DR, Garcia-Aguilar J, et al (2012) Exocrine and endocrine pancreas. In: AJCC cancer staging atlas, pp 297–308

15.

Beger HG, Siech M, Poch B, Mayer B, Schoenberg MH (2015) Limited surgery for benign tumours of the pancreas: a systematic review. World J Surg 39(6):1557–1566. doi:10.1007/s00268-015-2976-x

16.

Iacono C, Ruzzenente A, Bortolasi L, Guglielmi A (2014) Central pancreatectomy: the Dagradi Serio Iacono operation. Evolution of a surgical technique from the pioneers to the robotic approach. World J Gastroenterol 20(42):15674–15681

17.

Stevanovic D, Stojanovic D, Mitrovic N, Jasarovic D, Milenkovic S, Bokun-Vukasinovic Z, Radovanovic D (2015) The laparoscopic enucleation for branch duct type intraductal papillary mucinous neoplasms located at the body of pancreas: a case report. Srp Arh Celok Lek 143(5–6):332–336

18.

Stauffer JA, Asbun HJ (2015) Minimally invasive pancreatic surgery. Semin Oncol 42(1):123–133

19.

Del Chiaro M, Verbeke C, Salvia R, Kloppel G, Werner J, McKay C, Friess H, Manfredi R, Van Cutsem E, Lohr M, Segersvard R (2013) European experts consensus statement on cystic tumours of the pancreas. Dig Liver Dis 45(9):703–711

20.

Tanaka M, Fernandez-del Castillo C, Adsay V, Chari S, Falconi M, Jang JY, Kimura W, Levy P, Pitman MB, Schmidt CM, Shimizu M, Wolfgang CL, Yamaguchi K, Yamao K (2012) International consensus guidelines 2012 for the management of IPMN and MCN of the pancreas. Pancreatology 12(3):183–197

21.

Machado NO, Al Qadhi H, Al Wahibi K (2015) Intraductal Papillary Mucinous Neoplasm of Pancreas. N Am J Med Sci 7(5):160–175

22.

Mauriello C, Napolitano S, Gambardella C, Candela G, De Vita F, Orditura M, Sciascia V, Tartaglia E, Lanza M, Santini L, Conzo G (2015) Conservative management and parenchyma-sparing resections of pancreatic neuroendocrine tumors: literature review. Int J Surg 21:S10–S14

23.

Kulke MH, Shah MH, Benson AB 3rd, Bergsland E, Berlin JD, Blaszkowsky LS, Emerson L, Engstrom PF, Fanta P, Giordano T, Goldner WS, Halfdanarson TR, Heslin MJ, Kandeel F, Kunz PL, Kuvshinoff BW 2nd, Lieu C, Moley JF, Munene G, Pillarisetty VG, Saltz L, Sosa JA, Strosberg JR, Vauthey JN, Wolfgang C, Yao JC, Burns J, Freedman-Cass D (2015) Neuroendocrine tumors, version 1.2015. J Natl Compr Canc Netw 13(1):78–108

24.

Ferrone CR, Tang LH, Tomlinson J, Gonen M, Hochwald SN, Brennan MF, Klimstra DS, Allen PJ (2007) Determining prognosis in patients with pancreatic endocrine neoplasms: can the WHO classification system be simplified? J Clin Oncol 25(35):5609–5615

25.

Parekh JR, Wang SC, Bergsland EK, Venook AP, Warren RS, Kim GE, Nakakura EK (2012) Lymph node sampling rates and predictors of nodal metastasis in pancreatic neuroendocrine tumor resections: the UCSF experience with 149 patients. Pancreas 41(6):840–844

26.

Chen S, Chen JZ, Zhan Q, Deng XX, Shen BY, Peng CH, Li HW (2015) Robot-assisted laparoscopic versus open pancreaticoduodenectomy: a prospective, matched, mid-term follow-up study. Surg Endosc 29(12):3698–3711

27.

Faitot F, Gaujoux S, Barbier L, Novaes M, Dokmak S, Aussilhou B, Couvelard A, Rebours V, Ruszniewski P, Belghiti J, Sauvanet A (2015) Reappraisal of pancreatic enucleations: a single-center experience of 126 procedures. Surgery 158(1):201–210
Ethics declarations
Conflict of interest
The authors declare that they have no conflicts of interest concerning this article.
Electronic supplementary material
Below is the link to the electronic supplementary material.
Supplementary material 1 (MOV 30958 kb)
About this article
Cite this article
Jin, J., Qin, K., Li, H. et al. Robotic Enucleation for Benign or Borderline Tumours of the Pancreas: A Retrospective Analysis and Comparison from a High-Volume Centre in Asia. World J Surg 40, 3009–3020 (2016) doi:10.1007/s00268-016-3655-2
Keywords
Distal Pancreatectomy

Main Pancreatic Duct

Superior Mesenteric Vein

Borderline Tumour

Robotic Approach