Abstract
Introduction
While total vascular exclusion (TVE) with veno-venous bypass and hypothermia may be undertaken to increase liver tolerance for complex liver resection, these procedures are still associated with elevated rates of postoperative complications and mortality. In particular, one of the main issues of this strategy is the management of bleeding after declamping, which is enhanced by both hypothermic state and acidosis. To overcome this high risk of morbidity, several technical refinements might be undertaken and here described (with video).
Methods
All patients, requiring TVE >60 min and liver cooling during hepatectomy, were retrospectively included in this study. Technical key points as (a) patient selection, (b) anesthetic management, (c) two-surgeon's technique, (d) preparation for clamping, (e) veno-venous bypass, (f) cooling of the liver, and (g) parenchymal transection, rewarming, and declamping are described and detailed.
Results
From 2011 to 2013, we included 8 cases of liver resection with TVE, veno-venous bypass, and hypothermia for malignant disease. Due to the technical refinements, median observed overall blood loss of 550 ml (300–900) including 200 ml (50–300) at declamping and transfusion of packed red blood cell (PRBC) units was required in 5 patients with a mean of 1.25 PRBC/patient.
Conclusion
The association of TVE, veno-venous bypass, and liver cooling can reduce the time of transection, and blue dye injection and liver rewarming before declamping can reduce blood loss and coagulopathy. Altogether, limited blood loss can be achieved for these complex procedures and may allow to decreasing morbidity.
This is a preview of subscription content, log in to check access.
Access options
Buy single article
Instant unlimited access to the full article PDF.
US$ 39.95
Price includes VAT for USA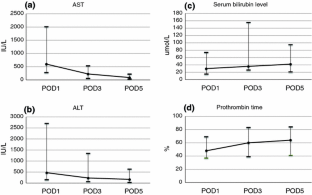 Abbreviations
I/R:

Ischemia reperfusion

ICU:

Intensive care unit

OS:

Overall survival

DFS:

Disease free survival

min:

Minutes

TVE:

Total vascular exclusion
References
1.

Huguet C, Gavelli A, Bona S (1994) Hepatic resection with ischemia of the liver exceeding one hour. J Am Coll Surg 178:454–458

2.

Hannoun L, Borie D, Delva E et al (1993) Liver resection with normothermic ischaemia exceeding 1 h. Br J Surg 80:1161–1165

3.

Azoulay D, Eshkenazy R, Andreani P et al (2005) In situ hypothermic perfusion of the liver versus standard total vascular exclusion for complex liver resection. Ann Surg 241:277–285

4.

Katz SC, Shia J, Liau KH et al (2009) Operative blood loss independently predicts recurrence and survival after resection of hepatocellular carcinoma. Ann Surg 249:617–623

5.

Jiang W, Fang YJ, Wu XJ et al (2013) Intraoperative blood loss independently predicts survival and recurrence after resection of colorectal cancer liver metastasis. PLoS One 8:e76125

6.

Tympa A, Theodoraki K, Tsaroucha A et al (2012) Anesthetic considerations in hepatectomies under hepatic vascular control. HPB Surg 2012:720754

7.

Chouillard EK, Gumbos AA, Cherqui D (2010) Vascular clamping in liver surgery: physiology, indications and techniques. Ann Surg Innov Res 4:1–12

8.

Xu R, Carty MJ, Orgill DP et al (2013) The teaming curve: a longitudinal study of the influence of surgical team familiarity on operative time. Ann Surg 258:953–957

9.

Sakai T, Gligor S, Diulus J et al (2010) Insertion and management of percutaneous veno-venous bypass cannula for liver transplantation: a reference for transplant anesthesiologists. Clin Transplant 24:585–591

10.

Sakai T, Planinsic RM, Hilmi IA, Marsh JW (2007) Complications associated with percutaneous placement of venous return cannula for venovenous bypass in adult orthotopic liver transplantation. Liver Transplant 13:961–965

11.

Smyrniotis V, Farantos C, Kostopanagiotou G, Arkadopoulos N (2005) Vascular control during hepatectomy: review of methods and results. World J Surg 29:1384–1396. doi:10.1007/s00268-005-0025-x

12.

Fu SY, Lau WY, Li AJ et al (2010) Liver resection under total vascular exclusion with or without preceding Pringle manoeuvre. Br J Surg. 97:50–55

13.

Dirkmann D, Hanke AA, Görlinger K, Peters J (2008) Hypothermia and acidosis synergistically impair coagulation in human whole blood. Anesth Analg 106:1627–1632

14.

Martini WZ, Pusateri AE, Uscilowicz JM et al (2005) Independent contributions of hypothermia and acidosis to coagulopathy in swine. J Trauma 58:1002–1009

15.

Noel P, Cashen S, Patel B (2013) Trauma-induced coagulopathy: from biology to therapy. Semin Hematol 50:259–269

16.

Tieu BH, Holcomb JB, Schreiber MA (2007) Coagulopathy: its pathophysiology and treatment in the injured patient. World J Surg 31:1055–1064. doi:10.1007/s00268-006-0653-9

17.

Azoulay D, Lim C, Salloum C, Andreani P et al (2014) Complex liver resection using standard total vascular exclusion, venovenous bypass, and in situ hypothermic portal perfusion: an audit of 77 consecutive cases. Ann Surg. doi:10.1097/SLA.0000000000000787

18.

Laurent C, Sa Cunha A, Couderc P et al (2003) Influence of postoperative morbidity on long-term survival following liver resection for colorectal metastases. Br J Surg 90:1131–1136

19.

Ito H, Are C, Gonen M et al (2008) Effect of postoperative morbidity on long-term survival after hepatic resection for metastatic colorectal cancer. Ann Surg 247:994–1002

20.

Cauchy F, Aussilhou B, Dokmak S et al (2012) Reappraisal of the risks and benefits of major liver resection in patients with initially unresectable colorectal liver metastases. Ann Surg 256:746–752
Ethics declarations
Conflict of interest
None of the authors have any conflict of interest.
Additional information
François Cauchy and Raffaele Brustia have contributed equally.
Electronic supplementary material
Below is the link to the electronic supplementary material.
Preparing for clamping (IVC dissection and control and pedicular dissection). (Duration: 1′56″). Supplementary material 1 (M4 V 21963 kb)
Video 2: Veno-Venous By-pass,TVE of the Liver, cooling of the liver by hypothermic perfusion and topical cooling and parenchimal transection. (Duration: 4′31″). Supplementary material 2 (M4 V 123007 kb)
Blue dye injection and liver rewarming before declamping; IVC declamping, hemostasis and ablation of the cannulas. (Duration 1′15″). Supplementary material 3 (M4 V 25882 kb)
Preparing for clamping (IVC dissection and control and pedicular dissection). (Duration: 1′56″). Supplementary material 1 (M4 V 21963 kb)
Video 2: Veno-Venous By-pass,TVE of the Liver, cooling of the liver by hypothermic perfusion and topical cooling and parenchimal transection. (Duration: 4′31″). Supplementary material 2 (M4 V 123007 kb)
Blue dye injection and liver rewarming before declamping; IVC declamping, hemostasis and ablation of the cannulas. (Duration 1′15″). Supplementary material 3 (M4 V 25882 kb)
About this article
Cite this article
Cauchy, F., Brustia, R., Perdigao, F. et al. In Situ Hypothermic Perfusion of the Liver for Complex Hepatic Resection: Surgical Refinements. World J Surg 40, 1448–1453 (2016). https://doi.org/10.1007/s00268-016-3431-3
Keywords
Liver Resection

Inferior Vena Cava

Portal Vein Embolization

Future Live Remnant

Adrenal Vein