Abstract
Background
This study aimed to assess availability of trauma care technology in Ghana. In addition, factors contributing to deficiencies were evaluated. By doing so, potential solutions to inefficient aspects of health systems management and maladapted technology for trauma care in low- and middle-income countries (LMICs) could be identified.
Methods
Thirty-two items were selected from the World Health Organization's Guidelines for Essential Trauma Care. Direct inspection and structured interviews with administrative, clinical, and biomedical engineering staff were used to assess the challenges and successes of item availability at 40 purposively sampled district, regional, and tertiary hospitals.
Results
Hospital assessments demonstrated marked deficiencies. Some of these were low cost, such as basic airway supplies, chest tubes, and cervical collars. Item non-availability resulted from several contributing factors, namely equipment absence, lack of training, frequent stock-outs, and technology breakage. A number of root causes for these factors were identified, including ineffective healthcare financing by way of untimely national insurance reimbursements, procurement and stock-management practices, and critical gaps in local biomedical engineering and trauma care training. Nonetheless, local examples of successfully overcoming deficiencies were identified (e.g., public–private partnering, ensuring company engineers trained technicians on-the-job during technology installation or servicing).
Conclusion
While availability of several low-cost items could be better supplied by improvements in stock-management and procurement policies, there is a critical need for redress of the national insurance reimbursement system and trauma care training of district hospital staff. Further, developing local service and technical support capabilities is more and more pressing as technology plays an increasingly important role in LMIC healthcare systems.
This is a preview of subscription content, log in to check access.
Access options
Buy single article
Instant access to the full article PDF.
US$ 39.95
Price includes VAT for USA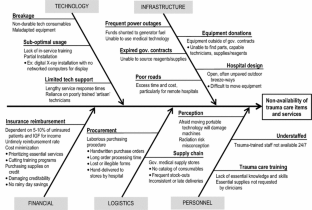 References
1.

Lozano R, Naghavi M, Foreman K et al (2012) Global and regional mortality from 235 causes of death for 20 age groups in 1990 and 2010: a systematic analysis for the Global Burden of Disease Study 2010. Lancet 380:2095–2128

2.

Mock C (2013) Confronting the global burden of surgical disease. World J Surg 37:1457–1459. doi:10.1007/s00268-013-2102-x

3.

Ozgediz D, Jamison D, Cherian M et al (2008) The burden of surgical conditions and access to surgical care in low- and middle-income countries. Bull World Health Organ 86:646–647

4.

Stewart B, Khanduri P, McCord C et al (2014) Global disease burden of conditions requiring emergency surgery. Br J Surg 101:e9–e22

5.

Wong EG, Gupta S, Deckelbaum DL et al (2014) Prioritizing injury care: a review of trauma capacity in low and middle-income countries. J Surg Res 193(1):217–222

6.

Jurkovich GJ, Mock C (1999) Systematic review of trauma system effectiveness based on registry comparisons. J Trauma 47:S46–S55

7.

Mann NC, Mullins RJ, MacKenzie EJ et al (1999) Systematic review of published evidence regarding trauma system effectiveness. J Trauma 47:S25–S33

8.

Nathens AB, Jurkovich GJ, Cummings P et al (2000) The effect of organized systems of trauma care on motor vehicle crash mortality. JAMA 283:1990–1994

9.

Nathens AB, Jurkovich GJ, Rivara FP et al (2000) Effectiveness of state trauma systems in reducing injury-related mortality: a national evaluation. J Trauma 48:25–30; (discussion 30-21)

10.

Kushner AL (2014) A proposed matrix for planning global surgery interventions. World J Surg 38(12):3039–3040. doi:10.1007/s00268-014-2748-z

11.

LeBrun DG, Chackungal S, Chao TE et al (2014) Prioritizing essential surgery and safe anesthesia for the post-2015 development agenda: operative capacities of 78 district hospitals in 7 low- and middle-income countries. Surgery 155:365–373

12.

Gupta S, Wong E, Mahmood U et al (2014) Burn management capacity in low and middle-income countries: a systematic review of 458 hospitals across 14 countries. Int J Surg 12(10):1070–1073

13.

Ologunde R, Vogel JP, Cherian MN et al (2014) Assessment of cesarean delivery availability in 26 low- and middle-income countries: a cross-sectional study. Am J Obstet Gynecol 211(5):504e1

14.

Kingham TP, Kamara TB, Cherian MN et al (2009) Quantifying surgical capacity in Sierra Leone: a guide for improving surgical care. Arch Surg 144:122–127; (discussion 128)

15.

Shah MT, Joshipura M, Singleton J et al (2014) Assessment of the availability of technology for trauma care in India. World J Surg 39(2):363–372. doi:10.1007/s00268-014-2805-7

16.

Knowlton LM, Chackungal S, Dahn B et al (2013) Liberian surgical and anesthesia infrastructure: a survey of county hospitals. World J Surg 37:721–729. doi:10.1007/s00268-013-1903-2

17.

Linden AF, Sekidde FS, Galukande M et al (2012) Challenges of surgery in developing countries: a survey of surgical and anesthesia capacity in Uganda's public hospitals. World J Surg 36:1056–1065. doi:10.1007/s00268-012-1482-7

18.

Notrica MR, Evans FM, Knowlton LM et al (2011) Rwandan surgical and anesthesia infrastructure: a survey of district hospitals. World J Surg 35:1770–1780. doi:10.1007/s00268-011-1125-4

19.

CIA World Factbook: Ghana (2014) United States Central Intellegence Agency, Washington, D.C. http://www.ciaworldfactbook.us/africa/ghana.html. Accessed 12 Apr 2015

20.

Sodzi-Tettey S, Aikins M, Awoonor-Williams JK et al (2012) Challenges in provider payment under the Ghana National Health Insurance Scheme: a case study of claims management in two districts. Ghana Med J 46:189–199

21.

Lagomarsino G, Garabrant A, Adyas A et al (2012) Moving towards universal health coverage: health insurance reforms in nine developing countries in Africa and Asia. Lancet 380:933–943

22.

McIntyre D, Garshong B, Mtei G et al (2008) Beyond fragmentation and towards universal coverage: insights from Ghana, South Africa and the United Republic of Tanzania. Bull World Health Organ 86:871–876

23.

Ooms G, Van Damme W, Baker BK et al (2008) The 'diagonal' approach to Global Fund financing: a cure for the broader malaise of health systems? Global Health 4:6

24.

Patel PB, Hoyler M, Maine R et al (2012) An opportunity for diagonal development in global surgery: cleft lip and palate care in resource-limited settings. Plast Surg Int 2012:892437

25.

Pasquet A, Messou E, Gabillard D et al (2010) Impact of drug stock-outs on death and retention to care among HIV-infected patients on combination antiretroviral therapy in Abidjan, Cote d'Ivoire. PLoS One 5:e13414

26.

Watsierah CA, Ouma C (2014) Access to artemisinin-based combination therapy (ACT) and quinine in malaria holoendemic regions of western Kenya. Malar J 13:290

27.

Barrington J, Wereko-Brobby O, Ward P et al (2010) SMS for Life: a pilot project to improve anti-malarial drug supply management in rural Tanzania using standard technology. Malar J 9:298

28.

Githinji S, Kigen S, Memusi D et al (2013) Reducing stock-outs of life saving malaria commodities using mobile phone text-messaging: SMS for life study in Kenya. PLoS One 8:e54066

29.

Cordero I, Murray N, Nkumbe HE (2010) Donations: how to ensure you really benefit. Community Eye Health 23:32–33

30.

Gatrad AR, Gatrad S, Gatrad A (2007) Equipment donation to developing countries. Anaesthesia 62(Suppl 1):90–95

31.

Mock CN, Quansah R, Addae-Mensah L et al (2005) The development of continuing education for trauma care in an African nation. Injury 36:725–732

32.

Husum H, Gilbert M, Wisborg T et al (2003) Rural prehospital trauma systems improve trauma outcome in low-income countries: a prospective study from North Iraq and Cambodia. J Trauma 54:1188–1196

33.

Van Heng Y, Davoung C, Husum H (2008) Non-doctors as trauma surgeons? A controlled study of trauma training for non-graduate surgeons in rural Cambodia. Prehospital Disaster Med 23:483–489; (discussion 490-481)

34.

Mock C, Nguyen S, Quansah R et al (2006) Evaluation of trauma care capabilities in four countries using the WHO-IATSIC Guidelines for Essential Trauma Care. World J Surg 30:946–956. doi:10.1007/s00268-005-0768-4

35.

Son NT, Mock C (2006) Improvements in trauma care capabilities in Vietnam through use of the WHO-IATSIC Guidelines for Essential Trauma Care. Int J Inj Control Saf Promot 13:125–127

36.

Son NT, Thu NH, Tu NT et al (2007) Assessment of the status of resources for essential trauma care in Hanoi and Khanh Hoa, Vietnam. Injury 38:1014–1022
Acknowledgments
This study was funded in part by Grants from the University of Washington Department of Surgery Research Reinvestment Fund and grants (R25-TW009345; D43-TW007267) from the Fogarty International Center, US National Institutes of Health. The content is solely the responsibility of the authors and does not necessarily represent the official views of the National Institutes of Health. The authors thank Godfred Boakye, Victor Oppong-Nketia, and Adolfo Koranteng for their assistance with field visits and Melissa Tosch for her insight into logistics, finance, and supply chain management. In addition, we thank the Ghana Ministry of Health and Regional Health Directorates for facilitating hospital visits.
Ethics declarations
Conflict of interest
No benefits in any form have been received or will be received from a commercial party related directly or indirectly to the subject of this article.
About this article
Cite this article
Stewart, B.T., Quansah, R., Gyedu, A. et al. Strategic Assessment of Trauma Care Capacity in Ghana. World J Surg 39, 2428–2440 (2015). https://doi.org/10.1007/s00268-015-3132-3
Keywords
Chest Tube

Trauma Care

National Health Insurance Scheme

Cervical Collar

Nurse Anesthetist