Abstract
Background
A recent study of focused minimally invasive parathyroidectomy (FPTX) in sporadic primary hyperparathyroidism (pHPT) using intraoperative parathyroid hormone (ioPTH) measurements shows that inadequate ioPTH drop and multiglandular disease are more commonly found when a first gland <200 mg is resected. Our aim was to study if a resected gland that weighed <200 mg was associated with an increased persistence rate after FPTX.
Methods
This is a cohort study of FPTX for pHPT performed in the period 1998–2013. FPTX was performed in patients with pHPT where Sestamibi and Ultrasound imaging localized single-gland disease, only one gland was excised and the weight recorded. IoPTH was not used routinely. Two groups were composed according to the weight of the resected gland: Group A <200 mg and Group B ≥200 mg. Persistent or recurrent disease was defined if it occurred within, or after 6 months. The primary outcome measure was the rate of persisting pHPT.
Results
A total of 3,511 parathyroidectomies were performed, and a total 1,745 FPTX (1,347 female) met inclusion criteria. There were 245 and 1,500 patients in groups A and B, respectively. The rate of persistent pHPT was higher in Group A, 6.1 versus 2.0 % (p < 0.001). Findings at re-operative surgery showed that the ipsilateral gland was diseased in 47 % (7/15) of persistent cases in group A.
Conclusion
The risk of persistent disease after MIP was higher if the resected gland weighed ≤200 mg, and this corroborates the findings of a recent study. A heightened awareness of the possibility of multigland disease should be raised, and ioPTH monitoring, identification of the ipsilateral gland or bilateral exploration may be advisable in such cases.
This is a preview of subscription content, log in to check access.
Access options
Buy single article
Instant access to the full article PDF.
US$ 39.95
Price includes VAT for USA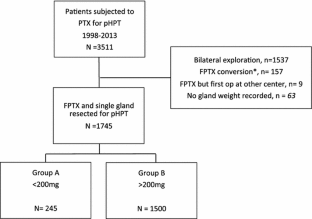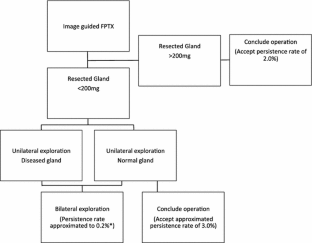 References
1.

Press DM, Siperstein AE, Berber E, Shin JJ, Metzger R, Monteiro R et al (2013) The prevalence of undiagnosed and unrecognized primary hyperparathyroidism: a population-based analysis from the electronic medical record. Surgery 154(6):1232–1237 discussion 7-8

2.

Randolph GW (ed) (2013) Surgery of the thyroid and parathyroid glands, 2nd edn. Elsevier Inc

3.

Cope O (1966) The study of hyperparathyroidism at the Massachusetts General Hospital. N Engl J Med 274(21):1174–1182

4.

Macfarlane DP, Yu N, Leese GP (2013) Subclinical and asymptomatic parathyroid disease: implications of emerging data. Lancet. Diabetes Endocrinol 1(4):329–340

5.

Udelsman R, Lin Z, Donovan P (2011) The superiority of minimally invasive parathyroidectomy based on 1650 consecutive patients with primary hyperparathyroidism. Ann Surg 253(3):585–591

6.

Schneider DF, Mazeh H, Sippel RS, Chen H (2012) Is minimally invasive parathyroidectomy associated with greater recurrence compared to bilateral exploration? Analysis of more than 1,000 cases. Surgery 152(6):1008–1015

7.

Stojadinovic A, Pribitkin E, Rosen D, Edwards M, Byrd DR (2012) Unilateral vs bilateral parathyroidectomy: a healthy debate. J Am Coll Surg 215(2):300–302

8.

Bergenfelz A, Kanngiesser V, Zielke A, Nies C, Rothmund M (2005) Conventional bilateral cervical exploration versus open minimally invasive parathyroidectomy under local anaesthesia for primary hyperparathyroidism. Br J Surg 92(2):190–197

9.

Suliburk JW, Sywak MS, Sidhu SB, Delbridge LW (2011) 1000 minimally invasive parathyroidectomies without intra-operative parathyroid hormone measurement: lessons learned. ANZ J Surg 81(5):362–365

10.

Lew JI, Irvin GL 3rd (2009) Focused parathyroidectomy guided by intra-operative parathormone monitoring does not miss multiglandular disease in patients with sporadic primary hyperparathyroidism: a 10-year outcome. Surgery 146(6):1021–1027

11.

Stalberg P, Sidhu S, Sywak M, Robinson B, Wilkinson M, Delbridge L (2006) Intraoperative parathyroid hormone measurement during minimally invasive parathyroidectomy: does it "value-add" to decision-making? J Am Coll Surg 203(1):1–6

12.

Morris LF, Zanocco K, Ituarte PH, Ro K, Duh QY, Sturgeon C et al (2010) The value of intraoperative parathyroid hormone monitoring in localized primary hyperparathyroidism: a cost analysis. Ann Surg Oncol 17(3):679–685

13.

Nagar S, Reid D, Czako P, Long G, Shanley C (2012) Outcomes analysis of intraoperative adjuncts during minimally invasive parathyroidectomy for primary hyperparathyroidism. Am J Surg 203(2):177–181

14.

Siperstein A, Berber E, Barbosa GF, Tsinberg M, Greene AB, Mitchell J et al (2008) Predicting the success of limited exploration for primary hyperparathyroidism using ultrasound, sestamibi, and intraoperative parathyroid hormone: analysis of 1158 cases. Ann Surg 248(3):420–428

15.

Mozes G, Curlee KJ, Rowland CM, van Heerden JA, Thompson GB, Grant CS et al (2002) The predictive value of laboratory findings in patients with primary hyperparathyroidism. J Am Coll Surg 194(2):126–130

16.

McCoy KL, Chen NH, Armstrong MJ, Howell GM, Stang MT, Yip L et al (2014) The small abnormal parathyroid gland is increasingly common and heralds operative complexity. World J Surg 38(6):1274–1281. doi:10.1007/S00268-014-2450-1

17.

Mazeh H, Chen H, Leverson G, Sippel RS (2013) Creation of a "Wisconsin index" nomogram to predict the likelihood of additional hyperfunctioning parathyroid glands during parathyroidectomy. Ann Surg 257(1):138–141

18.

Kebebew E, Hwang J, Reiff E, Duh QY, Clark OH (2006) Predictors of single-gland vs multigland parathyroid disease in primary hyperparathyroidism: a simple and accurate scoring model. Arch Surg 141(8):777–782 discussion 82

19.

Elfenbein DM, Weber S, Schneider DF, Sippel RS, Chen H (2014) CaPTHUS scoring model in primary hyperparathyroidism: can it eliminate the need for ioPTH testing? Ann Surg Oncol. doi:10.1245/s10434-014-4080-0

20.

Norman J, Politz D (2010) Prospective study in 3,000 consecutive parathyroid operations demonstrates 18 objective factors that influence the decision for unilateral versus bilateral surgical approach. J Am Coll Surg 211(2):244–249

21.

Jarhult J, Ander S, Asking B, Jansson S, Meehan A, Kristoffersson A et al (2010) Long-term results of surgery for lithium-associated hyperparathyroidism. Br J Surg 97(11):1680–1685

22.

Westerdahl J, Bergenfelz A (2007) Unilateral versus bilateral neck exploration for primary hyperparathyroidism: five-year follow-up of a randomized controlled trial. Ann Surg 246(6):976–980 discussion 80-1

23.

Moretz WH 3rd, Watts TL, Virgin FW Jr, Chin E, Gourin CG, Terris DJ (2007) Correlation of intraoperative parathyroid hormone levels with parathyroid gland size. Laryngoscope 117(11):1957–1960

24.

Bindlish V, Freeman JL, Witterick IJ, Asa SL (2002) Correlation of biochemical parameters with single parathyroid adenoma weight and volume. Head Neck 24(11):1000–1003

25.

Bergenfelz A, Lindblom P, Tibblin S, Westerdahl J (2002) Unilateral versus bilateral neck exploration for primary hyperparathyroidism: a prospective randomized controlled trial. Ann Surg 236(5):543–551

26.

Slepavicius A, Beisa V, Janusonis V, Strupas K (2008) Focused versus conventional parathyroidectomy for primary hyperparathyroidism: a prospective, randomized, blinded trial. Langenbecks Arch Surg 393(5):659–666

27.

Norlén O, Wang KC, Tay YK, Johnson WR, Grodski S, Yeung M et al (2014) No need to abandon focused parathyroidectomy: a multicenter study of long-term outcome after surgery for primary hyperparathyroidism. Ann Surg. doi:10.1097/SLA.0000000000000715
Conflict of interest
No conflicts of interest.
Ethical consideration
The study was approved by the local human ethics research committee.
About this article
Cite this article
Norlén, O., Glover, A., Zaidi, N. et al. The Weight of the Resected Gland Predicts Rate of Success After Image-Guided Focused Parathyroidectomy. World J Surg 39, 1922–1927 (2015). https://doi.org/10.1007/s00268-015-3017-5
Keywords
ioPTH Measurement

Persistence Rate

Gland Weight

Enlarge Gland

Multiglandular Disease