Abstract
Background
Previous studies have quantitatively assessed Enhanced Recovery After Surgery (ERAS) guideline implementation and compliance, and identified the existence of compliance issues with the programs. This is the first study to qualitatively assess the reasons behind compliance issues in ERAS programs. The aim of this study was to elicit barriers to implementation and functioning of the ERAS program at Royal Prince Alfred Hospital.
Methods
A series of interviews were carried out with key stakeholders in order to explore barriers preventing effective functioning of the program 1 year after implementation. Interview transcripts were analysed. Data analysis involved a grounded theory methodology.
Results
Analysis of the data identified four key themed areas of practice that presented barriers: patient-related factors, staff-related factors, practice-related issues, and resources. These overarching themes were generated from subcategories that were linked to generate theory.
Conclusions
For the ERAS program to be implemented successfully with high levels of element compliance, the four key areas need to be addressed. As barriers to ongoing effective care become apparent, these should be managed in order to optimize the synergistic effects of this multimodal program of patient care.
This is a preview of subscription content, log in to check access.
Access options
Buy single article
Instant access to the full article PDF.
US$ 39.95
Price includes VAT for USA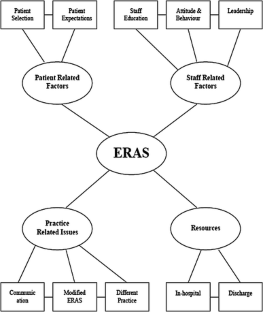 References
1.

Donohoe CL, Nguyen M, Cook J, Geagan Murray S, Chen N, Zaki F, Mehigan BJ, McCormick PH, Reynolds JV (2011) Fast-track protocols in colorectal surgery. Surgeon 9(2):95–103

2.

Gustafsson UO, Scott MJ, Schwenk W et al (2013) Guidelines for perioperative care in elective colonic surgery: Enhanced Recovery After Surgery (ERAS) Society recommendations. World J Surg 37(2):259–284. doi:10.1007/s00268-012-1772-0

3.

Polle SW, Wind J, Fuhring JW, Hofland J, Gouma DJ, Bemelman WA (2007) Implementation of a fast-track perioperative care program: what are the difficulties? Dig Surg 24:441–449

4.

Maessen J, Dejong CHC, Hausel J et al (2007) A protocol is not enough to implement an enhanced recovery programme for colorectal resection. Br J Surg 94:224–231

5.

Gustafsson UO, Hausel J, Thorell A, Ljungqvist O, Soop M, Nygren J, Enhanced Recovery After Surgery Working Group (2011) Adherence to the Enhanced Recovery After Surgery protocol and outcomes after colorectal cancer surgery. Arch Surg 146(5):571–577

6.

Spanjersberg WR, Reurings J, Keus F, van Laarhoven CJHM (2011) Fast track surgery versus conventional recovery strategies for colorectal surgery. Cochrane Database Syst Rev. doi:10.1002/14651858.CD007635.pub2

7.

Varadhan KK, Neal KR, Dejong CHC et al (2010) The Enhanced Recovery After Surgery (ERAS) pathway for patients undergoing major elective open colorectal surgery: a meta-analysis of randomized controlled trials. Clin Nutr 29(4):434–440

8.

Kehlet H, Wilmore DW (2008) Evidence-based surgical care and the evolution of fast-track surgery. Ann Surg 248(2):189–198

9.

Bickman L, Rog DJ (2005) The SAGE handbook of applied social research methods, vol 2. Sage Publications, Thousand Oaks, p 236

10.

Woods P (2006) A standard approach to organisation in successful writing for qualitative researchers, vol 2. Routledge, New York, pp 32–35

11.

Wilmore DW, Kehlet H (2001) Management of patients in fast track surgery. BMJ 322:473–476

12.

Kehlet H, Wilmore DW (2005) Fast-track surgery. Br J Surg 92:3–4

13.

Kehlet H, Wilmore DW (2002) Multimodal strategies to improve surgical outcome. Am J Surg 183(6):630–641

14.

Fearon KCH, Ljungqvist O, Von Meyenfeldt M, Revhaug A, Dejong CH, Lassen K et al (2005) Enhanced recovery after surgery: a consensus review of clinical care for patients undergoing colonic resection. Clin Nutr 24:466–477

15.

Vlug MS, Wind J, Hollmann MW et al (2011) Laparoscopy in combination with fast track multimodal management is the best perioperative strategy in patients undergoing colonic surgery: a randomised clinical trial (LAFA-study). Ann Surg 254(6):868–875

16.

Vlug MS, Wind J, Van der Zaag E, Ubbink DT, Cense HA, Bemelman WA (2009) Systematic review of laparoscopic vs open colonic surgery within an enhanced recovery programme. Colorectal Dis 11:335–343

17.

Raymond TM, Kumar S, Dastur JK, Adamek JP, Khot UP, Stewart MS, Parker MC (2010) Case controlled study of the hospital stay and return to full activity following laparoscopic and open colorectal surgery before and after the introduction of an enhanced recovery programme. Colorectal Dis 12:1001–1006

18.

Clinical Outcomes of Surgical Therapy Study Group (2004) A comparison of laparoscopically assisted and open colectomy for colon cancer. N Eng J Med 350(20):2050–2059

19.

Marusch F, Koch A, Schmidt U et al (2005) The impact of the risk factor "age" on the early postoperative results of surgery for colorectal carcinoma and its significance for perioperative management. World J Surg 29(8):1013–1021. doi:10.1007/s00268-005-7711-6

20.

Stewart BT, Stitz RW, Lumley LW (1999) Laparoscopically assisted colorectal surgery in the elderly. Br J Surg 86(7):938–941

21.

Scharfenberg M, Raue W, Junghans T, Schwenk W (2007) "Fast-track" rehabilitation after colonic surgery in elderly patients: is it feasible? Int J Colorectal Dis 22:1469–1474

22.

Bardram L, Funch-Jensen P, Kehlet H (2000) Rapid rehabilitation in elderly patient after laparoscopic colonic resection. Br J Surg 87:1540–1545

23.

Brown D, McCormick B (2006) Determining factors that have an impact upon effective evidence-based pain management with older people, following colorectal surgery: an ethnographic study. J Clin Nurs 15:1287–1298

24.

Brown C, Constance K, Bédard D, Purden M (2013) Colorectal surgery patients' pain status, activities, satisfaction and beliefs about pain and pain management. Pain Manag Nurs 14(4):184–192

25.

Hathaway D (1996) Effect of pre-operative instruction on post-operative outcomes: a meta-analysis. Nurs Res 35(5):269–275

26.

Solberg LI (2000) Guideline implementation: what the literature doesn't tell us. Jt Comm J Qual Improv 26(9):525–537

27.

Cabana MD, Rand CS, Powe NR et al (1999) Why don't physicians follow clinical practice guidelines? A framework for improvement. JAMA 282(15):1458–1465

28.

Grimshaw JM, Russell IT (1993) Effect of clinical guidelines on medical practice: a systematic review of rigorous evaluations. Lancet 342:1317–1322

29.

Young GJ, Charns MP, Daley J et al (1997) Best practices for managing surgical services: the role of coordination. Health Care Manage Rev 22:72–81

30.

Inouye SK, Peduzzi P, Robinson J, Hughes J, Horwifz R, Concat J (1998) Importance of functional measures in predicting mortality among older hospitalized patients. JAMA 279:1187–1193
Conflict of interest
The authors have not identified any potential or real conflicts of interest.
About this article
Cite this article
Lyon, A., Solomon, M.J. & Harrison, J.D. A Qualitative Study Assessing the Barriers to Implementation of Enhanced Recovery After Surgery. World J Surg 38, 1374–1380 (2014). https://doi.org/10.1007/s00268-013-2441-7
Keywords
Royal Prince Alfred Hospital

Discharge Resource

Health System Resource

Stoma Therapy

Elective Laparoscopic Colonic Resection