Abstract
Objective
The use of staplers for thoracic surgery has been widely accepted and regarded as a safe procedure. However, complications of stapling are occasionally experienced. The aim of this retrospective study was to analyze complications of bronchial stapling.
Methods
A retrospective multi-institutional review was conducted by the Central Japan Lung Cancer Surgery Study Group, comprising 29 institutions. All instances of bronchial stapling in thoracic surgery were reviewed during the research period.
Results
Bronchial stapling was performed 2,030 times, using 36 kinds of staplers. The total number of complications related to stapling was 36 (1.8 %); 31 events occurred intraoperatively and five events occurred postoperatively. The intraoperative complications were air leakage (N = 20) and stapling failure (N = 11), which were caused by stapler–tissue thickness mismatch (N = 17), stapler defect (N = 3), tissue fragility (N = 2), and unknown reasons (N = 9). In all 31 cases, intraoperative complications were recovered intraoperatively with additional suturing, and no further complications were observed postoperatively. The postoperative complications were bronchopleural fistula (BPF) (N = 4) and bleeding from the chest wall (intercostal artery) (N = 1). The rate of BPF was 0.2 % (4 of 2,030). Two of four BPFs induced critical conditions. Postoperative bleeding was caused by the use of Duet TRSTM. Both total complications and BPF occurred more frequently in the main bronchus than in the lobar or segmental bronchus. No relationship was seen between the incidence of complications and cartridge colors in lobar bronchial stapling. The compression types of staplers were associated with the incidence of complication.
Conclusions
Intraoperative and postoperative complications of bronchial stapling were studied. Generally, bronchial stapling in recent thoracic surgery was safe, but rare postoperative complications may induce critical conditions. Knowledge of potential complications and causes of bronchial stapling may decrease the incidence of stapling complications.
This is a preview of subscription content, log in to check access.
Access options
Buy single article
Instant access to the full article PDF.
US$ 39.95
Price includes VAT for USA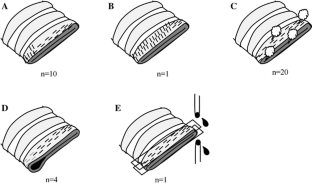 References
1.

Amosov NM, Berezovsky KK (1961) Pulmonary resection with mechanical suture. J Thorac Cardiovasc Surg 41:325–335

2.

Ravitch MM, Steichen FM, Fishbein RH, Knowles PW, Weil P (1964) Clinical experiences with the Soviet mechanical bronchus stapler (UKB-25). J Thorac Cardiovasc Surg 47:446–454

3.

Péterffy A, Calabrese E (1979) Mechanical and conventional manual sutures of the bronchial stump: a comparative study of 298 surgical patients. Scand J Thorac Cardiovasc Surg 13:87–91

4.

Weissberg D, Kaufman M (1992) Suture closure versus stapling of bronchial stump in 304 lung cancer operations. Scand J Thorac Cardiovasc Surg 26:125–127

5.

Szwerc MF, Landreneau RJ, Santos RS, Keenan RJ, Murray GF (2004) Minithoracotomy combined with mechanically stapled bronchial and vascular ligation for anatomical lung resection. Ann Thorac Surg 77:1904–1909

6.

Asamura H, Suzuki K, Kondo H, Tsuchiya R (2002) Mechanical vascular division in lung resection. Eur J Cardiothorac Surg 21:879–882

7.

Asamura H, Kondo H, Tsuchiya R (2000) Management of the bronchial stump in pulmonary resections: a review of 533 consecutive recent bronchial closures. Eur J Cardiothorac Surg 17:106–110

8.

Gossot D, Merlusca G, Tudor A, Boudaya MS, Radu C, Magdeleinat P (2009) Pitfalls related to the use of endostaplers during video-assisted thoracic surgery. Surg Endosc 23:189–192

9.

Ponn RB (2005) Complication of pulmonary resection. In: Shields TW, LoCicero J, Ponn RB, Rusch VW (eds) General thoracic surgery, 6th edn. Williams and Wilkins, Philadelphia, pp 554–586

10.

Uçvet A, Gursoy S, Sirzai S et al (2011) Bronchial closure methods and risks for bronchopleural fistula in pulmonary resections: how a surgeon may choose the optimum method? Interact Cardiovasc Thorac Surg 12:558–562

11.

Sirbu H, Busch T, Aleksic I et al (2001) Bronchopleural fistula in the surgery of non-small cell lung cancer: incidence, risk factors, and management. Ann Thorac Cardiovasc Surg 7:330–336

12.

Wright CD, Wain JC, Mathisen DJ et al (1996) Postpneumonectomy bronchopleural fistula after sutured bronchial closure: incidence, risk factors, and management. J Thorac Cardiovasc Surg 112:1367–1371

13.

Al-Kattan K, Cattelani L, Goldstraw P (1995) Bronchopleural fistula after pneumonectomy for lung cancer. Eur J Cardiothorac Surg 9:479–482

14.

Vester SR, Faber LP, Kittle CF et al (1991) Bronchopleural fistula after stapled closure of bronchus. Ann Thorac Surg 52:1253–1257

15.

Hubaut JJ, Baron O, Al Habash O, Despins P, Duveau D, Michaud JL (1999) Closure of the bronchial stump by manual suture and incidence of bronchopleural fistula in a series of 209 pneumonectomies for lung cancer. Eur J Cardiothorac Surg 16:418–423

16.

Hakim M, Milstein BB (1985) Role of automatic staplers in the aetiology of bronchopleural fistula. Thorax 40:27–31

17.

Dziedzic D, Orlowski TM, Jakimiuk R (2000) Experimental study of the effects of different stapling devices in healing of the mechanically sutured bronchial stump. Eur J Cardiothorac Surg 17:111–116
Acknowledgments
The authors wish to acknowledge the important contributions of members of the Central Japan Lung Cancer Surgery Study Group. Important collaborators were as follows: Masahiro Hashizume (Shinshu University School of Medicine), Hisashi Iwata (Gifu University Graduate School of Medicine), Kikuo Shigemitsu (Ogaki Municipal Hospital), Takuji Fujinaga (Nagara Medical Center), Katsutoshi Adachi (Mie Chuo Medical Center), Motoshi Takao (Mie University Hospital), Ichiro Fukai (Suzuka General Hospital), Shinichiro Ota (Shizuoka General Hospital), Toshiya Tokui (ISE Red Cross Hospital), Yushi Saito (Toyota Memorial Hospital), Takaaki Matsuyama (Daido Hospital), Kazuhito Funai (Hamamatsu University School of Medicine), Masaaki Sano (Nagoya Memorial Hospital), Tsutomu Nishida (Toyokawa City Hospital), Hisanori Kani (Nagoya Tokushukai General Hospital), Katsumi Nakamae (Nagoya City West Medical Center), Takeshi Yamada (Kariya Toyota General Hospital), and Tatsuo Uchida (Aichi Cancer Center Aichi Hospital).
Conflict of interest
All authors declare no conflicts of interest in the present study. None of the contributors had interests to disclose with regard to commercial support.
About this article
Cite this article
Yano, M., Yokoi, K., Numanami, H. et al. Complications of Bronchial Stapling in Thoracic Surgery. World J Surg 38, 341–346 (2014). https://doi.org/10.1007/s00268-013-2292-2
Keywords
Main Bronchus

Intercostal Artery

Bronchopleural Fistula

Segmental Bronchus

Bronchial Stump