Abstract
Background
Preoperative detection of vocal cord palsy is important in thyroid and parathyroid surgery. However, routine fiberoptic laryngoscopy may bring patients unnecessary discomfort. The aim of this study was to determine the feasibility of using surgeon-performed ultrasonography (US) as a screening tool for preoperative assessment of vocal cord movement.
Methods
In the first phase, patients had both laryngoscopic and US examination before surgery. In the second phase, patients had US evaluation first. Those with abnormal vocal cord movement on US, with invisible cord movement, or presenting with significant vocal symptoms underwent laryngeal examination.
Results
In all, 93 (82 %) of 114 patients had successful US evaluation of vocal cord movement during the first phase. Two of them had vocal cord paralysis. In the second phase, vocal cord movement could be evaluated by US in 349 (84 %) of 415 patients. Four patients with abnormal movement were confirmed to have vocal cord palsy by laryngoscopy. None of 46 symptomatic patients with normal movement on US had vocal cord palsy. One other patient whose cord movement could not be seen by US had vocal cord palsy on laryngoscopic examination.
Conclusions
Surgeon-performed US appears to be a relatively accurate method for assessing vocal cord movement in the preoperative setting. It can be used to select patients to undergo laryngoscopic examination before thyroidectomy and parathyroidectomy.
This is a preview of subscription content, log in to check access.
Access options
Buy single article
Instant unlimited access to the full article PDF.
US$ 39.95
Price includes VAT for USA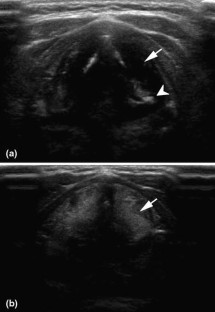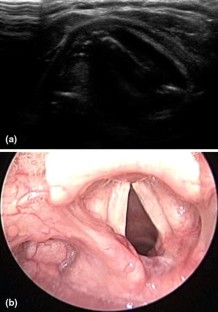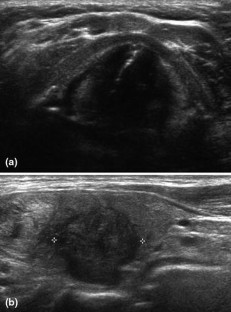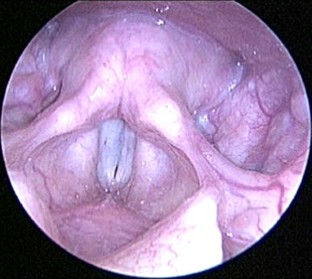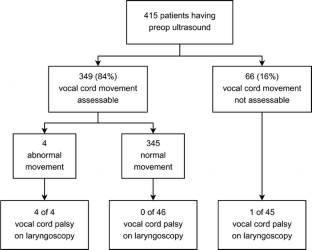 References
1.

Myssiorek D (2004) Recurrent laryngeal nerve paralysis: anatomy and etiology. Otolaryngol Clin North Am 37:25–44

2.

Steurer M, Passler C, Denk DM et al (2002) Advantages of recurrent laryngeal nerve identification in thyroidectomy and parathyroidectomy and the importance of preoperative and postoperative laryngoscopic examination in more than 1000 nerves at risk. Laryngoscope 112:124–133

3.

Randolph GW, Kamani D (2006) The importance of preoperative laryngoscopy in patients undergoing thyroidectomy: voice, vocal cord function, and the preoperative detection of invasive thyroid malignancy. Surgery 139:357–362

4.

Farrag TY, Samlan RA, Lin FR et al (2006) The utility of evaluating true vocal fold motion before thyroid surgery. Laryngoscope 116:235–238

5.

Randolph GW (2010) The importance of pre- and postoperative laryngeal examination for thyroid surgery. Thyroid 20:453–458

6.

Delbridge L (2008) Symposium on evidence-based endocrine surgery (2): benign thyroid disease. World J Surg 32:1235–1236. doi:10.1007/s00268-008-9580-2

7.

Curley JW, Timms MS (1989) Incidence of abnormality in routine 'vocal cord checks'. J Laryngol Otol 103:1057–1058

8.

Jarhult J, Lindestad PA, Nordenstrom J et al (1991) Routine examination of the vocal cords before and after thyroid and parathyroid surgery. Br J Surg 78:1116–1117

9.

Green KM, de Carpentier JP (1999) Are pre-operative vocal fold checks necessary? J Laryngol Otol 113:642–644

10.

Yeung P, Erskine C, Mathews P et al (1999) Voice changes and thyroid surgery: is pre-operative indirect laryngoscopy necessary? Aust N Z J Surg 69:632–634

11.

Schlosser K, Zeuner M, Wagner M et al (2007) Laryngoscopy in thyroid surgery—essential standard or unnecessary routine? Surgery 142:858–864

12.

Hundahl SA, Cady B, Cunningham MP et al (2000) Initial results from a prospective cohort study of 5583 cases of thyroid carcinoma treated in the united states during 1996. U.S. and German Thyroid Cancer Study Group. An American College of Surgeons Commission on Cancer Patient Care Evaluation study. Cancer 89:202–217

13.

Cooper DS, Doherty GM, Haugen BR et al, American Thyroid Association (ATA) Guidelines Taskforce on Thyroid Nodules and Differentiated Thyroid Cancer (2009) Revised American Thyroid Association management guidelines for patients with thyroid nodules and differentiated thyroid cancer. Thyroid 19:1167–1214

14.

Udelsman R, Pasieka JL, Sturgeon C, et al. (2009) Surgery for asymptomatic primary hyperparathyroidism: proceedings of the third international workshop. J Clin Endocrinol Metab 94:366–372

15.

Kelsey CA, Ewanowski SJ, Hixon TJ et al (1968) Determination of lateral pharyngeal wall motion during connected speech by use of pulsed ultrasound. Science 161:1259–1260

16.

Garel C, Hassan M, Legrand I et al (1991) Laryngeal ultrasonography in infants and children: pathological findings. Pediatr Radiol 21:164–167

17.

Sidhu S, Stanton R, Shahidi S et al (2001) Initial experience of vocal cord evaluation using grey-scale, real-time, B-mode ultrasound. ANZ J Surg 71:737–739

18.

Iacobone M, Viel G, Zanella S et al (2008) The usefulness of preoperative ultrasonographic identification of nonrecurrent inferior laryngeal nerve in neck surgery. Langenbecks Arch Surg 393:633–638

19.

Chiang FY, Lee KW, Chen HC et al (2010) Standardization of intraoperative neuromonitoring of recurrent laryngeal nerve in thyroid operation. World J Surg 34:223–229. doi:10.1007/s00268-009-0316-8

20.

Wu YL, Ting WH, Wey SL et al (2011) Poorly differentiated thyroid carcinoma in a 9-year-old boy: case report. J Pediatr Endocrinol Metab 24:783–786

21.

Chen HH, Hsu MT, Wu CJ et al (2008) Effects of percutaneous ethanol injection therapy on subsequent parathyroidectomy. Am J Surg 196:155–159

22.

Chen HH, Lin CJ, Wu CJ et al (2011) Chemical ablation of recurrent and persistent secondary hyperparathyroidism after subtotal parathyroidectomy. Ann Surg 253:786–790

23.

Rowe-Jones JM, Rosswick RP, Leighton SE (1993) Benign thyroid disease and vocal cord palsy. Ann R Coll Surg Engl 75:241–244

24.

Hermann M, Hellebart C, Freissmuth M (2004) Neuromonitoring in thyroid surgery: prospective evaluation of intraoperative electrophysiological responses for the prediction of recurrent laryngeal nerve injury. Ann Surg 240:9–17

25.

Chan WF, Lo CY, Lam KY et al (2004) Recurrent laryngeal nerve palsy in well-differentiated thyroid carcinoma: clinicopathologic features and outcome study. World J Surg 28:1093–1098. doi:10.1007/s00268-009-9921-9

26.

Rosato L, Carlevato MT, De Toma G et al (2005) Recurrent laryngeal nerve damage and phonetic modifications after total thyroidectomy: surgical malpractice only or predictable sequence? World J Surg 29:780–784. doi:10.1007/s00268-005-7653-z

27.

Chiang FY, Lin JC, Lee KW et al (2006) Thyroid tumors with preoperative recurrent laryngeal nerve palsy: clinicopathologic features and treatment outcome. Surgery 140:413–417

28.

Bergenfelz A, Jansson S, Kristoffersson A et al (2008) Complications to thyroid surgery: results as reported in a database from a multicenter audit comprising 3,660 patients. Langenbecks Arch Surg 393:667–673

29.

Roh JL, Yoon YH, Park CI (2009) Recurrent laryngeal nerve paralysis in patients with papillary thyroid carcinomas: evaluation and management of resulting vocal dysfunction. Am J Surg 197:459–465

30.

Echternach M, Maurer CA, Mencke T et al (2009) Laryngeal complications after thyroidectomy: is it always the surgeon? Arch Surg 144:149–153

31.

Wang CC, Wang CP, Tsai TL et al (2011) The basis of preoperative vocal fold paralysis in a series of patients undergoing thyroid surgery: the preponderance of benign thyroid disease. Thyroid 21:867–872

32.

Friedman EM (1997) Role of ultrasound in the assessment of vocal cord function in infants and children. Ann Otol Rhinol Laryngol 106:199–209

33.

Dedecjus M, Adamczewski Z, Brzezinski J et al (2010) Real-time, high-resolution ultrasonography of the vocal folds–a prospective pilot study in patients before and after thyroidectomy. Langenbecks Arch Surg 395:859–864

34.

Chi-Fishman G (2005) Quantitative lingual, pharyngeal and laryngeal ultrasonography in swallowing research: a technical review. Clin Linguist Phon 19:589–604

35.

Ooi LL, Chan HS, Soo KC (1995) Color Doppler imaging for vocal cord palsy. Head Neck 17:20–23

36.

Dailey SH, Kobler JB, Hillman RE et al (2005) Endoscopic measurement of vocal fold movement during adduction and abduction. Laryngoscope 115:178–183

37.

Sirikci A, Karatas E, Durucu C et al (2007) Noninvasive assessment of benign lesions of vocal folds by means of ultrasonography. Ann Otol Rhinol Laryngol 116:827–831

38.

Milas M, Stephen A, Berber E et al (2005) Ultrasonography for the endocrine surgeon: a valuable clinical tool that enhances diagnostic and therapeutic outcomes. Surgery 138:1193–1200

39.

Cheng SP, Lee JJ, Lin JL et al (2012) Characterization of thyroid nodules using the proposed Thyroid Imaging Reporting and Data System (TI-RADS). Head Neck (in press)
Conflict of interest
The authors have no conflict of interest to declare.
Electronic supplementary material
Below is the link to the electronic supplementary material.
Supplementary material 1 (WMV 7239 kb)
Supplementary material 2 (WMV 5349 kb)
Supplementary material 3 (WMV 4575 kb)
About this article
Cite this article
Cheng, S., Lee, J., Liu, T. et al. Preoperative Ultrasonography Assessment of Vocal Cord Movement During Thyroid and Parathyroid Surgery. World J Surg 36, 2509–2515 (2012) doi:10.1007/s00268-012-1674-1
Keywords
Vocal Cord

Vocal Cord Palsy

Unilateral Vocal Fold Palsy

Cord Movement

Laryngoscopic Examination