Abstract
Background
The impact of hepatic venous anatomic variations on hepatic resection and transplantation is the least understood aspect of liver surgery.
Methods
A prospective three-dimensional computed tomography study was undertaken on 200 consecutive subjects with normal livers to determine the prevalence of surgically significant hepatic venous anatomic variations.
Results
The prevailing pattern of the three hepatic veins in these subjects was a right hepatic vein (RHV) and a common trunk for the middle (MHV) and left (LHV) hepatic veins (122/200, 61%). The remaining patients had the RHV, MHV, and LHV draining independently into the inferior vena cava (IVC). In 39% of patients, the RHV was small and was compensated by a large right inferior hepatic vein (21.0%), an accessory RHV (8.5%) or a well-developed MHV (6.5%). A segment 4 vein was seen in 51.5% of patients. This segment 4 vein joined the LHV (26%), the MHV (17.5%), or the IVC (8%). An umbilical vein and a segment 4 vein were seen in 3.5% of patients. These two veins joined either the LHV (2.0%) or the MHV (1.5%).
Conclusions
Knowing the variations of hepatic veins before surgery is useful during both partial hepatectomy and donor operations for living related liver transplantation.
This is a preview of subscription content, log in to check access.
Access options
Buy single article
Instant unlimited access to the full article PDF.
US$ 39.95
Price includes VAT for USA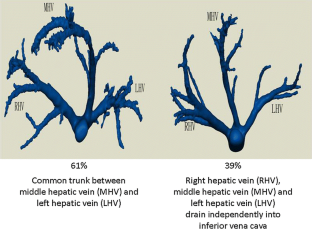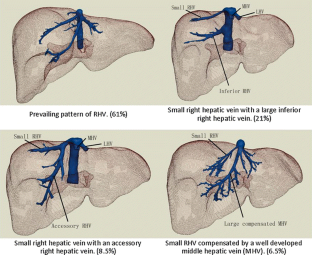 References
1.

Nakamura S, Tsuzuki T (1981) Surgical anatomy of the hepatic veins and the inferior vena cava. Surg Gynecol Obstet 152:43–50

2.

Nagorney DM (2010) The impact of hepatic venous anatomy on the hepatic remnant: need for assessment? Surgery 147:811–812

3.

Ou QJ, Hermann ER (1984) The role of hepatic veins in liver operations. Surgery 95:381–391

4.

Sakaguchi T, Suzuki S, Inaba K et al (2010) Analysis of intrahepatic venovenous shunt by hepatic venography. Surgery 147:805–810

5.

Orguc S, Tercan M, Bozoklar A et al (2004) Variations of hepatic veins: helical computerized tomography experience in 100 consecutive living liver donors with emphasis on right lobe. Transplant Proc 36:2727–2732

6.

Elias H, Petty D (1952) Gross anatomy of the blood vessels and ducts within the human liver. Am J Anat 90:59–111

7.

Goldsmith NA, Woodburne RT (1957) The surgical anatomy pertaining to liver resection. Surg Gynecol Obstet 105:310–318

8.

Gertsch P, Vauthey JN, Looser C et al (1995) Evaluation of adaptive changes by non-invasive imaging in hepatic vein outflow obstruction. HPB Surg 8:231–236

9.

Bayraktar UD, Seren S, Bayraktar Y (2007) Hepatic venous outflow obstruction: three similar syndromes. World J Gastroenterol 13:1912–1927

10.

Fan ST, Lo CM, Liu CL et al (2003) Safety and necessity of including the middle hepatic vein in the right lobe graft in adult-to-adult live donor liver transplantation. Ann Surg 238:137–148

11.

Sano K, Makuuchi M, Miki K et al (2002) Evaluation of hepatic venous congestion: proposed indication criteria for hepatic vein reconstruction. Ann Surg 236:241–247

12.

Terminology Committee of the IHPBA (2000) The Brisbane 2000 terminology of liver anatomy and resections. HPB Surg 3:333–339
Acknowledgments
This work was supported by the following grants: The National High Technology Research and Development Program of China (863 Program) (grant 2006AA02Z346); The Natural Science Foundation of Guangdong Province, China (grant 6200171); National Natural Science Foundation of China (grant 30470493); The Integration Project of Industry, Education and Research jointly funded by Guangdong Province and the Ministry of Education of P.R. China (grant 2009B080701077); The Strategic Cooperation Project jointly funded by Guangdong Province and the Chinese Academy of Sciences (grant 2010A090100032).
Electronic supplementary material
Below is the link to the electronic supplementary material.
Supplementary material 1 (AVI 4390 kb)
Supplementary material 2 (AVI 21726 kb)
About this article
Cite this article
Fang, C., You, J., Lau, W.Y. et al. Anatomical Variations of Hepatic Veins: Three-Dimensional Computed Tomography Scans of 200 Subjects. World J Surg 36, 120–124 (2012) doi:10.1007/s00268-011-1297-y
Keywords
Inferior Vena Cava

Hepatic Vein

Obstructive Jaundice

Liver Surgery

Common Trunk