Abstract
Background
Parathyroid carcinoma accounts for <1% of tumors in primary hyperparathyroidism (PHPT). Distinguishing parathyroid malignancy from benign disease is difficult both before and after initial surgery. Despite the improved specificity of a malignant diagnosis with immunohistochemistry for parafibromin and PGP9.5, proven metastatic behavior remains the gold standard of diagnosis. Minimally invasive focused parathyroidectomy (MIP) is widely performed in patients with PHPT and positive localization studies; thus, it is inevitable that some parathyroid caricnomas will be encountered at MIP. We present our experience of this rare entity.
Methods
The present study represents a surgical case series of patients with parathyroid carcinoma encountered after MIP. The clinicopathological features of benign and malignant parathyroid tumors were compared. Multiple regression analysis was undertaken to compare indicators of malignancy.
Results
Between May 1999 and April 2010, a total of 1,292 patients underwent MIP at the University of Sydney Endocrine Surgical Unit, and a histopathological diagnosis of parathyroid carcinoma was made in seven patients (0.5%). Staining for parafibromin and/or PGP9.5 was abnormal in five carcinomas (71%). Despite subsequent unilateral thyroid lobectomy and lymphadenectomy in six patients, no further malignancy was identified in any specimens. Compared to controls, preoperative calcium (p = 0.04) and parathyroid hormone (p = 0.01) were significantly higher in patients with malignancy. The positive predictive value of these parameters for carcinoma was 56 and 75%, respectively.
Conclusions
In patients diagnosed with parathyroid carcinoma after MIP where preoperative imaging had already demonstrated localized disease, revision en bloc surgery did not reveal any residual disease. The benefits of further radical surgery for parathyroid carcinoma after MIP remain controversial.
This is a preview of subscription content, log in to check access.
Access options
Buy single article
Instant access to the full article PDF.
US$ 39.95
Price includes VAT for USA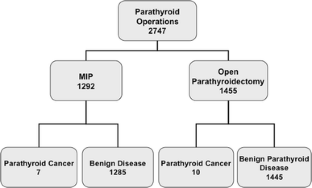 References
1.

Lee PK, Jarosek SL, Virnig BA et al (2007) Trends in the incidence and treatment of parathyroid cancer in the United States. Cancer 109:1736

2.

Robert JH, Trombetti A, Garcia A et al (2005) Primary hyperparathyroidism: can parathyroid carcinoma be anticipated on clinical and biochemical grounds? Report of nine cases and review of the literature. Ann Surg Oncol 12:526

3.

Ippolito G, Palazzo FF, Sebag F et al (2007) Intraoperative diagnosis and treatment of parathyroid cancer and atypical parathyroid adenoma. Br J Surg 94:566

4.

Bondeson L, Grimelius L, Delellis RA (2004) Parathyroid carcinoma. In: Delellis RA, Lloyd RV, Heitz PU (eds) World Health Organisation classification of tumours, pathology and genetics: tumour of endocrine organs. IARC Press, Lyon, p 124

5.

Sandelin K, Tullgren O, Farnebo LO (1994) Clinical course of metastatic parathyroid cancer. World J Surg 18:594

6.

Shattuck TM, Valimaki S, Obara T et al (2003) Somatic and germ-line mutations of the HRPT2 gene in sporadic parathyroid carcinoma. N Engl J Med 349:1722

7.

Howell VM, Haven CJ, Kahnoski K et al (2003) HRPT2 mutations are associated with malignancy in sporadic parathyroid tumours. J Med Genet 40:657 [Erratum appears in J Med Genet 41(1):20, 2004]

8.

Cetani F, Pardi E, Borsari S et al (2004) Genetic analyses of the HRPT2 gene in primary hyperparathyroidism: germline and somatic mutations in familial and sporadic parathyroid tumors. J Clin Endocrinol Metab 89:5583

9.

Krebs LJ, Shattuck TM, Arnold A (2005) HRPT2 mutational analysis of typical sporadic parathyroid adenomas. J Clin Endocrinol Metab 90:5015

10.

Sarquis MS, Silveira LG, Pimenta FJ et al (2008) Familial hyperparathyroidism: surgical outcome after 30 years of follow-up in three families with germline HRPT2 mutations. Surgery 143:630

11.

Haven CJ, Howell VM, Eilers PH et al (2004) Gene expression of parathyroid tumors: molecular subclassification and identification of the potential malignant phenotype. Cancer Res 64:7405

12.

Howell VM, Gill A, Clarkson A et al (2009) Accuracy of combined protein gene product 9.5 and parafibromin markers for immunohistochemical diagnosis of parathyroid carcinoma. J Clin Endocrinol Metab 94:434

13.

Sackett WR, Barraclough B, Reeve TS et al (2002) Worldwide trends in the surgical treatment of primary hyperparathyroidism in the era of minimally invasive parathyroidectomy. Arch Surg 137:1055

14.

Pang T, Stalberg P, Sidhu S et al (2007) Minimally invasive parathyroidectomy using the lateral focused mini-incision technique without intraoperative parathyroid hormone monitoring. Br J Surg 94:315

15.

Slepavicius A, Beisa V, Janusonis V et al (2008) Focused versus conventional parathyroidectomy for primary hyperparathyroidism: a prospective, randomized, blinded trial. Langenbecks Arch Surg 393:659

16.

McGill J, Sturgeon C, Kaplan SP et al (2008) How does the operative strategy for primary hyperparathyroidism impact the findings and cure rate? A comparison of 800 parathyroidectomies. J Am Coll Surg 207:246

17.

Gill AJ, Clarkson A, Gimm O et al (2006) Loss of nuclear expression of parafibromin distinguishes parathyroid carcinomas and hyperparathyroidism-jaw tumor (HPT-JT) syndrome-related adenomas from sporadic parathyroid adenomas and hyperplasias. Am J Surg Pathol 30:1140

18.

Obara T, Okamoto T, Kanbe M et al (1997) Functioning parathyroid carcinoma: clinicopathologic features and rational treatment. Semin Surg Oncol 13:134

19.

Hakaim AG, Esselstyn CB Jr (1993) Parathyroid carcinoma: 50-year experience at The Cleveland Clinic Foundation. Cleve Clin J Med 60:331

20.

Wynne AG, van Heerden J, Carney JA et al (1992) Parathyroid carcinoma: clinical and pathologic features in 43 patients. Medicine 71:197

21.

Shortell CK, Andrus CH, Phillips CE Jr et al (1991) Carcinoma of the parathyroid gland: a 30-year experience. Surgery 110:704

22.

Obara T, Fujimoto Y (1991) Diagnosis and treatment of patients with parathyroid carcinoma: an update and review. World J Surg 15:738

23.

Iihara M, Okamoto T, Suzuki R et al (2007) Functional parathyroid carcinoma: long-term treatment outcome and risk factor analysis. Surgery 142:936 [Erratum appears in Surgery 143:302, 2008]

24.

Busaidy NL, Jimenez C, Habra MA et al (2004) Parathyroid carcinoma: a 22-year experience. Head Neck 26:716

25.

Anderson BJ, Samaan NA, Vassilopoulou-Sellin R et al (1983) Parathyroid carcinoma: features and difficulties in diagnosis and management. Surgery 94:906

26.

Sandelin K, Auer G, Bondeson L et al (1992) Prognostic factors in parathyroid cancer: a review of 95 cases. World J Surg 16:724

27.

Hundahl SA, Fleming ID, Fremgen AM et al (1999) Two hundred eighty-six cases of parathyroid carcinoma treated in the U.S. between 1985–1995: a National Cancer Data Base Report. The American College of Surgeons Commission on Cancer and the American Cancer Society. Cancer 86:538

28.

Enomoto K, Uchino S, Ito A et al (2010) The surgical strategy and the molecular analysis of patients with parathyroid cancer. World J Surg 34:2604–2610

29.

Biskobing DM (2010) Significance of elevated parathyroid hormone after parathyroidectomy. Endocr Pract 16:112–117

30.

Shane E (2001) Clinical review 122: parathyroid carcinoma. J Clin Endocrinol Metab 86:485–493

31.

Ishida T, Yokoe T, Izuo M (1991) Nationwide surgery of parathyroid operations in Japan (1980–1989). Endocr Surg (Tokyo) 8:37

32.

Favia G, Lumachi F, Polistina F et al (1998) Parathyroid carcinoma: sixteen new cases and suggestions for correct management. World J Surg 22:1225

33.

Fujimoto Y, Obara T, Ito Y et al (1986) Localization and surgical resection of metastatic parathyroid carcinoma. World J Surg 10:539

34.

Rawat N, Khetan N, Williams DW et al (2005) Parathyroid carcinoma. Br J Surg 92:1345

35.

Kebebew E (2001) Parathyroid carcinoma. Curr Treat Options Oncol 2:347

36.

Kebebew E, Arici C, Duh QY et al (2001) Localization and reoperation results for persistent and recurrent parathyroid carcinoma. Arch Surg 136:878

37.

McCance DR, Kenny BD, Sloan JM et al (1987) Parathyroid carcinoma: a review. J R Soc Med 80:505

38.

Rao SR, Shaha AR, Singh B et al (2002) Management of cancer of the parathyroid. Acta Otolaryngol 122:448

39.

Clayman GL, Gonzalez HE, El-Naggar A et al (2004) Parathyroid carcinoma: evaluation and interdisciplinary management. Cancer 100:900

40.

Munson ND, Foote RL, Northcutt RC et al (2003) Parathyroid carcinoma: is there a role for adjuvant radiation therapy? Cancer 98:2378

41.

Collins MT, Skarulis MC, Bilezikian JP et al (1998) Treatment of hypercalcemia secondary to parathyroid carcinoma with a novel calcimimetic agent. J Clin Endocrinol Metab 83:1083

42.

Silverberg SJ, Rubin MR, Faiman C et al (2007) Cinacalcet hydrochloride reduces the serum calcium concentration in inoperable parathyroid carcinoma. J Clin Endocrinol Metab 92:3803
Acknowledgments
Dr. C. J. O'Neill is supported by a grant from the New South Wales Cancer Institute. Stan B. Sidhu is a New South Wales Cancer Institute Fellow. An earlier form of this article was presented as a poster presentation at the Society of Surgical Oncology, St. Louis, MO, March 2010.
About this article
Cite this article
O'Neill, C.J., Chan, C., Symons, J. et al. Parathyroid Carcinoma Encountered After Minimally Invasive Focused Parathyroidectomy may not Require Further Radical Surgery. World J Surg 35, 147–153 (2011). https://doi.org/10.1007/s00268-010-0826-4
Keywords
Primary Hyperparathyroidism

Cinacalcet

Parathyroid Carcinoma

Central Neck Dissection

Bilateral Neck Exploration