Abstract
Background
Hyperparathyroidism in pregnancy is a threat to the health of both mother and fetus. The mothers suffer commonly from nephrolithiasis, hyperemesis, or even hypercalcemic crisis. Untreated disease will commonly complicate fetal development and fetal death is a significant risk. Treatment options, including medical and surgical therapy, are debated in the literature.
Methods
This is a case series comprising seven patients with primary hyperparathyroidism in pregnancy. Data collected included symptoms at diagnosis, biochemical abnormalities, pathologic findings, treatment regimes, and subsequent maternal and fetal outcomes.
Results
Seven women, aged 20 to 39 years, presented with hyperparathyroidism during pregnancy. The earliest presented at 8 weeks and the latest at 38 weeks. Four of seven patients experienced renal calculi. Calcium levels were 2.7–3.5 mmol/l. All were found to have solitary parathyroid adenomas, of which two were in ectopic locations. Fetal complications included three preterm deliveries and one fetal death with no cases of neonatal tetany. Maternal and fetal complications could not be predicted based on duration or severity of hypercalcemia. Three patients were treated during pregnancy with surgery, and two of these had ectopic glands that required reoperations with a novel approach using Tc-99m sestamibi scanning during pregnancy to assist in localizing the abnormal gland. Four cases were treated postpartum with a combination of open and minimally invasive approaches after localization. No operative complications or fetal loss related to surgery were observed in this cohort.
Conclusions
Primary hyperparathyroidism in pregnancy represents a significant risk for maternal and fetal complications that cannot be predicted by duration of symptoms or serum calcium levels. Surgical treatment should be considered early, and a minimally invasive approach with ultrasound is best suited to mitigating risk to mother and fetus. Equally important, Tc-99m sestamibi imaging may be used safely for localization of the parathyroids after negative cervical explorations.
This is a preview of subscription content, log in to check access.
Access options
Buy single article
Instant access to the full article PDF.
US$ 39.95
Price includes VAT for USA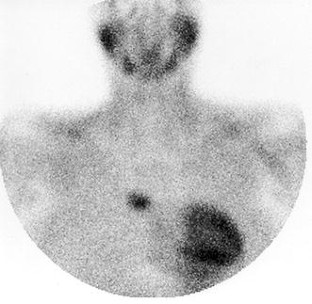 References
1.

Ludwig GD (1962) Hyperparathyroidism in relation to pregnancy. N Engl J Med 267:637–642

2.

Wagner G, Transhol L, Melchior JC (1964) Hyperparathyroidism and pregnancy. Acta Endocrinol 47:549–564

3.

Delmonico FL, Neer RM, Cosimi AB et al (1976) Hyperparathyroidism during pregnancy. Am J Surg 131:328–337

4.

Salem R, Taylor S (1979) Hyperparathyroidism in pregnancy. Br J Surg 66:648–650

5.

Kelly TR (1991) Primary hyperparathyroidism during pregnancy. Surgery 110:1028–1034

6.

Carella M, Gossain V (1992) Hyperparathyroidism and pregnancy: case report and review. J Gen Intern Med 7:448–453

7.

Schnatz PF, Curry SL (2002) Primary hyperparathyroidism in pregnancy: evidence-based management. Obstet Gynecol Surv 57:365–376

8.

Hosking DJ (1996) Calcium homeostasis in pregnancy. Clin Endocrinol 45:1–6

9.

Amaya Garcia M, Acosta Feria M, Soto Moreno A et al (2004) Primary hyperparathyroidism in pregnancy. Gynecol Endocrinol 19:111–114

10.

Cemeroglu AP, Bober E, Buyukgebiz A (2001) Prolonged hypocalcemia in a 2 month-old boy unmasking maternal diagnosis of primary hyperparathyroidism. J Pediatr Endocrinol Metab 14:785–787

11.

Ziegler R (2001) Hypercalcemic crisis. J Am Soc Nephrol 12:S3–S9

12.

Clark D, Seeds JW, Cefalo RC (1981) Hyperparathyroid crisis and pregnancy. Am J Obstet Gynecol 140:840–842

13.

Graham EM, Freedman LJ, Forouzan I (1998) Intrauterine growth retardation in a woman with primary hyperparathyroidism—a case report. J Repro Med 43:451–454

14.

Montoro MN, Collea JV, Mestman JH (1980) Management of hyperparathyroidism in pregnancy with oral phosphate therapy. Obstet Gynecol 55:431–434

15.

Briggs GG, Freeman RK, Yaffe SJ (1998) A reference guide to fetal and neonatal risk: drugs in pregnancy and lactation, 5th edn. Williams & Wilkins, Baltimore, pp 131–132

16.

Levy HA, Pierucci L, Stroup P (1981) Oral phosphates treatment of hypercalcemia in pregnancy. J Med Soc NJ 78:113–115

17.

Whitson BA, Broadie TA (2008) Preoperative ultrasound and nuclear medicine studies improve the accuracy in localization of adenoma in hyperparathyroidism. Surg Today 38:222–226

18.

Kebebew E, Hwang J, Reiff E, Duh QY, Clark OH (2006) Predictors of single-gland vs. multigland parathyroid disease in primary hyperparathyroidism: a simple and accurate scoring model. Arch Surg 141:777–782

19.

Mihai R, Simon D, Hellman P (2009) Imaging for primary hyperparathyroidism—an evidence-based analysis. Langenbecks Arch Surg 394:765–784

20.

Hsieh YY, Chang CC, Tsai HD et al (1998) Primary hyperparathyroidism in pregnancy—report of 3 cases. Arch Gynecol Obstet 261:209–214

21.

Kort KC, Schiller HJ, Numann PJ (1999) Hyperparathyroidism and pregnancy. Am J Surg 177:66–68

22.

Duncan PG, Pope WD, Cohen MM et al (1986) Fetal risk of anesthesia and surgery during pregnancy. Anesthesiology 64:790–794

23.

Visser BC, Glasgow RE, Mulvihill KK, Mulvihill SJ (2001) Safety and timing of nonobstetric abdominal surgery in pregnancy. Dig Surg 18:409–417

24.

Jackson H, Granger S, Price R, Rollins M, Earle D, Richardson W, Fanelli R (2008) Diagnosis and laparoscopic treatment of surgical diseases during pregnancy: an evidence-based review. Surg Endosc 22:1917–1927

25.

Steenvoorde P, Pauwels EK, Harding LK et al (1998) Diagnostic nuclear medicine and risk for the fetus. Eur J Nucl Med 25:193–199

26.

Stalberg P, Delbridge L, van Heerden J et al (2007) Minimally invasive parathyroidectomy and thyroidectomy—current concepts. Surgeon 5:301–308

27.

Gidiri M, Lindow SW, Masso EA, Philips K (2004) Parathyroidectomy in pregnancy for primary hyperparathyroidism with successful pregnancy outcome: a report of two pregnancies. J Obstet Gynaecol 24:318–319

28.

Schnatz PF, Thaxton S (2005) Parathyroidectomy in the third trimester of pregnancy. Obstet Gynecol Surv 60:672–682

29.

Pattou F, Huglo D, Proye C (1998) Radionuclide scanning in parathyroid diseases. Br J Surg 85:1605–1616

30.

Rooney DP, Traub AI, Russell CF et al (1998) Cure of hyperparathyroidism in pregnancy by sternotomy and removal of a mediastinal parathyroid adenoma. Postgrad Med J 74:233–234

31.

Iqbal N, Aldasouqi S, Peacock M et al (1999) Life-threatening hypercalcemia associated with primary hyperparathyroidism during pregnancy: case report and review of literature. Endocr Pract 5:337–342

32.

Kristoffersson A, Dahlgren S, Lithner F et al (1985) Primary hyperparathyroidism in pregnancy. Surgery 97:326–330

33.

Ammann P, Irion O, Gust J et al (1993) Alterations of calcium and phosphate metabolism in primary hyperparathyroidism during pregnancy. Acta Obstet Gynecol Scand 72:488–492

34.

Peschgens T, Stollbrink-Peschgens C, Merz U et al (1994) Primary hyperparathyroidism and pregnancy. Aspects of neonatal morbidity. Z Geburtshilfe Perinatol 198:96–99

35.

Cherry TA, Kauffman RP, Myles TD (2002) Primary hyperparathyroidism, hypercalcemic crisis and subsequent seizures occurring during pregnancy: a case report. J Matern Fetal Neonatal Med 12:349–352

36.

Nudelman J, Deutsch A, Sternberg A et al (1984) The treatment of primary hyperparathyroidism during pregnancy. Br J Surg 71:217–218

37.

Gelister JSK, Sanderson JD, Chapple CR et al (1989) Management of hyperparathyroidism in pregnancy. Br J Surg 76:1207–1208

38.

Haenel LC 4th, Mayfield RK (2000) Primary hyperparathyroidism in a twin pregnancy and review of fetal/maternal calcium homeostasis. Am J Med Sci 319:191–194

39.

Mazze RI, Kallen B (1989) Reproductive outcome after anesthesia and operation during pregnancy: a registry study of 5405 cases. Am J Obstet Gynecol 161:1178–1185

40.

Cohen-Kerem R, Railton C, Oren D et al (2005) Pregnancy outcome following non-obstetric surgical intervention. Am J Surg 190:467–473

41.

Phitayakorn R, McHenry CR (2006) Incidence and location of ectopic abnormal parathyroid glands. Am J Surg 191:418–423

42.

Gough I (2006) Reoperative parathyroid surgery: the importance of ectopic location and multigland disease. ANZ J Surg 76:1048–1050

43.

Russell CF, Edis AJ, Scholz DA, Van Heerden JA (1981) Mediastinal parathyroid tumors. Experience with 38 tumors requiring mediastinotomy for removal. Ann Surg 193:805–809

44.

Russell JR, Stabin MG, Sparks RB (1997) Placental transfer of radiopharmaceuticals and dosimetry in pregnancy. Health Phys 73:756–769
About this article
Cite this article
McMullen, T.P.W., Learoyd, D.L., Williams, D.C. et al. Hyperparathyroidism in Pregnancy: Options for Localization and Surgical Therapy. World J Surg 34, 1811–1816 (2010). https://doi.org/10.1007/s00268-010-0569-2
Keywords