Abstract
Background
Focused parathyroidectomy (FP) is offered to 60% to 70% of patients presenting to our unit with primary hyperparathyroidism (PHPT). A recent report identified bilateral internal jugular venous sampling (BIJVS) as a useful tool for localization of parathyroid adenomas in patients with scan-negative PHPT. The purpose of this study was to evaluate the utility of this approach in a clinical setting.
Methods
A prospective case-control trial was undertaken. Bilateral internal jugular venous blood samples were obtained. Patients were stratified into three groups: Group A consisted of patients with a negative sestamibi scan undergoing bilateral exploration; group B consisted of patients undergoing FP following a positive sestamibi scan; and group C patients were a control group undergoing total thyroidectomy.
Results
In group A, 17 of 30 patients (56%) had lateralization of the parathyroid hormone (PTH) levels, with 11 correctly lateralizing to the side of the adenoma, 5 lateralizing despite bilateral disease, and 1 lateralizing to the contralateral side. Of the remaining 13 patients in whom there was no lateralization, 3 had bilateral multigland disease, and 10 had a single parathyroid adenoma. In group B, 17 of 30 patients (56%) also had lateralization of PTH levels, with 15 lateralizing to the side of the adenoma and 2 to the contralateral side. Lateralization failed in the remaining 13 patients, although in all of these patients the calcium and PTH levels normalized postoperatively. The control group of patients without parathyroid disease (group C) demonstrated lateralization of PTH levels in 23 of 30 patients (76%).
Conclusions
In our hands, BIJVS for PTH determination was not a useful adjunctive test facilitating FP. We continue to offer all patients with PHPT and a negative sestamibi scan a standard bilateral neck exploration.
This is a preview of subscription content, log in to check access.
Access options
Buy single article
Instant access to the full article PDF.
US$ 39.95
Price includes VAT for USA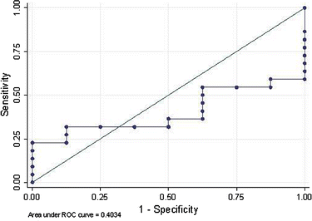 References
1.

Fraser W (2009) Hyperparathyroidism. Lancet 374:145–158

2.

Rubin MR, Bilezikian JP, McMahon DJ et al (2008) The natural history of primary hyperaparathyroidism with or without parathyroid surgery after 15 years. J Clin Endocrinol Metab 93:3462–3470

3.

Khosla S, Melton LJ III, Wermers RA et al (1999) Primary hyperparathyroidism and the risk of fracture: a population-based study. J Bone Miner Res 14:1700–1707

4.

Joborn C, Heta J, Lind L et al (1989) Self rated psychiatric symptoms in patients with primary hyperparathyroidism. Surgery 105:72–78

5.

Bilezikian JP, Ptts JT Jr, El-Hajj Fuleihan G et al (2002) Summary statement from a workshop on asymptomatic primary hyperparathyroidism: a perspective for the 21st century. J Clin Endocrinol Metab 87:5353–5361

6.

Bartsch D, Nies C, Hasse C et al (1995) Clinical and surgical aspects of double adenoma in patients with primary hyperparathyroidism. Br J Surg 82:926–929

7.

Coakley AJ, Kettle AG, Wells CP et al (1989) 99 m-Technetium sestamibi: a new agent for parathyroid imaging. Nucl Med Commun 10:791–794

8.

Carlson GL, Farndon GL, Clayton B et al (1990) Thallium isotope scintigraphy and ultrasonography: comparative studies of localization techniques in primary hyperparathyroidism. Br J Surg 77:327–329

9.

Gayed IW, Kim EE, Broussard WF et al (2005) The value of 99mTc-sestamibi SPECT/CT over conventional SPECT in the evaluation of parathyroid adenomas or hyperplasia. J Nucl Med 46:248–252

10.

De Feo ML, Cologrande S, Biagini C et al (2000) Parathyroid glands: combination of 99mTc MIBI scintigraphy and US for demonstration of parathyroid glands and nodules. Radiology 214:393–402

11.

Soon PS, Delbridge LW, Sywak MS et al (2008) Surgeon performed ultrasound facilitates minimally invasive parathyroidectomy by the focused lateral mini-incision approach. World J Surg 32:766–771

12.

Sugg SL, Fraker DL, Alexander R et al (1993) Prospective evaluation of selective venous sampling for parathyroid hormone concentration in patients undergoing reoperations for primary hyperparathyroidism. Surgery 114:1004–1009

13.

Nilsson BE, Tisell LE, Jansson S et al (1994) Parathyroid localization by catheterization of large cervical and mediastinal veins to determine serum concentrations of intact parathyroid hormone. World J Surg 18:605–610

14.

Bergenfelz A, Algotsson L, Roth B et al (1996) Side localization of parathyroid adenomas by simplified intraoperative venous sampling for parathyroid hormone. World J Surg 20:358–360

15.

Pattou F, Oudar C, Huglo D et al (1998) Localization of abnormal parathyroid glands with jugular sampling for parathyroid hormone, and subtraction scanning with sestamibi or tetrofosmine. Aust N Z J Surg 68:108–111

16.

Jones JJ, Brunaud L, Dowd CF et al (2002) Accuracy of selective venous sampling for intact parathyroid hormone in difficult patients with recurrent or persistent hyperparathyroidism. Surgery 132:944–950

17.

Estella E, Leong MS, Bennet I et al (2003) Parathyroid hormone venous sampling prior to reoperation for primary hyperparathyroidism. ANZ J Surg 3:800–805

18.

Reidel MA, Schilling T, Graf S et al (2006) Localization of hyperfunctioning parathyroid glands by selective venous sampling in reoperation for primary or secondary hyperparathyroidism. Surgery 140:907–913

19.

Ito F, Sippel R, Lederman J et al (2007) The utility of intraoperative bilateral internal jugular venous sampling with rapid parathyroid hormone testing. Ann Surg 245:959–963

20.

Soon PS, Yeh MW, Sywak MS et al (2007) Minimally invasive parathyroidectomy using the lateral focused miniincision approach: is there a learning curve for surgeons experienced in the open procedure? J Am Coll Surg 204:91–95

21.

Pang T, Stalberg P, Sidhu S et al (2007) Minimally invasive parathyroidectomy using the lateral focused mini-incision technique without intraoperative parathyroid hormone monitoring. Br J Surg 94:315–319

22.

Delbridge L (2003) Total thyroidectomy: the evolution of surgical technique. ANZ J Surg 73:761–768

23.

Miller DL (1991) Preoperative localization and interventional treatment of parathyroid tumors: when and how? World J Surg 15:706–715

24.

Roe SM, Burns RP, Graham LD et al (1994) Cost-effectiveness of preoperative localization studies in primary hyperparathyroid disease. Ann Surg 219:582–586

25.

Chaffanjon PC, Voirin D, Vasdev A et al (2004) Selective venous sampling in recurrent and persistent hyperparathyroidism: indication, technique, and results. World J Surg 28:958–961

26.

Ogilvie CM, Brown PL, Matson M et al (2006) Selective parathyroid venous sampling in patients with complicated hyperparathyroidism. Eur J Endocrinol 155:813–821

27.

Barczynski M, Konturek A, Hubalewska A et al (2009) Utility of intraoperative bilateral internal jugular venous sampling with rapid parathyroid hormone testing in guiding patients with a negative sestamibi scan for minimally invasive parathyroidectomy: a randomized controlled trial. Langenbecks Arch Surg 394:827–835
About this article
Cite this article
Alvarado, R., Meyer-Rochow, G., Sywak, M. et al. Bilateral Internal Jugular Venous Sampling for Parathyroid Hormone Determination in Patients with Nonlocalizing Primary Hyperparathyroidism. World J Surg 34, 1299–1303 (2010). https://doi.org/10.1007/s00268-010-0556-7
Keywords
Adenoma

Positive Predictive Value

Parathyroid Adenoma

Bilateral Neck Exploration

Single Adenoma