Abstract
Background
The purpose of the present study was to explore the efficacy of an extended operation for locally advanced non-small cell lung cancer invading the left atrium and intrapericardial pulmonary vein.
Methods
From January 2000 to January 2006, lobectomy or pneumonectomy combined with extended resection of the left atrium was carried out in 46 patients. The operations included left lower lobectomy in 6 cases, left pneumonectomy in 14 cases, right middle and lower lobectomy in 8 cases, right lower lobectomy in 2 cases, and right pneumonectomy in 16 cases; these cases accounted for 4.9% of the lung cancer patients who underwent surgical treatment in the Changzheng Hospital, Second Military Medical University, during the study period.
Results
There were no surgery-related deaths, and the overall 1-, 3-, and 5-year survival rates were 71.77%, 37.79%, and 22.04%, respectively; the 1-, 3-, and 5-year survival rates of patients with no lymph node involvement (N0) were 77.16%, 43.40%, and 28.94%, respectively; the 1-, 3-, and 5-year survival rates of N1 patients were 75.94%, 41.88%, and 27.92%, respectively; the 1- and 3-year survival rates of N2 patients were 53.85% and 17.95%, respectively.
Conclusions
Surgical treatment of T4 lung cancer invading the left atrium or the base of the pulmonary vein is feasible, particularly in N0 and N1 patients with a ≤3 cm maximum diameter of primary lung cancer. It can improve the quality of life and increase long-term survival. Surgical management should be considered in selected lung cancer patients.
This is a preview of subscription content, log in to check access.
Access options
Buy single article
Instant unlimited access to the full article PDF.
US$ 39.95
Price includes VAT for USA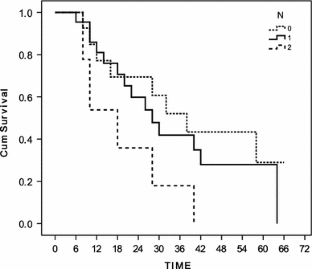 References
1.

Lucchi M, Viti A, Melfi F et al (2007) IIIB-T4 non-small cell lung cancer: indications and results of surgical treatment. J Cardiovasc Surg 48:369–374

2.

Gallo AE, Donington JS (2007) The role of surgery in the treatment of stage III non-small-cell lung cancer. Curr Oncol Rep 9:247–254

3.

Horio H (2007) Surgical strategy for stage III non-small cell lung cancer: a review based on our experience and the literature. Gan To Kagaku Ryoho 34:836–840

4.

DiPerna CA, Wood DE (2005) Surgical management of T3 and T4 lung cancer. Clin Cancer Res 11(13 Pt 2):5038s–5044s

5.

Spaggiari L, D'Aiuto M, Veronesi G et al (2005) Extended pneumonectomy with partial resection of the left atrium, without cardiopulmonary bypass, for lung cancer. Ann Thorac Surg 79:234–240

6.

Doddoli C, Rollet G, Thomas P et al (2001) Is lung cancer surgery justified in patients with direct mediastinal invasion? Eur J Cardiothorac Surg 20:339–343

7.

Zhou QH, Liu LX, Liu B et al (2001) Lobectomy or pneumonectomy combined with extended resection of the heart, great vessels in the treatment of locally advanced lung cancer. Chinese J Lung Cancer 4:403–406

8.

Van Schil PE (2007) Surgery: therapeutic indications. Cancer Radiother 11:47–52

9.

Pfannenberg AC, Aschoff P, Brechtel K et al (2007) Low dose non-enhanced CT versus standard dose contrast-enhanced CT in combined PET/CT protocols for staging and therapy planning in non-small cell lung cancer. Eur J Nucl Med Mol Imaging 34:36–44

10.

Roselli EE, Murthy SC, Rice TW et al (2005) Atrial fibrillation complicating lung cancer resection. J Thorac Cardiovasc Surg 130:438–444

11.

Ratto GB, Costa R, Vassallo G et al (2004) Twelve-year experience with left atrial resection in the treatment of non-small cell lung cancer. Ann Thorac Surg 78:234–237
About this article
Cite this article
Wu, L., Xu, Z., Zhao, X. et al. Surgical Treatment of Lung Cancer Invading the Left Atrium or Base of the Pulmonary Vein. World J Surg 33, 492–496 (2009) doi:10.1007/s00268-008-9873-5
Keywords
Pulmonary Vein

Left Atrium

Phrenic Nerve

Partial Resection

Compute Tomography Pulmonary Angiography