Abstract
Background
Minimally invasive thyroidectomy techniques are being developed in an effort to minimize pain, shorten the length of hospital stay, and improve cosmesis. Various minimally invasive thyroid surgery (MITS) techniques have been shown to be safe and feasible with some benefits in terms of cosmesis and pain outcomes; however, no single technique has been broadly accepted. This study was designed to review the evidence in relation to MITS and our experience with the direct lateral mini-incision technique.
Methods
A review of literature published until December 2007 on minimally invasive thyroidectomy techniques was undertaken. Three issues were addressed: 1) Does MITS provide any benefit compared with conventional open thyroidectomy? 2) Is there any advantage to the use of endoscopic or video-assisted techniques compared with the direct mini-incision technique? 3) Is the lateral mini-incision technique safe and efficacious? Additional data in relation to the above issues was derived from a retrospective cohort study of patients undergoing mini-incision thyroid surgery within our unit.
Results
Issue 1: Five prospective randomized studies and eight studies at a lower level of evidence have demonstrated consistent advantages of MITS compared with open thyroid surgery in terms of reduced pain and improved cosmesis with equivalent operative safety. Issue 2: In compiling four level III and IV studies that compared open and video-assisted minimally invasive surgery, there do not seem to be significant differences in patient satisfaction with the incision. The video-assisted approaches require significantly longer operative times but also seem to be less painful. Issue 3: Three cohort studies (level IV) have demonstrated that the lateral mini-incision technique is both safe and efficacious compared with open surgery for hemi-thyroidectomy. Data from our cohort study of 1281 patients (open hemi-thyroidectomy 1054 vs. MITS 227) confirmed MITS to be a safe and effective procedure. The rate of postoperative hematoma formation and wound infection was equivalent between groups. The rate of permanent recurrent laryngeal nerve injury was 0.4% for MITS and 0.3% for CHT and not significantly different (p = 0.7).
Conclusions
MITS has demonstrated advantages over conventional open approaches for both hemi- and total thyroidectomy and the benefits do not depend on the open or video-assisted approach. For thyroid lobectomies, the lateral mini-incision approach can be performed with an operative time and postoperative complication profile equivalent to conventional hemi-thyroidectomy while providing excellent cosmesis with a 2–3 cm scar.
This is a preview of subscription content, log in to check access.
Access options
Buy single article
Instant access to the full article PDF.
US$ 39.95
Price includes VAT for USA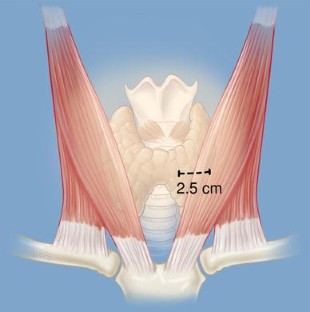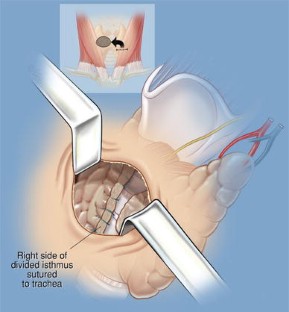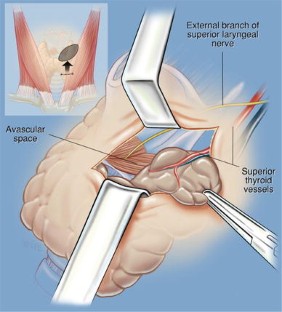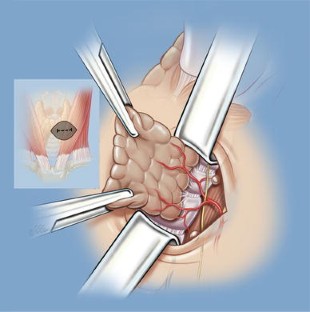 References
1.

Giddings AE (1998) The history of thyroidectomy. J R Soc Med 91(Suppl 33):3–6

2.

Vellar ID (1999) Thomas Peel Dunhill: pioneer thyroid surgeon. ANZ J Surg 69:375–387

3.

Halsted WS IV (1913) (I) The excision of both lobes of the thyroid gland for the cure of Graves's disease. (II) The preliminary ligation of the thyroid arteries and of the inferior in preference to the superior artery. Ann Surg 58:178–182

4.

Henry JF (2006) Minimally invasive surgery of the thyroid and parathyroid glands. Br J Surg 93:1–2

5.

Park YL, Han WK, Bae WG (2003) 100 cases of endoscopic thyroidectomy: breast approach. Surg Laparosc Endosc Percutan Tech 13:20–25

6.

Palazzo FF, Sebag F, Henry JF (2006) Endocrine surgical technique: endoscopic thyroidectomy via the lateral approach. Surg Endosc 20:339–342

7.

Stalberg P, Delbridge L, van Heerden J, Barraclough B (2007) Minimally invasive parathyroidectomy and thyroidectomy–current concepts. Surgeon 5:301–308

8.

Miccoli P, Ambrosini CE, Materazzi G, Fregoli L, Fosso LA, Berti P (2007) New technologies in thyroid surgery. Endoscopic thyroid surgery. Minerva Chir 62:335–349

9.

Terris DJ, Chin E (2006) Clinical implementation of endoscopic thyroidectomy in selected patients. Laryngoscope 116:1745–1748

10.

Gosnell JE, Sackett WR, Sidhu S, Sywak M, Reeve TS, Delbridge LW (2004) Minimal access thyroid surgery: technique and report of the first 25 cases. ANZ J Surg 74:330–334

11.

Sackett DL (1989) Rules of evidence and clinical recommendations on the use of antithrombotic agents. Chest 95(Suppl):2–4

12.

Heinrich S, Schafer M, Rousson V et al (2006) Evidence-based treatment of acute pancreatitis: a look at established paradigms. Ann Surg 243:154–168

13.

Sackett WR, Barraclough B, Reeve TS et al (2002) Worldwide trends in the surgical treatment of primary hyperparathyroidism in the era of MIP. Arch Surg 137:1055–1059

14.

Bliss RD, Gauger PG, Delbridge LW (2000) Surgeon's approach to the thyroid gland: surgical anatomy and the importance of technique. World J Surg 24:891–897

15.

Lombardi CP, Raffaelli M, Princi P, Lulli P, Rossi ED, Fadda G, Bellantone R (2005) Safety of video-assisted thyroidectomy versus conventional surgery. Head Neck 27:58–64

16.

Chao TC, Lin JD, Chen MF (2004) Video-assisted open thyroid lobectomy through a small incision. Surg Laparosc Endosc Percutan Tech 14:15–19

17.

Miccoli P, Elisei R, Materazzi G, Capezzone M, Galleri D, Pacini F, Berti P, Pinchera A (2002) Minimally invasive video-assisted thyroidectomy for papillary carcinoma: a prospective study of its completeness. Surgery 132:1070–1073

18.

Bellantone R, Lombardi CP, Bossola M et al (2002) Video-assisted vs. conventional thyroid lobectomy. Arch Surg 137:301–304

19.

Miccoli P, Berti P, Raffaelli M et al (2001) Comparison between minimally invasive video-assisted thyroidectomy and conventional thyroidectomy: a prospective randomized study. Surgery 130:1039–1043

20.

Perigli G, Cortesini C, Qirici E, Boni D, Cianchi F (2008) Clinical benefits of minimally invasive techniques in thyroid surgery. World J Surg 32:45–50

21.

Terris DJ, Seybt MW, Elchoufi M, Chin E (2007) Cosmetic thyroid surgery: defining the essential principles. Laryngoscope 117:1168–1172

22.

Ujiki M, Sturgeon C, Denham D et al (2006) Minimally invasive video-assisted thyroidectomy for follicular neoplasm: is there an advantage over conventional thyroidectomy? Ann Surg Oncol 13:182–186

23.

Terris D, Bonnett A, Gourin C et al (2005) Minimally invasive thyroidectomy using the Sofferman technique. Laryngoscope 115:1104–1108

24.

Palazzo F, Sywak MS, Sidhu SB et al (2005) Safety and feasibility of thyroid lobectomy via a lateral 2.5-cm incision with a cohort comparison of the first 50 cases: evolution of a surgical approach. Langenbecks Arch Surg 390:230–235

25.

Miccoli P, Bellantone R, Mourad M, Walz M, Raffaelli M, Berti P (2002) Minimally invasive video-assisted thyroidectomy: multiinstitutional experience. World J Surg 26:972–975

26.

Park CS, Chung WY, Chang HS (2001) Minimally invasive open thyroidectomy. Surg Today 31:665–669

27.

Del Rio P, Berti M, Sommaruga L, Arcuri MF, Cataldo S, Sianesi M (2007) Pain after minimally invasive videoassisted and after minimally invasive open thyroidectomy: results of a prospective outcome study. Langenbecks Arch Surg (Epub ahead of print)

28.

Hegazy MA, Khater AA, Setit AE et al (2007) Minimally invasive video-assisted thyroidectomy for small follicular thyroid nodules. World J Surg 31:1743–1750

29.

Terris D, Gourin C, Chin E (2006) Minimally invasive thyroidectomy: basic and advanced techniques. Laryngoscope 116:350–356

30.

Lundgren C, Stalberg P, Grodski S, Sidhu S, Sywak M, Delbridge L (2007) Minimally invasive thyroid surgery (MITS) for diagnostic excision of solitary thyroid nodules. Asian J Surg 30:250–254
About this article
Cite this article
Alvarado, R., McMullen, T., Sidhu, S.B. et al. Minimally Invasive Thyroid Surgery for Single Nodules: An Evidence-based Review of the Lateral Mini-incision Technique. World J Surg 32, 1341–1348 (2008). https://doi.org/10.1007/s00268-008-9554-4
Keywords
Thyroid Nodule

Recurrent Laryngeal Nerve

Endoscopic Thyroidectomy

Open Thyroidectomy

Invasive Parathyroidectomy