Abstract
Background
The aim of this study was to define a standardized technique for laparoscopic sleeve gastrectomy in the morbidly obese patient.
Methods
There are several surgical options for the morbidy obese patient. In general, there are the restrictive procedures [e.g., laparoscopic adjustable gastric banding (LAGB)] and the malabsorptive procedures [e.g. laparoscopic Roux-en-Y gastric bypass (LRYGBP)]. Those techniques are already standardized. The laparoscopic sleeve gastrectomy (LSG) seems to have some advantages over both procedures, but it is not standardized yet, and so there can be no comparison between the different techniques. In our center we have standardized the LSG technique with respect to abdominal access and narrowness of the gastric sleeve. After dissection of the greater omentum and the short gastric vessels, the greater curvature is resected along a 34-Fr gastric tube using the Endo-GIA. The remaining gastric sleeve has a volume of about 100 ml.
Results
The standardized LSG procedure is presented step by step. A comparison of operative data and early outcome with a matched group of patients with adjustable gastric banding showed no difference between the two techniques with respect to operating time, surgical complications, and weight loss 6 months after surgery.
Conclusion
With our standardized LSG technique it is possible to evaluate the positive aspects of the LSG compared with other standardized bariatric procedures like LAGB or LRYGBP.
This is a preview of subscription content, log in to check access.
Access options
Buy single article
Instant unlimited access to the full article PDF.
US$ 39.95
Price includes VAT for USA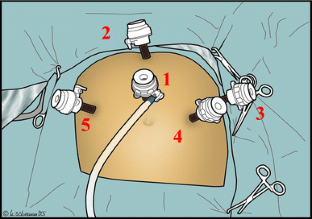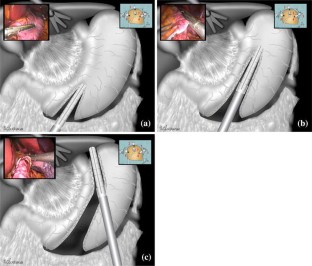 References
1.

Marceau P, Biron S, Bourque RA et al (1993) Biliopancreatic diversion with a new type of gastrectomy. Obes Surg 3:29–35

2.

Cottam D, Qureshi FG, Mattar SG et al (2006) Laparoscopic sleeve gastrectomy as an initial weight-loss procedure for high-risk patients with morbid obesity. Surg Endosc 20:859–863

3.

Silecchia G, Boru C, Pecchia A et al (2006) Effectiveness of laparoscopic sleeve gastrectomy (first stage of biliopancreatic diversion with duodenal switch) on co-morbidities in super-obese high-risk patients. Obes Surg 16:1138–1144

4.

Frezza EE (2007) Laparoscopic vertical sleeve gastrectomy for morbid obesity. The future procedure of choice? Surg Today 37:275–281

5.

Roa PE, Kaidar-Person O, Pinto D et al (2006) Laparoscopic sleeve gastrectomy as treatment for morbid obesity: technique and short-term outcome. Obes Surg 16:1323–1326

6.

Mognol P, Chosidow D, Marmuse JP (2005) Laparoscopic sleeve gastrectomy as an initial bariatric operation for high-risk patients: initial results in 10 patients. Obes Surg 15:1030–1033

7.

Aggarwal S, Kini SU, Herron D (2007) Laparoscopic sleeve gastrectomy for morbid obesity: a review. Surg Obes Relat Dis 3:189–194

8.

Himpens J, Dapri G, Cadiere GB (2006) A prospective randomized study between laparoscopic gastric banding and laparoscopic isolated sleeve gastrectomy: results after 1 and 3 years. Obes Surg 16:1450–1456

9.

Roberts K, Duffy A, Kaufman J et al (2007) Size matters: gastric pouch size correlates with weight loss after laparoscopic Roux-en-Y gastric bypass. Surg Endosc 21:1397-1402

10.

Langer FB, Reza Hoda MA et al (2005) Sleeve gastrectomy and gastric banding: effects on plasma ghrelin levels. Obes Surg 15:1024–1029
Electronic supplementary material
Below is the link to the electronic supplementary material.
About this article
Cite this article
Kueper, M.A., Kramer, K.M., Kirschniak, A. et al. Laparoscopic Sleeve Gastrectomy: Standardized Technique of a Potential Stand-alone Bariatric Procedure in Morbidly Obese Patients. World J Surg 32, 1462–1465 (2008). https://doi.org/10.1007/s00268-008-9548-2
Keywords
Laparoscopic Sleeve Gastrectomy

Laparoscopic Adjustable Gastric Banding

Excessive Weight Loss

Adjustable Gastric Banding

Bariatric Procedure