Abstract
Background
Compared with the open procedure, laparoscopic adrenalectomy (LA) is associated with decreased operative time, perioperative complications, and hospital stay. Some regard prior abdominal surgery as a contraindication to LA or suggest a retroperitoneoscopic approach. We studied the effect of prior abdominal surgery on the feasibility and safety of transabdominal LA.
Methods
We retrospectively analyzed 246 consecutive LAs performed at four academic centers from 2002 to 2006. Cases were grouped according to prior abdominal surgery (PAS) (n = 92, 37%) or no prior surgery (NPS) (n = 154, 63%). Statistical power was greater than 0.90 to detect the following differences in endpoints: conversion 2%, operating time 22%, and complications 2%.
Results
Mean tumor size was 3.3 cm, 8.1% of tumors were larger than 7 cm, and 20% were pheochromocytomas. Prior operations were upper abdominal (37%), lower abdominal (48%), or laparoscopic (15%). There were nine conversions (3.7%), one in the PAS group and eight in the NPS group (p = 0.14), with conversions related to large tumor size and pheochromocytoma (both p < 0.01). Operating time was 158 ± 59 min across groups. The subgroup with prior upper abdominal surgery had nonsignificantly longer operating times compared with the NPS group (183 vs. 165 min, p = 0.16). Operative blood loss was 67 ± 84 ml and the perioperative complication rate was 12.2%, with no differences between groups.
Conclusion
Prior abdominal surgery does not impede transabdominal LA. More than one-third of patients requiring adrenalectomy will have had prior abdominal surgery, and these patients should not be denied the benefits of a laparoscopic procedure.
This is a preview of subscription content, log in to check access.
Access options
Buy single article
Instant access to the full article PDF.
US$ 39.95
Price includes VAT for USA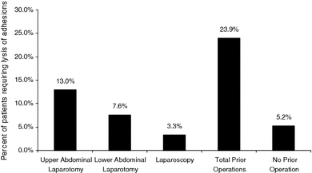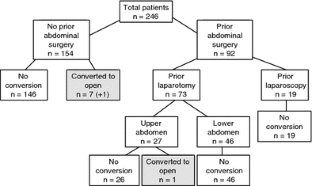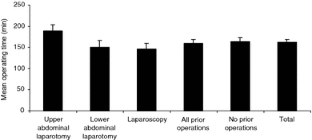 References
1.

Gagner M, Lacroix A, Bolte E (1992) Laparoscopic adrenalectomy in Cushing's syndrome and pheochromocytoma. N Engl J Med 327(14):1033

2.

Frazee R, Roberts JW, Symmonds R, et al. (1992) What are the contraindications for laparoscopic cholecystectomy? Am J Surg 164:491–495

3.

Curet M (2000) Special problems in laparoscopic surgery: previous abdominal surgery, obesity, and pregnancy. Surg Clin North Am 80(4):1093–1110

4.

Assalia A, Gagner M (2004) Laparoscopic adrenalectomy. Br J Surg 91:1259–1274

5.

Shen W, Sturgeon C, Clark OH, et al. (2004) Should pheochromocytoma size influence surgical approach? A comparison of 90 malignant and 60 benign pheochromocytomas. Surgery 136(6):1129–1137

6.

Gonzalez I, Malagon AM, Lopez-Tomassetti Fernandez EM, et al. (2006) Impact of previous abdominal surgery on colorectal laparoscopy results: A comparative clinical study. Surg Laparosc Endosc Percutan Tech 16(1):8–11

7.

Jansen F, Kapiteyn K, Trimbos-Kemper T, et al. (1997) Complications of laparoscopy: A prospective multicentre observational study. Br J Obstet Gynaecol 104:595–600

8.

Parsons J, Jarrett TJ, Chow GK, et al. (2002) The effect of previous abdominal surgery on urological laparoscopy. J Urol 168:2387–2390

9.

Akyurek N, Salman B, Irkorucu O, et al. (2005) Laparoscopic cholecystectomy in patients with previous abdominal surgery. JSLS 9:178–183

10.

Karayiannakis A, Polychronidis A, Perente S, et al. (2003) Laparoscopic cholecystectomy in patients with previous upper or lower abdominal surgery. Surg Endosc 18:97–101

11.

Seifman B, Dunn RL, Wolf JS (2003) Transperitoneal laparoscopy into the previously operated abdomen: Effect on operative time, length of stay and complications. J Urol 169:36–40

12.

Mita K, Shigeta M, Mutaguchi K, et al. (2005) Urological retroperitoneoscopic surgery for patients with prior intra-abdominal surgery. Eur Urol 48:97–101

13.

Law W, Lee YM, Chu KW (2004) Previous abdominal operations do not affect the outcomes of laparoscopic colorectal surgery. Surg Endosc 19:326–330

14.

Haveran L, Novitsky YW, Czerniach DR, et al. (2006) Benefits of laparoscopic adrenalectomy: A 10-year single-institution experience. Surg Laparosc Endosc Percutan Tech 16(4):217–221

15.

Gonzalez R, Smith D, McClusky DA, et al. (2004) Laparoscopic approach reduces likelihood of perioperative complications in patients undergoing adrenalectomy. Am Surg 70:668–674

16.

Prager G, Heinz-Peer G, Passler C, et al. (2004) Applicability of laparoscopic adrenalectomy in a prospective study in 150 consecutive patients. Arch Surg 139:46–49

17.

Brunt L (2002) The positive impact of laparoscopic adrenalectomy on complications of adrenal surgery. Surg Endosc 16:252–257

18.

Prinz R (1995) A comparison of laparoscopic and open adrenalectomies. Arch Surg 130:489–494

19.

Zeh H, Udelsman R (2003) One hundred laparoscopic adrenalectomies: A single surgeon's experience. Ann Surg Oncol 10(9):1012–1017

20.

Chan J, Meneghetti AT, Meloche RM, et al. (2006) Prospective comparison of early and late experience with laparoscopic adrenalectomy. Am J Surg 191:682–686

21.

Gagner M, Pomp A, Heniford BT, et al. (1997) Laparoscopic adrenalectomy: lessons learned from 100 consecutive procedures. Ann Surg 226(3):238–247

22.

Brunt L, Moley JF, Doherty GM, et al. (2001) Outcomes analysis in patients undergoing laparoscopic adrenalectomy for hormonally active adrenal tumors. Surgery 130:629–635

23.

Lezoche E, Guerrieri M, Paganini AM, et al. (2000) Laparoscopic adrenalectomy by the anterior transperitoneal approach. Surg Endosc 14:920–955

24.

O'Boyle C, Kapadia CR, Sedman PC, et al. (2003) Laparoscopic transperitoneal adrenalectomy: a prospective analysis of 172 procedures. Surg Endosc 17:1905–1909

25.

Ramacciato G, Paolo M, Pietromaria A, et al. (2005) Ten years of laparoscopic adrenalectomy: lessons learned from 104 procedures. Am Surg 71:321–325

26.

Suzuki K, Kageyama S, Hirano Y, et al. (2001) Comparison of 3 surgical approaches to laparoscopic adrenalectomy: A nonrandomized, background matched analysis. J Urol 166:437–443

27.

MacGillivray D, Whalen GF, Malchoff CD, et al. (2002) Laparoscopic resection of large adrenal tumors. Ann Surg Oncol 9(5):480–485

28.

Guazzoni G, Cestari A, Montorsi F, et al. (2001) Eight-year experience with transperitoneal laparoscopic adrenal surgery. J Urol 166:820–824

29.

Henry J, Defechereux T, Raffaelli M, et al. (2000) Complications of laparoscopic adrenalectomy: results of 169 consecutive procedures. World J Surg 24:1342–1346

30.

Zacharias M, Haese A, Jurczok A, et al. (2006) Transperitoneal laparoscopic adrenalectomy: Outline of the preoperative management, surgical approach, and outcome. Eur Urol 49:448–459

31.

Palazzo F, Sebag F, Sierra M, et al. (2006) Long-term outcome following laparoscopic adrenalectomy for large solid adrenal cortex tumors. World J Surg 30:893–898

32.

Rubinstein M, Gill IS, Aron M, et al. (2005) Prospective, randomized comparison of transperitoneal versus retroperitoneal laparoscopic adrenalectomy. J Urol 174:442–445

33.

Sung G, Hsu THS, Gill IS (2001) Retroperitoneoscopic adrenalectomy: Lateral approach. J Endourol 15(5):505–512

34.

Saunders B, Wainess RM, Dimick JB, et al. (2004) Trends in utilization of adrenalectomy in the United States: Have indications changed? World J Surg 28:1169–1175

35.

Poulose B, Holzman MD, Lao OB, et al. (2005) Laparoscopic adrenalectomy: 100 resections with clinical long-term follow-up. Surg Endosc 19:379–385

36.

Weibel M, Majno G (1973) Peritoneal adhesions and their relation to abdominal surgery. A postmortem study. Am J Surg 126:345

37.

Kim A, Quiros RM, Maxhimer JB, et al. (2004) Outcome of laparoscopic adrenalectomy for pheochromocytomas vs. aldosteronomas. Arch Surg 139:224–229

38.

Poulin E, Schlachta CM, Burpee SE (2003) Laparoscopic adrenalectomy: pathologic features determine outcome. Can J Surg 46:340–344

39.

Walz M, Petersenn S, Koch JA, et al. (2005) Endoscopic treatment of large primary adrenal tumors. Br J Surg 92:719–723

40.

David G, Yoav M, Gross A, et al. (2004) Laparoscopic adenalectomy. Ascending the learning curve. Surg Endosc 18:771–773

41.

Terachi T, Yoshida O, Matsuda T, et al. (2000) Complications of laparoscopic and retroperitoneoscopic adrenalectomies in 370 cases in Japan: A multi-institutional study. Biomed Pharmacother 54 Supp 1:211–214
Acknowledgments
The authors acknowledge A.W. James and S.G. Miranda for their assistance in data collection.
About this article
Cite this article
Morris, L., Ituarte, P., Zarnegar, R. et al. Laparoscopic Adrenalectomy After Prior Abdominal Surgery. World J Surg 32, 897–903 (2008). https://doi.org/10.1007/s00268-007-9438-z
Keywords
Laparoscopic Cholecystectomy

Estimate Blood Loss

Laparoscopic Adrenalectomy

Technical Complication

Prior Abdominal Surgery