Abstract
Background
Minimally invasive parathyroidectomy (MIP) is now widely accepted where a single adenoma can be localized preoperatively. In our unit, MIP is offered once a parathyroid adenoma is localized with a sestamibi (MIBI) scan, with or without a concordant neck ultrasound. The aim of this study was to compare the accuracy of surgeon performed ultrasound (SUS) with radiologist performed ultrasound (RUS) in the localization of a parathyroid adenoma in MIBI-positive primary hyperparathyroidism (PHPT).
Patients and Methods
This is a prospective study of patients undergoing parathyroidectomy for sporadic primary hyperparathyroidism (PHPT) from April 2005 to October 2006 at the University of Sydney Endocrine Surgical Unit. Patients were then divided into those who underwent preoperative RUS or SUS.
Results
Two-hundred eighteen patients formed the study group. One hundred forty-eight (66%) patients had RUS and 87 (39%) had SUS. Overall, RUS correctly localized the parathyroid adenomas in 121 of 148 (82%) patients. Surgeon performed ultrasound correctly localized the abnormal parathyroid adenoma in 72 of 87 (83%) of cases. There was no significant difference in the proportion of patients with single gland disease, double adenomas, or hyperplasia correctly localized by SUS or RUS. Incorrect interpretation of ultrasound imaging was due to cystic degeneration in thyroid nodules, lymph nodes, retro-esophageal location of adenomas and ectopic and small parathyroid glands.
Conclusions
Surgeon performed ultrasound is a useful adjunctive tool to MIBI localization for facilitating MIP and when performed by experienced parathyroid surgeons, it can achieve accuracy rates equivalent to that of a dedicated parathyroid radiologist.
This is a preview of subscription content, log in to check access.
Access options
Buy single article
Instant access to the full article PDF.
US$ 39.95
Price includes VAT for USA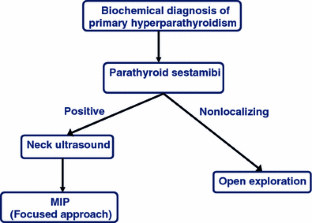 References
1.

Lumachi F, Ermani M, Basso S et al. (2001) Localization of parathyroid tumours in the minimally invasive era: which technique should be chosen? Population-based analysis of 253 patients undergoing parathyroidectomy and factors affecting parathyroid gland detection. Endocr Relat Cancer 8:63–69

2.

Purcell GP, Dirbas FM, Jeffrey RB et al. (1999) Parathyroid localization with high-resolution ultrasound and technetium Tc 99 m sestamibi. Arch Surg 134:824–828; discussion 828–830

3.

Geatti O, Shapiro B, Orsolon PG et al. (1994) Localization of parathyroid enlargement: experience with technetium-99 m methoxyisobutylisonitrile and thallium-201 scintigraphy, ultrasonography and computed tomography. Eur J Nucl Med 21:17–22

4.

Bambach CP, Riley JW, Picker RH et al. (1978) Preoperative parathyroid identification by ultrasonic scan. Med J Aust 2:227–229

5.

Edis AJ, Evans TC Jr. (1979) High-resolution, real-time ultrasonography in the preoperative location of parathyroid tumors. Pilot study. N Engl J Med 301:532–534

6.

Barraclough BH, Reeve TS, Duffy PJ et al. (1981) The localization of parathyroid tissue by ultrasound scanning prior to surgery in patients with hyperparathyroidism. World J Surg 5:91–95

7.

Lloyd MN, Lees WR, Milroy EJ (1990) Pre-operative localisation in primary hyperparathyroidism. Clin Radiol 41:239–243

8.

Yeh MW, Barraclough BM, Sidhu SB et al. (2006) Two hundred consecutive parathyroid ultrasound studies by a single clinician: the impact of experience. Endocr Pract 12:257–263

9.

Milas M, Stephen A, Berber E et al. (2004) Ultrasonography for the endocrine surgeon: a valuable clinical tool that enhances diagnostic and therapeutic outcomes. Surgery 138:1193–1200; discussion 1200–1191

10.

Van Husen R, Kim LT (2004) Accuracy of surgeon-performed ultrasound in parathyroid localization. World J Surg 28:1122–1126

11.

Solorzano CC, Carneiro-Pla DM, Irvin GL 3rd (2006) Surgeon-performed ultrasonography as the initial and only localizing study in sporadic primary hyperparathyroidism. J Am Coll Surg 202:18–24

12.

Steward DL, Danielson GP, Afman CE et al. (2006) Parathyroid adenoma localization: surgeon-performed ultrasound versus sestamibi. Laryngoscope 116:1380–1384

13.

Solorzano CC, Lee TM, Ramirez MC, et al. (2005) Surgeon-performed ultrasound improves localization of abnormal parathyroid glands. Am Surg 71:557–562; discussion 562–553

14.

Rodgers SE, Hunter GJ, Hamberg LM et al. (2006) Improved preoperative planning for directed parathyroidectomy with 4-dimensional computed tomography. Surgery 140:932–940; discussion 940–931

15.

Barraclough BM, Barraclough BH (2000) Ultrasound of the thyroid and parathyroid glands. World J Surg 24:158–165

16.

Agarwal G, Barraclough BH, Reeve TS et al. (2002) Minimally invasive parathyroidectomy using the "focused" lateral approach. II. Surgical technique. Aust N Z J Surg 72:147–151

17.

Stalberg P, Sidhu S, Sywak M et al. (2006) Intraoperative parathyroid hormone measurement during minimally invasive parathyroidectomy: does it "value-add" to decision-making? J Am Coll Surg 203:1–6

18.

Mun HC, Conigrave A, Wilkinson M et al. (2005) Surgery for hyperparathyroidism: does morphology or function matter most? Surgery 138:1111–1120; discussion 1120

19.

Soon PS, Yeh MW, Sywak MS et al. (2007) Minimally invasive parathyroidectomy using the lateral focused miniincision approach: is there a learning curve for surgeons experienced in the open procedure? J Am Coll Surg 204:91–95

20.

Sidhu S, Campbell P (2000) Thyroid pathology associated with primary hyperparathyroidism. Aust N Z J Surg 70:285–287

21.

Molinari AS, Irvin GL 3rd, Deriso GT et al. (1996) Incidence of multiglandular disease in primary hyperparathyroidism determined by parathyroid hormone secretion. Surgery 120:934–936; discussion 936–937

22.

Attie JN, Bock G, Auguste LJ (2001) Multiple parathyroid adenomas: report of thirty-three cases. Surgery 108:1014–1019; discussion 1019–1020

23.

Gauger PG, Agarwal G, England BG et al. (2001) Intraoperative parathyroid hormone monitoring fails to detect double parathyroid adenomas: a 2-institution experience. Surgery 130:1005–1010

24.

Haciyanli M, Lal G, Morita E et al. (2003) Accuracy of preoperative localization studies and intraoperative parathyroid hormone assay in patients with primary hyperparathyroidism and double adenoma. J Am Coll Surg 197:739–746

25.

Berczi C, Mezosi E, Galuska L et al. (2002) Technetium-99m-sestamibi/pertechnetate subtraction scintigraphy vs ultrasonography for preoperative localization in primary hyperparathyroidism. Eur Radiol 12:605–609
About this article
Cite this article
Soon, P.S.H., Delbridge, L.W., Sywak, M.S. et al. Surgeon Performed Ultrasound Facilitates Minimally Invasive Parathyroidectomy by the Focused Lateral Mini-incision Approach. World J Surg 32, 766–771 (2008). https://doi.org/10.1007/s00268-007-9436-1
Keywords
Adenoma

Thyroid Nodule

Parathyroid Gland

Primary Hyperparathyroidism

Parathyroid Adenoma