Abstract
Efforts to create more sustainable cities are evident in the proliferation of sustainability policies in cities worldwide. It has become widely proposed that the success of these urban sustainability initiatives will require city agencies to partner with, and even cede authority to, organizations from other sectors and levels of government. Yet the resulting collaborative networks are often poorly understood, and the study of large whole networks has been a challenge for researchers. We believe that a better understanding of citywide environmental governance networks can inform evaluations of their effectiveness, thus contributing to improved environmental management. Through two citywide surveys in Baltimore and Seattle, we collected data on the attributes of environmental stewardship organizations and their network relationships. We applied missing data treatment approaches and conducted social network and comparative analyses to examine (a) the organizational composition of the network, and (b) how information and knowledge are shared throughout the network. Findings revealed similarities in the number of actors and their distribution across sectors, but considerable variation in the types and locations of environmental stewardship activities, and in the number and distribution of network ties in the networks of each city. We discuss the results and potential implications of network research for urban sustainability governance.
This is a preview of subscription content, log in to check access.
Access options
Buy single article
Instant access to the full article PDF.
US$ 39.95
Price includes VAT for USA
Subscribe to journal
Immediate online access to all issues from 2019. Subscription will auto renew annually.
US$ 99
This is the net price. Taxes to be calculated in checkout.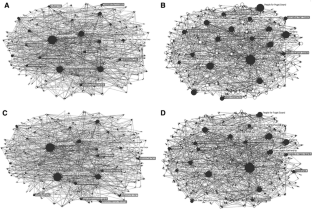 References
Andridge RR, Little RJA (2010) A review of hot deck imputation for survey nonresponse. Int Stat Rev 78:40–64

Baltimore Commission on Sustainability (2009) The Baltimore sustainability plan. Baltimore City Office of Sustainability, Baltimore

Belaire JA, Drilbin AK, Johnston DP, Lynch DJ, Minor ES (2011) Mapping stewardship networks in urban ecosystems. Conserv Lett 4:464–473

Bergenholtz C, Waldstrom C (2011) Inter-organizational network studies—a literature review. Ind Innov 18:539–562

Bodin Ö, Crona BI (2009) The role of social networks in natural resource governance: what relational patterns make a difference? Global Environ Change 19:366–374

Bodin Ö, Norberg J (2005) Information network topologies for enhanced local adaptive management. Environ Manag 35:175–193

Bodin Ö, Prell C (2011) Social networks and natural resource management: uncovering the social fabric of environmental governance. Cambridge University Press, Cambridge

Bogdanor V (1987) The Blackwell encyclopaedia of political institutions. Blackwell, New York

Borgatti SP, Foster PC (2003) The network paradigm in organizational research: a review and typology. J Manag 29:991–1013

Borgatti SP, Molina JL (2003) Ethical and strategic issues in organizational social network analysis. J Appl Behav Sci 39:337–349

Borgatti SP, Everett MG, Freeman LC (2002) Ucinet for Windows: software for social network analysis. Analytic Technologies, Cambridge

Burt RS (1987) A note on missing network data in the general social survey. Soc Netw 9:63–73

Burt RS (1992) Structural holes: the social structure of competition. Harvard University Press, Cambridge

Burt RS (2004) Structural holes and good ideas. Am J Sociol 110:349–399

Conley T, Udry C (2001) Social learning through networks: the adoption of new agricultural technologies in Ghana. Am J Agric Econ 83:668–673

Connolly JJ, Svendsen ES, Fisher DR, Campbell LK (2013) Organizing urban ecosystem services through environmental stewardship governance in New York City. Landsc Urban Plan 109:76–84

Crona BI, Bodin Ö (2006) What you know is who you know? Communication patterns among resource users as a prerequisite for co-management. Ecol Soc 11(2):7

Degenne A, Forsé M (1999) Introducing social networks. Sage Publications, London

Diani M (2003) "Leaders" or brokers? Positions and influence in social movement networks. In: Diani M, McAdam D (eds) Social movements and networks. Relational approaches to collective action. Oxford University Press, Oxford, pp 105–122

Durant RF, Fiorino DJ, O'Leary R (eds) (2004) Environmental governance reconsidered: challenges, choices, and opportunities. MIT Press, Cambridge

Ernstson H, Sorlin S, Elmqvist T (2008) Social movements and ecosystem services—the role of social network structure in protecting and managing urban green areas in Stockholm. Ecol Soc 13(2):39

Ernstson H, Barthel S, Andersson E, Borgström ST (2010) Scale-crossing brokers and network governance of urban ecosystem services: the case of Stockholm, Sweden. Ecol Soc 15(4):28

Fisher DR, Connolly JJ, Svendsen ES, Campbell LK (2010) Who volunteers to steward the urban forest in New York City? An analysis of participants in MillionTreesNYC planting events (White paper). Columbia University, New York

Fisher DR, Campbell LK, Svendsen ES (2012) The organisational structure of urban environmental stewardship. Environ Polit 21:26–48

Freeman L (1979) Centrality in social networks. Conceptual clarifications. Soc Netw 1:215–239

Friedkin NE (1981) The development of structure in random networks: an analysis of the effects of increasing network density on five measures of structure. Soc Netw 3:41–52

Friedkin NE (1991) Theoretical foundation for centrality measures. Am Sociol 96:1478–1504

Ghani AC, Donnelly CA, Garnett GP (1998) Sampling biases and missing data in explorations of sexual partner networks for the spread of sexually transmitted diseases. Stat Med 17:2079–2097

Goldstein JR (1999) Kinship networks that cross racial lines: the expectation or the rule? Demography 36:399–407

Granovetter M (1973) The strength of weak ties. Am Sociol 76:1360–1380

Grove JM (2009) Cities: Managing densely settled social-ecological systems. In: Chapin FS, Kofinas GP, Folke C (eds) Principles of ecosystem stewardship: resilience-based natural resource management in a changing world. Springer, New York

Huisman M (2009) Imputation of missing network data: some simple procedures. J Soc Struct 10:1–29

Isaac ME, Erickson BH, Quashie-Sam SJ, Timmer VR (2007) Transfer of knowledge on agroforestry management practices: the structure of farmer advice networks. Ecol Soc 12(2):32

John D (1994) Civic environmentalism: Alternatives to regulation in states and communities. Congressional Quarterly Inc, Washington DC

Johnson S (2006) The ghost map: the story of London's most terrifying epidemic—and how it changed science, cities, and the modern world. Riverhead Books, New York

Kapucu N (2012) Disaster and emergency management systems in urban areas. Cities 29:S41–S49

Kofinas GP (2009) Adaptive co-management in social-ecological governance. In: Chapin FS, Kofinas GP, Folke C (eds) Principles of ecosystem stewardship: Resilience-based natural resource management in a changing world. Springer, New York, pp 77–101

Koliba C (2006) Serving the public interest across sectors: assessing the implications of network governance. Adm Theory Prax 28:593–601

Koliba C, Meek J, Zia A (2010) Governance networks in public administration and public policy. CRC Press/Taylor and Francis, Boca Raton

Koontz TM, Steelman TA, Carmin J, Korfmacher KS, Moseley C, Thomas CW (2004) Collaborative environmental management: what roles for government?. Resources for the Future, Washington DC

Kossinetts G (2006) Effects of missing data in social networks. Soc Netw 28:247–268

Lauber TB, Decker DJ, Knuth BA (2008) Social networks and community-based natural resource management. Environ Manag 42:677–687

Laven DN, Krymkowski DH, Ventriss CL, Manning RE, Mitchell NJ (2010) From partnerships to networks: new approaches for measuring US National Heritage Area effectiveness. Eval Rev 34:271–298

Little LR, McDonald AD (2007) Simulations of agents in social networks harvesting a resource. Ecol Model 204:379–386

Locke DH, King KL, Svendsen ES, Campbell LK, Small C, Sonti NF, Fisher DR, Lu JWT (2014) Urban environmental stewardship and changes in vegetative cover and building footprint in New York City neighborhoods (2000–2010). J Environ Stud Sci 4:250–266

Mandarano LA (2009) Social network analysis of social capital in collaborative planning. Soc Nat Resour 22:245–260

McGinnis MD (1999) Polycentric governance and development: readings from the workshop in political theory and policy analysis. University of Michigan Press, Ann Arbor

Melosi MV (2000) The sanitary city: Urban infrastructure in America from Colonial times to the present. Johns Hopkins University Press, Baltimore

Moody J, White DR (2003) Social cohesion and embeddedness: a hierarchical concept of social groups. Am Sociol Rev 68:1–25

Muñoz-Erickson TA, Cutts BB, Larson EK, Darby KJ, Neff M, Bolin B, Wutich A (2010) Spanning boundaries in an Arizona watershed partnership: information networks as tools for entrenchment or ties for collaboration? Ecol Soc 15(3):22

Ostrom E (1990) Governing the commons: the evolution of institutions for collective action. Cambridge University Press, Cambridge

Ostrom E (2005) Understanding institutional diversity. Princeton University Press, Princeton

O'Toole LJ (1997) Treating networks seriously: practical and research-based agendas in public administration. Public Adm Rev 57:45–52

Pickett ST, Buckley GL, Kaushal SS, Williams Y (2011) Social-ecological science in the humane metropolis. Urban Ecosyst 14:319–339

Prell C (2012) Social networks: history, theory and methodology. Sage Publications, London

Prell C, Hubacek K, Reed M (2009) Stakeholder analysis and social network analysis in natural resource management. Soc Nat Resour 22:501–518

Provan KG, Kenis P (2008) Modes of network governance: structure, management and effectiveness. J Public Adm Res Theory 18:229–252

Provan KG, Milward HB (2001) Do networks really work? A framework for evaluating public-sector organizational networks. Public Adm Rev 61:414–423

Provan KG, Fish A, Sydow J (2007) Interorganizational networks at the network level: a review of the empirical literature on whole networks. J Manag 33:479–516

Romolini M (2013) Governance of 21st century sustainable cities: Examining stewardship networks in Baltimore and Seattle. Unpublished doctoral dissertation, University of Vermont, Burlington

Romolini M, Brinkley WR, Wolf KL (2012) What is urban environmental stewardship? Constructing a practitioner-derived framework. Pacific Northwest Research Station, USDA Forest Service, Seattle, Research note PNW-RN-566

Romolini M, Grove JM, Locke DH (2013a) Assessing and comparing relationships between urban environmental stewardship networks and land cover in Baltimore and Seattle. Landsc Urban Plan 120:190–207

Romolini M, Dalton SE, Grove JM (2013b) Environmental governance of the sustainable city: examining changes in stewardship networks in the Gwynns Falls Watershed, 1996–2011. Poster presented at The 15th Annual Meeting of the Baltimore Ecosystem Study (BES) Long-Term Ecological Research Program, 22–23 October 2013, Baltimore, MD

Ruef M (2002) Strong ties, weak ties and islands: structural and cultural predictors of organizational innovation. Ind Corp Change 11:427–449

Sandström A (2008) Policy networks: The relation between structure and performance. Doctoral dissertation, Luleå University of Technology, Luleå, Sweden

Schneider M, Scholz J, Lubell M, Mindruta D, Edwardsen M (2003) Building consensual institutions: networks and the National Estuary Program. Am J Polit Sci 47:143–158

Seattle Department of Planning and Development (2005) Seattle comprehensive plan|Toward a sustainable Seattle: 2005 Amendments. City of Seattle, Seattle

Stork D, Richards WD (1992) Nonrespondents in communication network studies. Group Org Manage 17:193–209

Svendsen E (2010) Civic environmental stewardship as a form of governance in New York City. Doctoral dissertation, Columbia University, New York

Svendsen ES, Campbell LK (2008) Urban ecological stewardship: understanding the structure, function and network of community-based land management. Cities Environ 1:1–31

Trust for Public Land (2011) 2011 City park facts. Trust for Public Land, Washington DC

Urban Waters Federal Partnership (2013) Partnership in action report. Urban Waters Federal Partnership, Washington DC

US Green Building Council (2012) Top ten LEED certified 2012. US Green Building Council, Washington DC

Weber EP (2000) A new vanguard for the environment: grass-roots ecosystem management as a new environmental movement. Soc Nat Resour 13:237–259

Whittaker M, Segura GM, Bowler S (2005) Racial/ethnic group attitudes toward environmental protection in California: is "environmentalism" still a white phenomenon? Polit Res Q 58:435–447

Wolf KL, Blahna DJ, Brinkley W, Romolini M (2013) Environmental stewardship footprint research: linking human agency and ecosystem health in the Puget Sound region. Urban Ecosyst 16:13–32

Wondolleck JM, Yaffee SL (2000) Making collaboration work: lessons from innovation in natural resource management. Island Press, Washington DC
Acknowledgments
This study was part of Dr. Romolini's unpublished doctoral dissertation from the University of Vermont. We are grateful to all of the organizations in Baltimore and Seattle who participated in the survey, and particularly to those who offered valuable input along the way. We acknowledge that this research would not have been possible without material and intellectual support from the USDA Forest Service's Pacific Northwest and Northern Research stations—particularly Dale Blahna and Kathy Wolf for their mentorship and guidance during field seasons in Seattle, and Lindsay Campbell, Dana Fisher, and Erika Svendsen for developing the foundational STEW-MAP research design in New York City and collaborating to refine the survey instrument along with Lynne Westphal and Cherie Fisher in Chicago. Financial support was provided by ARRA Project 10-CA-11260489-090, NSF-DEB-0423476, and DC-BC ULTRA-Ex NSF-DEB-0948947. We also thank Naim Kapucu for a thoughtful review of an earlier version of the paper. Any opinions, findings, and conclusions or recommendations expressed in this manuscript are those of the authors and do not necessarily reflect the views of any of the contributors.
About this article
Cite this article
Romolini, M., Morgan Grove, J., Ventriss, C.L. et al. Toward an Understanding of Citywide Urban Environmental Governance: An Examination of Stewardship Networks in Baltimore and Seattle. Environmental Management 58, 254–267 (2016). https://doi.org/10.1007/s00267-016-0704-4
Received:

Accepted:

Published:

Issue Date:
Keywords
Urban sustainability

Governance networks

Social network analysis

Urban natural resources management