Building Local Community Commitment to Wetlands Restoration: A Case Study of the Cache River Wetlands in Southern Illinois, USA
Abstract
Natural resource professionals are increasingly faced with the challenges of cultivating community-based support for wetland ecosystem restoration. While extensive research efforts have been directed toward understanding the biophysical dimensions of wetland conservation, the literature provides less guidance on how to successfully integrate community stakeholders into restoration planning. Therefore, this study explores the social construction of wetlands locally, and community members' perceptions of the wetland restoration project in the Cache River Watershed of southern Illinois, where public and private agencies have partnered together to implement a large-scale wetlands restoration project. Findings illustrate that the wetlands hold diverse and significant meanings to community members and that community members' criteria for project success may vary from those identified by project managers. The case study provides managers with strategies for building community commitment such as engaging local citizens in project planning, minimizing local burdens, maximizing local benefits, and reducing uncertainty.
Keywords
Ecosystem restoration 
Community-based conservation 
Wetlands 
Qualitative research 
Introduction
The protection of wetlands from anthropogenic disturbance has been an imperative of conservation strategies for over 60 years. Most notably, the Clean Water Act of 1972 (33 U.S.C. 1344) triggered a string of wetlands protection policies and prompted multiple federal agencies to develop both regulatory and incentive-based wetlands conservation programs. Yet, limited compliance by local governments and private landowners and deficient federal and state enforcement bring to question the efficacy of these programs (Hornyak and Halvorsen 2003). Further, a lack of understanding of the human dimensions of wetlands management means policy makers, natural resource agencies and local project managers have little guidance in how to increase compliance or promote voluntary wetlands stewardship in local communities (Johnson and Pflugh 2008).
Historically, wetland science and management has focused on the conservation of wetland-dependent wildlife species, especially migratory waterfowl (Euliss and others 2008). The establishment of wildlife refuges early in the conservation movement, the creation of a wildlife-centered federal land management agency, and the passage of wildlife-specific environmental statutes are evidence of the longstanding cultural appeal and public support for wildlife protection. Yet, wetlands provide a host of other ecosystem services at multiple ecological scales (Mitsch and Gosselink 2000). These services are central to human health and societal well-being like nutrient cycling, food and fiber, flood mitigation, water filtration, erosion control, aesthetics, outdoor recreation, (Millennium Ecosystem Assessment 2005) and carbon storage (Euliss and others 2006). In the last two decades special attention has been given to the restoration of altered wetlands (Dale and Gerlack 2007). Recognition of wetlands' multiple cultural benefits has fueled restoration projects across the U.S. with some measured success. For instance, Dahl (2006) reported net wetland acreage gains in the coterminous U.S. between 1998 and 2004 as a result of "restoration and creation activities"—the first increases documented since the Fish and Wildlife Service has monitored wetlands (p. 15). However, current monitoring protocol has been questioned for its overemphasis on the quantity of acres rather than the quality or function of restored wetlands. Further, fundamental inconsistencies in classification (e.g., definition of "restored wetlands") schemes have been noted (Dale and Gerlack 2007). Dale and Gerlack (2007) contend that true changes in ecosystem functions, and in turn, the provision of cultural benefits is not well documented.
As the science and practice of wetlands restoration mature, it has become increasingly evident that restoring wetland ecosystem function and cultural benefits requires large-scale, interdisciplinary approaches (Wagner and others 2008), sustained funding (Gawlik 2006), and the commitment of local governments and landowners (Barham 2001; Michaelidou and others 2002; Geist and Galatowitsch 1999; Johnson and Pflugh 2008). A growing body of research and case studies examining collaborative ecosystem management (Layzer 2008; Sabatier and others 2005; Wondolleck and Yaffee 2000) suggests that involving citizens at the local level is critical to management success. According to Wondolleck and Yaffee (2000) collaboration in natural resource management has the potential to increase social learning, build a shared sense of responsibility, resolve natural resource conflicts and pool resources for action implementation. Sabatier and others (2005) surmise that collaboration in the form of watershed partnerships provides the means for addressing a wide range of pollutant sources, coordinating management across political boundaries on public and private lands, engaging diverse stakeholders, and integrating multiple interests into solutions. We argue that programs and policies aimed at increasing wetlands stewardship, monitoring the full spectrum of wetlands functions, and promoting collaborative partnerships must address local residents' perceptions of wetlands and wetlands management.
This article presents a case study of a large-scale restoration project in the Cache River Wetlands of rural southern Illinois, U.S.A. Our focus is on the social construction of the Cache River Wetlands in the local community and community stakeholders' perceptions of the ongoing wetlands restoration project. We gathered qualitative data through key informant interviews with 25 community gatekeepers—residents actively representing diverse interest groups within the community. Given our desire to preserve the richness and detail in the Cache River community members' perspectives, we adopted an interpretive methodological approach (Charmaz 2006). The overarching purpose of the study was to better understand the community-wetlands relationship and to identify strategies for building community commitment to wetlands restoration. Specifically, our study sought to (1) explore the meanings the Cache River wetlands hold for community members, (2) examine multiple community perspectives on the ongoing wetlands restoration project, (3) provide recommendations for building community support and commitment around ecosystem restoration.
Researchers are beginning to explore citizens' wetlands knowledge and beliefs about wetlands functions. On the whole, studies suggest that many citizens may have limited knowledge about wetlands, especially their defining characteristics, and may even lack an awareness of wetlands existing in their own communities (Johnson and Pflugh 2008). Past research also supports the notion that citizens' positive views of wetlands are largely associated with wildlife and habitat protection (Johnson and Pflugh 2008; Kaplowitz and Kerr 2003). However, as Johnson and Pflugh (2008) pointed out, mixed findings have been reported on the perceived significance of wetland functions like improved water quality and flood control. Manuel (2003) surveyed citizens of three urban communities in Nova Scotia about their knowledge of wetlands and the cultural significance wetlands hold. While respondents generally lacked the ability to describe the wetlands in their communities and were not frequent visitors, they believed that the wetlands were important to the character of their communities. According to Manuel, respondents valued wetlands for "providing green space, nature, and a rural atmosphere amid the business of development; allowing opportunities for play and recreation close to home; and even increasing property values" (p. 933).
Only in the last decade have social scientists begun to examine citizens' attitudes toward ecosystem restoration and few studies have focused on wetlands in particular. Altogether, studies have documented a high level of support for wetlands restoration in general, but support drops somewhat for specific restoration projects or actions (Johnson and Pflugh 2008). In a study of attitudes toward three river restoration projects after implementation in the UK, Tunstall and others (2000) learned that residents generally approved of the projects, though they tended to evaluate project success not on ecological goals but on the cultural benefits achieved such as recreation access, improved scenery and increased safety. According to Tunstall and others, residents want to be consulted prior to the restoration project to provide input on restoration planning. More recently, Milon and Scrogin (2006) assessed Florida residents' preferences and willingness to pay for restoration of the Florida Everglades ecosystem based on structural and functional wetland attributes. Survey respondents expressed higher support for wetland restoration initiatives characterized by attributes such as wildlife populations than water levels and timing. Similarly, Lupi and others (2002) found that improvements in habitat quality were significant factors in Michigan residents' willingness to accept wetlands restoration projects. In contrast, the potential negative impacts of wetlands restoration have received little empirical attention (Buckley and Crone 2008). Buckley and Crone (2008) acknowledged the possibility of negative off-site impacts associated with wetlands restoration to nearby landowners including increased abundance of pest species like mosquitoes and invasions of non-native weeds. In addition, the prospects of land use restrictions or hydrologic changes that may impede economic activities like forestry, agriculture or recreation-based tourism may be deflating to local landowners and industries. Buckley and Crone encourage project planners to "give equal consideration" to both on-site ecological characteristics and off-site cultural characteristics when choosing sites and developing project goals.
Support for wetlands restoration in Illinois, a state in which over 90% of original wetlands have been converted to agricultural or urbanized uses (Suloway and Hubbell 1994), is uncertain. In a study of Illinois residents' attitudes toward open space, less than 43% of respondents rated wetlands as having high importance in the state (IDNR 2003). In fact, wetlands were ranked 13th in importance out of the 16 types of open spaces listed, below parks, forests, playgrounds and sports fields. Interestingly, 90% of respondents rated protecting water quality very or extremely important, outranking other community issues such as preventing crime and improving the quality of schools. Like other studies have suggested, a knowledge gap likely exists in Illinois residents' awareness of wetlands and understanding of the linkages between healthy wetlands and water quality.
Although historically wetlands have been perceived by the public as "wastelands" (Kaplowitz and Kerr 2003), the research highlighted above demonstrates the public largely values wetlands especially for their role in wildlife and habitat protection. Moreover, documented public support for the general idea of restoration and the emergence of citizen-based partnerships such as watershed councils suggests real potential for actively engaging local community members in wetlands restoration projects (Barham 2001; Bidwell and Ryan 2006). As many social scientists have argued, understanding residents' current connections to and views of wetlands is necessary to promote wetlands stewardship. This knowledge will assist in the development of targeted information campaigns and education programs that communicate the full spectrum of ecological and cultural benefits healthy wetlands offer, as well as the reciprocal relationship between social-ecological systems (Geist and Galatowitsch 1999). Furthermore, past studies show residents may evaluate restoration project outcomes differently than scientists and project managers. In turn, identifying and incorporating residents' criteria for success into restoration planning appear to be integral to building community commitment to wetlands restoration projects.
The Cache River Wetlands
Illinois' legacy of land clearing, drainage, and conversion to agricultural production from the early 1900s to 1970s has played a leading role in the loss of wetlands in the state. Today, the majority of high quality swamp and wetland communities remaining in the state are found in the southern region, many of which are located within the Cache River watershed (Suloway and Hubbell 1994). The 216,408-ha watershed lies at the intersection of four physiographic regions just above the convergence of the Mississippi and Ohio River floodplains in southernmost Illinois. The Cache River wetlands, a relic channel of the Ohio River, contains the northernmost example of baldcypress-tupelo swamp communities as well as over 50 threatened and endangered species. The Cache River wetlands complex is designated a Ramsar Wetland of International Importance (Ramsar 2005) because of its critical breeding habitat for migratory waterfowl and shorebirds.
The state first purchased land in the watershed for conservation in 1970. The decline of waterfowl migration to the area, as well as increases in flooding frequency and sedimentation of the Cache River, prompted local citizens to organize and advocate for further wetlands protection. The Illinois Department of Natural Resources (IDNR) responded by purchasing additional land, and further acquisitions by The Nature Conservancy (TNC), U.S. Fish and Wildlife Service (USFWS), and Ducks Unlimited complete the present day 14,000-ha protected area complex (Table 
1
; Fig. 
1
). In 1991, these four organizations formed a Joint Venture Partnership (JVP) with the mission to protect and restore a 24,281-ha forest and wetland corridor along the Cache River. In the first 10 years of the partnership, the JVP made land acquisition (from voluntary sellers) its top priority but also commenced a series of small-scale restoration efforts including bottomland reforestation and river channel restoration. The USDA Natural Resources Conservation Service joined the effort to further expand the scope of the project through the enrollment of privately-owned lands in the Wetlands and Conservation Reserve Programs and became a formal member of the JVP in 2008.
Table 1
Conservation agency/organization land ownership (2008)
| Agency/Organization | Management unit | Hectares |
| --- | --- | --- |
| U.S. Fish and Wildlife Service | Cypress Creek National Wildlife Refuge | 6,086 |
| Illinois Department of Natural Resources | Cache River State Natural Area | 5,793 |
| The Nature Conservancy | Grassy Slough Preserve | 1,155 |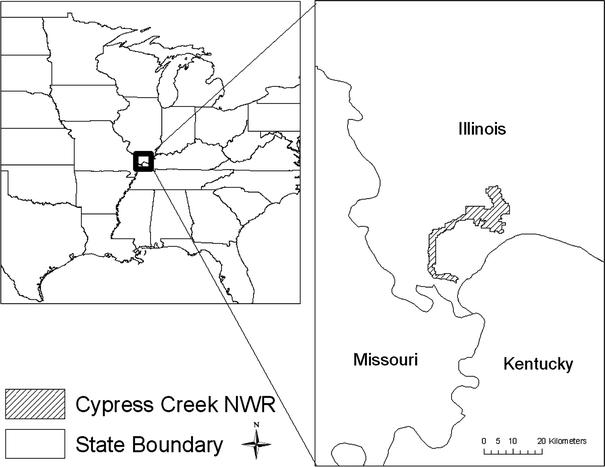 The JVP has faced great difficulty in maintaining long-term support for ecosystem restoration throughout the greater Cache River wetlands community (Adams and others 2005). One primary goal of the project—to reconnect the Upper and Lower Cache River divided in 1915 by the construction of the Post Creek Cutoff—has proven to be highly controversial within the local communities primarily because of concerns about flooding. Like many rural settings, decision making authority around water resource issues in the greater watershed area rests in the hands of counties, municipalities, drainage districts, and individual landowners. Efforts to remove impoundments and further drain wetlands for economic development have continued. Despite its ecological richness, rural poverty persists in several counties of southernmost Illinois. The poverty rates in Alexander and Pulaski Counties, where the vast majority of the protected area complex is located, are among the highest in the state at 33 and 29 percent (U.S. Census Bureau 2007). A survey conducted in 2000 (Mangun and others 2009) suggests that many local residents are unaware of the existence of the protected area complex. Controversy over project goals, the moribund local economy, and a general lack of awareness may contribute to the community's limited participation to date in watershed-wide restoration efforts.
Methods
Data were gathered for this study through key informant interviews with 25 community residents representing diverse backgrounds and interests. We used a purposive sampling strategy, but aimed for heterogeneity in the sample. A list of community gatekeepers, or leaders representing multiple stakeholder interests within the community, was generated through discussions with JVP representatives from the IDNR, USFWS, and TNC. We then used a snowball or chain referral recruitment technique (i.e., asked informants for referrals of other community members) to expand our list. We limited the sample pool to people residing within what we have defined as the Cache River wetlands community—the four counties that encompass the majority of the Cache River corridor. Interviews were conducted at participants' homes, places of work, or in public buildings. Participants were told the purpose of the study and asked to sign a consent form prior to the interviews. Interviews were semi-structured, meaning an interview script guided open-ended questioning, but the interviewer had freedom to probe for clarity of responses (Marshall and Rossman 1999). The script included 21 primary questions and several optional probing questions. Interviews with participants ranged from 30 min to three hours. The study design, data collection protocol, and script were approved by an institutional review board to ensure compliance with human subjects research protocol.
Participants' age and years of local residence varied (Table 
2
). Six of the 25 participants either were currently affiliated or had prior affiliation with one of the Cache River wetlands citizen organizations like Friends of the Cache River or Citizens Committee to Save the Cache. It can be assumed that these participants have been active in public involvement processes and are at least somewhat familiar with the restoration project. At the same time, members of these citizen groups have expressed strong and divergent attitudes toward the restoration project over time. Other participants were affiliated with local municipal and county governments, tourism-based enterprises, economic development organizations, education institutions, and agriculture. Sampling continued until theoretical saturation was achieved, meaning that the driving research questions were sufficiently answered and little theoretical insight would be gained by conducting additional interviews (Charmaz
2006
; Strauss and Corbin
1990
). However, while efforts were made to reach the African American communities in the area, we were only able to recruit two participants who were black to participate within the project timeline. This is certainly a limitation to our findings in that stakeholders from these communities were underrepresented in our sample.
Table 2
Study participant profile
Gender

Male

16

Female

9

Race

White

23

Black

2

Age

Mean

54

Min

25

Max

76

Years of local residence

Mean

36

Min

5

Max

76

Primary interest group affiliation

Wetlands citizen organization members (WC)

6

Environmental advocacy group members (EN)

4

Local government officials (LG)

3

Tourism operators (TO)

3

Economic development organization staff (EC)

3

Education representatives (ED)

3

Agricultural industry (AG)

3
Interviews were audio-recorded and transcribed verbatim. Data were analyzed using grounded theory procedures (Charmaz 2006; Glaser and Strauss 1967; Strauss and Corbin 1990) beginning with open and focused coding processes. Open or initial coding involves systematically identifying and labeling individual meaning units within the raw data. In focused coding the analyst examines the significance and sufficiency of earlier codes in light of the driving research questions. The codes are then further refined to increase the relevance and efficiency of the interpretive analysis. Through iterative and comparative analysis and multiple theoretical organization techniques (e.g. creation of analysis notes, topic lists, memos, tables and conceptual diagrams) patterns and relationships salient to the study objectives were identified and documented. Strauss and Corbin (1990) regard the creation of written records and visual representations in the analysis process as crucial to theory development and credibility. This process also helps to ensure the quality of the analysis. A research team corroborated throughout the analysis process to limit bias by cross-checking coding and engaging in negative case analysis to challenge interpretations (Marshall and Rossman 1999).
Findings
The study findings presented here focus on the meanings the Cache River wetlands hold for community members and community members' perceptions of the wetlands restoration project. Exemplary quotes are presented that best illustrate the emergent themes. The interviewee's interest group affiliation (e.g., wetlands citizen organization (WC), environmental advocacy group (EN), local government (LG), tourism (TO), economic development organization (EC), education (ED), agricultural industry (AG)) is identified following each quote (see Table 2).
The Meanings of the Wetlands to Local Residents
At the onset of each interview, study participants were asked to describe their connection to the Cache River Wetlands and to discuss what the wetlands mean to them. Responses were replete with both ecologically and culturally centered meanings. Descriptions also varied in their focus, from the wetlands' structural features like "ancient trees" and "water" to ecosystem services such as the maintenance of scenic integrity and local cultural identity. Several participants touted the significance of iconic wildlife and tree species like red-tailed hawks and baldcypress to the wetlands. Others expressed a more holistic perspective of the wetlands as a dynamic ecosystem. The cultural themes that emerged varied from consumptive and non-consumptive recreation opportunities such as hunting, fishing, bicycling, and observing wildlife, to tourism industries, agriculture, and cultural heritage. Some participants centered their discussion on the wetlands' status as a "nature preserve," "sanctuary," or "natural heritage site." Several participants described external forces and their impacts on the wetlands such as changing land use practices or current restoration efforts. Some participants expressed a sense of loss associated with the degradation of the wetlands and articulated how these changes have affected both ecological and cultural meanings. Overall, the eco-sociological meanings expressed for the Cache River wetlands converged along three dimensions: (1) the wetlands as a rare and treasured ecosystem, (2) the wetlands as a revered historic and contemporary cultural landscape, and (3) the wetlands as a resource for local economic revitalization. These dimensions are central to understanding the community-wetland relationship.
A Rare and Treasured Ecosystem
Most participants characterized the wetlands as a place that holds significance as a rare and treasured ecosystem. Participants discussed the importance of the bottomland hardwood forests in southern Illinois and specifically "ancient" trees such as baldcypress, oak, and hickory. Several listed the diverse and abundant wildlife species found in the area. One participant called the wetlands "an international treasure, worthy of greater support and protection" (EN). A tourism operator marveled at the species richness of the wetlands ecosystem:
We have owned forty acres of the cypress-tupelo swamp. [There is] more wildlife in a swamp or wetland per square whatever-you-want-to-measure than there is in any other type of terrain. …You have got birds above and the trees that grow in the water and insects that live in the water and in the trees and the plants and it just amazes me. It doesn't matter if you take a survey of the air or down in the water, there is something that lives in that. (TO)
For many, the uniqueness of the wetlands ecosystem was a source of personal pride and inspiration, but it also was believed to contribute to the identity of the greater community:
When I think of the Cache River in Illinois, I think of, for Illinois, a unique habitat. I look at it as an endangered habitat. I look at it as a jewel for all of Illinois and the Midwest. Ancient trees and ancient swamps. I have been to the Okefenokee, to the Cache River over in Arkansas. And everyone brags about their trees and their swamp. But the Cache, our Cache, the Cache River has as much to offer as any of those places. Maybe not as big…but it is a unique little spot on the planet. (EN)
A Revered Historic and Contemporary Cultural Landscape
Many participants also described the Cache River wetlands as a place that has supported a cultural heritage and contemporary quality of life in southern Illinois. When asked what the wetlands mean to them, a few participants recalled hunting and fishing experiences in the Cache River corridor. An agricultural producer believed that the protection of the wetlands was instrumental to today's hunting opportunities:
I have always liked the area, because to me it is home. I don't do much duck hunting anymore, but in a lot of the places I used to hunt duck, rabbit hunt, squirrel hunt, coon hunt. A lot of those places are still here because of the work that we done to try to protect those sites and keep them from being logged and cleared and put into agriculture and the swamps drained. If it hadn't been for a lot of that effort for sure, a lot of those places would be gone. (AG)
A tourism operator described a family connection to the wetlands through fishing and duck hunting:
My great uncle had a cabin down there just after WWII. And they had that cabin until they did the reclamation in '65. Cause then my grandparents also had a cabin down there and they moved to Johnson City in spring '66. So we have got fishers in our family when they were able to set nets and stuff like that. The Cache River in my family goes back a long way. We have all had a part in something with it. (TO)
Several study participants also described the wetlands as a local asset because they provide opportunities for nature-based recreational opportunities like canoeing and bird watching.
A Resource for Local Economic Revitalization
Finally, to some participants the Cache River wetlands represent economic potential that has yet to be fully realized. Several participants viewed the wetlands as a prospective source of local revenue tied to increased tourism in the area. A local government official explained, "I think it can be used for tourism…to bring people into the county. An outlet for the county to bring tourism [and] money into the county" (LG). Similarly, another participant described the wetlands as a "good tourist base" adding "that would be…the first thing that comes to mind" (TO).
Several study participants encouraged natural resource managers to cooperate with local agri-tourism and hospitality industries to market the area's attractions. As one tourism operator indicated, "If we could put together a scenic trail to get from here…to the Cache, that incorporates the wineries and the bed and breakfast, that would be a big help" (TO). An educator surmised that cooperation in economic development would unite community members:
I think tourism is an area where the agriculture community and what might be termed as the conservation or environmentally-minded community can pull together for economic development in this area. We have rich natural resources and rich heritage in agriculture, so agritourism and ecotourism can come together. (ED)
Community Perspectives on the Wetlands Restoration Project
A second study objective was to explore multiple community perspectives on the wetlands restoration project through the insight of diverse community gatekeepers. Specifically, we asked study participants about their own attitudes toward the restoration project, the broader community's outlook on the project, and their recommendations for increasing community-wide project participation. An array of community member sentiment on restoration was revealed, invoked with feelings of apathy, optimism, skepticism, and uncertainty for the future. Five key elements emerged as central to understanding community member perspectives on the wetlands restoration project:
1.

Community participation in project planning

 

2.

Community burdens of the restoration project

 

3.

Community benefits of the restoration project

 

4.

Fear and uncertainty around restoration outcomes

 
Community participation in project planning
Having a voice in project planning was clearly important to many study participants. In particular, participants emphasized the need for project managers to seek community input on all phases of the project and to balance the influence of nonlocal stakeholders and special interest groups. Criticism of past decision making processes was aimed at both state and federal project managers. A wetlands citizen committee member described being "frustrated" with the IDNR for not being more accountable to the local people:
The IDNR has less requirements [for public involvement] at the state level and that has been a frustration for me, because the state is supposed to be more local than the federal government. They don't have to do NEPA [National Environmental Policy Act], they don't have to do environmental assessments, they don't even have to take public comment. They put all of those weirs [in the Cache River] and never told anybody. They published it in the environmental report after it was done. (WC)
Similarly, an agricultural producer expresses skepticism about the sincerity of federal level public involvement efforts to gather input from local residents: "Well, you don't know anything they are going to do until after they have done it. They already had it cut and dried when they started those [planning] meetings. You know local people are the last people to know anything about it" (AG).
A few participants believed that public involvement catered to outside interest groups. A member of a wetlands citizen committee described a Cache River Wetlands Symposium sponsored by a project manager. He recalled,
The people in the Lower Cache Valley was not notified of the symposium. Now when you look at people who did get notices all over this state, nobody was originally from the Cache. Now I am going to have to look at that as an attempt to get the public involved. But what public? (WC)
Community Burdens of the Restoration Project
Some participants commented on how the wetlands restoration project has had some negative consequences on the local community. The economic burden of land acquisition on local government units emerged as a concern. Participants indicated that the impacts of a reduced property tax base resulting from land acquisition programs are significant given the economic challenges the rural communities already face. An agricultural producer recalled, "[The natural resource management agencies] went in and did a lot of removal of homes and grain bins and the tax base went down" (AG). An economic development representative surmised, "If you take ten percent of their revenue, property tax out of your school funds, well, you don't have much. You don't have mansions around here and no businesses in some of these school districts" (EC).
Several participants described how expectations for active community participation in the restoration project may put an added burden on residents, noting that pervasive rural poverty throughout the area likely will limit the extent to which the broader community is able to be involved. A tourism operator explained, "The public around here, they can't afford to care a lot. They are more concerned with the electric bill and the gas bill than they are with trying to preserve a special spot for frogs" (TO).
Community Benefits
Participants also acknowledged that expectations for community benefits of the restoration project exist among residents. Recreation opportunities, environmental education programming, and tourism-based revenue were discussed. Many participants believe that residents want to experience firsthand the unique ecosystem that has been protected and restored. An environmental advocate argued,
I think that something that is missing in the Cache River Wetlands complex are camping opportunities. There isn't one. I mean how awesome is it to camp out in the middle of the Okefenokee on a raised platform…I mean those are life-changing experiences. We need a spot that was designed and developed and maintained for group programming, for camping. (EN)
Similarly, a tourism operator described the need to give residents "something tangible" that they can experience to demonstrate project managers' commitment to the community:
You tell people that you are going to plug the levee and [reconnect] the Cache, they are going to say "so what?" What can I take a picture of? I mean, legitimately give the public something they can comprehend at home. A picture. You know, a brochure, whatever…. Give them something tangible. …If you are telling people that you are going to spend two hundred million dollars down there, they don't care. But if you say, "Hey, we got brand new bicycles, and brand new canoes. And we will even throw in a free lunch with the deal." They will take it…. (TO)
Several participants discussed high hopes for increased tourism-based revenue from the protection and restoration of the Cache River wetlands—expectations that have not been fully met:
I would really like to know, has the Cache really brought in the tourists? I mean they can't even keep a restaurant open at the Spur [gas station]. The numbers they have promised are not here. Sure, numbers are great, but if they are not staying within the area and they are not eating within the area…it's not helping us here. (ED)
In contrast to these perspectives on community benefits, a few participants argued that the value of the wetlands should not be measured in local economic revenue. An environmental advocate reflected on the value of the wetlands:
Often times, when developing management strategies for any type of land, including the wetlands, it boils down to the bottom line. Is it economically viable? Is it economically beneficial? Well, not everything is weighted in importance by the economic benefits that it might provide for an area. The habitat that exists down there, you know the postage stamp of existing swamp, may be priceless in some people's minds… Does it provide …for the waterfowl and all of the other species down there? Sure it does. But you can't put a dollar sign on it and that, I think, is an important point. If we continue to fall back on the bottom line, then we are missing the big picture….because that is not what that swamp has to offer as a whole. (EN)
Restoration Outcome Fear and Uncertainty
Several participants questioned the outcomes of the wetlands restoration project, especially plans to reconnect the Upper and Lower Cache River. Participants discussed concerns in the community that restoring the river's hydrology would increase flooding on private property and agricultural lands. One agricultural producer observed, "Those poor farmers over in there. If it wasn't for [the Post Creek cutoff] then they couldn't farm at all. [Farming] is their life and they have worked all of their life to do it" (AG). A second participant wanted better information about water levels following the reconnection:
I just don't know the ramifications of that on private lands. …Sometimes I listen to these people who know what they are talking about, and I try to understand, but I still don't know what they are talking about. I have never seen a map that says if we raise the Post Creek cutoff, if we raise it up so much, this is what will end up flooding when the water gets up to this level. (WC)
A tourism operator discussed the tradeoffs between restoring hydrology and flooding agricultural lands that are an important part of the cultural history of the area:
If we reconnect the Cache, it would clean itself out. And so on that end, reconnection would be very important. But, at the same time, what is that going to do to the flood situations on the upper end of the Cache? And, you get into some of that "grandpa worked all of his life to clear this field and now you want to do away with the Post Creek cutoff?" …We have to manage that water to where we can keep dry the areas of agricultural land…and still divert some of that water down through the old channel to help wash out and save the system. (TO)
Fear about hidden agendas within the restoration project like plans to flood private property and farmland within the Cache River valley or to use eminent domain to acquire land from unwilling sellers also was discussed:
Go down to the end of my road…you will see a sign that says "reforested in 1997 with native hardwoods." Look and see what the majority of the trees are behind that sign. It's baldcypress trees. Why would they put cypress trees there? …Does that look like maybe in the future… they expect this is going to be the swamp?…I really believe they have already planned that and are not telling the public. (WC)
Discussion
Through an exploratory study of the community-wetlands relationship in rural southern Illinois we documented eco-sociological meanings residents ascribe to the Cache River wetlands as well as multiple community perspectives on the ongoing wetlands restoration project. This participatory approach facilitated what we believe were very candid and enlightening discussions about community, wetlands, and the restoration project. Understanding what an ecosystem means to the local community is critical to effective engagement of residents in ecosystem restoration planning and implementation. Only through this understanding can multiple meanings be validated by project managers and incorporated into restoration plans. These meanings are likely to shape attitudes toward restoration goals and tactics and ultimately, may be indicative of residents' support of or resistance to restoration projects. In our case study, many community gatekeepers interviewed acknowledged the ecological significance of the Cache River wetlands both as sanctuary for specific iconic species like baldcypress trees and as a dynamic and rich wetlands ecosystem. The wetlands also clearly have historical and contemporary cultural significance to many local people. The wetlands support a "way of life" in southern Illinois associated with hunting, fishing, and wildlife observation. Finally, the wetlands are seen by many in the community as a potential source of economic revitalization by attracting tourists to the area.
Based our case study findings, we offer four propositions that should serve to guide ecosystem restoration project planning and inform managers' efforts to build community support and commitment around ecosystem restoration.
Conclusions
The need to preserve or in many cases restore the community-ecosystem relationship should be included alongside ecological goals (e.g., acres restored, threatened and endangered species protected, and reduced sediment loads) in restoration planning. Project managers typically have a crystallized set of ecological goals or measurable criteria for success in ecosystem restoration. What may be less apparent are potential cultural and economic goals. Quantifiable community cultural goals that managers can incorporate into project plans may include performance measures for environmental education programs in local schools, events that celebrate local culture, expanded recreation opportunities (e.g., camping, harvestable and observable wildlife species), volunteer programs, local partnerships with diverse community groups, and the establishment of a citizen-based advisory group or watershed council. Several community economic goals such as grants and donations secured, visitation or tourism statistics targets, cost-share and other landowner agreements, nature-based tourism training opportunities for local industries, sustainable tourism partnerships (e.g., ecotourism and agritourism), reduced user fees for local residents, local jobs and contracts, and ecosystem service related cost-savings estimates (e.g., flood regulation, clean water and air, human health) could be integrated into restoration planning.
Locally, project managers who focus only on ecological goals may limit the project's relevance to particular special interest groups and reduce the broader community's interest and participation in planning or implementation. Though statewide surveys suggest that Illinois residents do not place high importance on wetlands (IDNR 2003), our study indicates the opposite. At least among those interviewed here, the wetlands are revered and hold multiple meanings. Our participants clearly have had a strong connection to the wetlands because they are ecologically unique, closely linked to the area's cultural history, and have the potential to offer economic stability to local communities. Natural resource managers throughout the state who want to increase awareness of wetlands and support for wetlands stewardship should consider connecting residents by communicating these cultural values. Moreover, since water quality is important to residents, the roles wetlands play in water purification should also be emphasized in information campaigns. The recognition and documentation of cultural ecosystem services provided by existing wetlands may also have federal level policy implications. As Dale and Gerlack (2007) note, current wetlands monitoring efforts and mitigation banking programs do not take into account these important cultural values or account for impacts to these values when new wetlands are created to replace existing ones. This study provides a place-based, context-specific case study of the human dimensions of wetlands restoration. For this reason, our findings may not be generalizable to communities and wetlands with dissimilar social-ecological characteristics. Future research should seek to further document the cultural significance of wetlands to local communities and especially how wetlands degradation and restoration may affect the community-wetlands relationship.
Notes
Acknowledgments
Funding for this study was provided by the Cypress Creek National Wildlife Refuge, U.S. Fish and Wildlife Service; The Nature Conservancy; the Cache River Joint Venture Partnership; and the McIntire-Stennis Forestry Cooperative Research Program. The authors would like to acknowledge the Cache River community members who shared their perspectives with us. Finally, we would like to thank three anonymous reviewers for their insight and suggestions. Their contributions helped strengthen this manuscript.
Copyright information
© Springer Science+Business Media, LLC 2010