Abstract
One of the potential complications of aesthetic surgery is bleeding. Given the high surgical activity carried out in our center and the variety of interventions performed, the risk of bleeding is not negligible: A clinical practice that could reduce this postsurgical complication is necessary. The goal of this article is to value effectiveness of a bleeding score obtained through the evaluation of anamnestic data. The study was divided into two steps. The preliminary data consist in the creation of a form for the evaluation of the bleeding score based on literary data. Subsequently, the first step was put on a retrospective study on 163 patients who underwent aesthetic surgery from January 2013 to July 2017. In the second step, the bleeding score was introduced in clinical practice, submitting the form to 223 patients operated on from September 2017 to September 2018. Retrospective results showed that patients with a low bleeding index had no hemorrhagic complications. One patient of three with a medium–high bleeding score showed a hemorrhagic complication in the postoperative course. The prospective study showed that in three patients with an index between 4 and 7, the level II panel analysis confirmed a medium risk of incurring bleeding episodes during or after the surgery. One patient in 223 obtained a bleeding index of 9: This patient was not operated on and he was sent to the reference center for further investigation. This routine will help to recognize, manage, and prevent hemorrhagic complications of aesthetic surgery.
Level of Evidence V This journal requires that authors assign a level of evidence to each article. For a full description of these Evidence-Based Medicine ratings, please refer to the Table of Contents or the online Instructions to Authors www.springer.com/00266.
This is a preview of subscription content, log in to check access.
Access options
Buy single article
Instant unlimited access to the full article PDF.
US$ 39.95
Price includes VAT for USA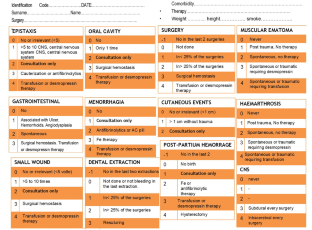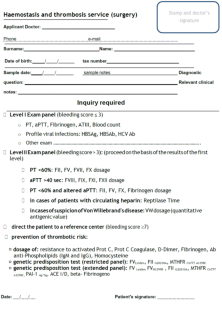 References
1.

Trussler AP, Tabbal GN (2012) Patient safety in plastic surgery. Plast Reconstr Surg 130(3):470e–478e

2.

Niamtu J (2009) Complications in facelift surgery and their prevention. Oral Maxillofac Surg Clin N Am 21(1):59–80

3.

Rettinger G (2007) Risks and complications in rhinoplasty. GMS Curr Top Otorhinolaryngol Head Neck Surg 6:Doc08

4.

Morax S, Touitou V (2006) Complications of blepharoplasty. Orbit 25(4):303–318

5.

Kim YH, Cha SM, Naidu S, Hwang WJ (2011) Analysis of postoperative complications for superficial liposuction: a review of 2398 cases. Plast Reconstr Surg 127(2):863–871

6.

Vidal P, Berner JE, Will PA (2017) Managing complications in abdominoplasty: a literature review. Arch Plast Surg 44(5):457–468

7.

Thomas A, Shammas R, Glener A, Cho E, Hollenbeck S (2017) An analysis of bleeding complications in plastic surgery. Plast Reconstr Surg Glob Open 5(4 Suppl):18

8.

Goudie R, Sterne JAC, Verheyden V, Bhabra M, Ranucci M, Murphy GJ (2015) Risk scores to facilitate preoperative prediction of transfusion and large volume blood transfusion associated with adult cardiac surgery. Br J Anaesth 114(5):757–766

9.

Greiff G, Pleym H, Stenseth R, Berg KS, Wahba A, Videm V (2015) Prediction of bleeding after cardiac surgery: comparison of model performances: a prospective observational study. J Cardiothorac Vasc Anesth 29(2):311–319

10.

Schonauer F, Santorelli A, Marlino S, Canta L, Molea G (2010) Surgical correction of a mild helical rim deformity. Plast Reconstr Surg 125(4):154e–155e

11.

Schonauer F, Vuppalapati G, Marlino S, Santorelli A, Canta L, Molea G (2010) Versatility of the posterior auricular flap in partial ear reconstruction. Plast Reconstr Surg 126(4):1213–1221

12.

Sito G, Marlino S, Santorelli A (2013) Use of Macrolane VRF 30 in emicircumferential penis enlargement. Aesthet Surg J 33(2):258–264

13.

Rossano F, Di Martino S, Iodice L, Di Paolo M, Misso S, Tomeo R, Marini AM, Brugnone R, Marlino S, Santorelli A, Di Francia R (2017) Correlation between individual inflammation genetic profile and platelet rich plasma efficacy in hair follicle regeneration: a pilot study reveals prognostic value of IL-1a polymorphism. Eur Rev Med Pharmacol Sci 21(22):5247–5257

14.

Santorelli A, Rossano F, Cagli B, Avvedimento S, Ghanem A, Marlino S (2019) Standardized practice reduces complications in breast augmentation: results with the first 290 consecutive cases versus non-standardized comparators. Aesthet Plast Surg 43(2):336–347

15.

Cagli B, Salzillo R, Santorelli A, Tenna S, Persichetti P (2018) Minimizing breast implant contamination in breast reconstruction procedures: introducing the "12 Breast Reconstruction Points". Plast Reconstr Surg Glob Open 6(12):e2028
Acknowledgements
We would like to thank Health & Progress s.r.l., Benevento, Italy, for supporting authors in the project and publication of this article.
Funding
Not applicable.
Ethics declarations
Conflict of interest
All the authors declared no potential conflicts of interest with respect to the research, authorship, and publication of this article.
Ethical Approval
All procedures performed in studies involving human participants were in accordance with the ethical standards of the institutional and/or national research committee and with the 1964 Helsinki Declaration and its later amendments or comparable ethical standards.
Additional information
Publisher's Note
Springer Nature remains neutral with regard to jurisdictional claims in published maps and institutional affiliations.
About this article
Cite this article
Marlino, S., Cagli, B., Vitale, A. et al. Bleeding in Plastic–Aesthetic Surgery: A Prognostic Pathway with Clinical Application. Aesth Plast Surg 44, 201–206 (2020) doi:10.1007/s00266-019-01557-5
Received:

Accepted:

Published:

Issue Date:
Keywords
Plastic surgery

Adverse events

Bleeding score