Abstract
Background
Cosmetic rhinoplasty has been linked to iatrogenic breathing disturbances using clinical tools. However, few studies have evaluated outcomes using validated, patient-centered instruments.
Objective
We aim to determine the incidence and severity of nasal obstruction following cosmetic rhinoplasty as measured by patient-centered, disease-specific instruments.
Design
This is a retrospective review of adult patients who underwent cosmetic rhinoplasty at Stanford Hospital between January 2017 and January 2019. General demographic as well as Nasal Obstruction and Symptom Evaluation (NOSE) and the Standardized Cosmesis and Health Nasal Outcomes Survey (SCHNOS) questionnaire data were included. Scores were tracked across postoperative visits and compared to the preoperative state. Patients were subdivided into dorsal hump takedown, correction of the nasal tip, and both.
Results
Of the 68 included patients, 56 were women, and the mean age was 30.6 years. Although mean SCHNOS and NOSE scores increased at the first postoperative interval, mean scores decreased on each subsequent visit. There were no significant increases in SCHNOS or NOSE scores for either dorsal hump takedown, tip correction, or both. There were only two patients who recorded NOSE scores higher than baseline at most recent postoperative visit.
Conclusion
Our results indicate reductive rhinoplasty is not associated with a greater risk of breathing obstruction when performed with modern airway preservation techniques. The initial increases in obstructive symptoms we observed on the first postoperative visit likely represent perioperative swelling given the improvement on follow-up visits. Both the NOSE and SCHNOS are patient-centered questionnaires capable of evaluating nasal obstruction following cosmetic rhinoplasty.
Level of Evidence IV
This journal requires that authors assign a level of evidence to each article. For a full description of these Evidence-Based Medicine ratings, please refer to the Table of Contents or the online Instructions to Authors www.springer.com/00266.
This is a preview of subscription content, log in to check access.
Access options
Buy single article
Instant unlimited access to the full article PDF.
US$ 39.95
Price includes VAT for USA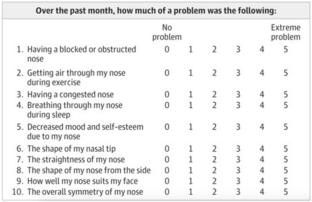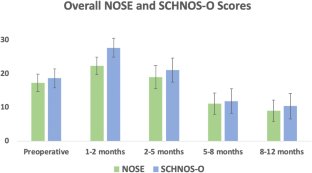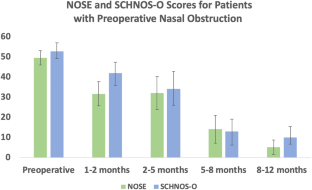 References
1.

Grymer LF (1995) Reduction rhinoplasty and nasal patency: change in the cross-sectional area of the nose evaluated by acoustic rhinometry. Laryngoscope 105:429–431

2.

Edizer DT, Erisir F, Alimoglu Y, Gokce S (2012) Nasal obstruction following septorhinoplasty: how well does acoustic rhinometry work? Eur Arch Otorhinolaryngol 270:609–613

3.

Celebi S, Caglar E, Yilmaz E et al (2014) Does rhinoplasty reduce nasal patency? Ann Otol Rhinol Laryngol 123(10):701–704

4.

Bloom JD, Sridharan SS, Hagiwara M et al (2012) Reformatted computed tomography to assess the internal nasal valve and association with physical examination. Arch Fac Plast Surg 14(5):331–335

5.

Moche JA, Cohen JC, Pearlman SJ et al (2013) Axial computed tomography evaluation of the internal nasal valve correlates with clinical valve narrowing and patient complaint. Int Forum Allergy Rhinol 3(7):592–597

6.

de Pochat VD, Alonso N, Mendes RR et al (2012) Assessment of nasal patency after rhinoplasty through the Glatzel mirror. Int Arch Otorhinolaryngol 16(3):341–345

7.

Andres RF, Vuyk HD, Ahmed A et el. Correlation between subjective and objective evaluation of the nasal airway. A systematic review of the highest level of evidence. Clin Otolaryngol. 2009, 34(6):518–25

8.

Lam DJ, James KT, Weaver EM (2006) Comparison of anatomic, physiological, and subjective measures of the nasal airway. Am J Rhinol 20(5):463–470

9.

Stewart MG, Witsell DL, Smith TL et al (2004) Development and validation of the nasal obstruction symptom evaluation (NOSE) scale. Otolaryngol Head Neck Surg 130(2):157–163

10.

Moubayed SP, Ioannidis JP, Saltychev M, Most SP (2018) The 10-item standardized cosmesis and health nasal outcomes survey (SCHNOS) for functional and cosmetic rhinoplasty. JAMA Fac Plast Surg 20(1):37–42

11.

Lipan MJ, Most SP (2013) Development of a severity classification system for subjective nasal obstruction. JAMA Facial Plast Surg 15(5):358–361

12.

Yoo S, Most SP (2011) Nasal airway preservation using the autospreader technique: analysis of outcomes using a disease-specific quality-of-life instrument. Arch Fac Plast Surg 13(4):231–233

13.

Murakami CS, Barrera JE, Most SP (2009) Preserving structural integrity of the alar cartilage in aesthetic rhinoplasty using a cephalic turn-in flap. Arch Fac Plast Surg 11(2):126–128

14.

Kandathil CK, Saltychev M, Abdelwahab M, Spataro EA, Moubayed SP, Most SP. Minimal clinically important difference of the standardized cosmesis and health nasal outcomes survey. Aesthet Surg J. sjz070, https://doi-org.laneproxy.stanford.edu/10.1093/asj/sjz070.

15.

Grymer LF, Gregers-Petersen C, Baymler Pedersen H (1999) Influence of lateral osteotomies in the dimensions of the nasal cavity. Laryngoscope 109:936–938

16.

Zoumalan RA, Constantinides M (2012) Subjective and objective improvement in breathing after rhinoplasty. Arch Facial Plast Surg 14:423–428

17.

Erdogan M, Cingi C, Seren E (2012) Evaluation of nasal airway alterations associated with septorhinoplasty by both objective and subjective methods. Eur Arch Otorhinolaryngol 270:99–106

18.

Ottaviano G, Fokkens WJ (2016) Measurements of nasal airflow and patency: a critical review with emphasis on the use of peak nasal inspiratory flow in daily practice. Allergy 71:162–174
Ethics declarations
Conflict of interest
The authors declare that they have no conflict of interest.
Ethical Approval
All procedures performed in studies involving human participants were in accordance with the ethical standards of the institutional and/or national research committee and with the 1964 Helsinki Declaration and its later amendments or comparable ethical standards. This article does not contain any studies with human participants or animals performed by any of the authors.
Informed Consent
For this type of study, formal consent is not required.
Additional information
Publisher's Note
Springer Nature remains neutral with regard to jurisdictional claims in published maps and institutional affiliations.
About this article
Cite this article
Okland, T.S., Kandathil, C., Sanan, A. et al. Analysis of Nasal Obstruction Patterns Following Reductive Rhinoplasty. Aesth Plast Surg 44, 122–128 (2020). https://doi.org/10.1007/s00266-019-01484-5
Received:

Accepted:

Published:

Issue Date:
Keywords
Cosmetic rhinoplasty

Nasal obstruction

SCHNOS

NOSE

Patient-reported outcome measures