Abstract
Background
The tripod theory explains the dynamics of the nasal tip, where surgery is difficult because of anatomic variations and pathologies and the various surgical possibilities. Abnormalities or weaknesses of the lateral crura can result in concavity in ala or alar collapse and cause aesthetic and functional impairments of the nose. Several tip plasty techniques and lateral crura modifications are used in rhinoplasty.
Objective
To describe the vertical alar folding (VAF) technique for making modifications in the lateral crura (LC) and rotation of the tip.
Methods
Included in the study were 83 patients (59 women, 24 men) undergoing rhinoplasty using VAF with the senior author as surgeon between 2013 and 2018. The mean age was 26.3 years (range 18–47). Mean postoperative follow-up period was 26.7 months (range 12–64). Patients who completed the 1-year postoperative period completed the rhinoplasty outcome evaluation (ROE) questionnaire. Outcome measures were performed at examinations, and preoperative and postoperative photographs of the patients were analyzed.
Results
In the span of 5 years, no revision surgery was required for technique-specific reasons. In patients who had a droopy or asymmetric tip or long and concave lateral crura, we saw remarkable functional and aesthetic improvements with VAF. According to the ROE questionnaire, 90.3% (75 out of 83) of the patients were content with the aesthetic and functional results.
Conclusion
VAF is a useful and effective method for modifying the LC and tip of the nose. VAF allowed for controlling the rotation and projection of the tip, changing the length of the lateral crus and nose with durability and smooth, symmetric contours, and correcting concavity of a lateral crus for better functioning and aesthetics.
Level of Evidence IV
This journal requires that authors assign a level of evidence to each article. For a full description of these Evidence-Based Medicine ratings, please refer to the Table of Contents or the online Instructions to Authors www.springer.com/00266.
This is a preview of subscription content, log in to check access.
Access options
Buy single article
Instant unlimited access to the full article PDF.
US$ 39.95
Price includes VAT for USA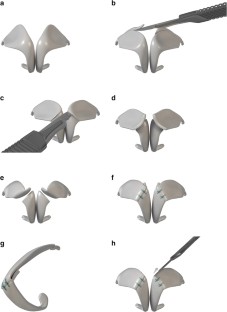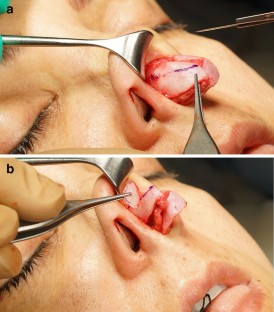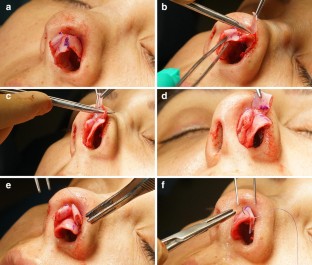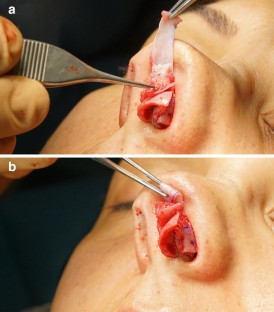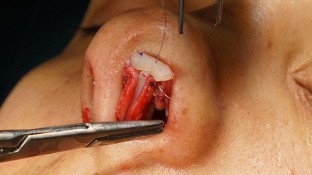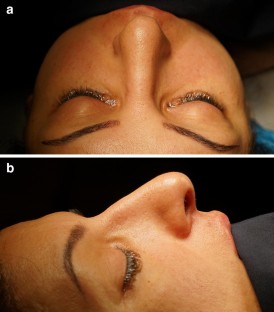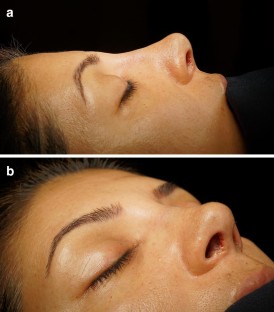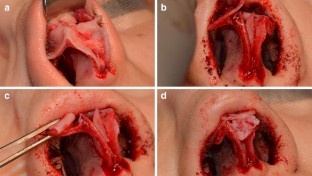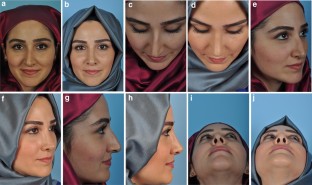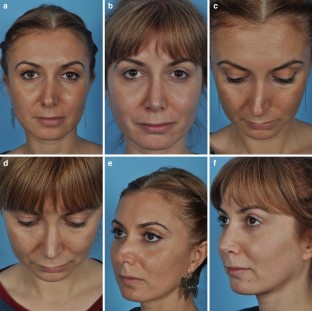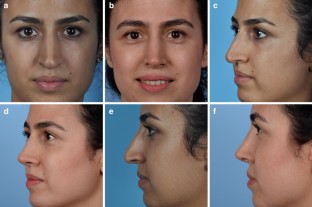 References
1.

Anderson JR (1984) A reasoned approach to nasal base surgery. Arch Otolaryngol 110(6):349–358

2.

McCollough EG (1987) Surgery of the nasal tip. Otolaryngol Clin North Am 20(4):769–784

3.

Toriumi DM, Asher Scott A (2015) Lateral crural repositioning for treatment of cephalic malposition. Facial Plast Surg Clin N Am 23:55–71

4.

Gunter JP, Lee MR, Ahmad J, Rohrich RJ (2014) Basic nasal tip surgery: anatomy and technique. In: Rohrich RJ, Adams WP Jr, Ahmad J (eds) Dallas rhinoplasty. Nasal surgery by the masters, 3rd edn. CRC Press, London, pp 321–350

5.

Apaydin F (2012) Lateral crural turn-in flap in functional rhinoplasty. Arch Facial Plast Surg 14(2):93–96

6.

Tardy ME (1996) Sculpture of the nasal tip. Rhinoplasty: the art and the science, vol 2. Saunders, Philadelphia

7.

Alsarraf R, Larrabee WF Jr, Anderson S, Murakami CS, Johnson CM Jr (2001) Measuring cosmetic facial plastic surgery outcomes: a pilot study. Arch Facial Plast Surg 3(3):198–201

8.

Şeneldir S, Altundağ A, Dizdar D (2018) Cutting the holy dome: the evolution of vertical alar resection. Aesthet Plast Surg 42(1):275–287

9.

Gunter JP, Yu YL (2004) The tripod concept for correcting nasal-tip cartilages. Aesthet Surg J 24:257–260

10.

Gunter JP, Hackney FL (2007) Basic nasal tip surgery: anatomy and technique. In: Gunter JP, Rohrich RJ, Adams WP Jr (eds) Dallas rhinoplasty: nasal surgery by the masters, ed 2. Quality Medical Publishing, St Louis

11.

Rohrich RJ, Ahmad J (2011) Rhinoplasty. Plast Reconstr Surg 128:49e–73e

12.

Janeke JB, Wright WK (1971) Studies on the support of the nasal tip. Arch Otolaryngol 93(458–464):1–3

13.

Zelnik J, Gingrass RP (1979) Anatomy of the alar cartilage. Plast Reconstr Surg 64(5):650–653

14.

Oneal RM, Beil PJ Jr, Schlessinger J (2000) Surgical anatomy of the nose. Op Tech Plast Reconstr Surg 7(4):158–167

15.

Constantian MB (1993) Functional effects of alar cartilage malposition. Ann Plast Surg 30(6):487–499

16.

Courtiss EH, Goldwyn RM (1983) The effects of nasal surgery on airflow. Plast Reconstr Surg 72(1):9–21

17.

Boccieri A, Marianetti TM (2010) Barrel roll technique for the correction of long and concave lateral crura. Arch Facial Plast Surg 12(6):415–421

18.

Tardy ME Jr, Becker D, Weinberger M (1995) Illusions in rhinoplasty. Facial Plast Surg 11(3):117–137

19.

Gunter JP, Friedman RM (1997) Lateral crural strut graft: technique and clinical applications in rhinoplasty. Plast Reconstr Surg 99(4):943–955

20.

Rohrich RJ, Raniere J Jr, Ha RY (2002) The alar contour graft: correction and prevention of alar rim deformities in rhinoplasty. Plast Reconstr Surg 109(7):2495–2508

21.

Gunter JP, Rohrich RJ (1992) Correction of the pinched nasal tip with alar spreader grafts. Plast Reconstr Surg 90(5):821–829

22.

Tardy ME, Garner ET (1990) Inspiratory nasal obstruction secondary to alar and nasal valve collapse: technique for repair using autogenous cartilage. Oper Tech Otolaryngol Head Neck Surg 1(3):215–218

23.

Toriumi DM, Josen J, Weinberger M, Tardy ME Jr (1997) Use of alar batten grafts for correction of nasal valve collapse. Arch Otolaryngol Head Neck Surg 123(8):802–808

24.

McCollough EG, Fedok FG (1993) The lateral crural turnover graft: correction of the concave lateral crus. Laryngoscope 103(4):463–469

25.

Gruber RP, Nahai F, Bogdan MA, Friedman GD (2005) Changing the convexity and concavity of nasal cartilages and cartilage grafts with horizontal mattress sutures, part II: clinical results. Plast Reconstr Surg 115(2):595–608

26.

Tellioglu AT, Cimen K (2007) Turn-in folding of the cephalic portion of the lateral crus to support the alar rim in rhinoplasty. Aesthet Plast Surg 31(3):306–310

27.

Murakami CS, Barrera JE, Most SP (2009) Preserving structural integrity of the alar cartilage in aesthetic rhinoplasty using a cephalic turn-in flap. Arch Facial Plast Surg 11(2):126–128

28.

Kuran I, Oreroğlu AR (2014) The sandwiched lateral crural reinforcement graft: a novel technique for lateral crus reinforcement in rhinoplasty. Aesthet Surg J 34(3):383–393

29.

Daniel RK, Palhazi P, Gerbault O, Kosins AM (2014) Rhinoplasty: the lateral crura-alar ring. Aesthet Surg J 34(4):526–537

30.

Neu BR (1996) Suture correction of nasal tip cartilage concavities. Plast Reconstr Surg 98(6):971–979

31.

Ghavami A, Janis JE, Acikel C, Rohrich RJ (2008) Tip shaping in primary rhinoplasty: an algorithmic approach. Plast Reconstr Surg 122:1229–1241

32.

Rohrich RJ, Tabbal GN, Kurkjian TJ, Ahmad J (2014) Adjusting rotation of the nasal tip. In: Rohrich RJ, Adams WP Jr, Ahmad J (eds) Dallas rhinoplasty: nasal surgery by the masters, 3rd edn. CRC Press, London, pp 529–556
Ethics declarations
Conflict of interest
The authors declared no potential conflicts of interest with respect to the research, authorship, and publication of this article.
Ethical Approval
Ethics committee approval was obtained for this study, which received decision number 1615 dated December 21, 2018.
Informed Consent
Informed consent was obtained from all patients.
Additional information
Publisher's Note
Springer Nature remains neutral with regard to jurisdictional claims in published maps and institutional affiliations.
Electronic supplementary material
Below is the link to the electronic supplementary material.
Supplementary material 1 (MOV 111850 kb)
About this article
Cite this article
Şeneldir, S., Kırgezen, T. Vertical Alar Folding (VAF): A Useful Technique for Correction of Long and Concave Lateral Crura in Rhinoplasty. Aesth Plast Surg 43, 1269–1278 (2019) doi:10.1007/s00266-019-01460-z
Received:

Accepted:

Published:

Issue Date:
Keywords
Vertical alar folding

Rhinoplasty

Nasal tip

Lateral crura

Tip plasty

Dome division