Abstract
In breast augmentation surgery, many techniques have been developed and advocated to achieve the best possible results in incision planning. The standard dimensions on which most algorithms are based are width, height and the projection of the silicone gel-filled implants. The ARC is introduced as a new dimension instead of the currently used anatomical silicone gel-filled implants parameters. The algorithm presented in this article is based on the amount of breast parenchyma (P) and the ARC of an anatomical silicone gel-filled implant to obtain an exact positioning of the incision at the new inframammary fold. A patient case is presented to demonstrate the use of the algorithm. To date, this technique has been used in over 1200 patients with reproducible and consistent results.
Level of Evidence IV
This journal requires that authors assign a level of evidence to each article. For a full description of these Evidence-Based Medicine ratings, please refer to the Table of Contents or the online Instructions to Authors www.springer.com/00266.
This is a preview of subscription content, log in to check access.
Access options
Buy single article
Instant unlimited access to the full article PDF.
US$ 39.95
Price includes VAT for USA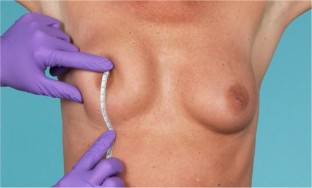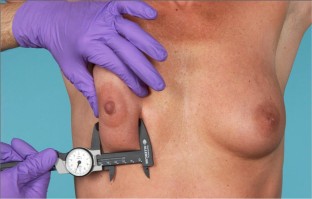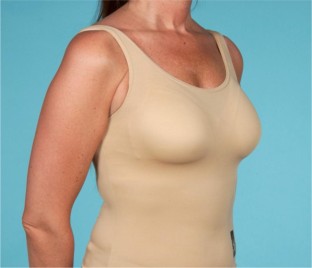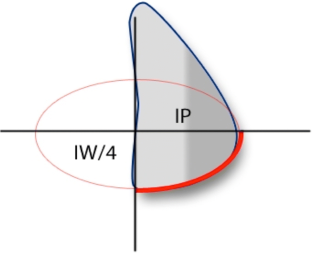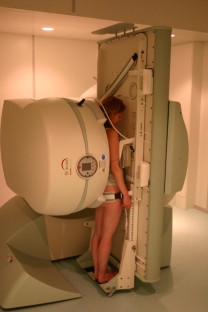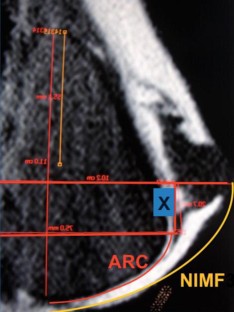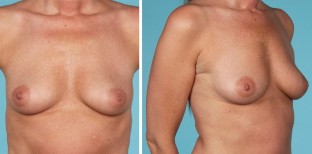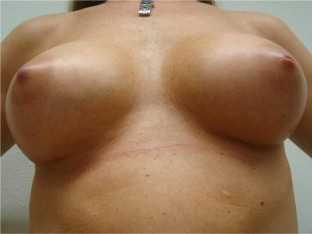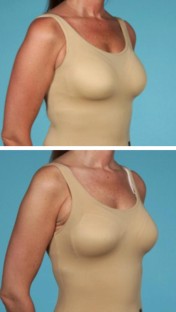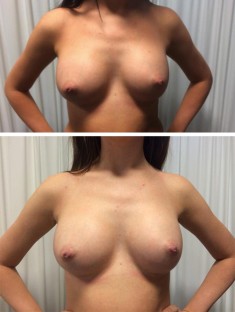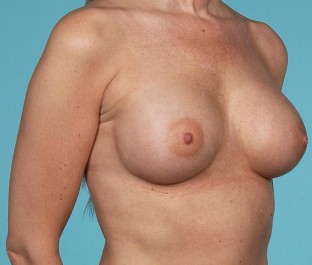 References
1.

Spear SL, Bulan EJ, Venturi ML (2006) Breast augmentation. Plast Reconstr Surg 118:188S

2.

Cronin TD, Gerow RM (1964) Augmentation mammaplasty: a new 'natural feel' prosthesis. In: Translations of the third international congress of plastic surgery. Excerpta Medica, Amsterdam, pp 41–49.

3.

Tebbets J (1984) Transaxillary subpectoral augmentation mammoplasty: follow-up and refinements. Plast Reconstr Surg 74:636–649

4.

Hendricks H (2007) Complete submuscular breast augmentation: 650 cases managed using an alternative surgical technique. Aesth Plast Surg 31:147–153

5.

Dempsey WC, Latham WD (1968) Subpectoral implants in augmentation mammaplasty: a preliminary report. Plast Reconstr Surg 42:515–521

6.

Regnault P (1977) Partially submuscular breast augmentation. Plast Reconstr Surg 59:72–76

7.

Candiani P, Campiglio GL (1997) Augmentation mammaplasty: personal evolution of the concepts looking for an ideal technique. Aesth Plast Surg 21:417–423

8.

Tebbetts JB (2001) Dual-plane breast augmentation: optimizing implant- soft tissue relationship in a wide range of breast types. Plast Reconstr Surg 107:1255–1272

9.

Bosch G, Jacobo O (2002) The double pocket technique: aesthetic breast augmentation. Aesth Plast Surg 26:461–464

10.

Khan UD (2007) Muscle splitting breast augmentation: a new pocket in a different plane. Aesth Plast Surg 31:553–558

11.

Stumpfle RL (2012) Transaxillary muscle-splitting breast augmentation. Experience with 160 cases. Aesth Plast Surg 36:343–348

12.

Graf RM, Bernardes A, Rippel R, Araujo LRR, Damasio RCC, Auersvald A (2004) Subfascial breast implant: a new procedure. Plast Reconstr Surg 111:904–908

13.

Sampaio Goes JC, Landecker A (2003) Optimizing outcomes in breast augmentation: seven years experience with the subfascial plane. Aesth Plast Surg 27:178–184

14.

Siclovan HR, Jamal AJ (2008) Advantages and outcomes in subfascial breast augmentation: a two-year review of experience. Aesth Plast Surg 32:426–431

15.

Tebbetts JB (2002) Breast implant selection based on patient tissue characteristics and dynamics: the TEPID approach. Plast Reconstr Surg 190:1396–1409

16.

Takayanagi S, Nakagawa R, Sugimoto Y (2004) Augmentation mammaplasty: Where should the implant be placed? Aesth Plast Surg 28:83–88

17.

Stan C (2009) The bio dimensional planning system in multiplane breast augmentation. In: Proceedings of the 5th international aesthetic symposium, Stockholm, June 11–13

18.

Heden P (2009) Anatomical form stable implants. Breast augmentation, preoperative marking, implant selection and surgical technique. In: Proceedings of the 5th international Stockholm, June 11–13

19.

Tebbetts JB, Adams WP (2005) Five critical decisions in breast augmentation using five measurements in five minutes: the high five decision support process. Plast Reconstr Surg 116:2005–2016

20.

Nipshagen MD, Beekman WH, Esmé DL, de Becker J (2007) Anatomically shaped breast prosthesis in vivo: a change of dimension? Aesth Plast Surg 31:540–543

21.

Spear SL (2006) Breast augmentation. Plast Reconstr Surg 118:197S–198S

22.

Maxwell GP, Scheflan M, Spear S, Nava MB, Heden P (2014) Benefits and limitations of macrotextured breast implants and consensus recommendations for optimizing their effectiveness. Aesth Surg J 34(6):876–881

23.

Mateu LP, Chamorro Hernandez JJ (1996) Partial myotomy of the pectoralis major in submuscular breast implants. Aesth Plast Surg 22:228–230

24.

Baxter RA (2005) Subfascial breast augmentation: theme and variations. Aesth Surg J 25:447–453

25.

Baxter RA (2011) Update on the split-muscle technique for breast augmentation: prevention and correction of animation distortion and double-bubble deformity. Aesth Plast Surg 35:426–429

26.

Spear SL, Schwarz J, Dayan JH, Clemens MW (2009) Outcome Assessment of breast distortion following submuscular breast augmentation. Aesth Plast Surg 33:44–48

27.

Ramirez OM (2002) Dual plane breast augmentation: avoiding pectoralis minor displacement. Plast Reconstr Surg 110(4):1198

28.

Spear SL, Bogue DP, Thomassen JM (2006) Synmastia after breast augmentation. Plast Reconstr Surg 118:168S–171S
Ethics declarations
Conflict of interest
The authors declare that they have no conflicts of interest to disclose.
Ethical Approval
All procedures performed in studies involving human participants were in accordance with the ethical standards of the institutional and/or national research committee and with the 1964 Helsinki Declaration and its later amendments or comparable ethical standards.
Human and Animal Rights
This article does contain studies with human participants.
Additional information
Publisher's Note
Springer Nature remains neutral with regard to jurisdictional claims in published maps and institutional affiliations.
About this article
Cite this article
Beekman, W.H., Beekman, V.K. The Breast Implant ARC: An Algorithm for Determining the Position of the IMF in Breast Augmentation Planning. Aesth Plast Surg 44, 16–23 (2020). https://doi.org/10.1007/s00266-019-01446-x
Received:

Accepted:

Published:

Issue Date:
Keywords
The ARC

Determination IMF

New algorithm

Consistent results

Reproducible results