Abstract
Background
Breast hypertrophy, generally found in association with ptosis, is a common problem in postadolescent women. Beyond the psychological burden of excessively heavy, droopy breasts, physical symptoms compound the condition, with neck, shoulder and back pain. Reduction mammaplasty is one of the most common cosmetic operations, especially to improve patient's musculoskeletal symptoms, with proven benefits in patient satisfaction and self-esteem postoperatively. Multiple techniques exist for breast reduction, with no clear evidence of benefit of one over another.
Methods
We review the senior author's experience in using a superolateral pedicle for breast reduction in 726 patients over the past 40 years. Over the past 10 years, the technique has also been adapted for simultaneous augmentation–mastopexy, especially in post-bariatric surgery patients. Benefits include recruitment of lateral breast tissue to fill the upper pole and correct axillary fullness. The technique has the advantages of ease of execution and a low complication rate.
Results
Complete data were available for 397 patients. Resection weights varied from 380 to 1248 g, and mean sternal notch–nipple distance was 25.3 cm. Mean follow-up was 22 months. Complications were uncommon: four cases of partial nipple-areola complex loss, dehiscence in 14 patients, three hematomas and seven cases of superficial surgical site infection. Nipple sensitivity was decreased in eight patients, and three patients were unable to breastfeed following surgery. Revision surgery was requested by 14 patients.
Conclusions
Breast reduction using the superolateral dermoglandular flap is easy to execute, versatile, safe and effective, preserving physiological functions, and is an excellent option when treating patients with medium-to-large breasts.
Level of Evidence IV
This journal requires that authors assign a level of evidence to each article. For a full description of these Evidence-Based Medicine ratings, please refer to the Table of Contents or the online Instructions to Authors www.springer.com/00266.
This is a preview of subscription content, log in to check access.
Access options
Buy single article
Instant unlimited access to the full article PDF.
US$ 39.95
Price includes VAT for USA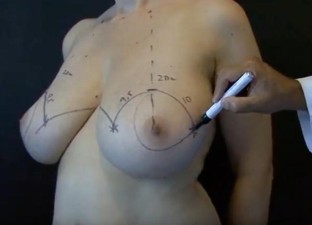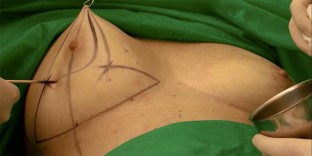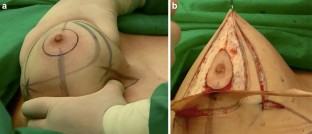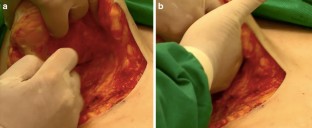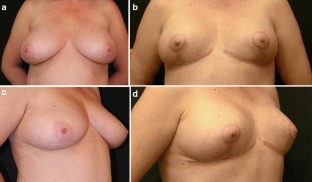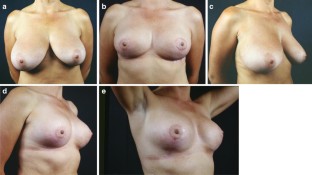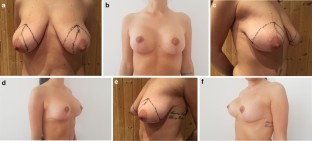 References
1.

International Society of Aesthetic Plastic Surgery (2016). https://www.isaps.org/wp-content/uploads/2017/10/GlobalStatistics.WorldWide.Summary2016s-1.pdf. Accessed June 8, 2018

2.

Brazilian Society of Plastic Surgery (2017). http://www2.cirurgiaplastica.org.br/2017/10/27/estetica-procura-por-procedimentos-nao-cirurgicos-aumenta-390/. Accessed June 8, 2018

3.

Pitanguy I (1967) Surgical treatment of breast hypertrophy. Br J Plast Surg 20:78–85

4.

McKissock PK (1972) Reduction mammaplasty with a vertical dermal flap. Plast Reconstr Surg 49:245–252

5.

Strömbeck JD (1960) Mammaplasty: report of a new technique based on the two pedicle procedure. Br J Plast Surg 13:79–80

6.

Pitanguy I (1962) Une nouvelle technique de plastie mamaire. Étude de 245 cas consecutifs et presentation dune technique personelle. Ann Chir Plast 7:199–208

7.

Letterman G, Schurter M (1980) The effects of mammary hypertrophy on skeletal system. Ann Plast Surg 5:425–431

8.

Gonzalez F, Walton RL, Shafer B, Borah GL (1993) Reduction mammaplasty improves symptoms of macromastia. Plast Reconstr Surg 91:1270–1276

9.

Bruhlmann Y, Tschopp H (1998) Breast reduction improves symptoms of macromastia and has a long-lasting effect. Ann Plast Surg 41:240–245

10.

Blomqvist L, Eriksson A, Brandberg Y (2000) Reduction mammaplasty provides long-term improvement in health status and quality of life. Plast Reconstr Surg 106:991–997

11.

Ribeiro L (1975) A new technique for reduction mammaplasty. Plast Reconstr Surg 55:330–334

12.

Mofid MM, Dellon AL, Elias JJ et al (2002) Quantitation of breast sensibility following reduction mammaplasty: a comparison of inferior and medial pedicle techniques. Plast Reconstr Surg 109:2283–2288

13.

Wechselberger G, Stoss S, Schoeller T et al (2001) An analysis of breast sensation following inferior pedicle mammaplasty and the effect of the volume of the resected tissue. Aesthet Plast Surg 25:443–446

14.

Hall-Findlay EJ (1999) A simplified vertical reduction mammaplasty: shortening the learning curve. Plast Reconstr Surg 104:748–759

15.

Blondeel PN, Hamdi M, Sijpe KAV (2003) The latero-central glandular pedicle technique for breast reduction. Br J Plast Surg 56:348–359

16.

Mallucci P, Branford OA (2014) Population analysis of the perfect breast: a morphometric analysis. Plast Reconstr Surg 134:436–447

17.

Ariê G (1957) Una nueva técnica de mastoplastia. Rev Latinoam Cir Plast 3:23–31

18.

Uebel CO (1978) Breast reduction with the lateral dermo-glandular rotation flap. In: Annals of the XVth Brazilian congress of plastic surgery, São Paulo, SP

19.

Uebel CO (2011) Breast reduction using the supralateral dermoglandular flap. IPRAS J 3:16–17

20.

Uebel CO (2013) Combined abdominal contouring and mastopexy. In: Rubin JP, Jewell ML, Richter DF, Uebel CO (eds) Body contouring and liposuction. Elsevier Saunders, Philadelphia

21.

Pitanguy I (1981) Reduction mammoplasty. Aesthetic plastic surgery of the head and body. Springer, Berlin

22.

Silveira Netto E (1976) In: Ely JF (ed) 13 Congresso Bras Cir Plástica. Mastoplastia redutora sectorial com pediculo areolar interno, pp 13–15. Porto Alegre

23.

Pitanguy I (1962) A new technic of plastic surgery of the breast. Study of 245 consecutive cases and presentation of a personal technic. Ann Chir Plast 7:199–208

24.

Marchac D, de Olarte G (1982) Reduction mammaplasty and correction of ptosis with a short inframammary scar. Plast Reconstr Surg 69:45–55

25.

Regnault P (1980) Breast reduction: B technique. Plast Reconstr Surg 65:840–845

26.

Bozola AR (1990) Breast reduction with short L scar. Plast Reconstr Surg 85:728–738

27.

Chiari A Jr (2001) The L short-scar mammaplasty: 12 years later. Plast Reconstr Surg 108:489–495

28.

Lassus C (1987) Breast reduction: evolution of a technique—a single vertical scar. Aesthetic Plast Surg 11:107–112

29.

Lejour M (1994) Vertical mammaplasty and liposuction of the breast. Plast Reconstr Surg 94:100–114

30.

Benelli L (1990) A new periareolar mammaplasty: the ''round block'' technique. Aesthet Plast Surg 14:93–100

31.

Peixoto G (1980) Reduction mammaplasty: a personal technique. Plast Reconstr Surg 65:217–226

32.

Goes JC (1996) Periareolar mammaplasty: double skin technique with application of polyglactine or mixed mesh. Plast Reconstr Surg 97:959–968

33.

Graf R, Reis de Araujo LR, Rippel R et al (2003) Reduction mammaplasty and mastopexy using the vertical scar and thoracic wall flap technique. Aesthet Plast Surg 27:6–12

34.

Skoog T (1963) A technique of breast reduction; transposition of the nipple on a cutaneous vascular pedicle. Acta Chir Scand 126:453–465

35.

Strauch B, Elkowitz M, Baum T et al (2005) Superolateral pedicle for breast surgery: an operation for all reasons. Plast Reconstr Surg 115:1269–1277

36.

Blomqvist G, Alberius P (1990) Nipple-areola transposition by the superolateral-rotation pedicle technique in reduction mammaplasty: surgical description. Ann Plast Surg 24:475–480

37.

Cárdenas-Camarena L, Vergara R (2001) Reduction mammaplasty with superior-lateral dermoglandular pedicle: another alternative. Plast Reconstr Surg 107:693–699

38.

Cárdenas-Camarena L (2009) Reduction mammoplasty with superolateral dermoglandular pedicle: details of 15 years of experience. Ann Plast Surg 63:255–261

39.

Cooper AP (1840) On the anatomy of the breast. Longman, Orme, Green, Brown and Longmans, London

40.

Marcus GH (1934) Untersuchungen uber die arterielle Blutversorgung der Mamilla. Arc Klin Chir 179:361–369

41.

Strombeck JO (1964) Breast reconstruction. I. Reduction mammaplasty. Mod Trends Plast Surg 16:237–255

42.

Skoog T (1974) Plastic surgery. New methods and refinements. Almqvist and Wiksell, Stockholm

43.

O'Dey DM, Prescher A, Pallua N (2007) Vascular reliability of nipple-areola complex–bearing pedicles: an anatomical microdissection study. Plast Reconstr Surg 119:1167–1177

44.

Mehrdad MM, Dellon AL, Elias JJ, Nahabedian MY (2002) Quantitation of breast sensibility following reduction mammaplasty: a comparison of inferior and medial pedicle techniques. Plast Reconstr Surg 109:2283–2288

45.

Hamdi M, Greuse M, DeMey A, Webster MHC (2001) A prospective quantitative comparison of breast sensation after superior and inferior pedicle mammaplasty. Br J Plast Surg 54:39

46.

Cruz NI, Korchin L (2007) Lactational performance after breast reduction with different pedicles. Plast Reconstr Surg 120:35–40

47.

Hamdi M, Blondeel P, Van de Sijpe K et al (2003) Evaluation of nipple-areola complex sensitivity after the latero-central glandular pedicle technique in breast reduction. Br J Plast Surg 56:360–364

48.

Hefter W, Lindholm P, Elvenes OP (2003) Lactation and breast-feeding ability following lateral pedicle mammaplasty. Br J Plast Surg 56:746–751

49.

Souza A, Saltz R (2000) The Common Principles of Effective Breast Reduction Techniques. Aesthetic Surg J 20:213–217

50.

Schlenz I, Kuzbari R, Gruber H et al (2000) The sensitivity of the nipple-areola complex: an anatomic study. Plast Reconstr Surg 105:905–909

51.

Schulz S, Zeiderman MR, Gunn S et al (2017) Safe plastic surgery of the breast II: saving nipple sensation. Eplasty 17:303–312

52.

Muslu U, Demirez DS, Uslu A, Korkmaz MA, Filliz MB (2018) Comparison of sensory changes following superomedial and inferior pedicle breast reduction. Aesthet Plast Surg 42:38–46

53.

Greuse M, Hamdi M, DeMey A (2001) Breast sensitivity after vertical mammaplasty. Plast Reconstr Surg 107:970–976

54.

Schlenz I, Rigel S, Schemper M (2005) Alteration of nipple and areola sensitivity by reduction mammaplasty: a prospective comparison of five techniques. Plast Reconstr Surg 115:743–751

55.

Wuringer E, Mader N, Posch E et al (1998) Nerve and vessel supplying ligamentous suspension of the mammary gland. Plast Reconstr Surg 101:1486–1493

56.

Harbo SO, Jorum E, Roald HE (2003) Reduction mammaplasty: a prospective study of symptom relief and alteration of skin sensibility. Plast Reconstr Surg 111:103–110

57.

Martinovic ME, Blanchet NP (2017) BFACE: a framework for evaluating breast aesthetics. Plast Reconstr Surg 140:287–295
Ethics declarations
Conflict of interest
The authors have no conflicts of interest, commercial associations or financial interests to disclose.
Ethics Statement
All procedures performed in studies involving human participants were in accordance with the ethical standards of the institutional research committee and with the 1964 Helsinki declaration and its later amendments or comparable ethical standards.
Electronic supplementary material
Below is the link to the electronic supplementary material.
Supplementary material 1 (MP4 235475 kb)
About this article
Cite this article
Uebel, C.O., Piccinini, P.S., Ramos, R.F.M. et al. Breast Reduction: The Superolateral Dermoglandular Pedicle Revisited. Aesth Plast Surg 43, 36–45 (2019) doi:10.1007/s00266-018-1225-8
Received:

Accepted:

Published:

Issue Date:
Keywords
Breast reduction

Mammaplasty

Pedicle

Vascular

Blood supply

Breast surgery

Nipple-areola complex

Flap