Abstract
Introduction
The use of neuromodulators has grown substantially in our society, particularly in the temporary treatment of brow ptosis. This study revisits the use of the transpalpebral browpexy for upper face and brow rejuvenation in the context of what has been learned from neuromodulators.
Methods
A retrospective review of 97 subjects was conducted who had transpalpebral browpexy performed for lateral brow ptosis. Qualitative degree of brow elevation after the procedure was determined by examining before and after photographs for each patient.
Results
Out of 97 patients, 95 (98%) experienced aesthetically optimal brow elevation for their respective gender. Two patients required surgical revision, both of which experienced extenuating circumstances. Two patients experienced edema and one patient experienced periodic eruptions of chalazia along the upper eyelid.
Conclusion
Transpalpebral browpexy is a reliable, minimally invasive surgical procedure that effectively emulates the results of neuromodulator injections for a much longer period of time. While it cannot replace traditional brow-lifting techniques, transpalpebral browpexy does have solid indications with proven long-lasting results, which can be effective in a significant portion of patients with brow ptosis.
Level of Evidence IV
This journal requires that authors assign a level of evidence to each article. For a full description of these Evidence-Based Medicine ratings, please refer to the Table of Contents or the online Instructions to Authors www.springer.com/00266.
This is a preview of subscription content, log in to check access.
Access options
Buy single article
Instant unlimited access to the full article PDF.
US$ 39.95
Price includes VAT for USA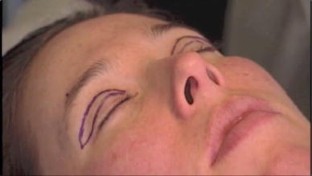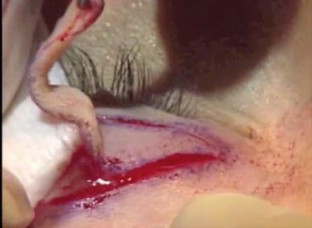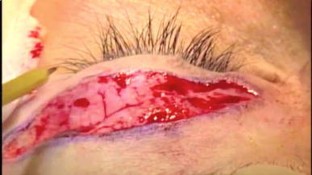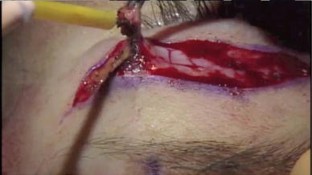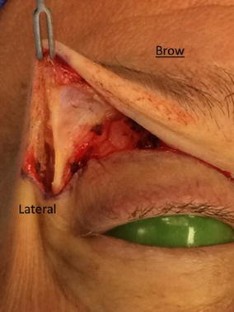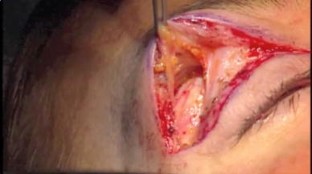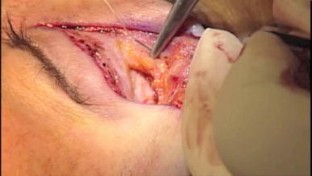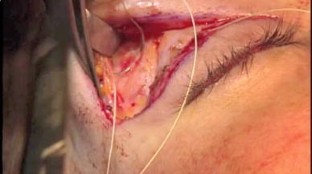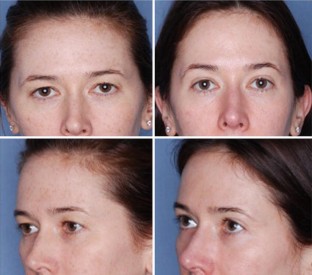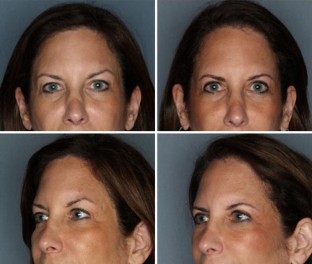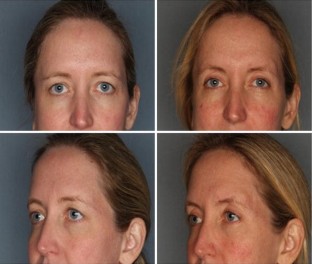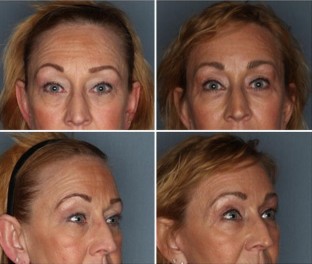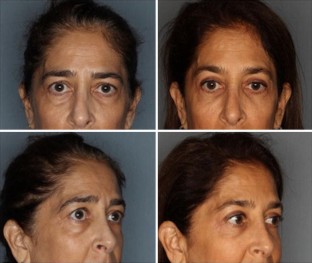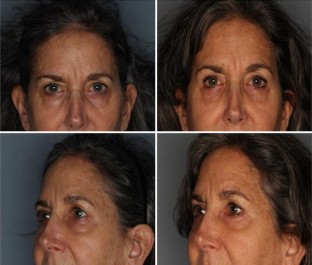 References
1.

Tower RN, Dailey RA (2004) Endoscopic pretrichial brow lift: surgical indications, technique and outcomes. Ophthal Plast Reconstr Surg 20(4):268–273

2.

Yaremchuk MJ, O'Sullivan N, Benslimane F (2007) Reversing brow lifts. Aesthet Surg J 27(4):367–375

3.

Van Den Bosch W, Leenders I, Mukler P (1999) Topographic anatomy of the eyelids and the effects of sex and age. Br J Ophthamol 83:348–352

4.

Matrox E, Garcia JA, Yaremchuk MJ (2009) Changes in eyebrow shape and position with aging. Plast Reconstr Surg 124(4):1296–1301

5.

Lambros V (2007) Observations on periorbital and midface aging. Plast Reconstr Surg 120:1367–1376

6.

Ahn MS, Catten M, Maas CS (2000) Temporal brow lift using botulinum toxin A. Plast Reconstr Surg 105(3):1129–1135

8.

Sundaram H, Kiripolsky M (2013) Nonsurgical rejuvenation of the upper eyelid and brow. Clin Plast Surg 40(1):55–76

9.

Huilgol SC, Carruthers A, Carruthers JD (1999) Raising eyebrows with botulinum toxin. Dermatol Surg 25(5):373–375 (discussion 376)

10.

Westmore MG (1975) Facial cosmetics in conjunction with surgery. In: Course presented at the Aesthetic Plastic Surgery Society Meeting, Vancouver, British Columbia. May 1975

11.

Ellenbogen R (1983) Transcoronal eyebrow lift with concomitant upper blepharoplasty. Plast Reconstr Surg 71(4):490–499

12.

Gunter JP, Antrobus SD (1997) Aesthetic analysis of the eyebrows. Plast Reconstr Surg 99(7):1808–1816

13.

Matarasso A, Terino EO (1994) Forehead-brow rhytidoplasty: reassessing the goals. Plast Reconstr Surg 93(7):1378–1389

14.

Yalcinkaya E et al (2016) Aesthetic analysis of the ideal eyebrow shape and position. Eur Arch Otorhinolaryngol 273(2):305–310

15.

Freund RM, Nolan WB (1996) Correlation between brow lift outcomes and aesthetic ideals for eyebrow height and shape in females. Plast Reconstr Surg 97(7):1343–1348

16.

McCord CD, Doxanas MT (1990) Browplasty and browpexy: an adjunct to blepharoplasty. Plast Reconstr Surg 86(2):248–254

17.

Niechajev I (2004) Transpalpebral browpexy. Plast Reconstr Surg 113(7):2172–2180 (discussion 2181)

18.

La Passot R (1919) chururgie esthetique dew rides du visage. Presse Med 27:258

19.

Hunt HL (1926) Plastic surgery of the head, face, and neck. Lea & Febiger, Philadelphia

20.

Gonzalez-Ulloa M (1962) Facial wrinkles: integral elimination. Plast Reconstr Surg 29:658

21.

Paul MD (1989) The surgical management of upper eyelid hooding. Aesthetic Plast Surg 13:183

22.

Isse NG (1992) Endoscopic forehead lift. In: Presented at the annual metting of the Los Angeles County Society of Plastic Surgeons, Los Angeles, September 12, 1992

23.

Vasconez LO (1992) The use of the endoscope in brow lifiting. In: A video presentation at the annual meeting of the American Society of Plastic and Reconstructive Surgeons, Washington, DC, 1992

24.

Ramirez OM (2001) Anchor subperiosteal forehead lift: from open to endoscopic. Plast Reconstr Surg 107(3):868–871

25.

Friedland JA, Jacobsen WM, TerKonda S (1996) Safety and efficacy of combined upper blepharoplasties and open coronal browlift: a consecutive series of 600 patients. Aesthetic Plast Surg 20(6):453–462

26.

Chiu ES, Baker DC (2003) Endoscopic brow lift: a retrospective review of 628 consecutive cases over 5 years. Plast Reconstr Surg 112:628

27.

Butz DR, Gill KK, Randle J, Kampf N, Few JW (2016) Facial aesthetic surgery: the safe use of oral sedation in an office-based facility. Aesthet Surg J 36(2):127–131

28.

Few J Jr, Marco E (2012) Blepharoplasty. Plast Surg, 3rd ed., vol. 2. Edinburgh: Saunders, pp 108–137

29.

Odunze M, Rosenberg DS, Few JW (2008) Periorbital aging and ethnic considerations: a focus on the lateral canthal complex. Plast Reconstr Surg 121(3):1002–1008
Acknowledgements
The authors declare that they have no conflicts of interest to disclose. We would like to thank our summer intern, Shikhar Singh Tomur, for maintaining the research database and helping with data collection for this project.
Electronic supplementary material
Below is the link to the electronic supplementary material.
Supplementary material 1 (MP4 134,674 kb)
About this article
Cite this article
Ogilvie, M.P., Few, J.W., Semersky, A.J. et al. What Neurotoxins Have Taught Us About the Brow: The Reintroduction and Review of the Transpalpebral Browpexy. Aesth Plast Surg 42, 126–136 (2018). https://doi.org/10.1007/s00266-017-0988-7
Received:

Accepted:

Published:

Issue Date:
Keywords
Transpalpebral browpexy

Browpexy

Brow lift

Coronal brow lift

Pretrichial brow lift

Open brow lift

Endoscopic brow lift

Neurotoxin

Neuromodulator