Abstract
Having performed numerous varieties of SMAS advancement including: plication, resection, flap elevation with variable anterior deep dissection, the author has developed a direct approach to the mobile anterior SMAS which allows correction of midface descent, modest elevation of the modiolus, jawline correction, and, where indicated, direct access for buccal fat pad resection.
Level of Evidence V
This journal requires that authors assign a level of evidence to each article. For a full description of these Evidence-Based Medicine ratings, please refer to the Table of Contents or the online Instructions to Authors www.springer.com/00266.
This is a preview of subscription content, log in to check access.
Access options
Buy single article
Instant unlimited access to the full article PDF.
US$ 39.95
Price includes VAT for USA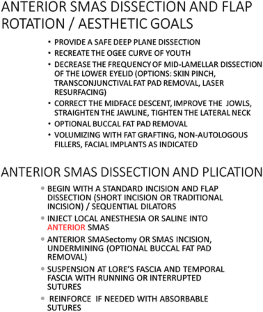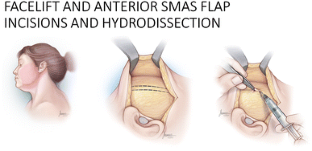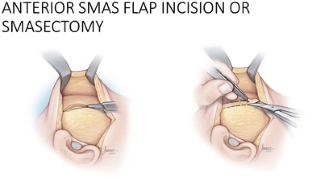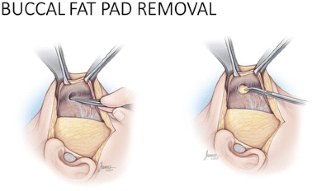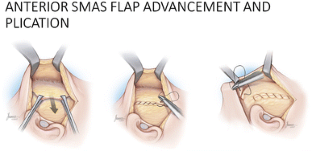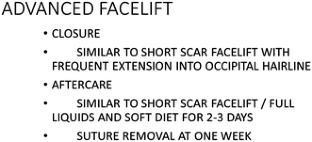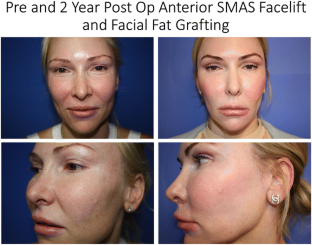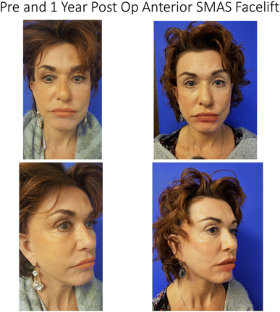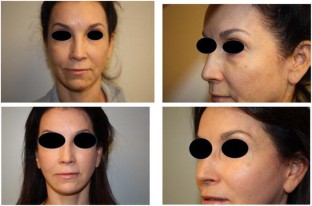 References
1.

Mitz V, Peyronie M (1976) The superficial aponeurotic system (SMAS) in the parotid and cheek area. Plast Reconstr Surg 58:80–88

2.

Skoog TG (1974) The aging face. Plastic surgery: new methods and refinements. WB Saunders Co, Philadelphia, pp 300–330

3.

Baker DC (2001) Minimal incision rhytidectomy (short scar face lift) with lateral SMASectomy. Aesthet Surg J 21:68–79

4.

Hamra ST (1990) The deep-plane rhytidectomy. Plast Reconstr Surg 861:53–61

5.

Barton FE Jr, Hunt J (2003) The high-superficial musculoaponeurotic system technique in facial rejuvenation: an update. Plast Reconstr Surg 112:1910–1917

6.

Stuzin JM, Baker TJ, Gordon HL, Baker TM (1995) Extended SMAS dissection as an approach to midface rejuvenation. Clin Plast Surg 22:295–311

7.

Marten TJ (2008) High SMAS facelift: combined single flap lifting of the jawline, cheek, and midface. Clin Plast Surg 35:569–603

8.

Labbé D, Franco RG, Nicolas J (2006) Platysma suspension and platysmaplasty during neck lift: anatomical study and analysis of 30 cases. Plast Reconstr Surg 117:2001–2007

9.

Tonnard P, Verpaele A, Monstrey S, Van Landuyt K, Blondeel P, Hamdi M, Matton GA (2002) Minimal access cranial suspension lift: a modified S-lift. Plast Reconstr Surg 1096:2074–2086

10.

Robbins LB, Brothers DB, Marshall DM (1995) Anterior SMAS plication for the treatment of prominent nasomandibular folds and restoration of normal cheek contour. Plast Reconstr Surg 96:1279–1287

11.

Little JW (2000) Three-dimensional rejuvenation of the midface: volumetric resculpture by malar imbrication. Plas Reconstr Surg 105:267–285

12.

Aston SJ, Walden JL (2009) Facelift with SMAS techniques and FAME. In: Aston SJ, Steinbrech DS, Walden JL (eds) Aesthetic plastic surgery. Saunders Elsevier, London, pp 73–86

13.

Ramirez OM, Maillard GF, Musolas A (1991) The extended subperiosteal face lift: a definitive soft-tissue remodeling for facial rejuvenation. Plast Reconstr Surg 88:227–236

14.

Mendelson BC (2009) Facelift anatomy, SMAS, retaining ligaments, and facial spaces. In: Aston SJ, Steinbrech DS, Walden JL (eds) Aesthetic plastic surgery. Saunders Elsevier, London, pp 53–72

15.

Jacono AA, Parikh SS (2011) The minimal access deep plane extended vertical facelift. Aesthet Surg J 318:874–890

16.

Lambros V (2007) Observations on periorbital and midface aging. Plast Reconstr Surg 1205:13671376

17.

Moss CJ, Mendelson BC, Taylor GI (2000) Surgical anatomy of the ligamentous attachments in the temple and periorbital regions. Plast Reconstr Surg 105(4):1475–1490
Electronic supplementary material
Below is the link to the electronic supplementary material.
Supplementary material 1 (MOV 23870 kb)
About this article
Cite this article
Paul, M.D. The Anterior SMAS Approach for Facelifting and for Buccal Fat Pad Removal. Aesth Plast Surg 41, 1100–1105 (2017). https://doi.org/10.1007/s00266-017-0921-0
Received:

Accepted:

Published:

Issue Date:
Keywords
SMAS face lifting

Midface lifting

Buccal fat pad removal