Abstract
Background
The prominent nasolabial fold is a distinct feature of the aging midface. As minimally invasive procedures have become mainstream, chemodenervation is a preferred method for treating dynamic facial rhytids. We therefore sought to identify relevant nasolabial fold and midfacial muscular anatomy to determine the ideal location of neuromodulation to improve the aesthetics of the midface and nasolabial fold without altering the upper lip and smile.
Methods
Twelve hemifacial cadaveric dissections were performed to identify midface muscle origin, insertion, width, vector of pull, and neighboring structures. Attention was focused on the levator labii superioris alaeque nasi (LLSAN), levator labii superioris (LLS), nasalis, and orbicularis oculi. Measurements were obtained based on surface landmarks including the medial canthus for future neurotoxin injection.
Results
The LLSAN inserts into the medial nasolabial fold and alar base, while the LLS inserts into the middle third of the nasolabial fold. The broadest portion of the superior LLSAN was on average 8.4 mm inferior and 4.6 mm medial to the medial canthus. A separate muscle obliquely oriented between the orbicularis oculi and LLSAN was identified and found to insert into the malar fat pad. This "malar levator" was present in all specimens and has implications on medial periorbital rhytids and the tear trough deformity.
Conclusion
This study further defines midfacial and nasolabial fold muscular anatomy and provides new insights into the use of neuromodulators for these areas without affecting upper lip position. The malar levator muscle appears to be a separate midfacial muscle with independent action.
Level of Evidence V
This journal requires that authors assign a level of evidence to each article. For a full description of these Evidence-Based Medicine ratings, please refer to the Table of Contents or the online Instructions to Authors www.springer.com/00266.
This is a preview of subscription content, log in to check access.
Access options
Buy single article
Instant unlimited access to the full article PDF.
US$ 39.95
Price includes VAT for USA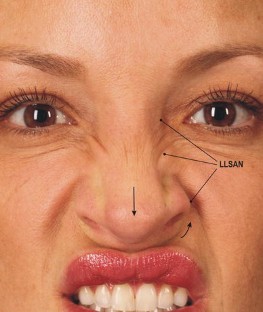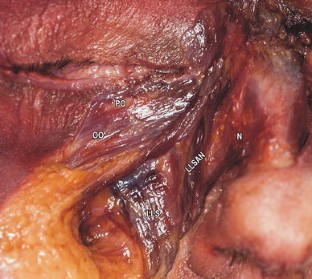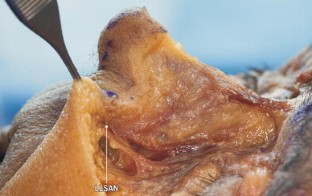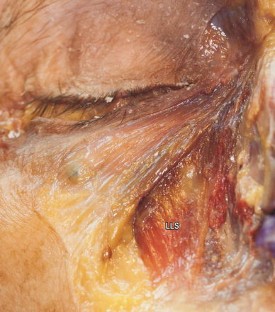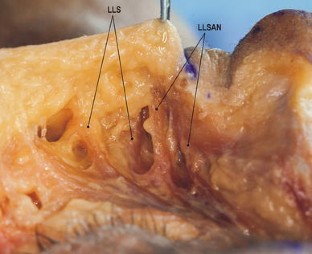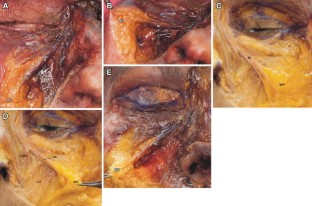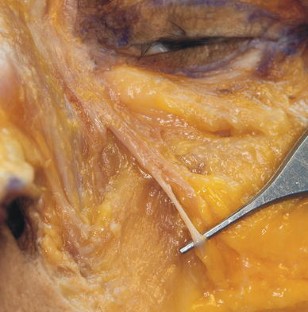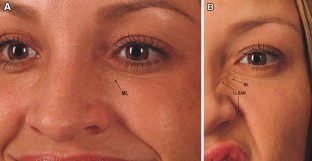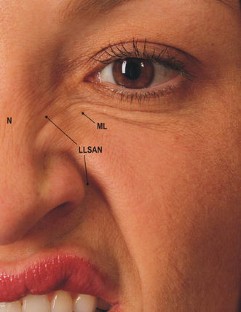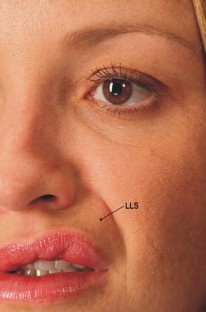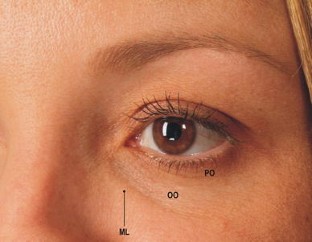 References
1.

Hamra ST (1990) The deep-plane rhytidectomy. Plast Reconstr Surg 86:53–61 discussion 62–53

2.

Riefkohl R (1985) The nasolabial fold lift. Ann Plast Surg 15:1–6

3.

Rubin LR, Mishriki Y, Lee G (1989) Anatomy of the nasolabial fold: the keystone of the smiling mechanism. Plast Reconstr Surg 83:1–10

4.

Pessa JE (1992) Improving the acute nasolabial angle and medial nasolabial fold by levator alae muscle resection. Ann Plast Surg 29:23–30

5.

American Society of Plastic Surgeons (2015) Plastic surgery statistics report. National Cosmetic Procedures

6.

Carruthers J, Fagien S, Matarasso SL, Botox Consensus G (2004) Consensus recommendations on the use of botulinum toxin type a in facial aesthetics. Plast Reconstr Surg 114:1S–22S

7.

Goldman A, Wollina U (2010) Elevation of the corner of the mouth using botulinum toxin type a. J Cutan Aesthet Surg 3:145–150

8.

Kane MA (2005) The functional anatomy of the lower face as it applies to rejuvenation via chemodenervation. Facial Plast Surg FPS 21:55–64

9.

Sykes JM, Trevidic P, Suarez GA, Criollo-Lamilla G (2015) Newer understanding of specific anatomic targets in the aging face as applied to injectables: facial muscles-identifying optimal targets for neuromodulators. Plast Reconstr Surg 136:56S–61S

10.

Trevidic P, Sykes J, Criollo-Lamilla G (2015) Anatomy of the lower face and botulinum toxin injections. Plast Reconstr Surg 136:84S–91S

11.

Rubin LR (1974) The anatomy of a smile: its importance in the treatment of facial paralysis. Plast Reconstr Surg 53:384–387

12.

Patel D, Megtha F, Trivedi R, Thakkar S, Suthar J (2013) Botulinum toxin and gummy smile—a review. IOSR J Dent Med Sci 4:01–05

13.

Hwang WS, Hur MS, Hu KS et al (2009) Surface anatomy of the lip elevator muscles for the treatment of gummy smile using botulinum toxin. Angle Orthod 79:70–77

14.

Sucupira E, Abramovitz A (2012) A simplified method for smile enhancement: botulinum toxin injection for gummy smile. Plast Reconstr Surg 130:726–728

15.

Barton FE Jr, Gyimesi IM (1997) Anatomy of the nasolabial fold. Plast Reconstr Surg 100:1276–1280

16.

Lassus C (2002) A surgical solution to the deep nasolabial fold. Plast Reconstr Surg 109:358–360 discussion 361–352

17.

Pessa JE, Brown F (1992) Independent effect of various facial mimetic muscles on the nasolabial fold. Aesthet Plast Surg 16:167–171

18.

Kane MA (2003) The effect of botulinum toxin injections on the nasolabial fold. Plast Reconstr Surg 112:66S–72S discussion 73S–74S

19.

Pessa JE, Zadoo VP, Adrian EK Jr, Yuan CH, Aydelotte J, Garza JR (1998) Variability of the midfacial muscles: analysis of 50 hemifacial cadaver dissections. Plast Reconstr Surg 102:1888–1893

20.

Haddock NT, Saadeh PB, Boutros S, Thorne CH (2009) The tear trough and lid/cheek junction: anatomy and implications for surgical correction. Plast Reconstr Surg 123:1332–1340 discussion 1341–1332
Electronic Supplementary Material
Below is the link to the electronic supplementary material.
Malar levator activation (MP4 41456 kb)
Malar levator activation (MP4 41456 kb)
About this article
Cite this article
Snider, C.C., Amalfi, A.N., Hutchinson, L.E. et al. New Insights into the Anatomy of the Midface Musculature and its Implications on the Nasolabial Fold. Aesth Plast Surg 41, 1083–1090 (2017). https://doi.org/10.1007/s00266-017-0889-9
Received:

Accepted:

Published:

Issue Date:
Keywords
Nasolabial fold

Tear trough

Gummy smile

Botox

Levator labii superioris alaeque nasi

Bunny lines