Abstract
Background
Ptosis of the earlobe is a common consequence of ageing, defined as an unappealingly large free caudal segment of over 5 mm. It is therefore important to consider reduction as a complement to rhytidectomy in selected patients. Moreover, facelifting operations can result in disproportionate or poorly positioned earlobes. Current earlobe-reducing techniques can leave a scar on the free lateral edge causing notching or involve complex pattern excisions with limited resection capability and the risk of deformities. The presented technique, on the other hand, is versatile and easy to use, as it follows general geometric principles.
Methods
Excision of the designed area results in an earlobe flap which can be rotated in the excision defect. This results in ideal scar locations, situated at the sub-antitragal groove and at the cheek junction. The technique is adjustable, to incorporate potential piercing holes.
Results
This technique takes approximately 15 minutes per earlobe to complete. The resulting earlobes have undisturbed free borders. No vascularization-related flap problems were noted.
Conclusions
This technique is a viable method for reducing the earlobe with minimally visible scars.
Level of evidence IV
This journal requires that authors assign a level of evidence to each article. For a full description of these Evidence-Based Medicine ratings, please refer to the Table of Contents or the online Instructions to Authors www.springer.com/00266.
This is a preview of subscription content, log in to check access.
Access options
Buy single article
Instant unlimited access to the full article PDF.
US$ 39.95
Price includes VAT for USA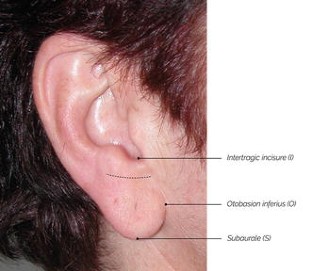 References
1.

Connell BF (2005) Correcting deformities of the aged earlobe. Aesthet Surg J 25(2):194–196

2.

Loeb R (1972) Earlobe tailoring during facial rhytidoplasties. Plast Reconstr Surg 49:485

3.

Mowlavi A, Meldrum DG, Wilhelmi BJ, Ghavami A, Zook EG (2003) The aesthetic earlobe: classification of lobule ptosis on the basis of a survey of North American Caucasians. Plast Reconstr Surg 112(1):266–272

4.

Azaria R, Adler N, Silfen R, Regev D, Hauben DJ (2003) Morphometry of the adult human earlobe: a study of 547 subjects and clinical application. Plast Reconstr Surg 111(7):2398–2402

5.

Mowlavi A, Meldrum DG, Wilhelmi BJ, Zook EG (2004) Incidence of earlobe ptosis and pseudoptosis in patients seeking facial rejuvenation surgery and effects of aging. Plast Reconstr Surg 113(2):712–717

6.

Mowlavi A, Meldrum DG, Wilhelmi BJ, Russell RC, Zook EG (2005) The "pixie" ear deformity following face lift surgery revisited. Plast Reconstr Surg 115(4):1165–1171

7.

Mowlavi A, Meldrum DG, Wilhelmi BJ, Zook EG (2004) Effect of face lift on earlobe ptosis and pseudoptosis. Plast Reconstr Surg 114(4):988–991

8.

Miller CC (1925) Cosmetic surgery: the correction of facial features and imperfections, 2nd edn. FA Davis, Philadelphia

9.

Guerrero-Santos J (1970) Correction of hypertrophy of the earlobe in leprosy. Proc R Soc 46:380

10.

Stark RB (1962) Plastic surgery. Hoeber Medical Division, Harper and Row, New York, p 256

11.

McCoy FJ (1973) Macrotia. In: Masters FW, Lewis JR (eds) Symposium on aesthetic surgery of the nose, ears and chin. C.V. Mosby, St. Louis, p 162

12.

Tipton JB (1980) A simple technique for the reduction of the earlobe. Plast Reconstr Surg 66(4):630–632

13.

Barsky AJ, Kahn S, Simon GF (1964) Principles and practice of plastic surgery, 2nd edn. McGraw-Hill Book Co., New York, pp 303–307

14.

Tanzer RC (1964) Congenital deformities of the auricle. In: Reconstructive plastic surgery. WB Saunders, Philadelphia, p 1084

15.

Enna CD, Delgado DD (1968) Surgical correction of common facial deformities due to leprosy. Plast Reconstr Surg 42:422

16.

Lewis JR Jr (1973) Atlas of aesthetic plastic surgery. Little Brown, Boston, p 196

17.

Eitner E (1920) Verkleinerung des OhrlS.ppchens. Wien Klin Wochenschr 39:1423

18.

Loeb R (1965) Correcao da hypertrofia da lobulo auricular. Rev Lat Am Chir Plast 9:186

19.

Lassus C (1982) Another technique for the reduction of the earlobe. Aesthetic Plast Surg 6:43

20.

Constant E (1979) Reduction of the hypertrophic earlobe. Plast Reconstr Surg 64:264
Ethics declarations
Conflict of interest
The authors declare that they have no conflict of interest.
Electronic supplementary material
Below is the link to the electronic supplementary material.
Video 1: Sub-Antitragal Groove Technique for Earlobe Reduction (MP4 76156 kb)
About this article
Cite this article
Van Putte, L., Colpaert, S.D.M. Earlobe Reduction with Minimally Visible Scars: The Sub-Antitragal Groove Technique. Aesth Plast Surg 41, 335–338 (2017) doi:10.1007/s00266-017-0799-x
Received:

Accepted:

Published:

Issue Date:
Keywords
Earlobe

Ear deformities

Acquired

Age effect

Rejuvenation

Rhytidectomy