Abstract
Objective
The maintenance of desired tip projection and rotation is an important goal in rhinoplasty. In this study, the effects of the columellar strut graft and septocolumellar sutures were evaluated in a follow-up period of 1 year.
Patients and Methods
In half of 44 patients, nasal tip was constructed with basic tip maneuvers and two septocolumellar sutures (Group-1, Suture Group), whereas in the remaining 22 patients, a columellar strut graft was added for tip support (Group-2, Suture + Graft Group). Standardized right profile images were taken preoperatively, 1 month postoperatively and 1 year postoperatively. Nasal tip projection was evaluated using Goode's method. For the evaluation of tip rotation, the nasolabial angle was measured. The results were statistically compared, and a p value lower than 0.05 was considered as significant.
Results
Between the postoperative first month to first year, the loss of tip projection was 3.8% in Group-1 and 3.5% in Group-2 which was statistically insignificant (p value 0.942). The loss of tip rotation was found as 4.6° (4.1%) in Group-1 and 4.6° (4.0%) in Group-2 which was also statistically insignificant (p value 0.979).
Conclusions
Considering the results of the study, in most of the primary cases, two septocolumellar sutures in conjunction with basic tip maneuvers are sufficient for positioning and stabilizing of the nasal tip, and a short and floating columellar strut graft does not have any affect in maintenance of the desired nasal tip rotation and projection.
Level of Evidence III
This journal requires that authors assign a level of evidence to each article. For a full description of these Evidence-Based Medicine ratings, please refer to the Table of Contents or the A3 online Instructions to Authors.www.springer.com/00266.
This is a preview of subscription content, log in to check access.
Access options
Buy single article
Instant unlimited access to the full article PDF.
US$ 39.95
Price includes VAT for USA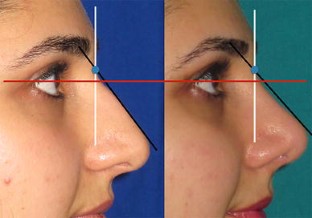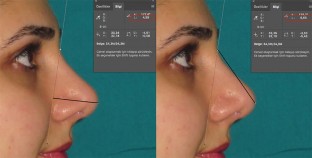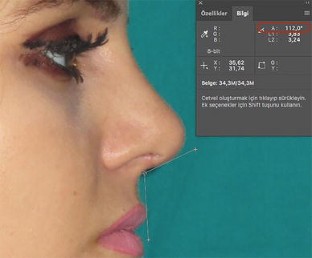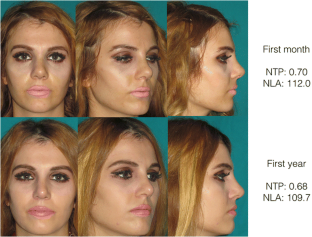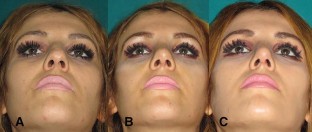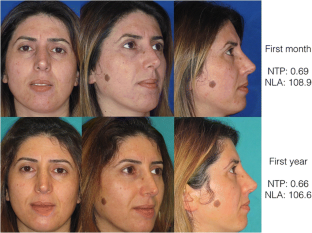 References
1.

Saijadian A, Guyuron B (2010) Primary rhinoplasty. Aesthet Surg J 30(4):527–539

2.

Gruber RP, Weintraub J, Pomerantz J (2008) Suture techniques for the nasal tip. Aesthet Surg J 28(1):92–100

3.

Tezel E, Ersoy B (2015) Tip-oriented closed rhinoplasty built on septocolumellar suture and a new caudal septal graft technique. Ann Plast Surg. doi:10.1097/SAP.0000000000000410

4.

Akkus AM, Eryilmaz E, Guneren E (2013) Comparison of the effects of columellar strut and septal extension grafts for tip support in rhinoplasty. Aesthet Plast Surg 37(4):666–673

5.

Tezel E, Numanoğlu A (2007) Septocolumellar suture in closed rhinoplasty. Ann Plast Surg 59(3):268–272

6.

Rohrich RJ, Hoxworth RE, Kurkjian TJ (2012) The role of the columellar strut in rhinoplasty: indications and rationale. Plast Reconstr Surg 129:118e–125e

7.

Rohrich RJ, Kurkjian TJ, Hoxworth RE, Stephan PJ, Mojallal A (2012) The effect of the columellar strut graft on nasal tip position in primary rhinoplasty. Plast Reconstr Surg 130:926–932

8.

Turner F, Zanaret M, Giovanni A (2007) Evaluation of nasal tip projection. Fr ORL 92:282–287

9.

Bitik O, Uzun H, Kamburoğlu HO, Çaliş M, Zins JE (2015) Revisiting the role of columellar strut graft in primary open approach rhinoplasty. Plast Reconstr Surg 135(4):987–997

10.

Rohrich RJ, Ahmad J (2011) Rhinoplasty. Plast Reconstr Surg 128(2):49e–73e

11.

Datema FR, Lohuis PJ (2015) Tongue-in-groove setback of the medial crura to control nasal tip deprojection in open rhinoplasty. Aesthet Plast Surg 39(1):53–62

12.

Abbou R, Bruant-Rodier C, Wilk A, Meningaud JP, Khan JL, BoscR Bodin F (2014) Open rhinoplasty: influence of incisions, alar resection, and columellar strut on final appearance of the tip. Aesthet Plast Surg 38(6):1077–1082

13.

Yeşiloğlu N, Sarici M, Temiz G, Yildiz K, Mersa B, Filinte GT (2014) Hezarfen wings: a lower lateral cartilage-based suspension technique for the adjustment of nasal tip rotation and projection and correction of supratip deformity. J Craniofac Surg 25(3):983–987

14.

Kuran I, Öreroğlu AR, Efendioğlu K (2014) The lateral crural rein flap: a novel technique for management of tip rotation in primary rhinoplasty. Aesthet Surg J 34(7):1008–1017

15.

Bitik O, Uzun H, Kamburoğlu HO, Dadaci M (2014) Nasal tip suspending transfixation suture. Aesthet Plast Surg 38(2):309–315

16.

Aydogan F, Tastan E, Aydin E, Emir HK, Tuzuner A, Demirci S, Samim E (2014) The effects of nasal base stabilization techniques on nasal tip rigidity. Aesthet Plast Surg 38(2):288–294

17.

Tebbetts JB (1994) Shaping and positioning the nasal tip without structural disruption: a new, systematic approach. Plast Reconstr Surg 94:61–77

18.

Xavier R (2013) Nasal tip plasty: the delivery approach revisited. Aesthet Plast Surg 37(1):16–21

19.

Toriumi DM (2006) New concepts in nasal tip contouring. Arch Facial Plast Surg 8:156–185

20.

Gandy JR, Manuel CT, Leary RP, Wong BJ (2016) Quantifying optimal columellar strut dimensions for nazal tip stabilization after rhinoplasty via finite element analysis. JAMA Facial Plast Surg. doi:10.1001/jamafacial.2015.2261

21.

Ingels K, Orhan KS (2006) Measurement of preoperative and postoperative nasal tip projection and rotation. Arch Facial Plast Surg 8(6):411–415
Ethics declarations
Conflict of interest
The authors declare that they have no conflicts of interest.
Electronic Supplementary Material
Below is the link to the electronic supplementary material.
Supplementary video 1 (MP4 9498 kb)
Supplementary video 2 (MP4 8853 kb)
About this article
Cite this article
Şirinoğlu, H. The Effect of the Short and Floating Columellar Strut Graft and Septocolumellar Suture on Nasal Tip Projection and Rotation in Primary Open Approach Rhinoplasty. Aesth Plast Surg 41, 146–152 (2017) doi:10.1007/s00266-016-0727-5
Received:

Accepted:

Published:

Issue Date:
Keywords
Columellar strut graft

Septocolumellar suture

Tip rotation

Tip projection

Open rhinoplasty