Abstract
Background
The final esthetic result is a common concern of patients with eyelid tumors, especially young patients and those with tumors affecting the medial edge of the lower eyelid.
Methods
The procedure herein described combines two lateral flaps: one tarsoconjunctival and the other from the periosteum. The first step is removal of the tumor lesion. Preseptal dissection is then performed through a subciliary incision on both the lateral and medial halves of the eyelid up to the orbital rim. Next, the lateral canthal tendon, lateral attachment of the orbital septum, capsulopalpebral fascia, and conjunctiva are cut. This allows the medial displacement of the tarsoconjunctival flap, which is sutured to the defect area. The second flap, a periosteal strip, is used to reconstruct the tarsus and lateral canthal tendon, providing firm support for the posterior lamella. The orbicularis muscle is anchored to the orbital rim, and the skin of the lower eyelid is directly sutured to the subciliary incision and periosteal strip.
Results
The author successfully carried out this procedure on nine patients. None of the patients developed ocular irritation or postoperative epiphora.
Conclusions
The defects that can be repaired by this technique are equivalent in size to those repaired by the Tenzel procedure. Unlike the semicircular flap procedure, this technique allows eyelid reconstruction with no vertical scarring and a smaller lateral incision, and it ensures soft contact between the palpebral rim and surface of the eyeball. This procedure confers an attractive eyelid appearance that may be crucial for some patients.
Level of Evidence V
This journal requires that authors assign a level of evidence to each article. For a full description of these Evidence-Based Medicine ratings, please refer to the Table of Contents or the online Instructions to Authors www.springer.com/00266.
This is a preview of subscription content, log in to check access.
Access options
Buy single article
Instant unlimited access to the full article PDF.
US$ 39.95
Price includes VAT for USA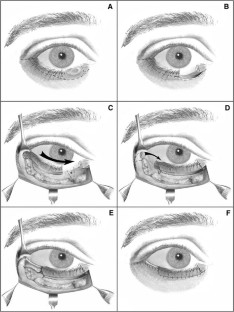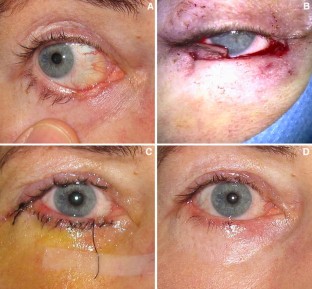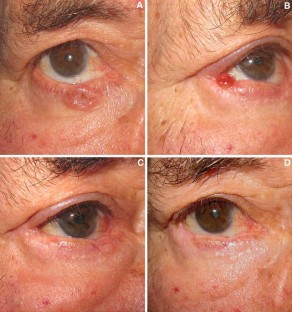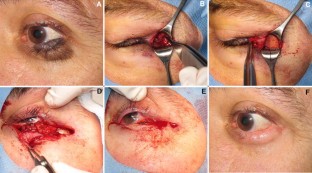 References
1.

Tenzel RR (1975) Reconstruction of the central one half of an eyelid. Arch Ophthalmol 93:125–126

2.

Fogagnolo P, Colletti G, Valassina D, Allevi F, Rossetti L (2012) Partial and total lower lid reconstruction: our experience with 41 cases. Ophthalmologica 228:239–243

3.

Tenzel RR, Stewart WB (1978) Eyelid reconstruction by the semicircle flap technique. Ophthalmology 85:1164–1169

4.

Stephenson C (1983) Reconstruction of the eyelid using a myocutaneous island flap. Ophthalmology 90:1060–1065

5.

Glatt HJ (1997) Tarsoconjunctival flap supplementation: an approach to the reconstruction of large lower eyelid defects. Ophthal Plast Reconstr Surg 13:90–97

6.

Lemke BN, Sires BS, Dortzbach RK (1999) A tarsal strip-periosteal flap technique for lateral canthal fixation. Ophthalmic Surg Lasers 30:232–236

7.

Game J, Morlet N (2007) Lateral canthal fixation using an oblique vertically orientated asymmetric periosteal transposition flap. Clin Experiment Ophthalmol 35:204–207

8.

Meena M (2012) Triple-Flaps for lateral canthus reconstruction: a novel technique. Oman J Ophthalmol 5:181–183

9.

Porfiris E, Kalokerinos D, Christopoulos A, Damilakos P, Ioannidis A, Georgiou P (2000) Upper eyelid island orbicularis oculi myocutaneous flap for periorbital reconstruction. Ophthal Plast Reconstr Surg 16:42–44

10.

Garces JR, Guedes A, Alegre M, Alomar A (2009) Double mucosal and myocutaneous island flap: a one-stage reconstruction for full-thickness lower eyelid defect. Dermatol Surg 35:779–785

11.

Miller EA, Boynton JR (1987) Complications of eyelid reconstruction using a semicircular flap. Ophthalmic Surg 18:807–810

12.

Fuertes-Lanzuela S (1988) Aesthetic total lower eyelid reconstruction. Aesthetic Plast Surg 12:159–163

13.

Lim SA, Ryu AY, Lee DL, Yoon YI (2012) Treatment of congenital divided nevus of the eyelid with excision and blepharoplasty. Arch Plast Surg 39:437–439

14.

Irvine F, McNab AA (2003) A technique for reconstruction of upper lid marginal defects. Br J Ophthalmol 87:279–281

15.

Moesen I, Paridaens D (2007) A technique for the reconstruction of lower eyelid marginal defects. Br J Ophthalmol 91:1695–1697

16.

Ito O, Suzuki S, Park S, Kawazoe T, Sato M, Saso Y, Iwasaki Y, Hata Y (2001) Eyelid reconstruction using a hard palate mucoperiosteal graft combined with a V–Y subcutaneously pedicled flap. Br J Plast Surg 54:106–111

17.

Zinkernagel MS, Catalano E, Ammann-Rauch D (2007) Free tarsal graft combined with skin transposition flap for full-thickness lower eyelid reconstruction. Ophthal Plast Reconstr Surg 23:228–231
Ethics declarations
Conflict of interest
The author declares that they have no conflict of interest.
Ethical approval
All procedures performed in studies involving human participants were in accordance with the ethical standards of the institutional and/or national research committee and with the 1964 Helsinki declaration and its later amendments or comparable ethical standards.
Electronic supplementary material
Below is the link to the electronic supplementary material.
Supplementary material 1 (WMV 14333 kb)
About this article
Cite this article
Toribio, J.Á. Double Lateral Flap: A New Technique for Lower Eyelid Reconstruction Alternative to the Tenzel Procedure. Aesth Plast Surg 39, 935–941 (2015). https://doi.org/10.1007/s00266-015-0576-7
Received:

Accepted:

Published:

Issue Date:
Keywords
Lower eyelid defect

Eyelid tumors

Tarsoconjunctival flap

Periosteal strip

Semicircular flap procedure