Abstract
Background
During the postoperative period following a facelift, caudal extension of the earlobe secondary to pulling of the submandibular tissues can occur. This earlobe shape, often termed "pixie ear", is unnatural, and patients often request its repair. The objective of this study was to design a modified facelift technique that provides natural, aesthetically acceptable, and long-lasting results.
Methods
In patients with pixie ear secondary to classical rhytidectomy, we omitted the incision around the earlobe; instead, we interrupted it in front of the earlobe and finished it behind the earlobe, without fully dissecting the earlobe from its base. We then performed all required stages of the facelift: detachment of the cellulocutaneous flap, manipulation of the superficial musculoaponeurotic system, establishment of homeostasis, lifting of the cutaneous flap, and finally suturing of the retained edges of the skin onto the cartilage matrix of the pinna.
Results
The above-described operative technique was used in 24 patients from October 2008 to January 2014. Long-lasting projected results were achieved in each case.
Conclusions
The modified facelift technique described herein can be used to perform facelifts with a pre-existing pixie ear, as well as to prevent the development of pixie ear.
Level of Evidence V
This journal requires that authors assign a level of evidence to each article. For a full description of these Evidence-Based Medicine ratings, please refer to the Table of Contents or the online Instructions to Authors www.springer.com/00266.
This is a preview of subscription content, log in to check access.
Access options
Buy single article
Instant unlimited access to the full article PDF.
US$ 39.95
Price includes VAT for USA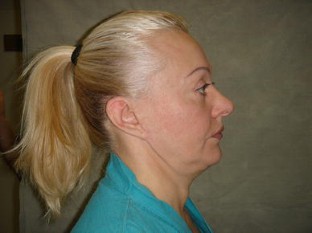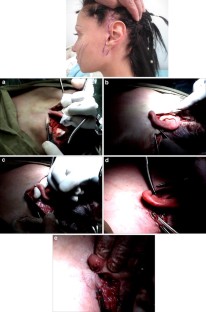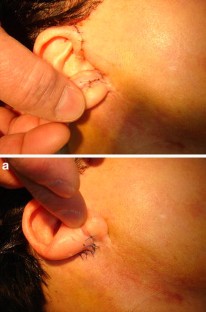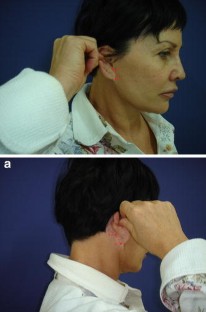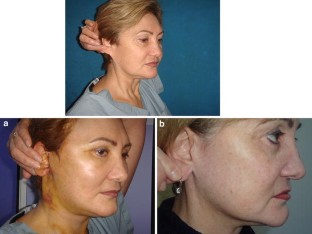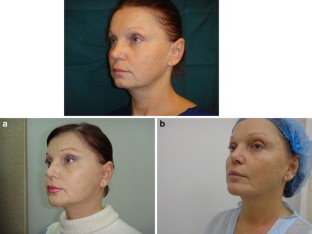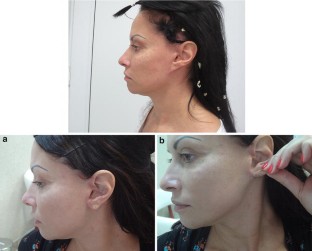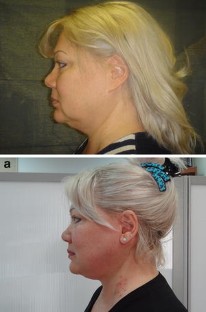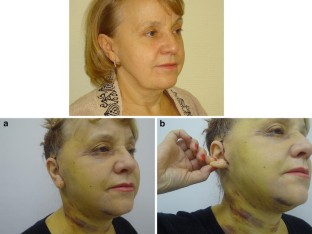 References
1.

Stuzin J, Azaria R, Adler N, Silfen R, Regev D, Hauben DJ (2003) Morphometry of the adult human earlobe: a study of 547 subject and clinical application. Plast Reconstr Surg 111:2403–2404

2.

Barton F (2009) Aesthetic Surgery of the Face and Neck. Aesthet Surg 29(6):449–463

3.

Man D (2009) Reducing the incidence of ear deformity in facelift. Aesthet Surg 29(4):264–271

4.

Marten E (2006) The "Pac-Man" earlobe operation. Plast Reconstr Surg 118:559

5.

Mowlavi A, Meldrum G, Wilhelmi B, Chavami A, Zook E (2003) The aesthetic earlobe: classification of lobule ptosis based on survey of North American Ceucasians. Plast Reconstr Surg 112:266

6.

Mowlavi A, Meldrum G, Wilhelmi B, Russell R, Zook E (2005) The pixie ear deformity following face lift surgery revisited. Plast Reconstr Surg 115:1165

7.

Hoefflin S, Rubin A, Cleveland C (2001) Simple Repair of a Pixie Earlobe. Plast Reconstr Surg 107:1623

8.

Frishberg IA (2005) Aesthetic surgery of the face. Akademkniga, Moscow, p 271

9.

Sulamanidze M, Sulamanidze G, Sulamanidze C (2010) How to avoid the incidence of earlobe deformity in face lift. In: 26th International Congress French Society of Aesthetic Surgery, May 2010, Abstract Book, p 5

10.

Sulamanidze K, Sulamanidze G, Sulamanidze M (2009) Minimally invasive lifting of the lover face and neck: various methods and combinations thereof. In: The 15th world congress of IPRAS 2009 New Delhi, India. Abstract Book, p 64
Conflict of interest
The authors declare that they have no conflict of interest.
Electronic supplementary material
Below is the link to the electronic supplementary material.
Supplementary material 1 (MP4 120014 kb)
About this article
Cite this article
Marlen, S., Constantin, S. & Georgii, S. How to Avoid Earlobe Deformation in Face Lift. Aesth Plast Surg 39, 483–490 (2015) doi:10.1007/s00266-015-0467-y
Received:

Accepted:

Published:

Issue Date:
Keywords
Face lift

Rhytidectomy

Superficial musculoaponeurotic system

Earlobe

Pixie ear