Abstract
Background
Ocular complications following cosmetic filler injections are serious situations. This study provided scientific evidence that filler in the facial and the superficial temporal arteries could enter into the orbits and the globes on both sides. We demonstrated the existence of an embolic channel connecting the arterial system of the face to the ophthalmic artery.
Methods
After the removal of the ocular contents from both eyes, liquid dye was injected into the cannulated channel of the superficial temporal artery in six soft embalmed cadavers and different color dye was injected into the facial artery on both sides successively. The interior sclera was monitored for dye oozing from retrograde ophthalmic perfusion.
Results
Among all 12 globes, dye injections from the 12 superficial temporal arteries entered ipsilateral globes in three and the contralateral globe in two arteries. Dye from the facial artery was infused into five ipsilateral globes and in three contralateral globes. Dye injections of two facial arteries in the same cadaver resulted in bilateral globe staining but those of the superficial temporal arteries did not. Direct communications between the same and different arteries of the four cannulated arteries were evidenced by dye dripping from the cannulating needle hubs in 14 of 24 injected arteries. Compression of the orbital rim at the superior nasal corner retarded ocular infusion in 11 of 14 arterial injections.
Conclusion
Under some specific conditions favoring embolism, persistent interarterial anastomoses between the face and the eye allowed filler emboli to flow into the globe causing ocular complications.
No Level Assigned
This journal requires that authors assign a level of evidence to each submission to which Evidence-Based Medicine rankings are applicable. This excludes Review Articles, Book Reviews, and manuscripts that concern Basic Science, Animal Studies, Cadaver Studies, and Experimental Studies. For a full description of these Evidence-Based Medicine ratings, please refer to the Table of Contents or the online Instructions to Authors http://www.springer.com/00266.
This is a preview of subscription content, log in to check access.
Access options
Buy single article
Instant unlimited access to the full article PDF.
US$ 39.95
Price includes VAT for USA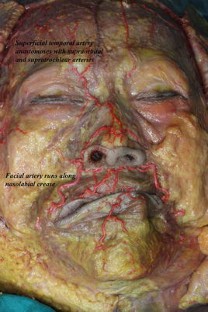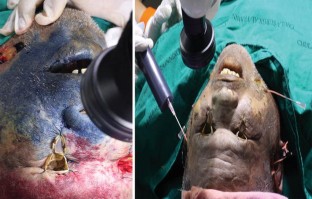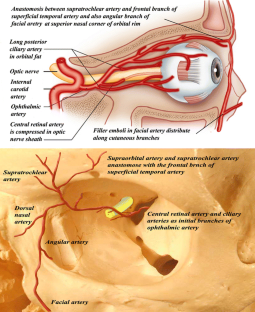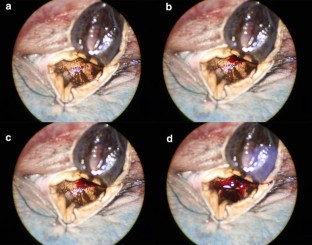 References
1.

Lazzeri D, Agostini T, Figus M, Nardi M, Pantaloni M, Lazzeri S (2012) Blindness following cosmetic injections of the face. Plast Reconstr Surg 129:995–1012

2.

Lazzeri S, Figus M, Nardi M, Lazzeri D, Agostini T, Zhang YX (2013) Iatrogenic retinal artery occlusion caused by cosmetic facial filler injections. Am J Ophthalmol 155:407–408

3.

Lee CM, Hong IH, Park SP (2011) Ophthalmic artery obstruction and cerebral infarction following periocular injection of autologous fat. Korean J Ophthalmol 25:358–361

4.

Park KH, Kim YK, Woo SJ, Kang SW, Lee WK, Choi KS, Kwak HW, Yoon IH, Huh K, Kim JW et al (2014) Iatrogenic occlusion of the ophthalmic artery after cosmetic facial filler injections: a national survey by the korean retina society. JAMA ophthalmol 132:714–723

5.

Gierloff M, Stohring C, Buder T, Wiltfang J (2012) The subcutaneous fat compartments in relation to aesthetically important facial folds and rhytides. J Plast Reconstr Aesthet Surg 65:1292–1297

6.

Alghoul M, Codner MA (2013) Retaining ligaments of the face: review of anatomy and clinical applications. Aesthet Surg J 33:769–782

7.

Wang HY, Li QF, Zheng SW, Chen B, Li YP, Tang LJ, Chang TS (2007) Cadaveric comparison of two facial flap-harvesting techniques for alloplastic facial transplantation. J Plast Reconstr Aesthet Surg 60:1175–1181

8.

Kim EG, Eom TK, Kang SJ (2014) Severe visual loss and cerebral infarction after injection of hyaluronic acid gel. J Craniofac Surg 25:684–686

9.

Kim SN, Byun DS, Park JH, Han SW, Baik JS, Kim JY, Park JH (2014) Panophthalmoplegia and vision loss after cosmetic nasal dorsum injection. J Clin Neurosci 21:678–680

10.

Kim YJ, Kim SS, Song WK, Lee SY, Yoon JS (2011) Ocular ischemia with hypotony after injection of hyaluronic acid gel. Ophthal Plast Reconstr Surg 27:e152–e155

11.

Liu OG, Chunming L, Juanjuan W, Xiaoyan X (2014) Central retinal artery occlusion and cerebral infraction following forehead injection with a corticosteroid suspension for vitiligo. Indian J dermatol venereol leprol 80:177–179
Acknowledgments
Miss Hannah E Greenwood from the University of Liverpool kindly revised this manuscript.
Conflict of interest
All authors have no conflict of interest to disclose.
Electronic Supplementary Material
Below is the link to the electronic supplementary material.
Supplementary material 1 (MP4 3044 kb)
Supplementary material 2 (MP4 3250 kb)
Supplementary material 3 (MP4 3924 kb)
About this article
Cite this article
Tansatit, T., Moon, H.J., Apinuntrum, P. et al. Verification of Embolic Channel Causing Blindness Following Filler Injection. Aesth Plast Surg 39, 154–161 (2015). https://doi.org/10.1007/s00266-014-0426-z
Received:

Accepted:

Published:

Issue Date:
Keywords
Embolic channel

Blindness

Filler injection