Abstract
Implants from Poly Implant Prothése (PIP), the French manufacturer, showed increased risk of implant rupture and silicone leakage through the shell. Concerns also exist about the potential irritant behavior of silicone gel filler in these implants. This report presents the clinical, histologic, and microbiologic characteristics of a capsule and a siliconoma from a patient with a ruptured PIP implant. A 41-year-old woman submitted to breast augmentation in 2005 with PIP silicone gel implants presented with a recent history of progressive asymmetric breast enlargement and an enlarged lymph node on her right axilla. No capsular contracture was observed. A breast ultrasonography showed intra- and extracapsular ruptures of the right implant. The woman underwent explantation. Histologic analysis of the breast capsules showed a thin capsule with a chronic, mild inflammatory response. Microbiologic analysis showed no bacterial agent. The irritant behavior of the PIP silicone gel previously described was not able to produce capsular contracture or an exuberant inflammatory reaction. Studies to evaluate the potential risks of the silicone gel and to define the hazards for women implanted with those prostheses are urgently needed.
Level of Evidence V
This journal requires that authors assign a level of evidence to each article. For a full description of these Evidence-Based Medicine ratings, please refer to the Table of Contents or the online Instructions to Authors www.springer.com/00266.
This is a preview of subscription content, log in to check access.
Access options
Buy single article
Instant unlimited access to the full article PDF.
US$ 39.95
Price includes VAT for USA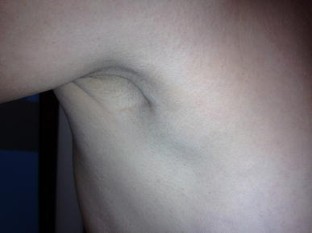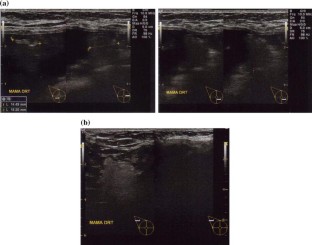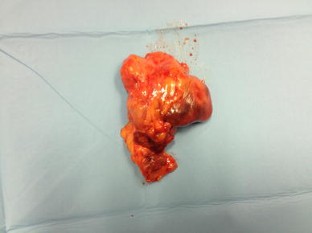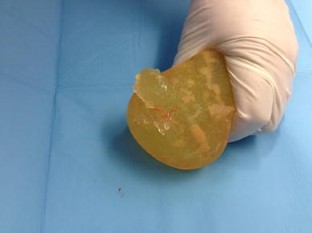 References
1.

AFSSAPS (2010) Décision portant retrait et suspension de mise sur le marché, de la distribution, de l'exportation et de l'utilisation des implants mammaires préremplis de gel de silicone fabriqués par la société Poly Implant Prothèse

2.

Direction, Amde (2011) Silicone based filling gel breast implants from Poly Implant Prothèse company: update of test results

3.

Choices N (2012) PIP breast implants: latest from the NHS

4.

WHO (2012) Global alert and response. silicone implants

5.

MHRA (2010) Medical device alert MDA/2010/025

6.

ISAPS (1973) ISAPS official statement on faulty PIP and ROFIL breast implants. Armed Forces Institute of Pathology, Washington, DC

7.

Tebbetts JB (2001) Dual-plane breast augmentation: optimizing implant-soft-tissue relationships in a wide range of breast types. Plast Reconstr Surg 107:1255–1272

8.

Crouzet C, Gangloff D, Chaput B et al (2012) Outcome at 18 months after the recall of Poly Implant Prosthesis: experience of a cancer center. Ann Chir Plast Esthet 57:9–15

9.

Maijers MC, Niessen FB (2012) Prevalence of rupture in Poly Implant Prothese silicone breast implants recalled from the European market in 2010. Plast Reconstr Surg 129:1372–1378

10.

Delage C, Shane JJ, Johnson FB (1973) Mammary silicone granuloma: migration of silicone fluid to abdominal wall and inguinal region. Arch Dermatol 108:105–107

11.

Aktouf A, Auquit-Auckbur I, Coquerel-Beghin D et al (2012) Breast augmentation by Poly Implant Protheses silicone implants: retrospective study about 99 patients. Rupture analysis and management. Ann Chir Plast Esthet 57(6):558–566

12.

Maijers MC, Niessen FB (2013) The clinical and diagnostic consequences of Poly Implant Prothese silicone breast implants recalled from the European market in 2010. Plast Reconstr Surg 131:394e–402e

13.

Marques M, Brown SA, Oliveira I et al (2010) Long-term follow-up of breast capsule contracture rates in cosmetic and reconstructive cases. Plast Reconstr Surg 126:769–778

14.

Siggelkow W, Faridi A, Spiritus K et al (2003) Histological analysis of silicone breast implant capsules and correlation with capsular contracture. Biomaterials 24:1101–1109

15.

Wolfram D, Rainer C, Niederegger H et al (2004) Cellular and molecular composition of fibrous capsules formed around silicone breast implants with special focus on local immune reactions. J Autoimmun 23:81–91

16.

Tamboto H, Vickery K, Deva AK (2010) Subclinical (biofilm) infection causes capsular contracture in a porcine model following augmentation mammaplasty. Plast Reconstr Surg 126:835–842

17.

Marques M, Brown SA, Rodrigues-Pereira P et al (2011) Animal model of implant capsular contracture: effects of chitosan. Aesthetic Surg J 31:540–550

18.

Marques M, Brown SA, Cordeiro ND et al (2011) Effects of coagulase-negative staphylococci and fibrin on breast capsule formation in a rabbit model. Aesthetic Surg J 31:420–428

19.

Marques M, Brown SA, Cordeiro ND et al (2011) Effects of fibrin, thrombin, and blood on breast capsule formation in a preclinical model. Aesthetic Surg J 31:302–309

20.

Cawrse NH, Pickford MA (2011) Cutaneous manifestation of silicone dissemination from a PIP implant: a case for prophylactic explantation? J Plast Reconstr Aesthet Surg 64:e208–e209

21.

Dieterich M, Stubert J, Stachs A et al (2013) Ruptured poly-implant protheses breast implant after aesthetic breast augmentation: diagnosis, case management, and histologic evaluation. Aesthetic Plast Surg 37:91–94

22.

Kolios L, Hirche C, Spiethoff A et al (2013) Complications of Poly Implant Prothese breast implants: the current discussion. Expert Rev Med Devices 10:167–170
Conflicts of interest
There are no potential and real conflicts of interest with this article.
Disclosure
There are no financial disclosures to be made with this article.
Electronic supplementary material
Below is the link to the electronic supplementary material.
Movie 1. Surgical procedure. A large volume of yellow-colored turbid effusion is present inside the capsule. (MOV 1831 kb)
About this article
Cite this article
Correia-Sá, I., Rodrigues-Pereira, P. & Marques, M. The "PIP Problem": Clinical and Histologic Characteristics. Aesth Plast Surg 37, 936–940 (2013) doi:10.1007/s00266-013-0196-z
Received:

Accepted:

Published:

Issue Date:
Keywords
Poly Implant Prothése

PIP

Breast

Implant